Janmashtami Special Recipes
posted by Vidhya , September 03, 2015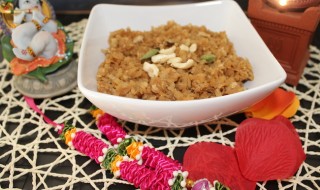 Baked Coconut Milk Murukku/Chakli and Thattai
Coconut milk murukku is very famous in Tirunelveli. The murukku is white and of course, crunchy and loaded with the flavors of coconut milk and oil. I love this murukku and started making the same at home too. But this time I thought, why not bake it instead of frying? Can you believe it's an under 30 minutes dish? So why we can't we try this for this Janmashtami? Presenting the Baked Coconut Milk Murukku!
Ingredients:
Rice Flour - 1 cup (I went with store bought one)
Urad dhal flour - 1 tbsp (Dry roast the urad dhal without oil and grind into powder)
Butter at room temperature - 1 tbsp
Salt - 3/4 tsp (adjust according to taste)
Steps:
Mix the rice flour, urad dhal flour, cumin seeds, hing and salt.
Mix them well and now add butter and half of coconut oil.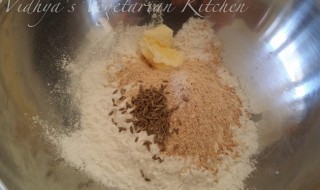 Mix them well and slowly start adding the coconut milk and knead the flour without any lumps.
It should not be too soggy and moist but at the same time, it should not be dry too.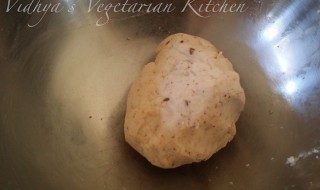 If required add 2 tbsps of water and knead the dough like a big ball. It should not stick to the vessel.
Now preheat the oven to 375 degrees F.
Wrap the baking tray with aluminum foil and grease it with coconut oil.
Using the murukku presser/nazhi as we say in Tamil, press the murukku in the desired style.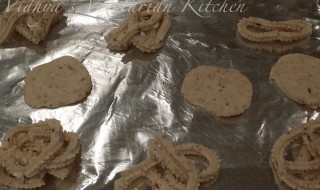 As the murukku should retain the white color, the baking temperature is very important. Bake it at 375 degrees F for 10 minutes and reduce the temperature to 350 degrees F and bake it for 3 more minutes. If required add two more minutes but don't bake for more than 15 minutes. Addition of butter gives the crunchy texture so don't over bake it.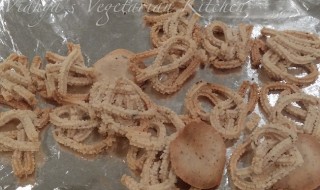 That's it! Yummy guilt free murukku is ready within 30 minutes.
Just tried some thattais with the left-over batter from the presser. :-)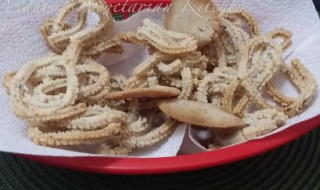 Cross posted here earlier.
Vella Aval Upma / Sweet Poha
We usually prepare this Aval/Poha upma with jaggery for Janmashtami. Why do we prepare this upma with poha? Because Lord Krishna loves poha. :-) Yes, I would like to share the story of Krishna and Sudama. Many of us might know it already but here it is again.

The tale of Sudama and Krishna comes from the Bhagavatam. They do their schooling together and after that, they move on in their lives. Krishna becomes the king of Dwaraka whereas Sudama returns back to his town and lives a simple life. Sudama goes through bad time in his life and even in that situation, he doesn't want to get help from Krishna. But when things go out of his hand he goes and meets his friend and he takes the beaten rice / poha for him. Krishna treats him royally and overwhelmed Sudama doesn't ask for help. When he returns to his home he finds a huge mansion in the place of his small house and notices all the wealth. He thanks Krishna and continues to live a simple life. This story emphasizes how an ideal friendship should be without any expectations and true devotion to Sudama.




So now coming back to the recipe, this recipe doesn't need any special occasion. It's a simple recipe perfect for toddlers and can be served as a snack too.

Ingredients:
Thick Poha / Aval - 1 cup
Powdered Jaggery - 3/4 cup
Elaichi / Cardamom powder - 1 pinch

Steps:


Wash the poha nicely and let it soak in water for 5 minutes.
Then squeeze all the water out and let it sit.
Now add the powdered jaggery in 2 tbsps of water and heat it in low flame till the jaggery melts and turn off the heat.
Add this melted jaggery syrup, grated coconut and Cardamom powder to the poha and mix well. (You don't need to cook the poha the soaking in water makes it soft)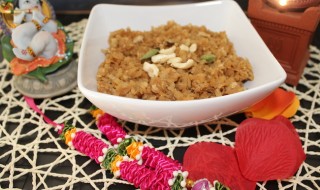 That's it. Yummy poha is ready.

Notes:
You can add cashew nuts and raisins fried in ghee.
All image credits: Vidhya