Book Review - Excuse Me, Is This India? - by Anita Leutwiler, Anushka Ravishankar
posted by Preethi Chandrasekhar, October 14, 2013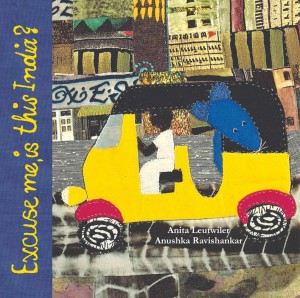 Excuse Me, Is This India? by Anushka Ravishankar is a riot of colors and a patchwork of many identities.

A riot of colors, simple patchwork technique illustrations, an absolutely fantastic way of narration and a wonderful book to introduce kids to India.

That's pretty much how I can describe 'Excuse me, is this India?' written by Anushka Ravishankar and illustrated by Anita Leutwiler.

This is a story about Anna whose aunt has come back from India and then gifted her a quilt with pictures of all the things she has seen. Anna cuddles into the quilt and then her story begins. From an airplane to cows and crows. A little girl to bandicoots (R, my 5-year old brat, loved the way this is pronounced, she kept saying 'bandicoots, bandicoots').

From autorickshaws (Described as a three-wheel car, how awesome!) to elephants in front of the temple, from shops to airports again, the story moves with a fluidity which makes you want to keep turning pages.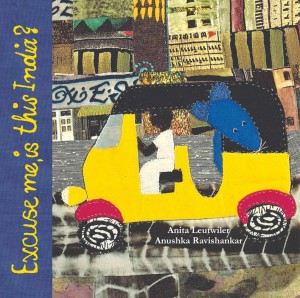 Apart from the bandicoots, the description of the rickshaw and the wonderful ending was something R loved.
What we liked about the book

1) The wonderful description of India

2) The nuances captured. Of cow eating from a bin, to the auto guy just going ahead without asking why, to the elephant at the temple asking everyone to remove their shoes, to the riot of colors in the shop - the author seems to have caught the very spirit of India in a wonderful manner :)

3) The illustrations. Simple, easy on the eye and yet a riot of colors.

4) The fact that the book brings to you some information about the old quilting forms which were earlier used by people to capture memories

This book will definitely appeal to parents who are bringing up their children away from India. Not for anything else, but the simple things about India which are otherwise missed out when you come for visits to the homeland. Well, actually even for people living in India, I would recommend the book, for it's a fun read and has wonderful illustrations.

Much liked in the R household.
This book was a Toka Box book pick paired with a Quilt making activity!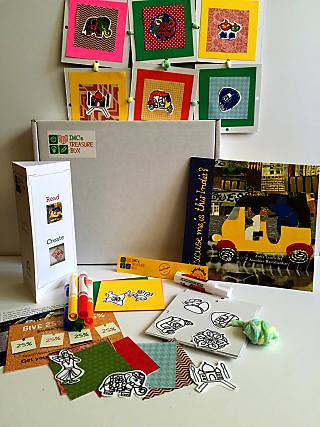 Buy Now: Toka Shop | Amazon USA | Amazon India

PS - The book was sent to us by the publishers (Tara Books). We received no remuneration for reviewing the book. The opinions expressed in the review are those of the reviewer.