This beautiful book is our Toka Junior Box pick for the month! Written in joyous verse, it takes us through a Diwali celebration as experienced by an Indian family outside India.
Don't miss Chitra Soundar as she reads the book out loud! Chitra is a masterful storyteller, so this is a treat you simply should not miss! Bring some paper, pencils, and crayons for some fun activities!
Charlene Chua, the artist behind the beautiful illustrations in Shubh Diwali, will be there to share her pictures with us. Sign up now!
This a FREE interactive session on Zoom on Friday, November 6, 2020 at 6.30 PM PST/ 9.30 PM EST/ 8 AM IST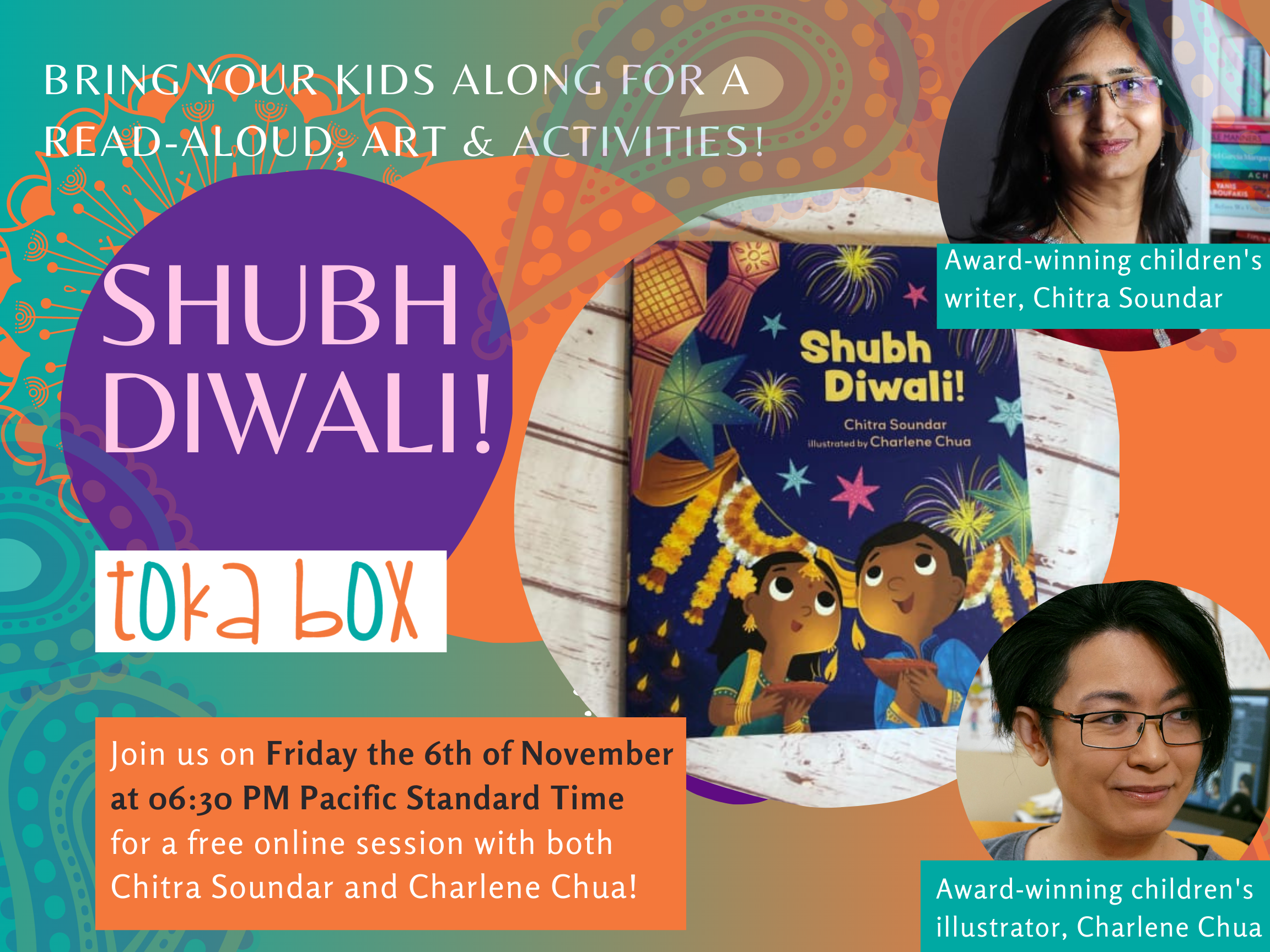 About the author:
Chitra Soundar is an internationally published author of over 40 books for children. She is also an oral storyteller and writer of many things. Chitra writes picture books and fiction for young readers. Her stories are inspired by folktales from India, Hindu mythology and her travels around the world. Her books have been published in the UK, US, India, Singapore and translated into German, French, Japanese and Thai. Her picture books have been included in the White Ravens Catalogue, IBBY International Books of USA and the prestigious Bankstreet Bookstore lists. Her book 'You're Strong With Me' was chosen as the South Asian Picture Book of 2019 by Toka Box.
About the illustrator:
Charlene Chua has illustrated many books over the years for kids of all ages. Her illustration work has won several awards, while books she has illustrated have been nominated for OLA Forest of Reading, USBBY Outstanding International Books, OLA Best Bets, Shining Willow Award, and Kirkus Best books.