Join internationally published and award-winning author Chitra Soundar and award-winning illustrator Charlene Chua
as they make Diwali come alive for you and your kids with a read-loud of their book, Shubh Diwali! .
This beautiful book is our Toka Junior Box pick for the month! Written in joyous verse, it takes us through a Diwali celebration as experienced by an Indian family outside India.
Don't miss Chitra Soundar as she reads the book out loud! Chitra is a masterful storyteller, so this is a treat you simply should not miss! Bring some paper, pencils, and crayons for some fun activities!
Charlene Chua, the artist behind the beautiful illustrations in Shubh Diwali, will be there to share her pictures with us. Sign up now!
This a FREE interactive session on Zoom on Friday, November 6, 2020 at 6.30 PM PST/ 9.30 PM EST/ 8 AM IST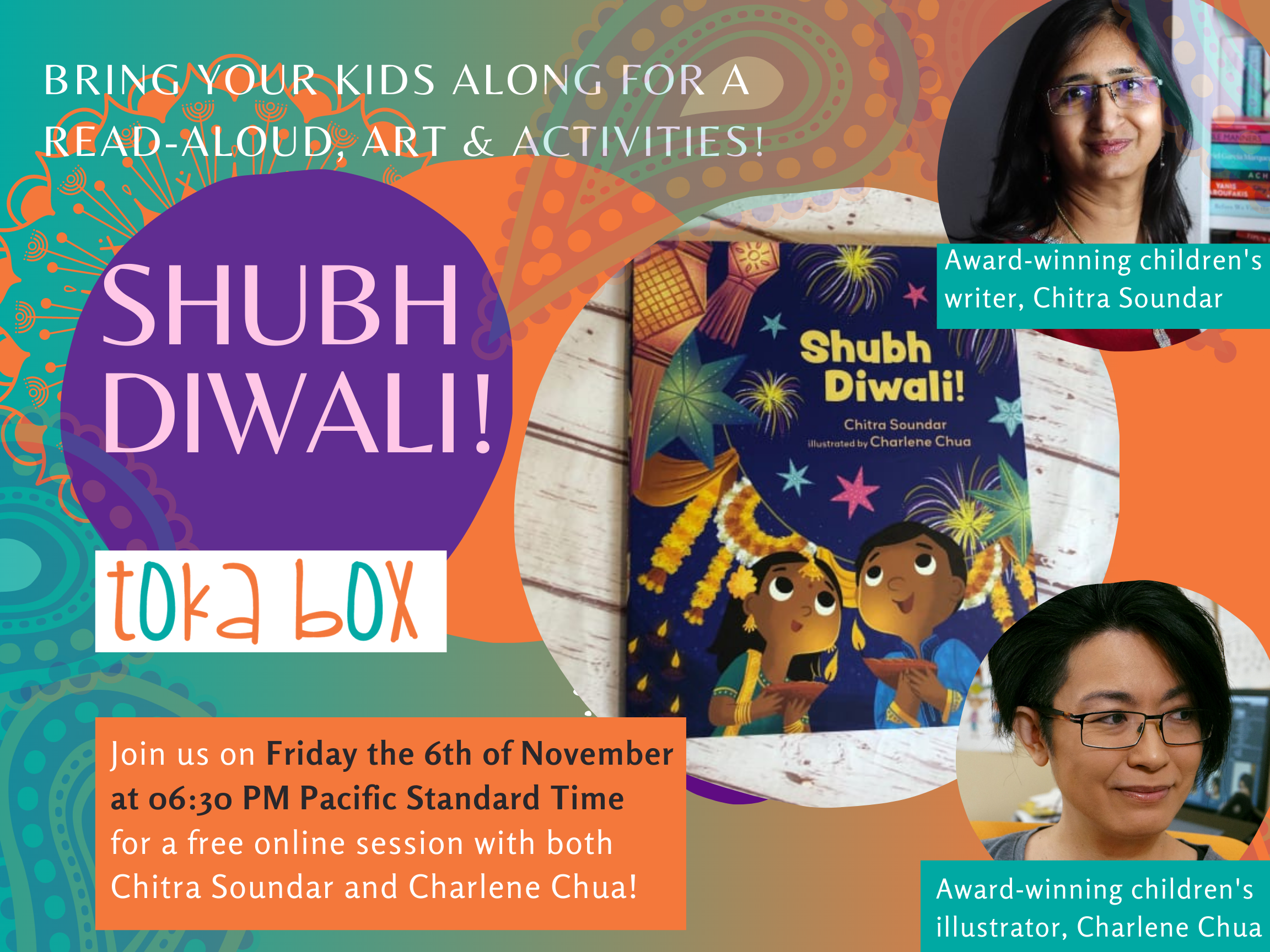 About the author:
Chitra Soundar is an internationally published author of over 40 books for children. She is also an oral storyteller and writer of many things. Chitra writes picture books and fiction for young readers. Her stories are inspired by folktales from India, Hindu mythology and her travels around the world. Her books have been published in the UK, US, India, Singapore and translated into German, French, Japanese and Thai. Her picture books have been included in the White Ravens Catalogue, IBBY International Books of USA and the prestigious Bankstreet Bookstore lists. Her book 'You're Strong With Me' was chosen as the South Asian Picture Book of 2019 by Toka Box.
About the illustrator:
Charlene Chua has illustrated many books over the years for kids of all ages. Her illustration work has won several awards, while books she has illustrated have been nominated for OLA Forest of Reading, USBBY Outstanding International Books, OLA Best Bets, Shining Willow Award, and Kirkus Best books.
Join trained Indian classical musician, music teacher and children's author Shyama Panikkar as she regales us with a reading of her picture book, A Musical Road Trip.
This beautiful picture book takes children on a journey through the seven swaras in Indian classical music and how they were conceived in the sounds of nature.
Read more about the book here
Enjoy the read-aloud and join Shyama in 'Sur Taal Aur Masti,' a fun session for kids to learn the facets of Indian classical music through fun and play!
This a FREE interactive session on Zoom on Saturday, October 17, 2020 at 10 am PST / 1 pm EST /5 pm GMT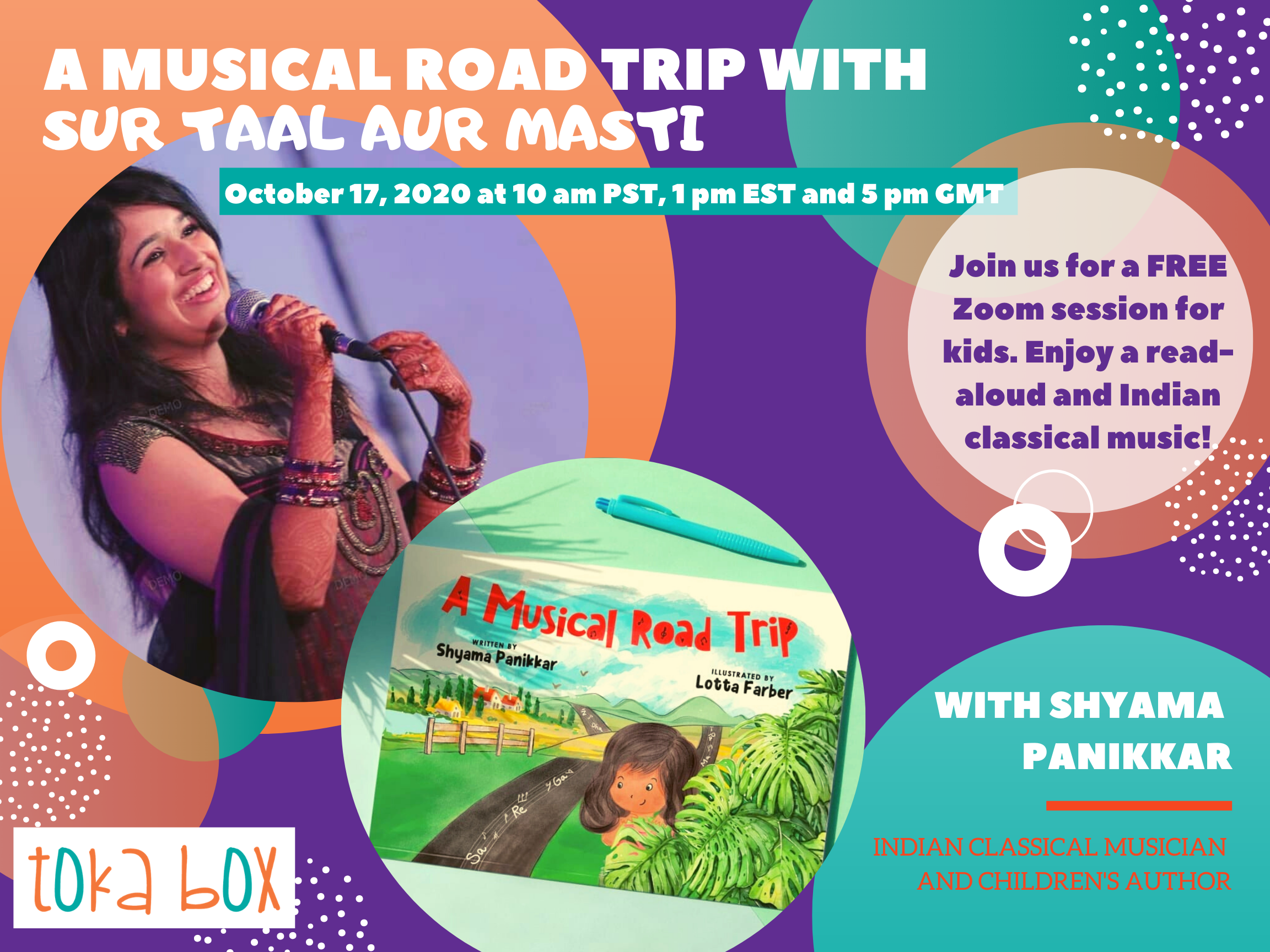 About the author:
Shyama Panikkar is a passionate and enthusiastic singer and music aficionado based in Mumbai. Trained in Indian classical music since age 3, music has always been an integral part of her life. She is an engineer with a post-graduation in management, who decided to teach children music after her son was born. Her teaching style is unique and fun, and kids love her energy. She is a foodie who loves to travel and explore new places and cuisines. Her 4-year-old son, who has been a story lover since birth, has inspired the storyteller in her.
Join author Shoumi Sen and Kathak Dancer Smita Alves for a one-of-a-kind interactive book reading and dance/drama session where you and your child can be part of the story!
This a FREE interactive session on Zoom this Saturday, Aug 15, 2020 at 9 am PST / 12 Noon EST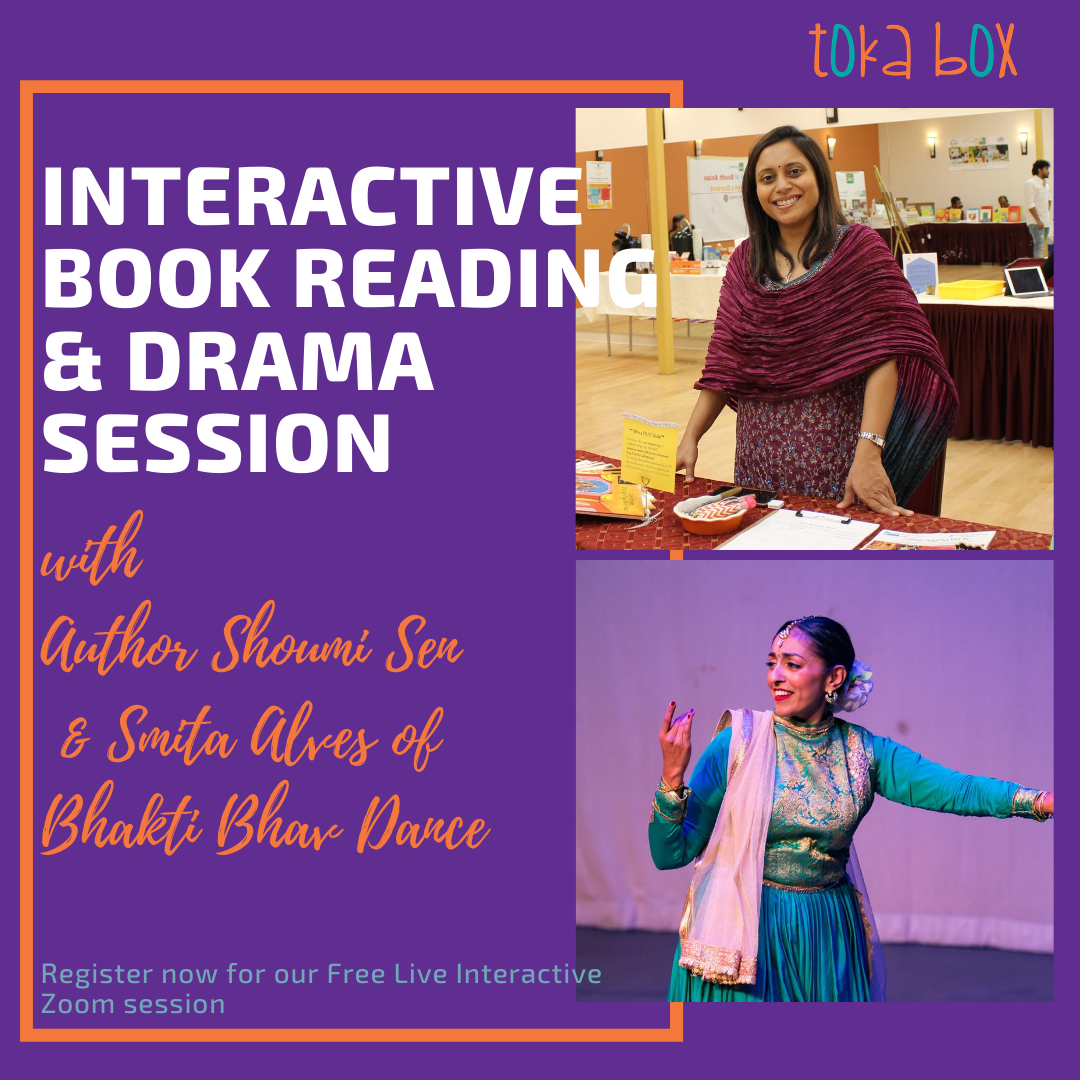 Children's writer Shoumi Sen, creator of "From The Toddler Diaries" and Kathak Dancer & Instructor Extraordinaire, Smita Alves, of "Bhakti Bhav Dance" will lead you through a reading and an enactment of 'Celebrate Holi With Me,' a wonderful picture book by Shoumi Sen.
We encourage all children from ages 3 and above to join us … and yes, that includes parents too :) and learn about the festival of colors - Holi and how and why it is celebrated.
To ensure maximum participation we request that parents are with their kids throughout this session and that everyone is ready to have a lot of FUN :)
About our performers:
Shoumi Sen is the creator of "From The Toddler Diaries", a series of children's books on Indian culture and mythology. Her books have been highly reviewed and are enjoyed by kids and parents alike. She has written "Celebrate Holi With Me!" and "Celebrate Durga Puja With Me!" and is working on the next book in the series. Her book, Celebrate Holi With Me, is part of Toka Box's Holi box and her books can also be purchased in the Toka Shop! To learn more, please visit www.shoumisen.com
Smita Alves teaches Kathak dance classes to students of all ages across Orange County, CA through Bhakti Bhav Dance academy. She especially enjoys helping students connect with the art, the culture, and the expressive aspects of the classical dance form. For more details and glimpses of her work please visit: www.facebook.com/bhaktibhavdance
We are excited to see you for the session!
Join Shweta Sharan for a fun read aloud of our July Toka Explorer Book Pick - 'The Clever Tailor'
This is a FREE interactive session on Zoom this Friday, July 24, 2020 at 9 am PST / 12 Noon EST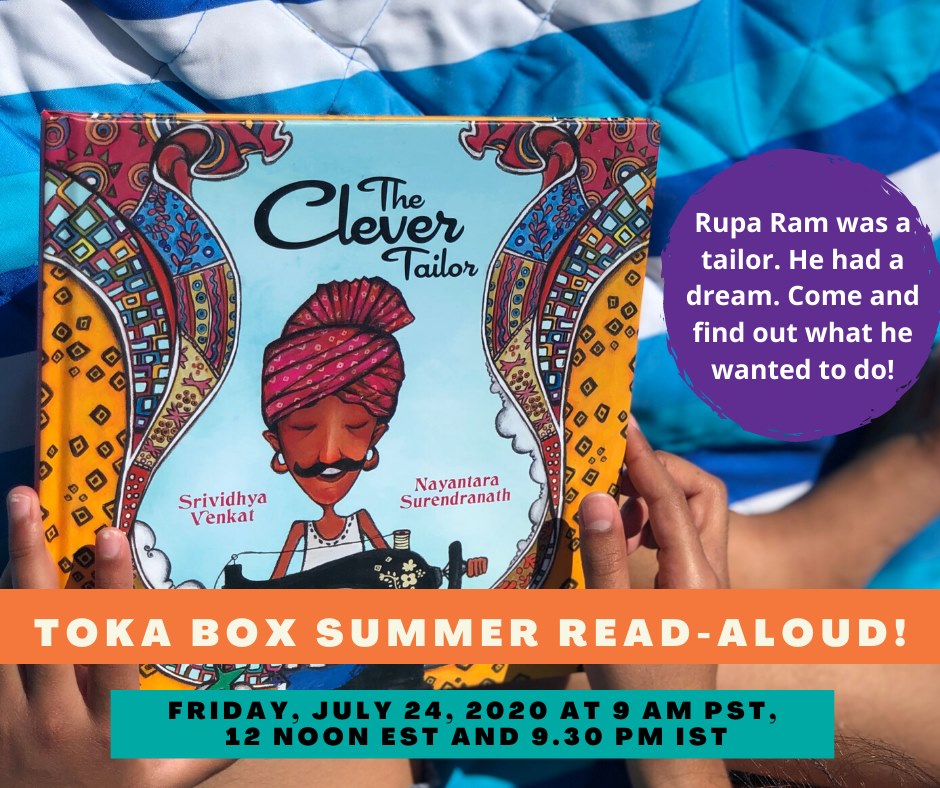 Join Preethi for a fun read aloud of our July Toka Junior Book Pick - 'Farmer Falgu Goes on a Trip'
This is a FREE interactive session on Zoom this Friday, July 10, 2020 at 9 am PST / 12 Noon EST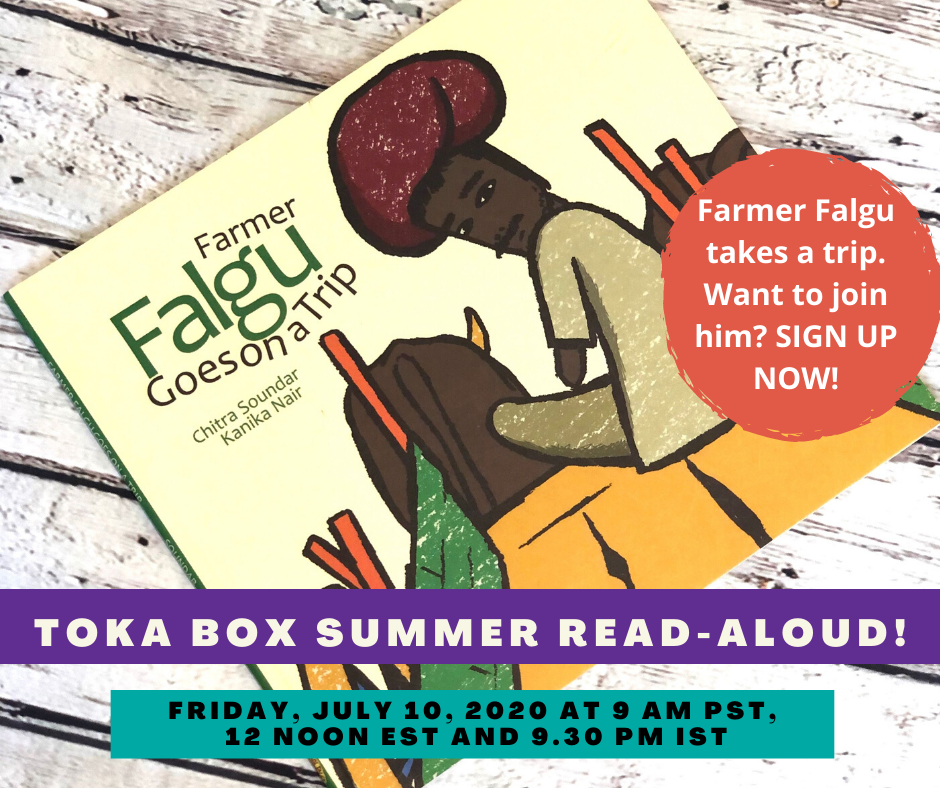 Sakshi Singh reads aloud from her bilingual picture book 'Raiit Mein Paav/ Feet in the Sand'
This is a FREE interactive session on Zoom this Friday, June 26, 2020 at 9 am PST / 12 Noon EST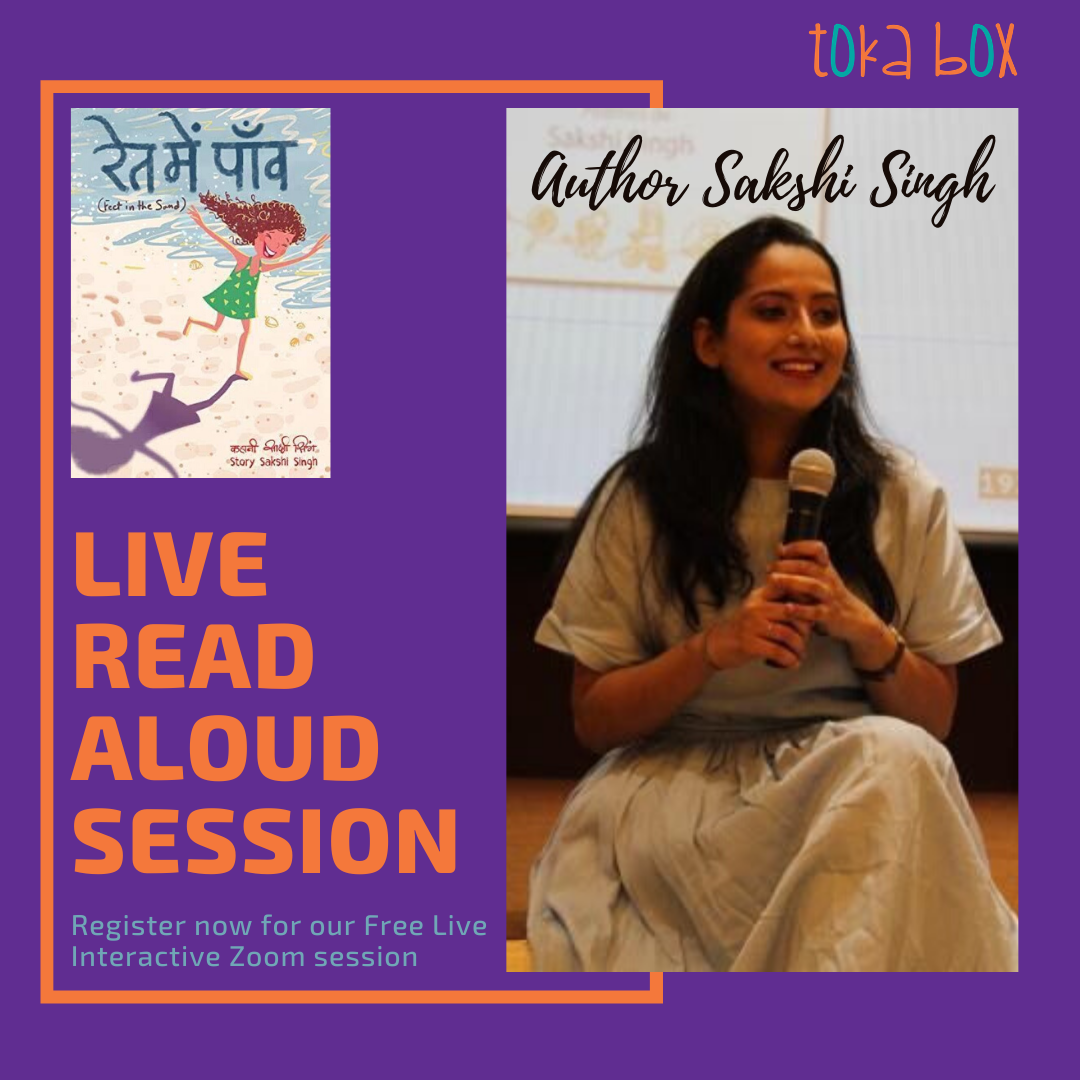 Curated with Care in the USA!