The Toka Box Top South Asian Books!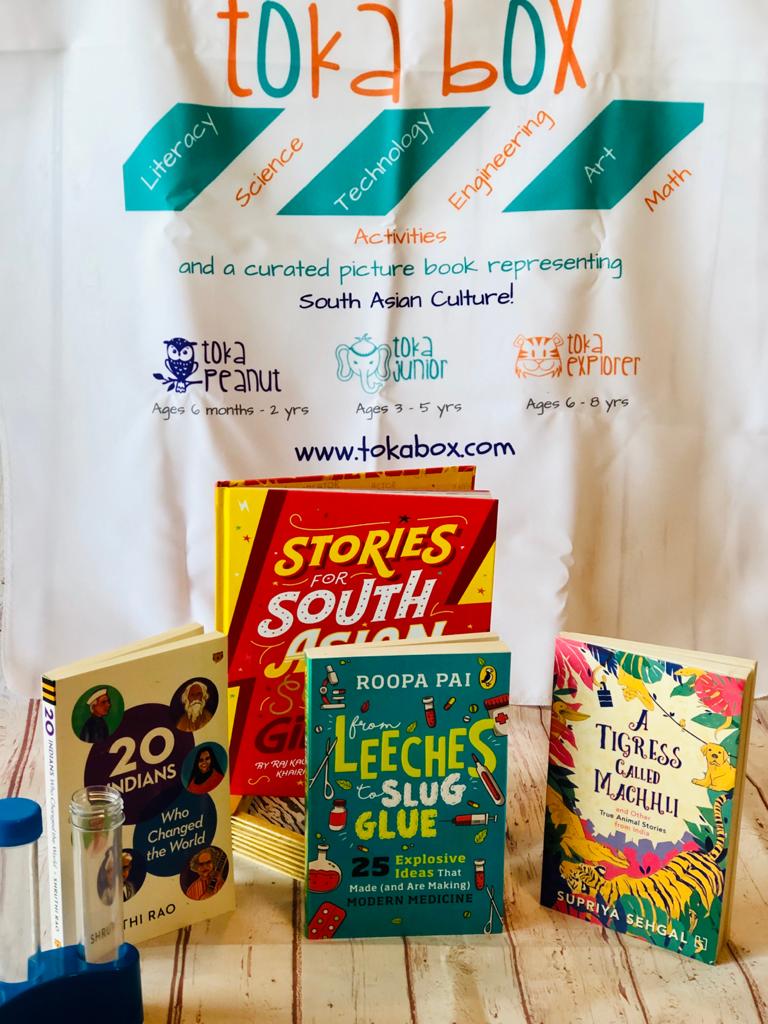 To celebrate the best in South Asian Fiction children, we present the Toka Box Top South Asian Children's Books of 2019!
We think that 2019 was a glorious year for children's books. We had more Indian board books. The early chapter book segment became richer. The picture book market wowed us over with its variety and quality. We had unusual books like What Did the Monster Child Eat Today? We had off-beat books like A Tigress Called Machhli, which is a children's book written by a travel journalist. We are proud to present our picks for the Top South Asian Books published in 2019!
WANT TO CARRY THE TOP SOUTH ASIAN BOOKS WHEREVER YOU GO? DOWNLOAD THE LIST HERE!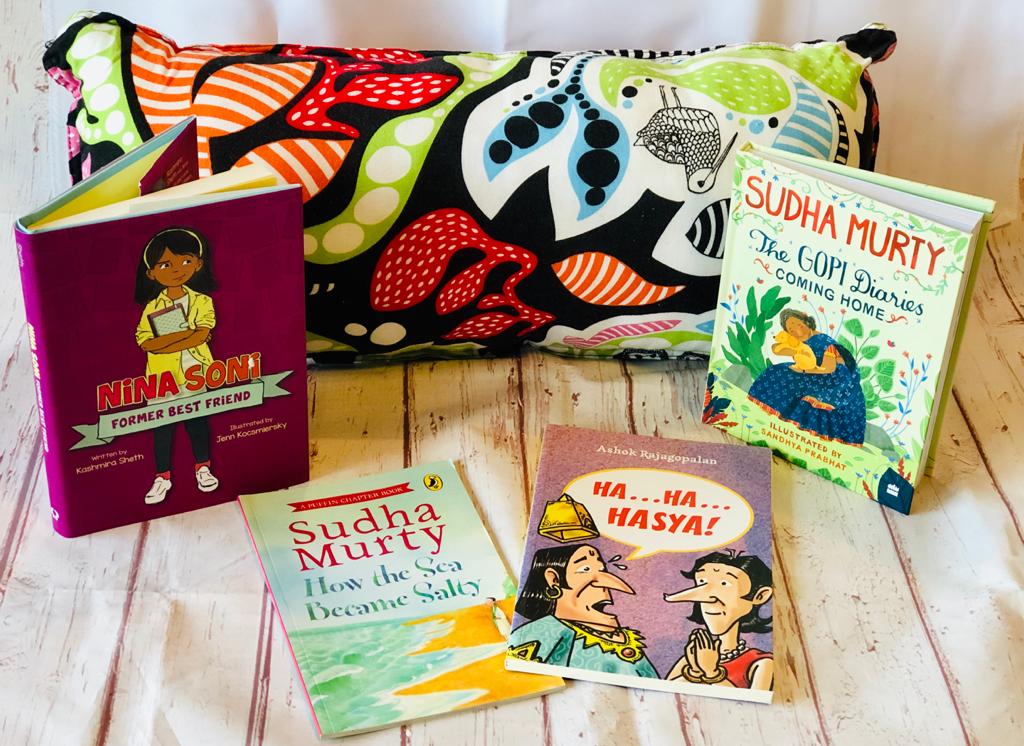 How we chose the books
We read and reviewed all the books that we received (and reviewed) in 2019 and picked the ones we thought were the best! All the books on this list are based on books that were sent to us by the publishers in 2019. We also took into account how children connected with the book.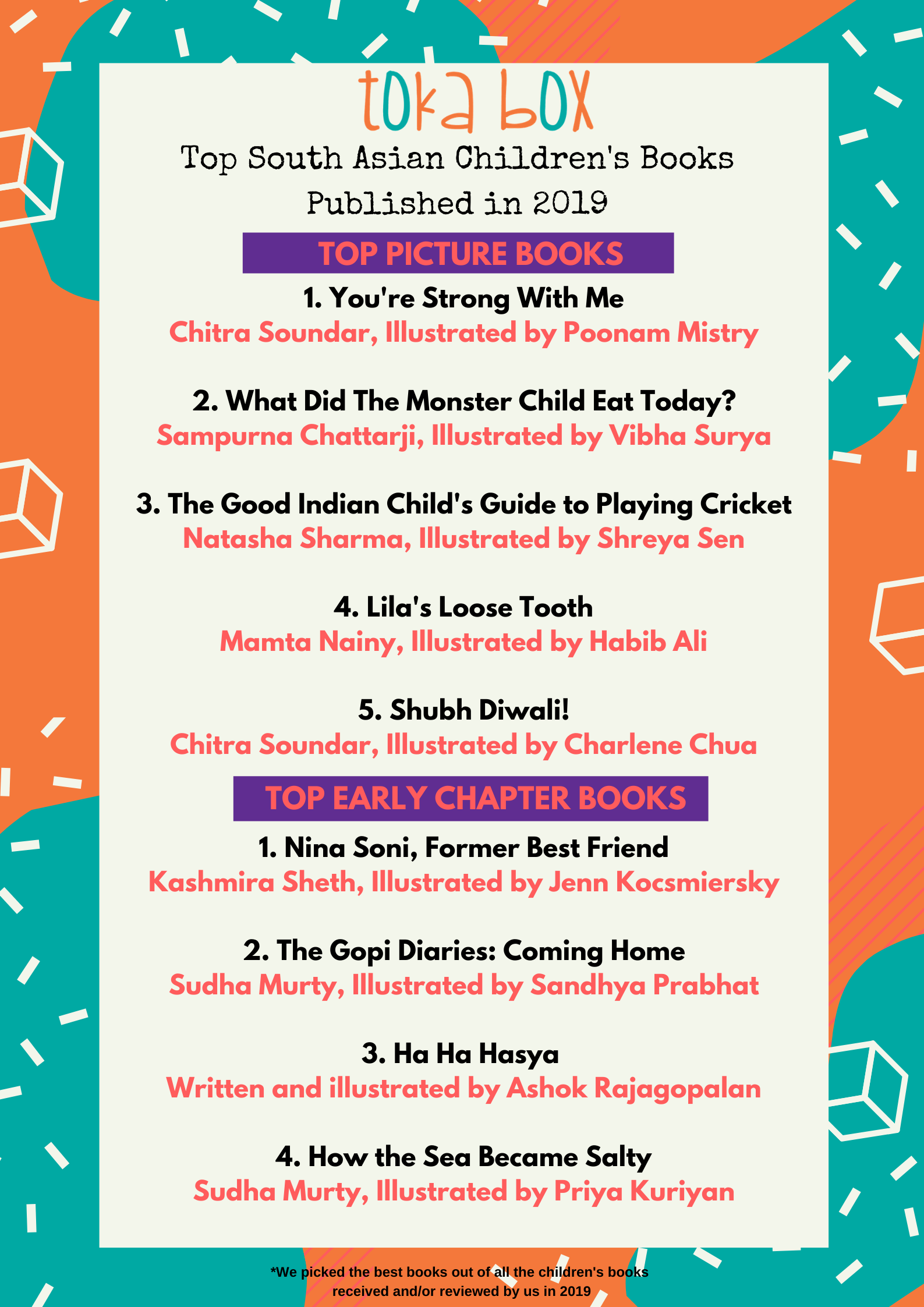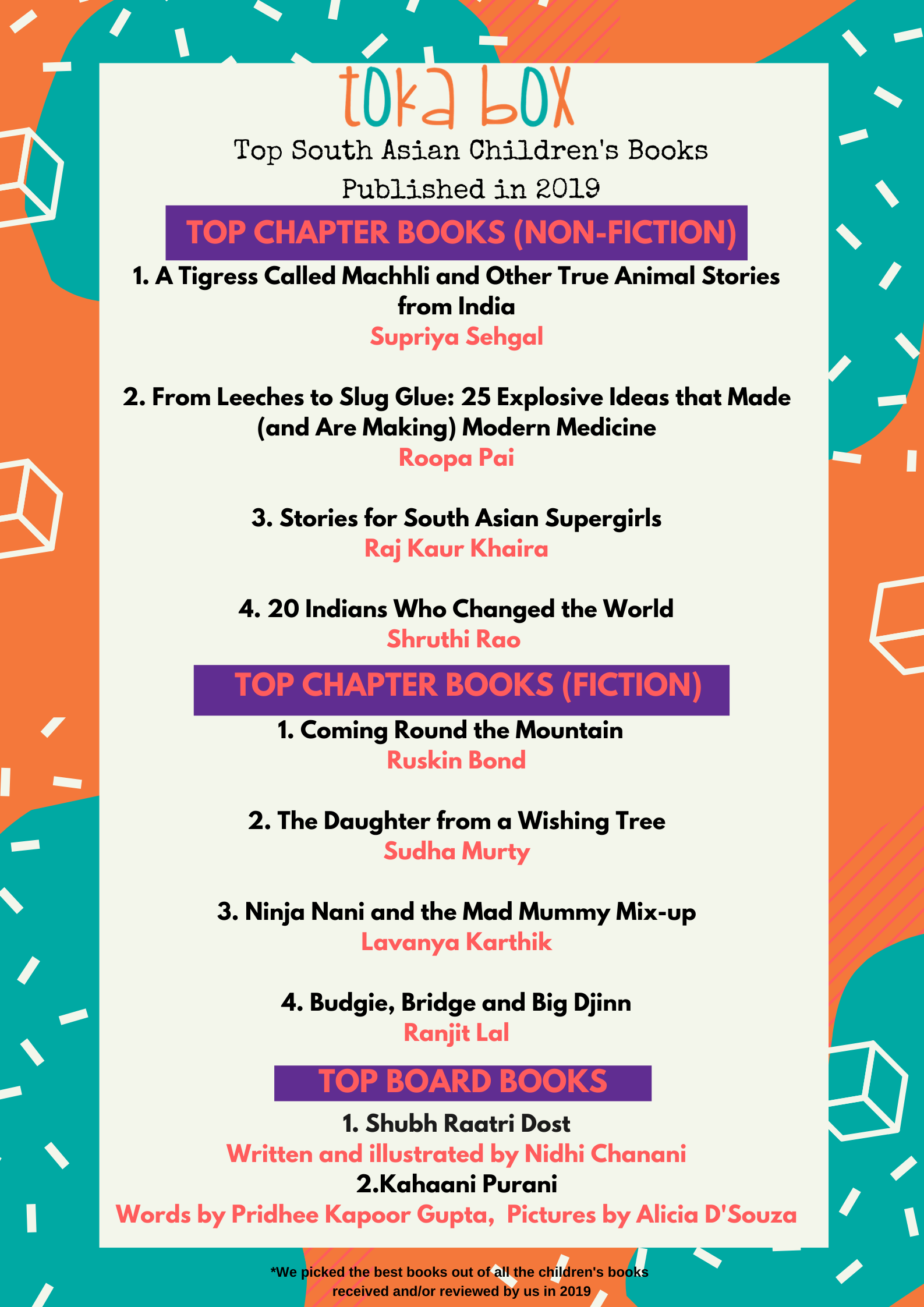 Top 5 Picture Books
1. You're Strong With Me by Chitra Soundar, Illustrated by Poonam Mistry



Written with a powerful refrain, You're Strong With Me is a beautiful picture book about a baby giraffe and her mother as they walk through the sprawling grasslands, navigating many ups and downs. The mother takes the baby one step closer to wisdom and certainty. Until then, she tells her, "you're strong with me."
You're Strong With Me is a stunning picture book, written with a mesmerizing cadence by Chitra Soundar and illustrated masterfully by Poonam Mistry. The book is about a mama giraffe and her baby who are walking through their home in the grasslands. As they walk through it, they encounter rain clouds, a pecking oxpecker, and smoke that stings the baby giraffe's eyes. The baby giraffe finds these changes very new and uncertain but the mother reassures her that she will get used to them and truly understand the world.

2. What Did the Monster Child Eat Today? by Sampurna Chattarji, illustrated by Vibha Surya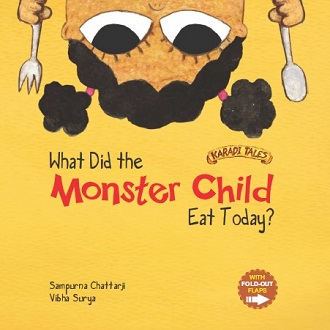 An unusual book that had my daughter talking for days, there is something delightful and satisfying about reading and immersing oneself in What Did the Monster Child Eat Today? My daughter's imagination feasted on its language and clever exaggerations. The book is about a little girl who asks us not to be fooled by how she looks -- she is a little monster inside her head! We see her proclaiming all that she eats because she is a monster child: eyeballs as runny as egg-yolk, delicious lice (instead of rice) crispies burnt extra black (we like all the play on words) and more. Every child is hungry for these kinds of bookish experiences and this was such a good meal for my daughter! Sampurna Chattarji's clever use of hyperbole and Vibha Surya's quirky illustrations bring a child's monstrous imagination to life.

Guess what I had for lunch?
My ultimate treat...
an Egyptian mummy
wrapped up in a sheet.

The book is full of clever illustrations by Vibha Surya. Lift the fold-out flap on the monster child eating a mummy and you see that below, instead of a mummy there is a waffle, a banana for a head and two slices of an apple for legs! We now know that the monster child has a wild and vivid imagination. For children like mine who like dualities, who like being many people at once, this book offers the necessary flight of macabre imagination as well as the safety blanket - that down below, things are quite normal and okay, much like that waffle!


3. The Good Indian Child's Guide to Playing Cricket by Natasha Sharma, Illustrated by Shreya Sen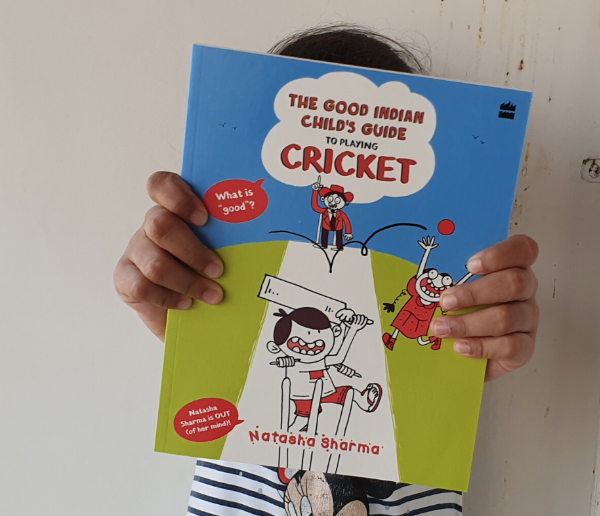 I loved Natasha Sharma's book The Good Indian Child's Guide to Playing Cricket even more than its predecessor, The Good Indian Child's Guide to Eating Mangoes. It is both humorous and nostalgic. Both the guides are wonderful but there is an all-purpose enjoyment to The Good Indian Child's Guide to Playing Cricket that is simply priceless.
The book is a fun, witty, wry, goofy and ultimately informative guide to cricket. Vinod Kambli writes about the book, "Never knew theory would be so much fun." And it's true! Like every Indian, I have watched and enjoyed cricket. I am not an expert when it comes to the technicalities of the sport. This book explains all that but with exciting and hilarious explanations that never bog you down. The explanations do come in but they are so lively and done so well that I absolutely enjoyed learning about (and guffawing over) definitions of field positions, off stump, leg side and more.
4. Lila's Loose Tooth by Mamta Nainy, Illustrated by Habib Ali



Buy the book now!
Lila's classmates have started losing their teeth. They all have many stories to tell. What happens to Lila's loose tooth? A story every little child with shaky teeth will love! My daughter was obsessed with teeth for a few years. After the tooth fairy fantasy phased itself out, she was more interested in what happens to the tooth after it is gone, and the story behind every tooth fall. This book is perfect for satisfying that essential quest for knowledge -- about loose, wobbly teeth and where they go after they fall!
5. Shubh Diwali by Chitra Soundar, Illustrated by Charlene Chua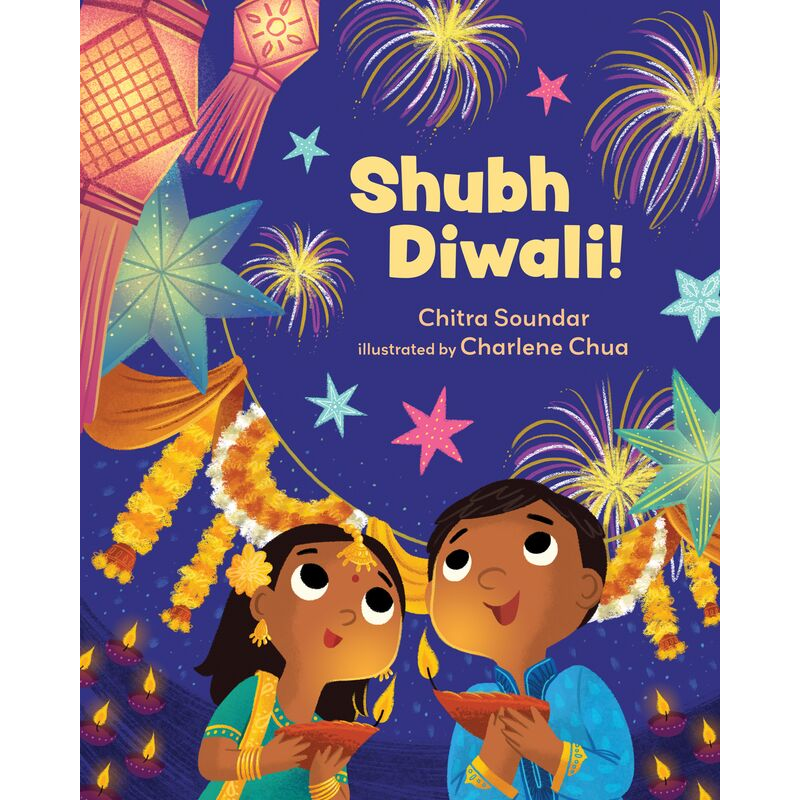 Chitra Soundar is one of our favorite writers. Her book, Farmer Falgu, was featured as part of the UK Summer Reading Challenge in 2019! We also featured her book in our previous boxes. Chitra's latest book, Shubh Diwali, is a must-read for the festival season. Nostalgic the way 'Twas the Night Before Christmas is about Christmas, this beautiful book is written in joyous verse and takes us through a Diwali celebration as experienced by an Indian family outside India. We love the big details, the small details and how the rhymes fill our hearts with wonder. We love all the scenes from family and friends celebrating Diwali and how they share it with people from other cultures in their neighborhood. Charlene Chua's stunning, thoughtful, and textured artwork will etch these scenes and words onto your child's memory and give them picture book moments that they will always treasure.
Buy the book now!
Top Early Chapter Books
1. Nina Soni, Former Best Friend by Kashmira Sheth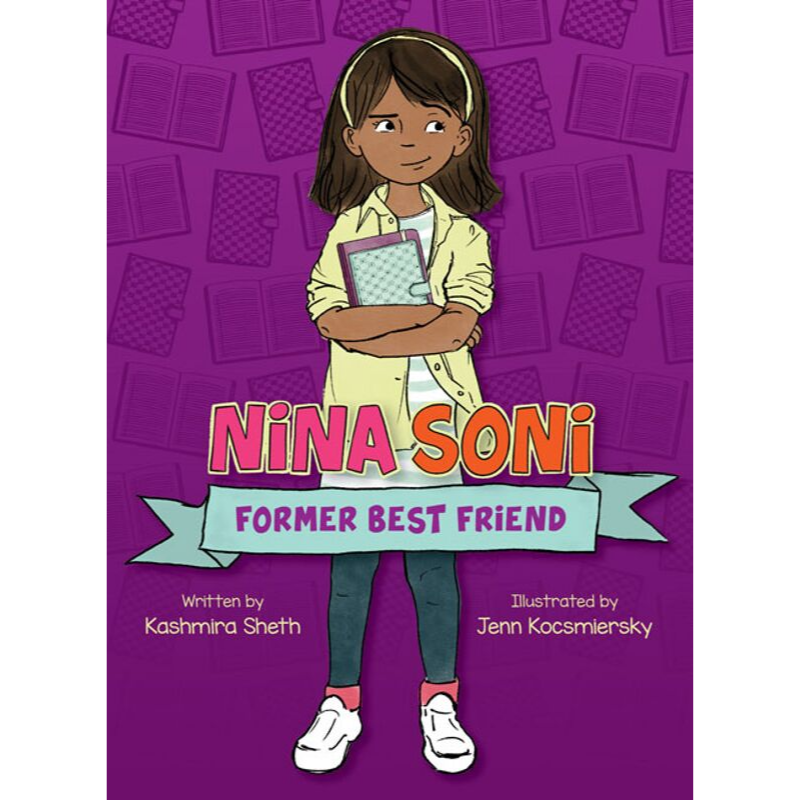 When I received Kashmira Sheth's early reader chapter book titled Nina Soni, Former Best Friend, I decided to read it aloud to my 8-year-old. Needless, to say, we were hooked. When the book ended, my daughter asked me - are there going to be more Nina Soni books? Yes! We received the first title of a series.
Nina Soni is a distractable girl who loves lists to keep her on track. When she ruins her best friend Jay's art project, she is worried that he won't be friends with her anymore. At the same time, she has to turn in a Personal Narrative Project, and it is her sister's birthday party that weekend! With her Dad not able to make it back to town in time, Nina has to help her mom.
The early chapter book was perfect for my 2nd grader, the lucid language, font size, and interspersed illustrations were age-appropriate for young readers and a pleasure to read. We especially loved all the cultural elements and the Indian American experience in the book - from video calling grandparents in India by calculating a 12.5 hour time difference only to have the screen freeze up to watching baby Krishna stealing butter on a TV show, we connected with it all!
2. The Gopi Diaries: Coming Home by Sudha Murty, Illustrat and Sandhya Prabhat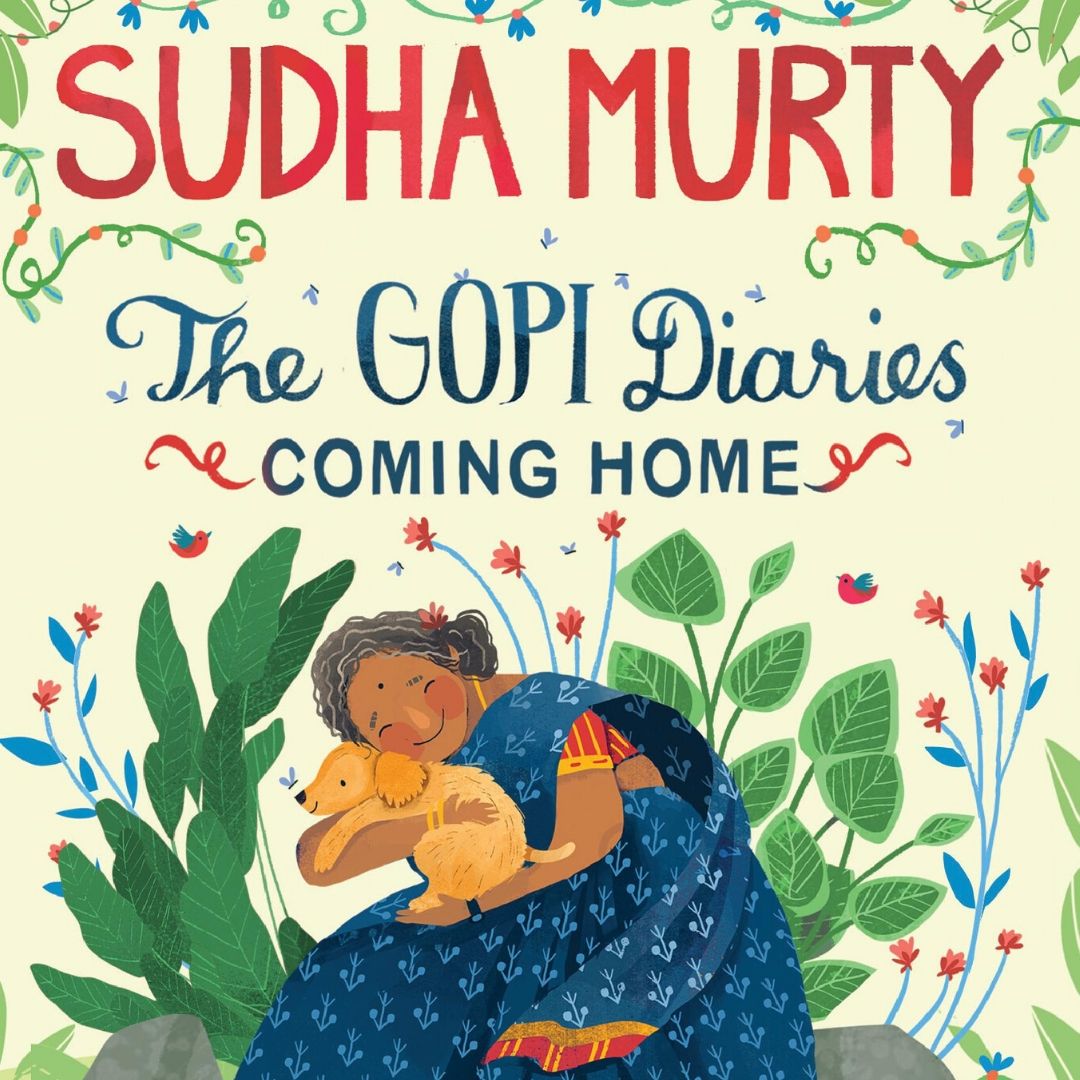 With impeccable production value and illustrations that will harken your own childhood spent over stunning children's literature, you don't want to miss this one for yourself and the children! This beautiful chapter book tells the story of Gopi, a golden retriever who is adopted by the author and her family. The book is narrated from his point of view, right from the time when he is born and sees little white fur balls around him, to the time when he is adopted by a young and handsome man who turns out to be Rohan Murthy, Sudha and Narayan Murthy's son. Gopi the pup is taken to Rohan's home where he is baffled by the sight of two grey-haired old ladies who hold a plate with flames on it and move it round and round in front of him! What on earth could that be? As readers, we know what this is but Gopi is perplexed and is a little scared of the fire!
Written in Sudha Murty's beautiful and lucid style, this book about animals will warm your heart the way Black Beauty or books by Gerald Durrell warmed our hearts as children. This is the perfect Indian animal chapter book to grow up with, and we love that it is going to be series!

3. Ha Ha Hasya written and illustrated by Ashok Rajagopalan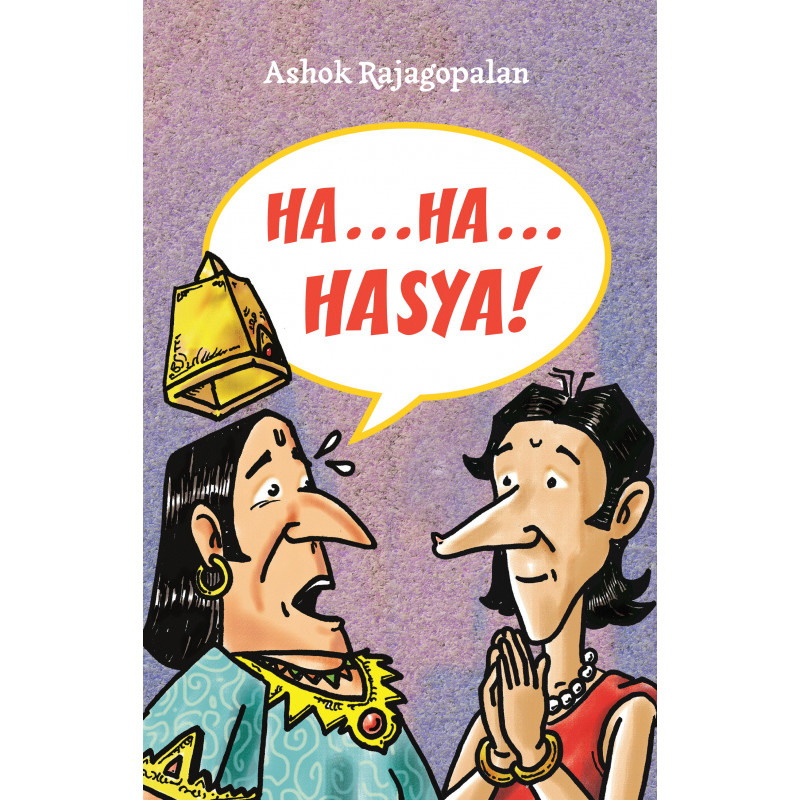 What do you call a triple threat? Maestro Ashok Rajagopalan writing a children's book, writing a chapter book and illustrating it too!
The devas are at the gates of the asura kingdom, raring to wage war. But the asuras turn up unarmed and jolly! Is their king, Hasyasura, up to something? Does he have a secret weapon? Indra, king of the gods, is suspicious. Enter Narada, and a plan is afoot. It involves HasyaSura, the teen deva, who is sent down as spy from the sky to uncover the plans of his almost-namesake down under. Plunging into the hurly-burly of Patala politics, he meets more than his match in Princess Shantaswaroopa who has ideas of her own to resolve the eternal enmity between suras and asuras! A laugh-out-loud story that surgically strikes stereotypes to make a pitch for sporting wars.


4. How the Sea Became Salty by Sudha Murty, Illustrated by Priya Kuriyan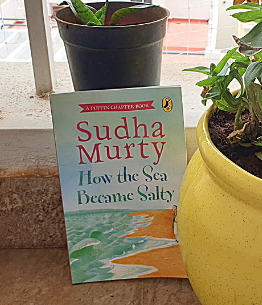 How the Sea Became Salty is a modern fairy tale and Ms. Murty narrates it with clever charm. There is something about the book and the narrative style that simply enamors you from the first page. Much like the Christian Anderson story, there is something hypnotic about this book too.
"A long, long time ago, seawater was sweet and drinkable. How it became salty is a remarkable story."
The book is about a young man named Sridhar, who lives with his brother Keshav, and Keshav's wife, Leela. Leela resents Sridhar's presence in their house and is a selfish, calculative woman, unlike Keshav, who is quiet and kind. One day, Leela sends Sridhar out into the forest to find firewood. Sridhar returns with the wood but has forgotten his axe in the forest, and an angry, cruel Leela sends him back into the forest to find it. In the forest, Sridhar encounters people who change his life forever and turn his fortunes completely. When Sridhar's star is on the rise, Leela returns to find out how he became so rich, and what unfolds is a modern tale that unfurls into a humorous and fascinating narrative behind why the sea became salty.


Top Chapter Books (Fiction)
1. Coming Round the Mountain by Ruskin Bond, Illustrated by Mihir Joglekar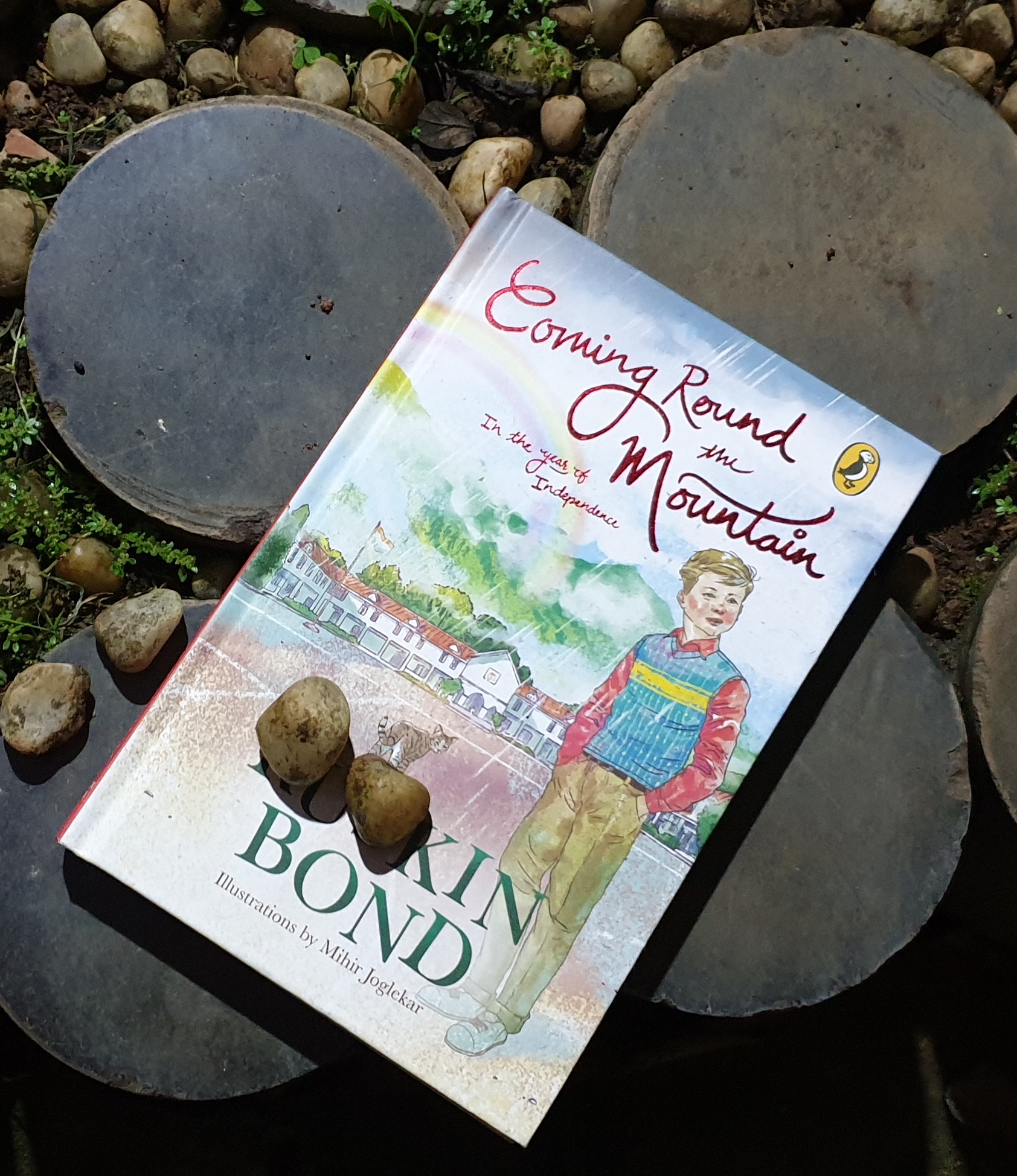 As soon as my daughter picked this book up, she fell in love with it. The production quality is out of this world, right from the quality and the feel of the paper to the cover, the font and of course, the illustrations. This immediately draws you into the book. The last book I loved touching so ardently was the Puffin Modern Classics version of Pippa Longstocking.

This is the third book in Ruskin Bond's short memoirs, after Looking for the Rainbow, and Till the Clouds Roll By. The first book was about Ruskin Bond's adventures as a nine-year-old, with his forty-year-old father who served in the RAF during World War II. The second book dealt with his new life with his mother and stepfather.

Coming Round the Mountain is set during a very memorable year -- the year of India's independence in 1947. The country's freedom and subsequent division saw the author make new friends and lose old ones. The book has lovely scenes from an Indian boarding school life in Dehra Dun -- playing hockey and using the hockey sticks to knock down apples in the headmaster's garden, purchasing Penguin paperbacks for two or three rupees, bicycle rides, movies and members of the opposite sex. Ruskin's friendship with Azhar, Cyrus, and Brian represents a time when bonds ran beyond religious beliefs and differences. Written with nostalgic fervor and engrossing from start to finish, this should be on your child's reading list! It is a great peek into a boy's formative years set in a very definitive year in Indian history.
2. The Daughter from a Wishing Tree by Sudha Murty, Illustrated by Priyankar Gupta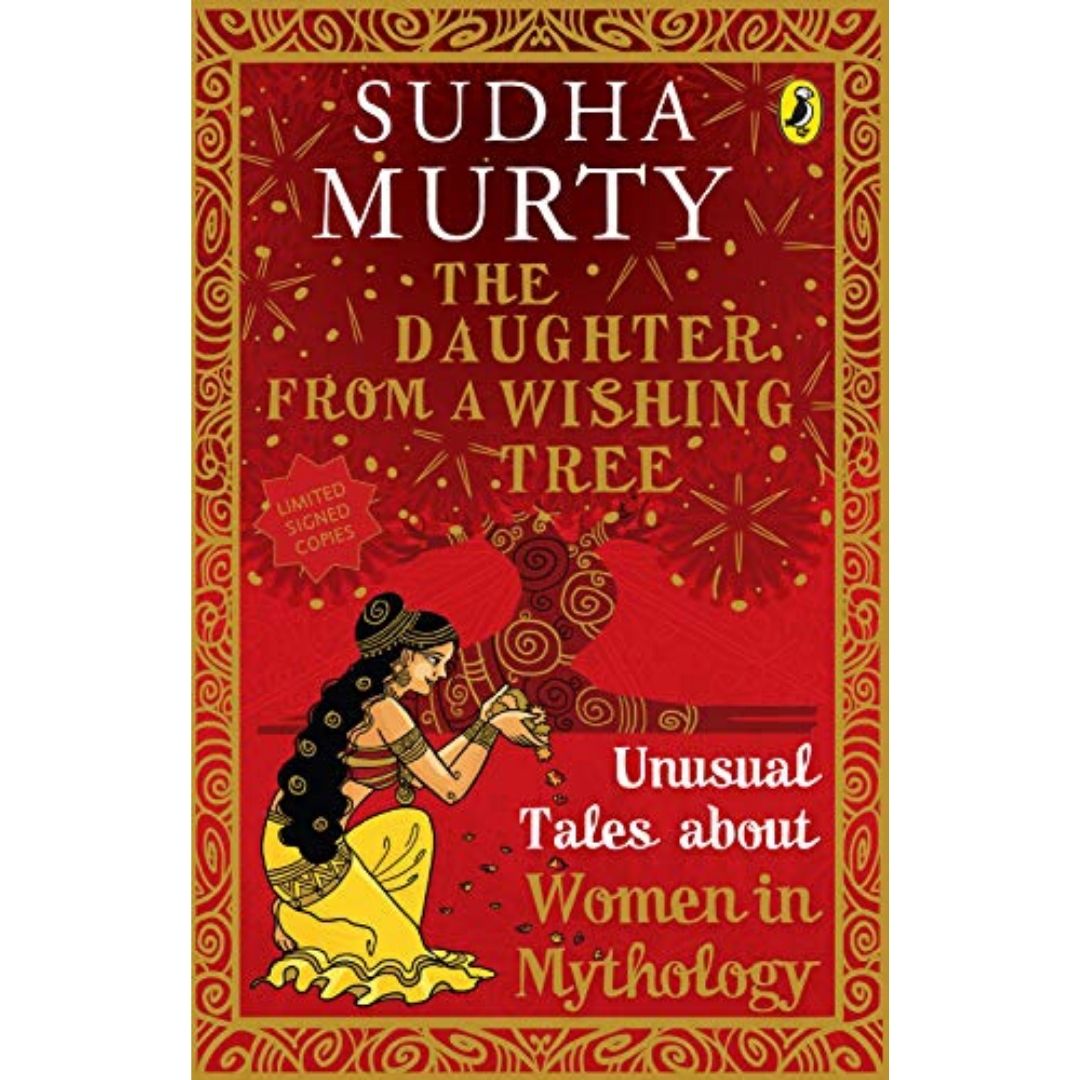 We love books that give voices to unsung female heroes, goddesses who led fierce wars on behalf of gods, who also were the backbone of their families and people who forged their own paths. India's much-loved and bestselling author Sudha Murty takes you on an empowering journey. Much like The Upside Down King, we are amazed at the stories in this collection, stories we never knew existed! We have only heard of the stories of Draupadi and Sita but what about other great women from the epics and mythologies?


3. Ninja Nani and the Mad Mummy Mix-up by Lavanya Karthik



My daughter's uproarious, dramatic and slapstick side needs a refill -- so of course, we turn to Lavanya Karthik!
A worthy follow-up to the earlier two books, this one is about a mummy at the Gadbadnagar Museum! A real live--er, dead--mummy, and it's awake! And eating people! GRAAAON!! Wait, it gets worse. Who's chasing Ninja Nani all over town, trying to uncover her secret identity? And who's battling three-headed snakes? When Deepu and his friends find themselves trapped in the museum with the haunted mummy, there is only one person who can save them--but will Ninja Nani reach them in time? Or is she too busy ...CLICK CLICK CLICK


4. Budgie, Bridge and Big Djinn by Ranjit Lal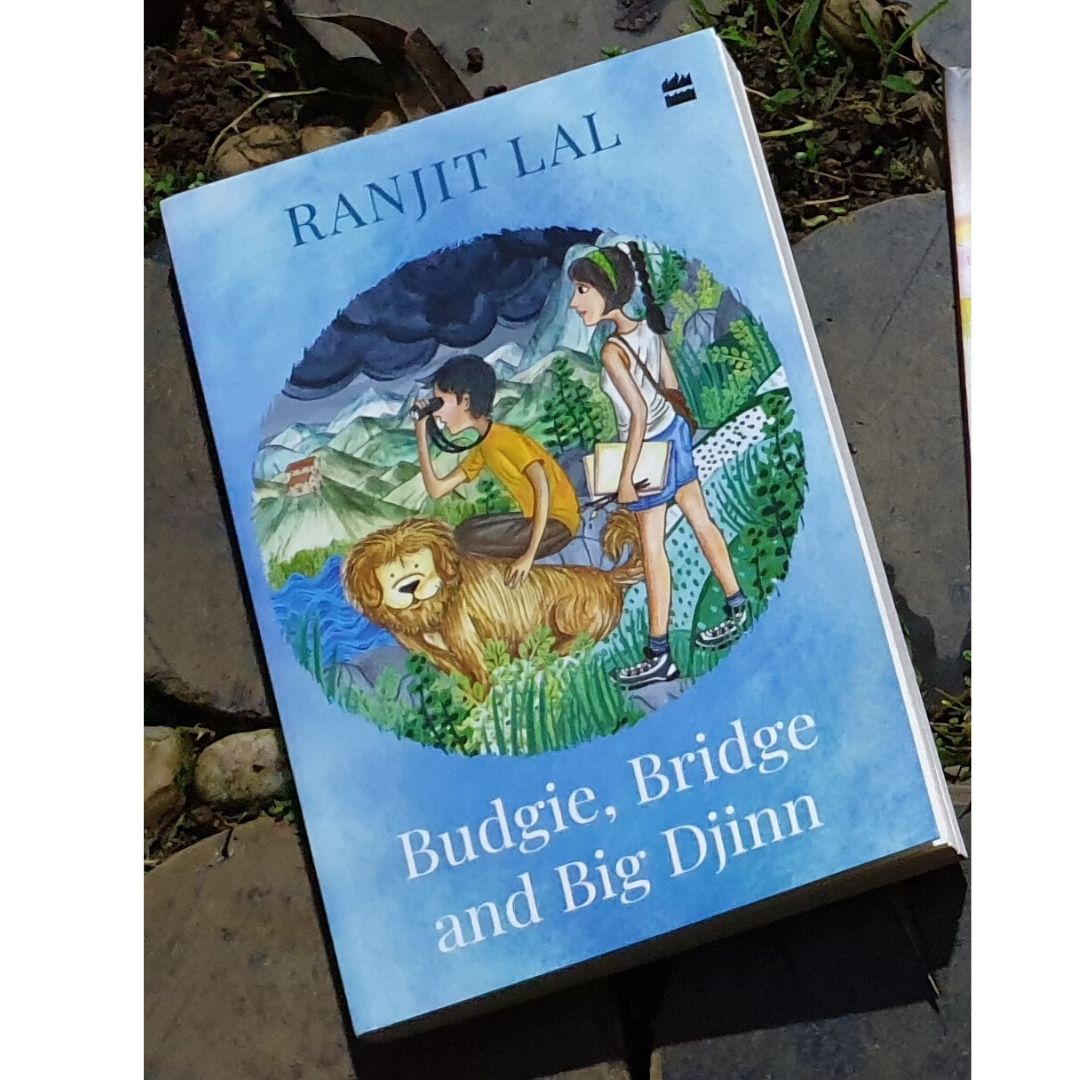 The market is filled with books about children and their role in saving the environment but Ranjit Lal's Budgie, Bridge and Big Djinn is pretty special. It simply doesn't cram those facts in there but offers an interesting and immersive experience. The book is about Brijesh, Shoma and Shoma's Tibetan Mastiff-German Shepherd Big Djinn, as they embark on a dangerous expedition to save their home near Nainital from the clutches of a rich, greedy and corrupt man who wants to replace their ancestral home with a huge profit-making sporting arena.
In the book, the author's love for natural history, wildlife, birds, and animals really shines through. He was awarded the Zeiss Wildlife Lifetime Conservation Award in 2019. We love how both Brijesh and Shoma are outspoken, independent thinkers and it is great to see them both move beyond their past difficulties. Shoma's parents are divorced. Brijesh lost his mother to cancer and his father is an abusive alcoholic but with the help of Shoma's nani, Brijesh is set for a better future. The book is cheerful, breezy and packed with lovely information and descriptions of wildlife and sceneries. Go for it!
Buy it now!

Top Chapter Books (Non-Fiction)

1. A Tigress Called Machhli and Other Animal Stories from India by Supriya Sehgal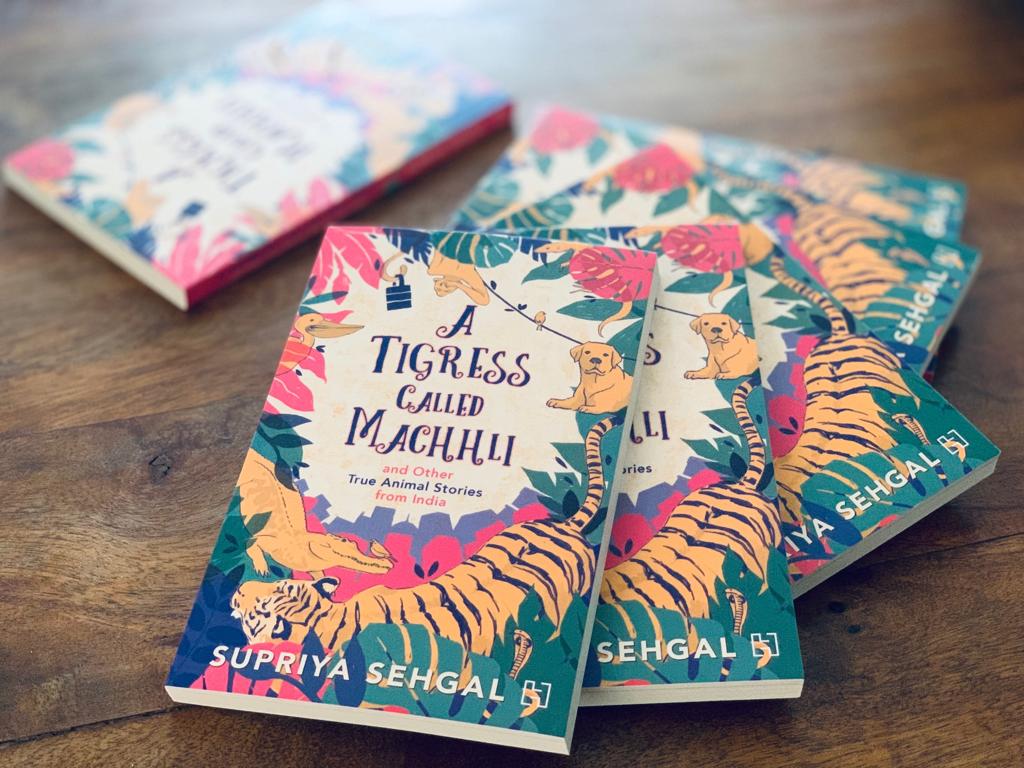 Absolutely brilliant from cover to cover, A Tigress Called Machhli by Supriya Sehgal is a collection of fascinating stories about the author's adventures with animals during her work as a travel journalist! The titular story in A Tigress Called Machhli by Supriya Sehgal narrates a formidable scene -- Machhli, the famous tigress of Ranthambore, takes down a 14-foot crocodile and the battle lasts for hours, culminating in an epic move that wins Machhli the title 'Crocodile Hunter.' This isn't the only title Macchli earned during her lifetime. She was also one of the most photographed animals in India and her huge popularity among wildlife lovers and photographers led to tourism revenue of $100 million in Ranthambore. This earned her a lifetime achievement award from the government!

These are precisely the narrative arcs that make A Tigress Called Machhli, published by Hachette, such an absolute pleasure to read. Every chapter in A Tigress Called Machhli is about an unusual and enchanting real-life story about an animal. We were stunned, for instance, to read about the Ananthapura Lake Temple in Kasargod, Kerala, being home to a temple pet of a very different nature -- a vegetarian crocodile named Babiya, a gentle animal whom the priests view as a divine caretaker of the temple. They even swim in the pond with her and when they do, she shyly swims away from them because she doesn't want to disturb them. Bet you didn't see that coming!


2. From Leeches to Slug Glue: 25 Explosive Ideas that Made (and Are Making) Modern Medicine by Roopa Pai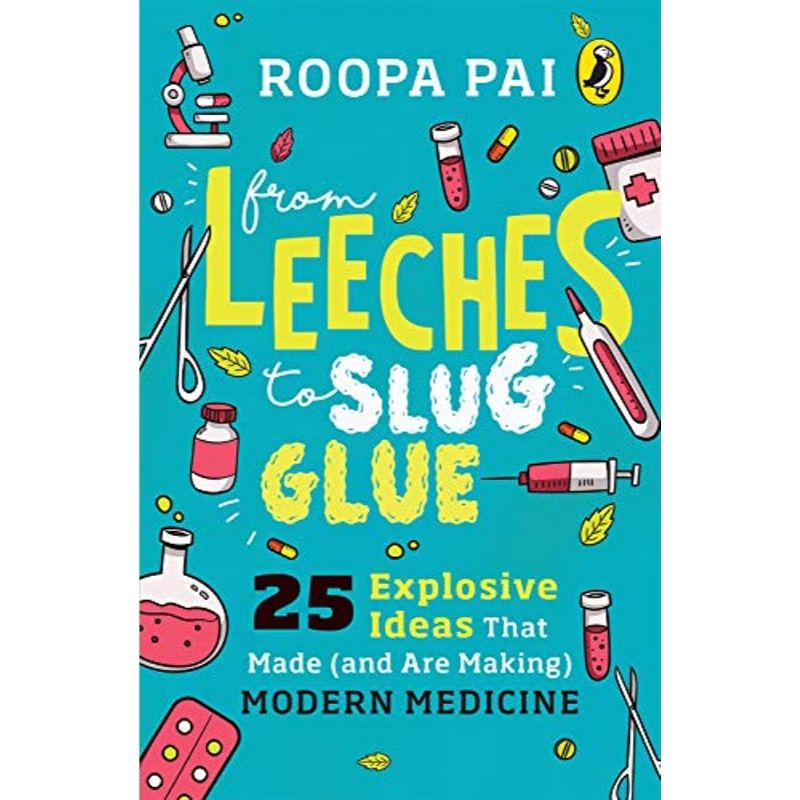 We love STEAM because we live in a world where disciplines are coming together and merging in interesting, cross-disciplinary ways. Roopa Pai's book is all about the interesting intersections in the world of medicine. She goes right back to 2500 years ago when the world's first eye surgeon lived -- in India! She writes about the standard textbook on medicine that was written by a self-taught Persian physician. Or that it was a seventeenth-century cloth merchant from Europe who discovered microorganisms. We love that the book traces science back to its roots, gives credit to the ordinary men and women who worked on medicine and make breakthroughs outside fancy laboratories and hospitals.

Discover dozens of 'No way!' nuggets like these in this fun, info-packed romp through 2500 years of human health and healing. And prepare to be gobsmacked, entertained and inspired by the stories behind some of the most significant medical breakthroughs in history, and the extraordinary men and women behind them. Featuring groundbreaking ideas, trivia, factoids, and more, this book will make you question your notions of what makes a person 'whole'. And it will fill you with wonder at the innovations, inventions and discoveries that have made-and are continuing to make-the young science of modern medicine.


3. Stories for South Asian Super Girls by Raj Kaur Khaira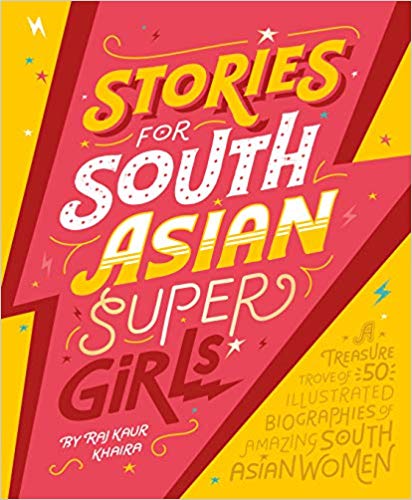 Stories for South Asian Supergirlsintroduces our children to remarkable South Asian women who have shattered the glass ceiling and accomplished some remarkable things in diverse fields. Every woman has an interesting and unique story to share! South Asian Super Girls is written by Raj Kaur Khaira, a lawyer and operations specialist who is passionate about children's literacy and education. Raj is the founder of Pink Ladoo, a campaign to make the world more inclusive and representative of South Asian women. Some of their high points included forming powerhouse South Asian communities across Canada and the UK, and advising the Canadian government on how gender inequality among the Indo-Canadian community.


4. 20 Indians Who Changed the World by Shruthi Rao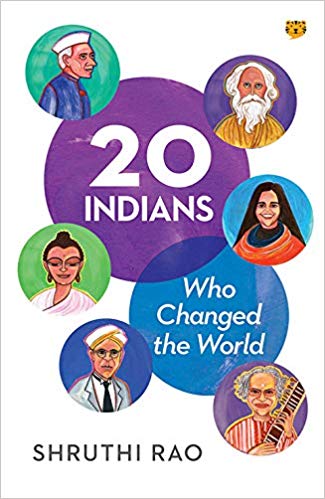 When we read 20 Indians Who Changed the World by Shurthi Rao, my daughter and I rediscovered Indian scientists, philosophers, musicians, writers, and mathematicians but we also unraveled larger narratives at work in the book - for example, why did science decline in India after the 12th century? One of the causes, Shruthi writes, is explained by a 19th-century chemist named PC Ray. He attributed the decline to the introduction of the caste system, which prevented fruitful intellectual interactions between different people in society. Unlike most books on history that seem to be holding the publishing world in a sort of frenzy, this book has a unique narrative style and a very distinct voice.
When you write on history for children, you have the potential to do many incredible things, one of which is to bring the young reader to the stark realization that history is somehow repeating itself, or is adding up to the present in some sense. This is exactly what happens when you read 20 Indians Who Changed the World -- it is not just a book for children about history but also an interesting and concise account of how we got to where we are at the moment. For a young mind, this contextualization is crucial and can change the way they view the world.


Top Board Books
1. Shubh Raatri Dost by Nidhi Chanani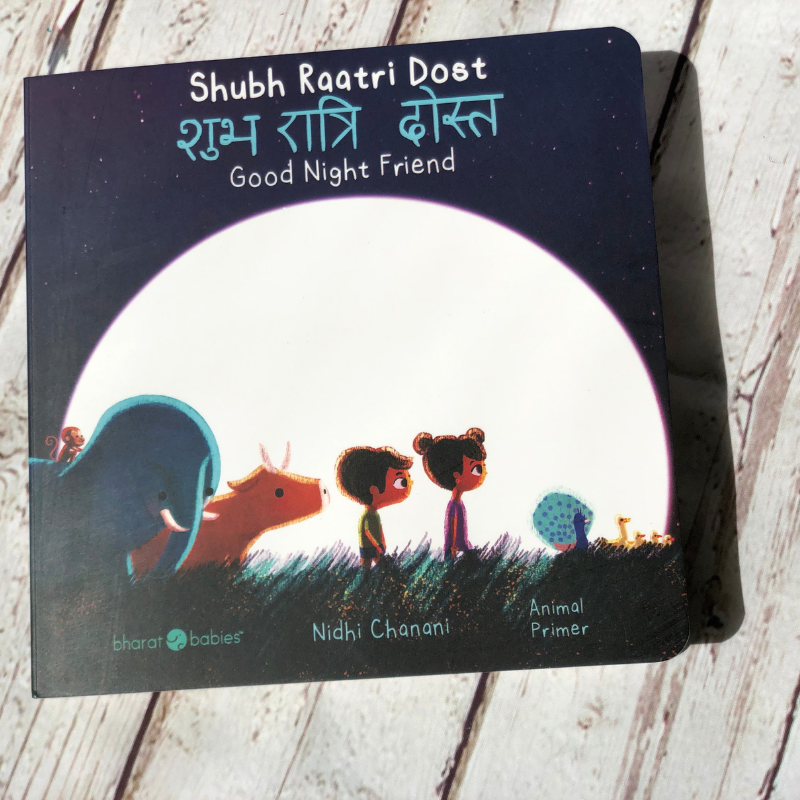 Shubh Raatri Dost written by Nidhi Chanani and This beautiful Hindi-English board book shows how Bhai (brother) and Behan (sister) walk through their Indian farm home, bidding each and every animal goodnight. The book, with its refrain of 'Shubh Raatri' or 'good night,' works as a beautiful bedtime story. Its mood, ambiance and the gentleness of its words and illustrations really make it a soothing, calm and gentle bedtime tale for babies. We like how Bhai also says 'Shubh Raatri Pyaas' meaning "good night thirst" even as he drinks a beautiful steel tumbler of water! Every sentence in every page has a Hindi translation in the Hindi script, Romanized Hindi and English, making this an accessible and easy bilingual book that actually works! We love the way the babies in the book say 'dhanyavaad' or 'thank you.' We love the sequence that the book follows, the soothing repetition, and the rhythm.
2. Kahaani Purani by Pridhee Kapoor Gupta and Alicia D'Souza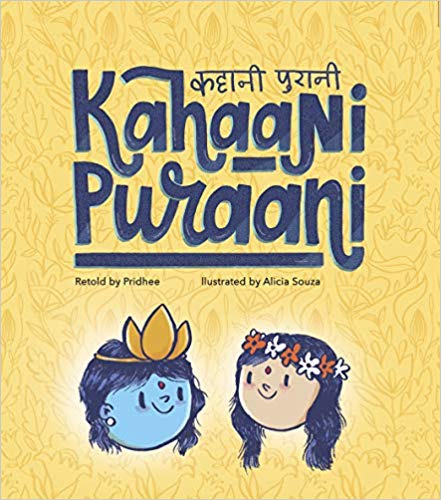 Kahaani Purani is a brand new board book that is written and retold by Pridhee Kapoor Gupta and illustrated by Alicia D'Souza. It has stunning illustrations and really pushes the boundaries of the board book format! Don't miss this one! That is exactly what happens with Kahaani Purani by Pridhee Kapoor Gupta and Alicia D'Souza! I am a board book lover. My baby benefited tremendously from reading board books. A Pridhee-Alicia collaboration never disappoints.
We love that this is a board book on the story of Rama and Sita. We don't have enough board books with Indian stories and certainly not enough on Indian mythology, stories, and culture. We love the flaps, tabs and the illustrations are absolutely superb! It is thrilling to explore and share this story with our children. The book is also a great way to learn Hindi.