A Kite Flying Adventure with Farmer Falgu!
posted by Divya , April 04, 2019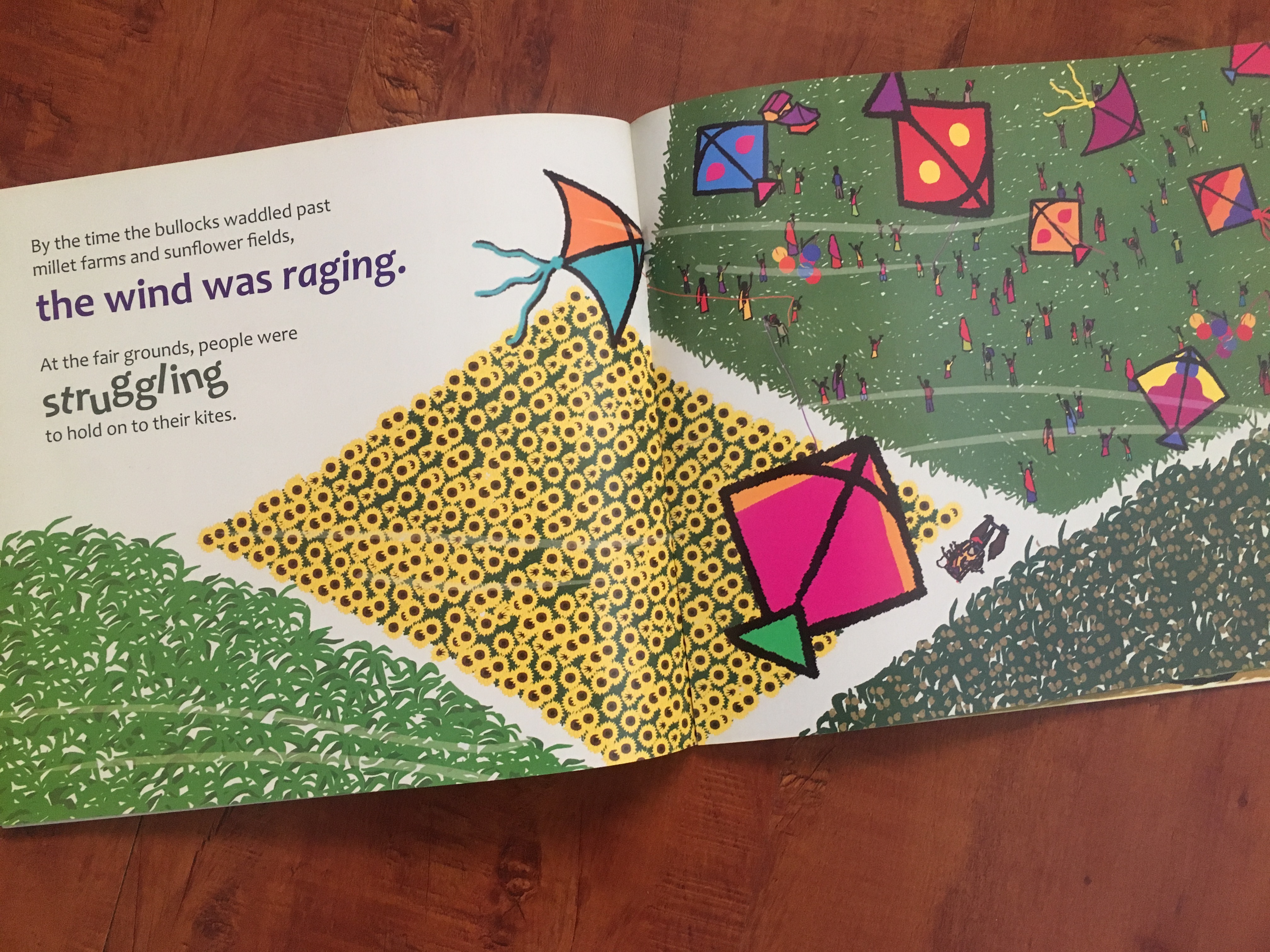 Farmer Falgu is always 'going somewhere'! And if you have read the first two books in the series (Farmer Falgu goes on a Trip & Farmer Falgu goes to the Market), you will know that his trips never go smoothly.
About the book
In this book, Farmer Falgu is on his way to the annual kite-flying festival with his daughter, Eila. But…. Whoosh! She loses her kite to the strong wind. Will our ingenious Farmer Falgu come up with a solution to make his daughter happy?
Author Chitra Soundar's third book in the 'Farmer Falgu' series takes us on a lovely kite-flying adventure to Falgu's native land of Rajasthan in India!
Farmer Falgu and his daughter, Eila are on their way to the Annual Kite-flying Festival in Rajasthan! Eila is super-excited to fly her big green kite. But…. Whoosh! A strong wind blows and carries her kite away. What happens next? Does little Eila get to fly a kite? Will our ingenious Farmer Falgu come up with a solution to make his daughter happy?
Read this book, published by award-winning publishing house Karadi Tales to find out!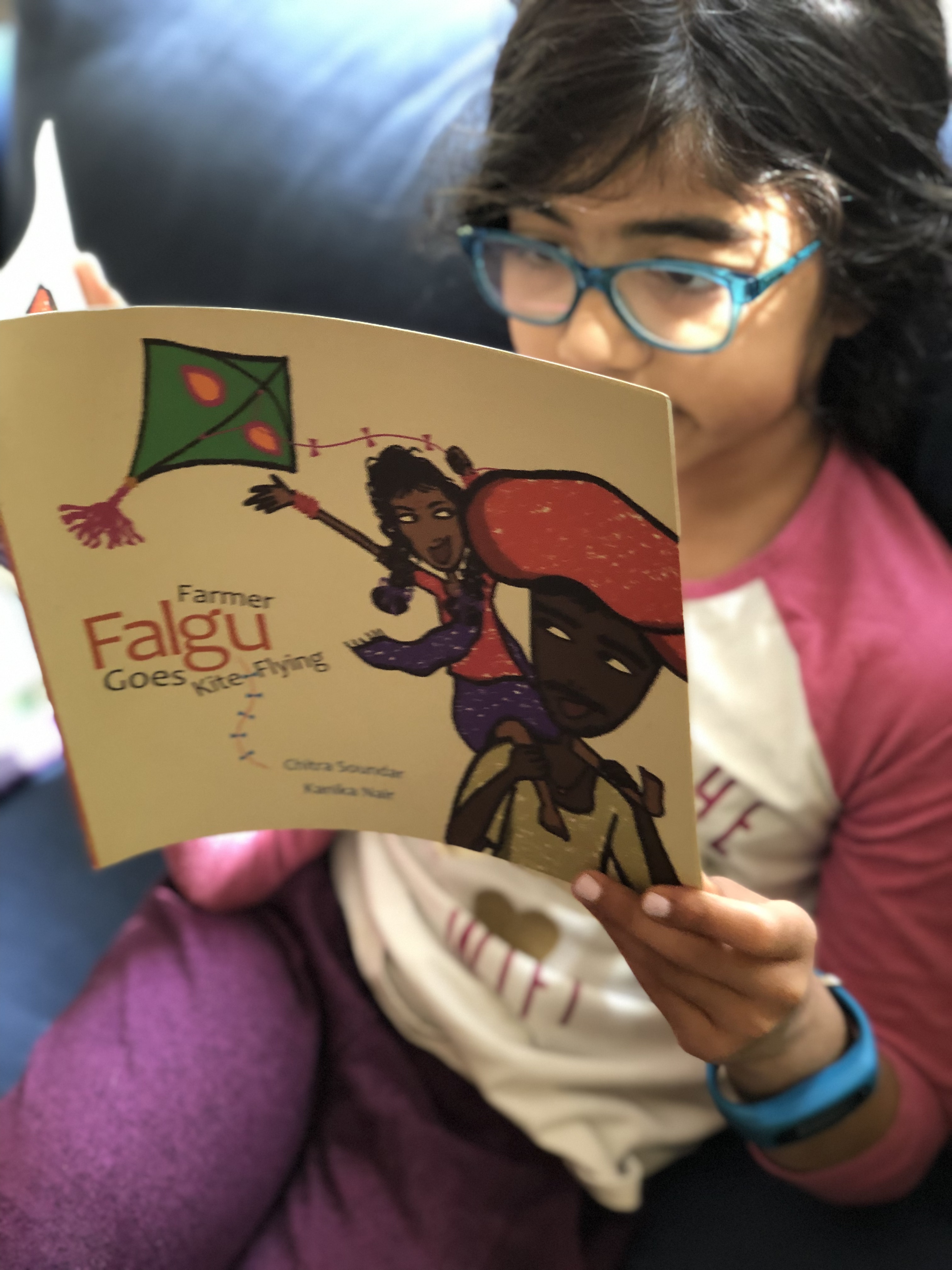 What I loved about the book
What I love the most about the Farmer Falgu series, is that-
1. They have the capacity to transport the reader to the rural life in an Indian village!
This book took it a notch up for me. Be it the characters, Ahmed Chacha and Pushpa Didi, who hop on to Farmer Falgu's bullock cart for a ride! Or the lovely and bold illustrations of the sunflower fields or the kites flying ... every page that you turn, brings with it an actual village scene perfectly. Picture book lovers, young and old are sure to admire and enjoy this experience.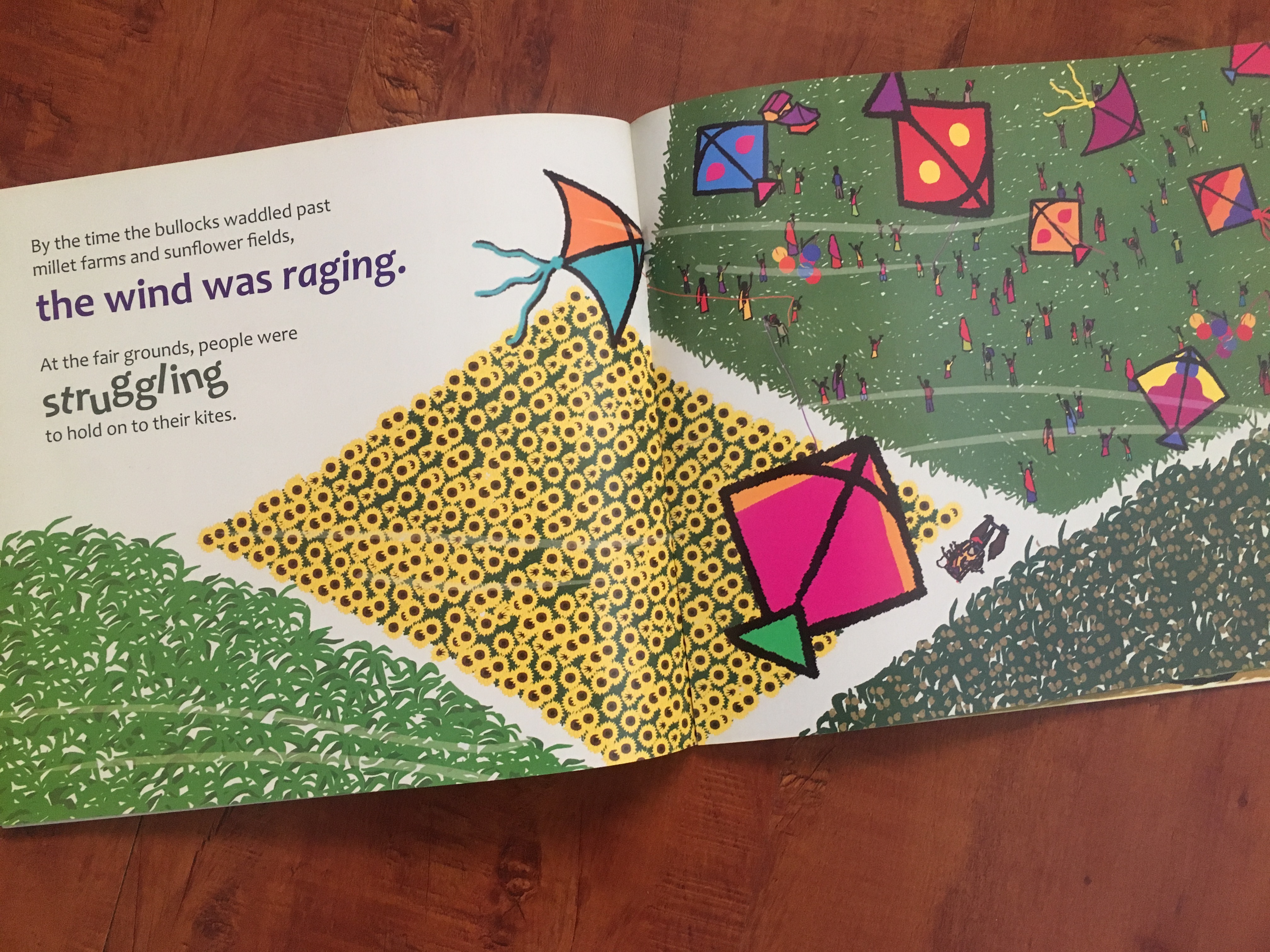 My seven year old and I loved this scene from the book. What a spread!
2. The other aspect I loved is that Farmer Falgu is by nature a problem fixer!
Farmer Falgu does not worry, and his positive attitude immediately rubs off on his daughter - as you will find in this book. A subtle message to us, not be a worry wart and whine about problems! Every problem has a solution and can be fixed. That I guess, makes him a great role model for kids!
Farmer Falgu Goes Kite Flying is the Toka Explorer Book pick for the Month of April, where kids learn to build and fly an Outdoor Kite using Engineeering Skills!
Why I recommend the book
A beautifully written tale by Chitra Soundar, the book has equally beautiful and colorful illustrations by Kanika Nair that capture the spirit of this kite-flying adventure perfectly. Kids will love to turn each page and keep turning, to see what is coming next!
This book is part of our Toka Explorer book pick for the month of April! We have paired it with an exquisite activity -- a task to engineer an outdoor kite and learn to problem-solve as we learn how to fly it! Much like Falgu, who is a problem fixer.