Goodness Gives More Goodness - The Boy And The Drum by Umesh P M and Rajiv Eipe
posted by R's Mom , August 21, 2015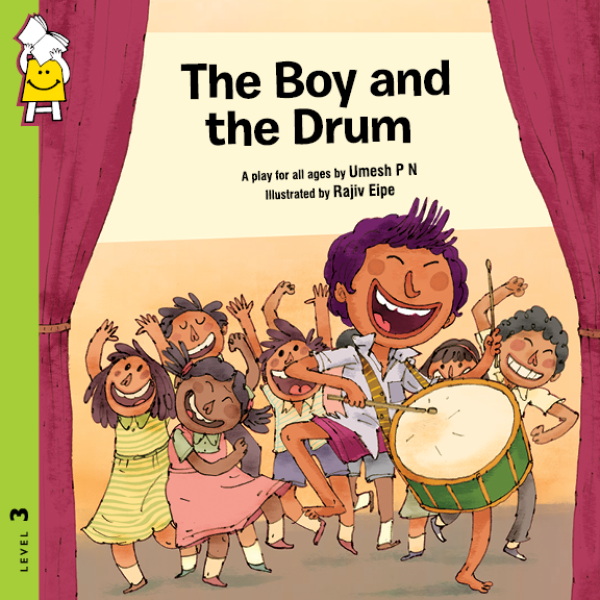 The Boy and The Drum written by Umesh P.M. and illustrated by Rajiv Eipe published by Pratham Books is a book written in a play format for you to read aloud to kids even as you enact it. The book gives a very detailed description of how you can actually put it up on stage like a play.
The story is a folktale retold in a wonderful manner about a little boy who is very poor but wants to have a drum. His mother gives him a piece of wood instead, which he takes with happiness and decides to take it around. Then he meets an old man who is in need of wood to cook his food. And then the cycle starts. From wood, to bread to pot to clothes to horse and finally does he does the drum? How does he get it? What does he do with it?
The book passes a simple message to us - Goodness gives more goodness. The boy's giving nature gets him what he wants and despite having things of far more value than a drum, at the end of the day, he just wants his drum. The simplicity in the story is very endearing. Umesh PM does a wonderful job retelling the story. His lyrical poetry and the way he has written it in a play form makes the book unique and fun. I loved the way he has given details on how to enact the play with children and what should each actor in the play be doing. He also gives us tips on how to sing the songs what kind of speed to use and what each of the other characters does on the stage.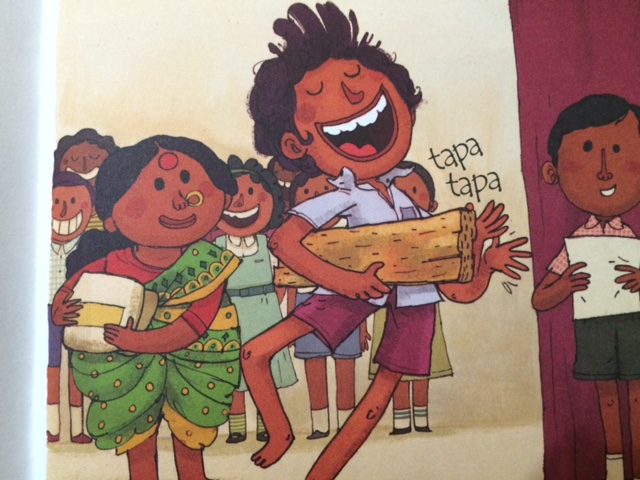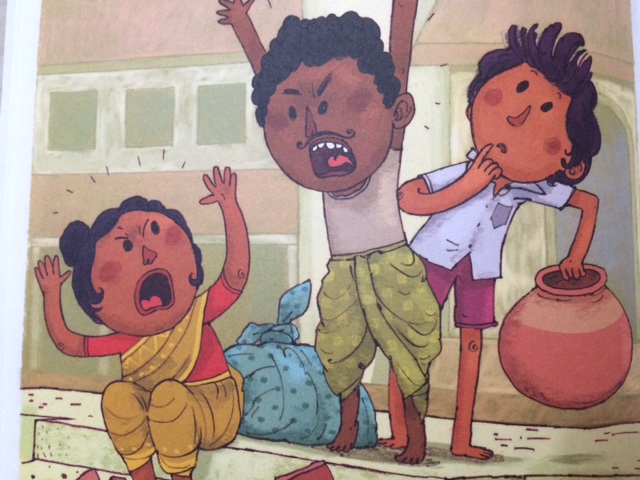 The
illustrations by Rajiv Eipe are fun to see
and
add a lot of character to
the
story.
The
boy
is illustrated so wonderfully
and
to see his expressions change throughout
the
book is so much fun :)
The
illustrations also add value in terms of telling us how to enact
the
play on stage.
The
best part is
the
last part of
the
book, where
the
author
and
illustrator have given actual illustrations on
the
props, what can be done if
the script
needs
to be put up on stage!
Definitely a winner for its simplicity of story
and
uniqueness of narration!
Theatre is The Most Powerful Medium of Both Expression and Introspection Says Umesh P N
Umesh P N is the author of the book 'The Boy and The Drum' He was kind enough to answer our questions regarding the story, how he came about writing it in such a unique manner and his views on theatre and what his three favorite plays are. (He pretends to suffer from temporary memory loss as he struggles to decide which ones to talk about in this interview!)
Thank you Umesh for talking to us!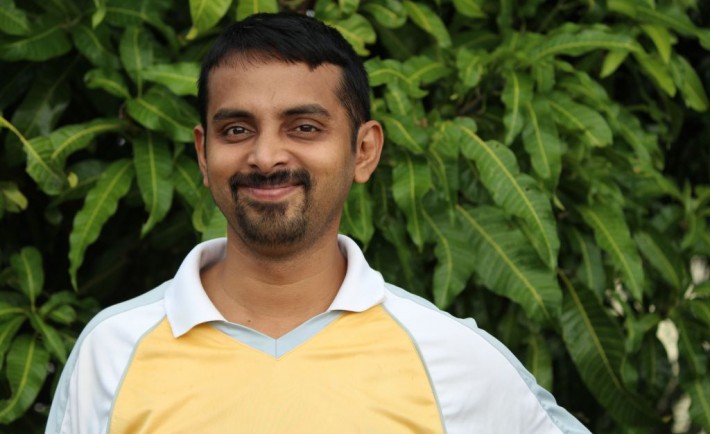 IMC: A simple tale, with a lovely lesson and more importantly a superb ending. What made you write the folktake in such a unique manner?
Umesh: Actually, I was working with a theatre group in 2003 or 2004, and the group got an offer to stage a radio play for All India Radio. A basic storyline of The Boy and the Drum was also attached. The reason it became "musical" is because AIR wanted a musical play that was exactly 17 minutes long. So a lot of the writing was dependent on how we scored the music and made the play "singable." This is also why the "lyrics" are simple and follow an easy rhyming pattern; with radio, you only have an auditory recall to depend on, since no visuals are possible.
Oddly enough, I do not know when the play was aired eventually, but we had a great time in the recording studio :)
IMC: A lot of children love enacting plays. Unfortunately, as they grow older, they don't have the time from academics to actually spend time enacting and enjoying stories. Do you think introducing theater as a part of our school curriculum will make a difference?
Umesh: I feel theatre is the most powerful medium of both expression and introspection, and any theatre is always going to be immensely beneficial to both the teacher and student. It's good to see that a lot of schools now have some form of theatre activity or the other. Also, theatre need not be used only for entertainment or "didacticism" in the sense of sending out a message, which actually is the poorest way to use the theatre. When the theatre is viewed as "experience before explanation," it can be used to teach concepts in physics, maths, and any other subject. I feel theatre will outlast all forms of "new age" and "traditional" study methods since the theatre is life.
IMC: What is your favorite part of the story?
Umesh: That's a very difficult question :) I really like the boy in that he settles so easily for a piece of wood instead of a drum, and from thereon, he has no hesitation in sharing what he has while expecting nothing in return. That's a quality that would be great for all us to have :) Also visually (thanks to Rajiv Eipe's wonderful and sensitive artwork), I love the whole idea that the wedding band is an all-girl band :)
IMC: Three plays for children which you have enjoyed?
Umesh: Hmmm, I have a failing memory :) Since I am from Bangalore, I will mention three plays that I have seen here: Gumma Banda Gumma (original in German, translated as Here comes the Boogeyman), Narigaligeke Kodilla (Why foxes have no horns), and Shipwrecked by Pulitzer winner Donald Margulies. I also have enjoyed some Korean plays (whose names I can't recall) for children; they have very high aesthetic standards.
Children's book Illustrator, Rajiv Eipe Shares The Process of Illustrating A Book!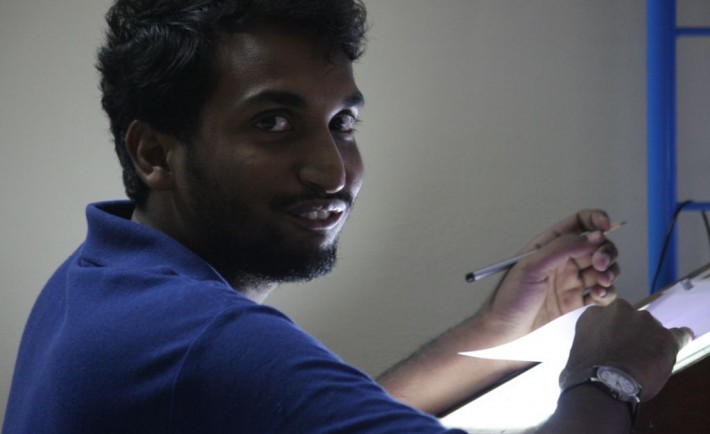 Rajiv Eipe studied Fine Arts at Sir J. J. School of Art before he went to study Animation Film Design at the National Institute of Design, Ahmedabad. Rajiv lives in Mumbai where he mainly does animation and graphics for Television and secretly wishes to drive a taxi for a living. (From katha.org)
Rajiv who illustrated The Boy And The Drum has been kind enough to share the entire process of how illustrations are done for a book with us. He actually sent us the thumbnail sketches and explained how a picture gets its final form. Phew! That looks so tough :)
Thank you, Rajiv for this wonderful interview!
IMC: The seven-year-old in my house loved the bright vibrant illustrations of the book. How did you think of them?
Rajiv: That's nice to hear! Well the story was already there- it was adapted from a folktale by the very talented and funny Mr. Umesh.P.N. Images start forming in your head when you read a story, and those are usually good places to start. The final illustrations emerge through a series of processes, tempered at each stage by discussions with the writer and editor.
IMC: How do you go about the process of illustrating a book? Please give an outline of the process to our readers?
Rajiv: First I read the story and try to imagine the characters that inhabit the world in which the story is set. Then I try and put these people on paper in the form of character design sketches. Sometimes you arrive at your final character designs through lots of churning, many drawings, and iterations and sometimes they just come and sit down in front of you like they were summoned there by a higher power.
Next comes rough thumbnail sketches of the entire book, to get an idea of the basic structure of the book, and to see if the story comes through with the images.
Thumbnails can be very rough, sometimes so rough to make you forget what you'd drawn in the first place.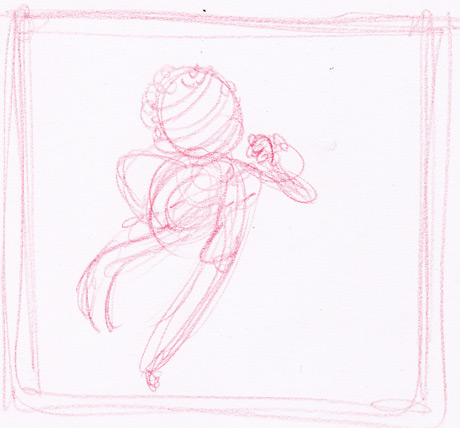 Or they can be somewhat easier to understand, which helps if you're going to take it to show the Author and Editor. The idea is to keep things rough and sketchy early on in the visualization process so you can change and maneuver things around freely. (but not so rough as to leave everyone around you flummoxed)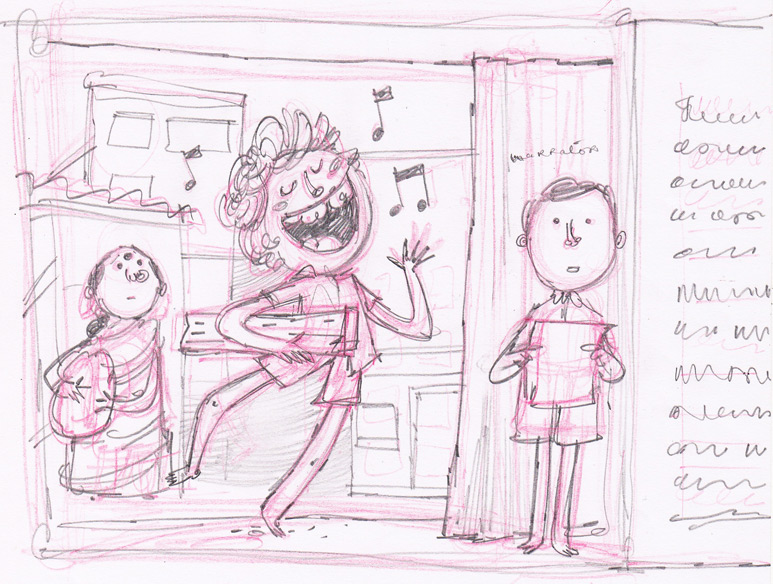 Once everyone is agreed on what the characters look like and the style of the illustrations, I go ahead and make the pencil drawings.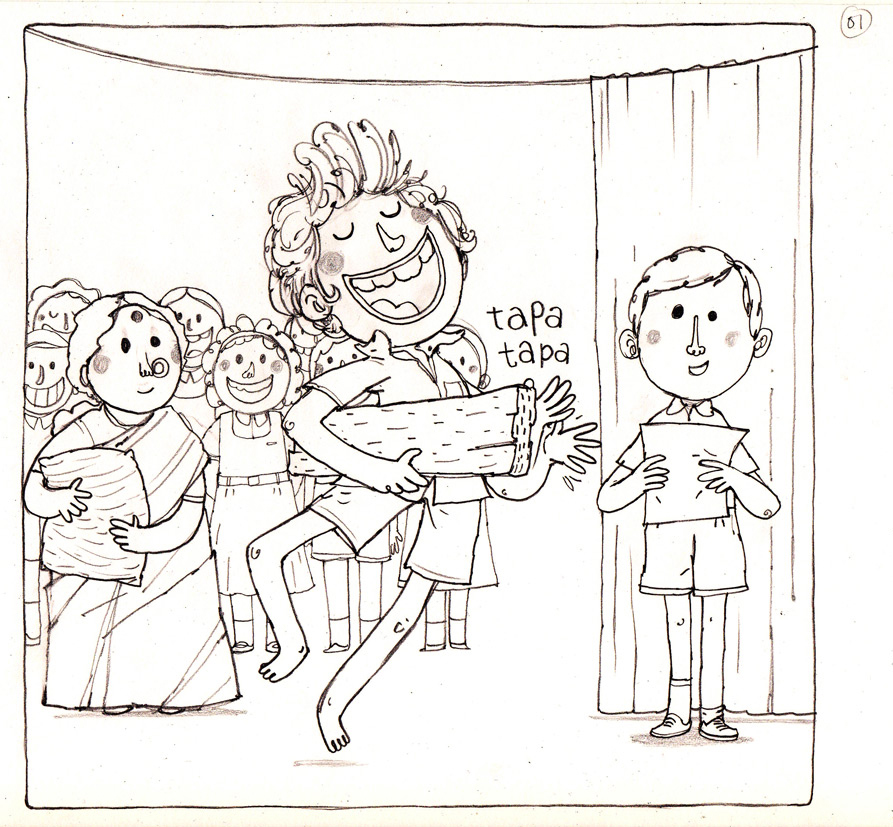 And finally the colored illustrations.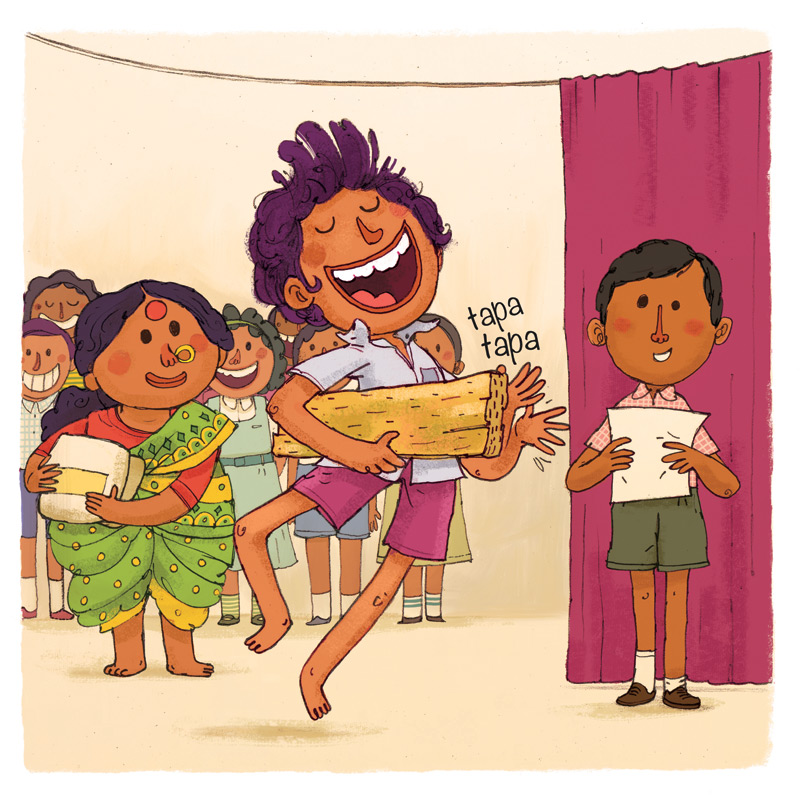 IMC: What is your advice for children trying to take up illustrating as a profession?
Rajiv: Draw a lot. Look at all kinds of art and be inspired. Love what you do and the challenges that accompany an unconventional career will seem easier to deal with.