4 Things to Keep in Mind When Looking for a Parent-Infant Program
posted by Shweta Sharan, June 27, 2018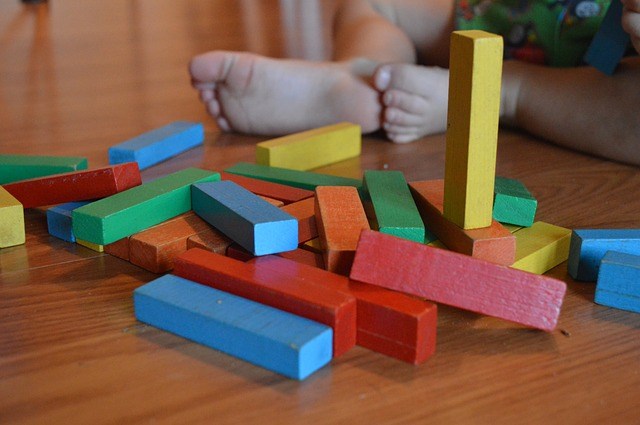 Looking for a parent infant program or a parent toddler program for you and your child? There are many of them around but here are 4 things to keep in mind when choosing one.

It was in a mother-toddler program that my daughter stood up for the first time in her life. She was a toddler and hadn't started walking yet. But when it comes to babies, "monkey see, monkey do!" She saw slightly older children around her walking or scooting around and that was the last straw. She had to do something about those legs of hers. So she stood up and tottered around, her hands held out as if to balance herself. She plopped back onto the soft mat immediately but my goodness, I will never forget that moment.

For new parents, these programs are excellent windows into the outside world. We are so caught up in diapering and feeding that we don't realize that there is a world out there and that every bad day we experience, every other parent in the world experiences it too!
1. The quality of activities

Your baby is only 6 months old, so why on earth would a curriculum matter? Well, a curriculum needn't only be university-level. I recently read an article about how more and more children are entering grade 1 without fine motor skills and pre-reading or pre-writing skills. Children are not exposed to enough sensory play, texture and outdoor play.

Look for parent-infant programs that weave in stimulating activities that really get those neurons firing away. For instance, bubbles are wonderful because children love them. When the facilitator asks them to 'pop' those bubbles, they are working on their hand-eye coordination and movement.

Programs that encourage movement and music are great. Infants and toddlers love both, and will get into the groove very easily. For instance, songs like 'Heads, Shoulders, Knees and Toes' teach children about their body. A few programs use mom-baby yoga and this is great too. One program had a sensory walk for the toddlers! This is when toddlers walk on sand, pebbles, little tubs of warm, leaves, cool water and more! This offers tremendous sensory integration for children. Make sure the activities include lots of touch, texture, bouncing, movement and variety. Identifying a picture or puzzles are important but sensory activities and play really aid development and nurture a child's brain.

Feeling objects, touching, playing, crawling and running are important for infants and toddlers. Look for programs that have a variety of age-appropriate activities woven into them. Don't focus on those brain-boosting activities now! Make sure your child gets all the input so that they meet their developmental needs.
2. Facilitators who understand early childhood and who are trained

Teachers or trainers who facilitate these programs should have a background and experience in early childhood. They should understand the children's cognitive, psychological and physical needs thoroughly. For instance, infants don't really respond to puppets the way toddlers do. Repetition is a good thing and children crave them, sometimes asking their mamma to look at the same book twenty times.

A trained facilitator, preferably with a degree in early education, will understand a child's age-appropriate needs. He or she will also be able to guide you in your new parenting journey. I have asked my mother-toddler program facilitator so many questions -- why is my baby not interacting or participating yet? When will she crawl? How much tummy time should I give her?
3. Group size in a parent infant program

A small group size really makes a difference. Little ones get overwhelmed with too many people in the room. Also, the quality of experiences are richer when there are fewer people. A parent infant program that has group of 6 to 8 is ideal. Smaller groups also mean that you will get to become friends with other mums. May I also say that meeting other mums is a great aspect of a parent infant program? Some of my closest friends date back to those days. You get to understand that any problem you face, many other parents face it too. You are not alone. Every parenting journey throws forth its challenges.
4. Outdoor play

A program that has outdoor play is wonderful. Children get a sense of nature, which has a healing effect on them. Humans are wired to be in the outdoors and a child who has his or her fill of outdoor time tends to be less fussy or irritable at home. The outdoors also present excellent textures and sensory input that really enrich a child. The abundance of space also makes it a treat for everyone involved! Outdoor activities also involve free play, and as we all know, free play is crucial to a child's mental, physical and emotional development.

Good luck looking for a program and happy parenting!

Featured image credit: Pixabay