Paneer Stir-Fry in Claypot | Toka Chef Recipe
posted by Preethi Chandrasekhar, July 04, 2018
When we say paneer, the recipes that immediately come to mind are paneer butter masala, paneer tikka and matar paneer. But how about a simple stirfry? Yes, you can make simple matar paneer stir fry too. Today I am going to share this quick and easy kid-friendly matar paneer stir fry that I made in the clay pot.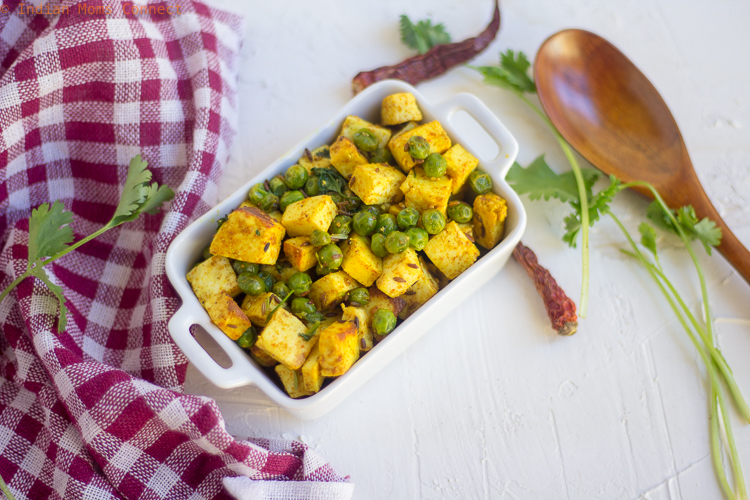 This July, at Tokabox, we are talking about protecting the nature and Indian biodiversity. So I thought why not talk about India's traditional cookware and make a recipe with the conventional cookware. Soapstone vessels, clay pots, earthenwares are few among the traditional and authentic cookware. The food cooked in these vessels not only tastes great but they are healthy as well.

Clay Pots:

Let me share about clay pots in this post. A couple of years ago, I bought one here in the USA and posted about the curing process on my recipe blog. I am sharing the same here. Clay pots or Manchatti is made out of earthen clay. We all know clay is porous meaning it has lots of tiny holes and that property of clay provides the unique characteristics for the clay pots. As they are porous, they retain the moisture during the cooking process. It reduces the acidity of the foods and also their inert property (chemically inactive) makes them not to react with foods.

Curing the Clay Pots:


Wash them first with luke warm water with mild soap and rinse it thoroughly.
Then soak them in water or fill the clay pot with rice stock or water and leave it overnight.
The next day, discard the water, wipe it dry and apply coconut oil all over the pot and keep on the stove top and heat the empty clay pot under medium heat for 5 minutes.
Once it is cooled down, add water or rice stock again and leave it overnight.
Repeat steps 2 to 4 for four days.


Food Taste:

The clay pot yields an earthy flavor to the paneer stir-fry and makes it better. You can always make this paneer stirfry on a tawa or regular pan.
Toka Chef Moment:

Kiddo always helps me with peeling the vegetables, especially potatoes. But I never allowed him to chop the veggies. But I to let him cut the paneer with a regular butter knife. We had so much fun, and we started cutting some cheese as well. Instead of chopping, you can allow the kids to rinse the frozen peas and feel the chillness. If you are using fresh peas, then you can ask them to remove the peas from the pods. Age appropriate chores make the tasks more fun, and when they accomplish the jobs, it helps the kids be responsible.

Without any further ado, here is the Paneer Stir-Fry recipe,

Ingredients:


Frozen Peas - 1/2 cup (washed and thawed)
Turmeric Powder - 1/8th tsp


Steps:


Parental Step: Heat the clay pot and add ghee or oil. When it is hot, add the cumin seeds and allow it to splutter. Then add the peas and cook for a couple of minutes. Reduce the heat to low. As there will be some spluttering and sizzling during the tempering process, I did not add any child steps. But depending upon the age, you can ask them to the ingredients.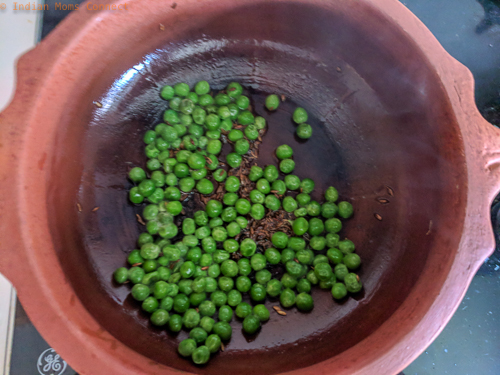 Child Step: Now let your child add the paneer cubes and all the spices - turmeric powder, paprika, cumin powder, and salt.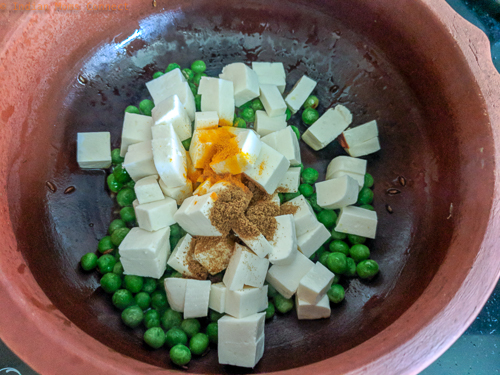 Parental Step: Mix them and allow it to cook for a couple of minutes and turn off the heat.
Child Step: Allow your child to garnish the paneer stirfry with cilantro and let them mix it with the spoon.


Enjoy the paneer with rice or on a roti roll.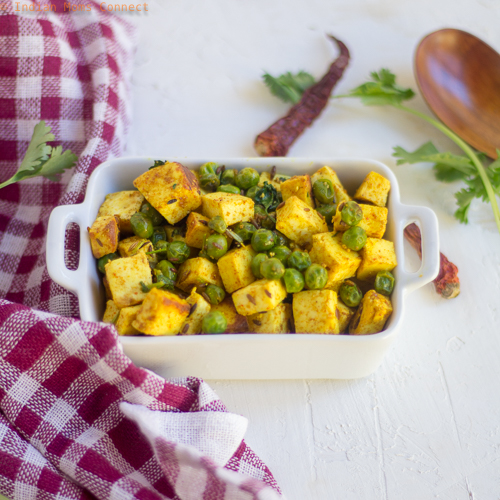 Notes:


Peas are optional, and at the same time, you can include other veggies like colored bell peppers depending on your child's preference and make it more colorful.
Adjust the salt and spices as per your preference.
Toka Yum Moment:

Kiddo was a bit upset that I added peas, but I urged him to try. Eventually, he decided to try this as a stuffing for his roti roll and relished.