Celebrate Durga Puja With Me!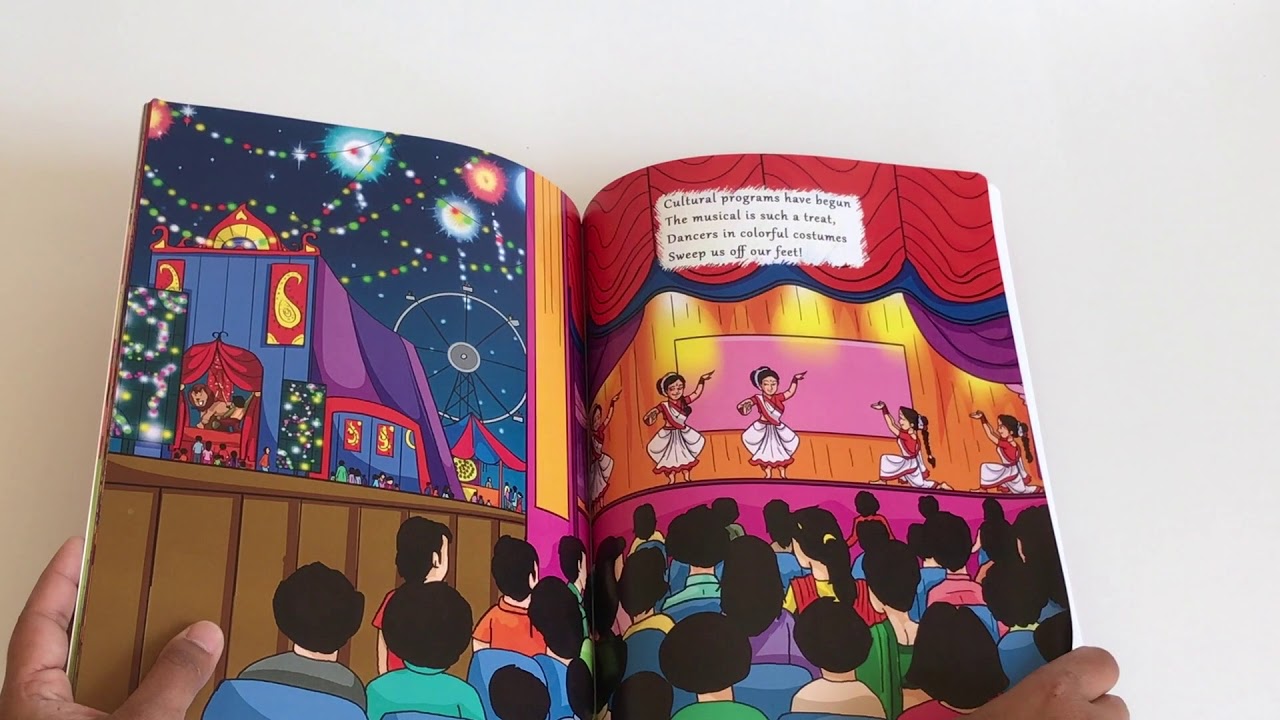 Durga Pujo is a special time for Bengalis, which is why Shoumi Sen's Celebrate Durga Pujo With Me brings back all the memories!

Durga Pujo is very special to Bengalis. I am married to a guy who was brought up in Kolkata and having a mother who has been brought up in that same city. There have been numerous arguments in our household about how Navratri is always better in Bengal. I always stand by the argument that Navratri is the best in Gujarat.
What it's all about
When I read
Shoumi Sen's Celebrate

Durga

Puja

With Me
, brilliantly illustrated by Abira Das, I must admit that I want to witness at least one
Durga
Pujo
in my life, in Kolkata.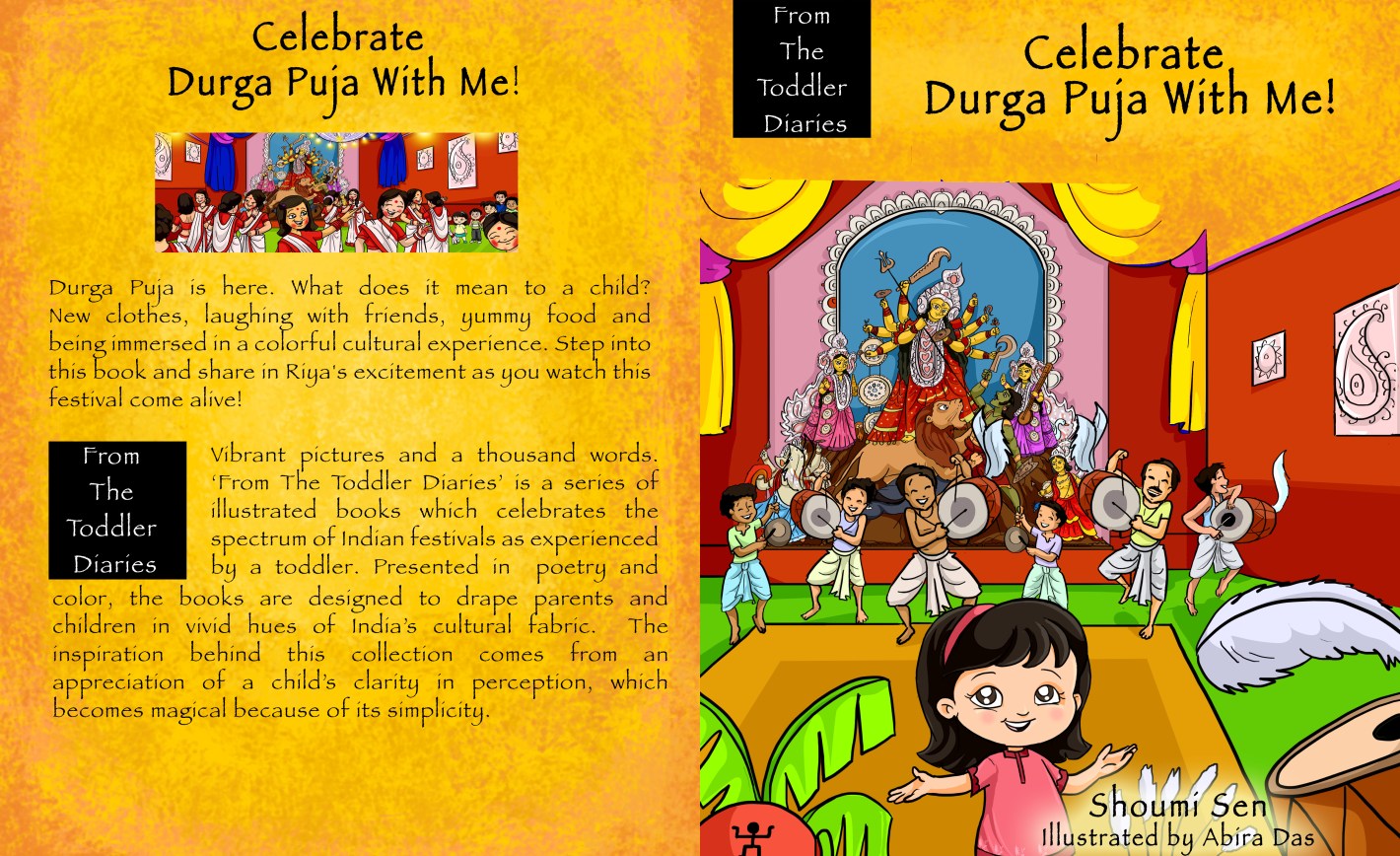 The book is about a little girl, Riya, who asks us to accompany her as she celebrates
Durga
Pujo
.
Written in a poetic style, the book takes us through all the Pujo rituals. It starts with Shashti (the sixth day) to Dashami (the tenth day). The book uses vibrant illustrations and simple yet poetic words. Shoumi does a wonderful job of explaining the rituals and what exactly is done on what day without going overboard. There are just adequate details for us to know how exactly the Pujos that are celebrated in Bengal and why they hold a special place in every Bengali's heart.
This book is a wonderful way to teach children about
Durga
Puja
without making it an overly religious topic.

Fun, devotion and love are what the book brings out in each page. Every child will relate to Riya's journey of the five days of celebrations.
Definitely recommended, for children to learn about the Indian festival of
Pujo
!
The lovely Shoumi Sen spoke to us about her book 'Celebrate Durga Puja With Me'. She talks about what inspired her to write the book, her favorite Puja memories and which books she loved as a child!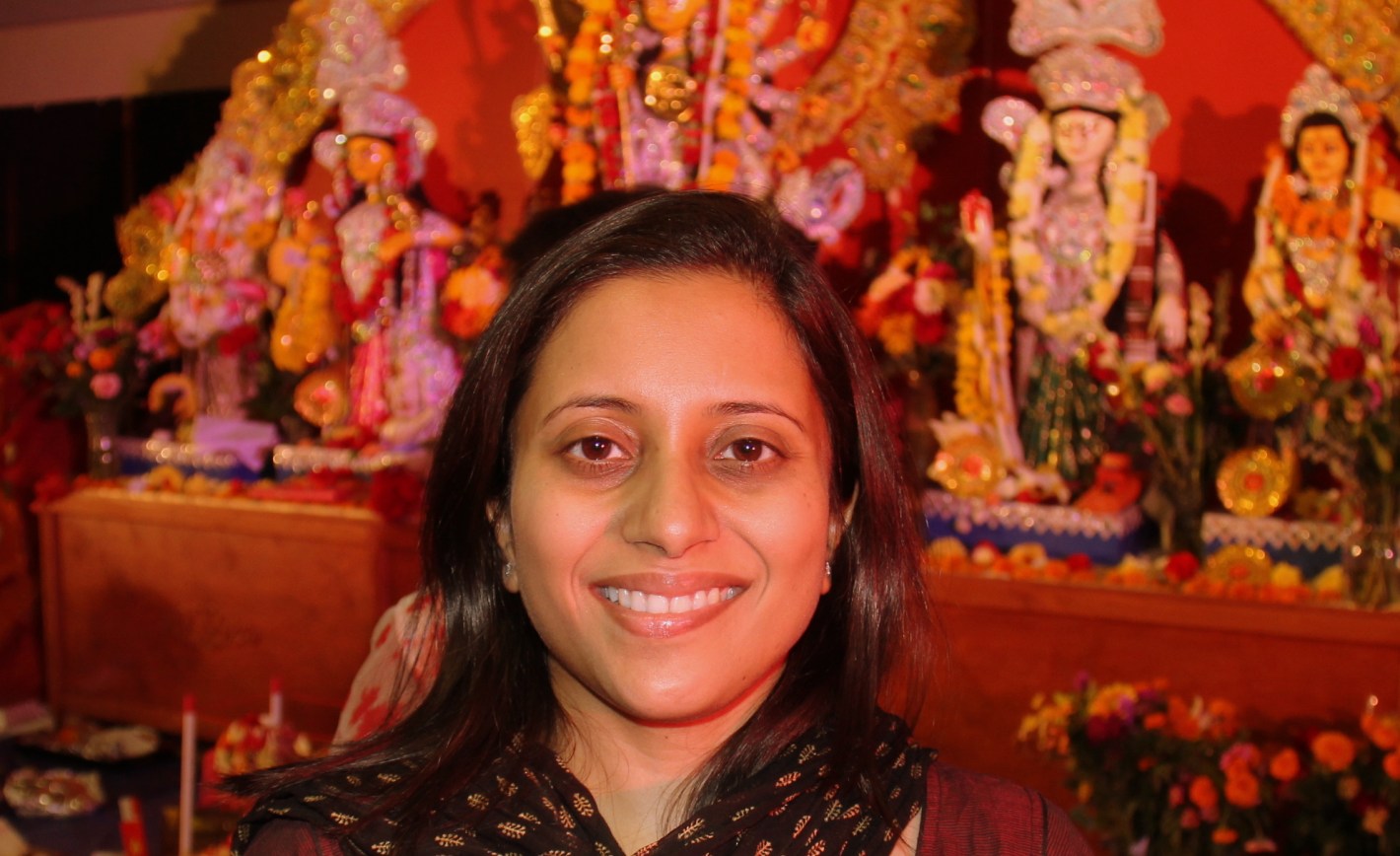 IMC: How did you think about writing a book on Durga Pujo for kids?

Shoumi: Celebrate Durga Puja With Me! Started as a thought while we were vacationing in Australia. We were in Brisbane, visiting an old friend who I grew up with in Mumbai, right around the time of Durga Puja. We were thrilled to find that the local Bengali Association would be celebrating Durga Puja and as we enjoyed the festivities of the "weekend Pujo" (in many Durga Puja celebrations outside India, five days of celebrations are often compressed to the weekend, and instead of multiple pandals throughout the city, the festivities are normally confined to a school auditorium), we reminisced about our childhood when the whole city would come alive with all the fanfare and the festivities! I realized that as long as we lived outside India (we currently live in California), my daughter may never get to experience Indian festivals the way I did growing up. I wanted to recreate the magic of this festival for her in verse and she absolutely loved what I wrote! Encouraged by her enthusiasm in this "toddler diary", I decided to publish it.

IMC: My daughter and I loved the cute lyrical words to the book. How did you think about writing the book in a poetic form?

Shoumi: I have been reading to my daughter from the time she was born and her favorite books are the ones with rhymes and so I wanted something that would appeal to her. As it turns out, she loves the verses (and can actually recite them!) and I'm so glad you and your daughter enjoyed them too!

IMC: Durga Pujo holds a very special place in every Bengali's heart. What are your special memories of Durga Puja?

Shoumi: I remember the excitement in the days leading up to Pujo - shopping for new clothes, rehearsing for cultural programs and the anticipation of meeting friends and family, some of whom you only got to see during this time! And of course, during the 5 days of Pujo it was like we were transported to a different world - full of joy, music, color and of course, all the mouth-watering food! The whole city would come together and it didn't matter if you were young or old, rich or poor - you all got together in the same pandal and took part in the celebrations together.

IMC: We loved the illustrations of the book. How did you decide on the illustrations? Did you work together with the Abira or did she do the illustrations after reading your book?

Shoumi: Thank you so much! Based on my experiences, I had images in my mind, of what I wanted to see on each page. I would often use photographs to describe to Abira what I wanted her to depict - such as an artist putting the finishing touches on Ma Durga's idol or the frenzied dhunuchi dancers with their delicately balanced dhunuchis (earthen pots). Abira did a great job of weaving together my descriptions with these photographs to create the illustrations. We would go back and forth many times until the illustration was perfect. She is extremely talented and was very patient - we are both very happy with the outcome!

IMC: Which has been your favorite book as a child and why?

Shoumi: I'm not sure if I can pick just one favorite book...I loved reading and I have memories of driving my mother absolutely crazy with frequent trips to our local library! Like most kids in India during my time, I grew up with Enid Blyton's books such as The Famous Five, The Secret Seven, Malory Towers etc. I had friends who enjoyed her books as much as I did and we were often found having our own Enid Blyton style picnics with chutney sandwiches and Frooti instead of potted meat sandwiches and ginger beer! I also read Bengali books and remember being mesmerized by the adventures of Feluda (by Satyajit Ray)


Image credits: Shoumi