Lunch Box Recipe: Mushroom Rice
posted by Vidhya , January 05, 2016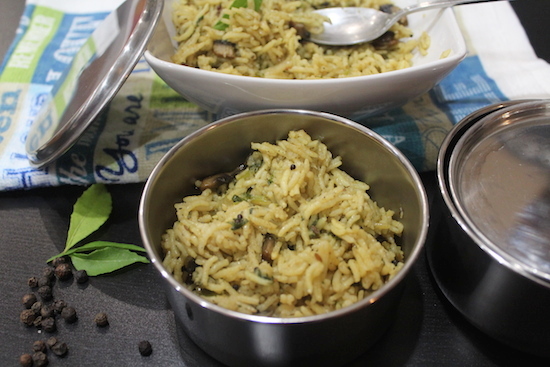 Back in India, my mom doesn't cook mushrooms at home (Just like garlic). But dad and I usually try mushroom recipes in the restaurant. Mushroom gravy, mushroom dosa etc.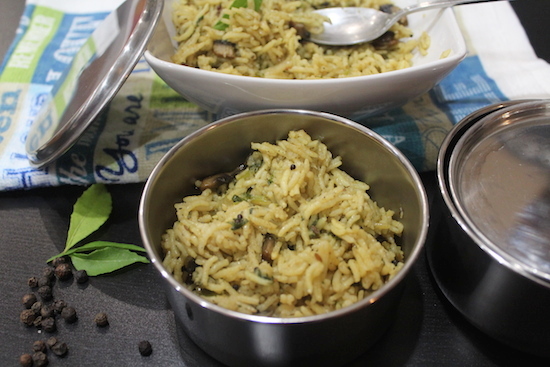 After coming to the US , I started cooking mushrooms. I didn't even realize there were many varieties in mushrooms. (Don't laugh). I usually make mushroom gravy, or add it in kuruma or in pasta. This is a recipe to Mushroom Rice my friend gave me. There is only one variation from my friend's recipe. She used puli kuzhambu powder, but I just went ahead with sambhar powder. It came out really well. It's a one-pot dish and very easy to make. I prefer to do this in the morning so that I can pack for lunch. Preparation time is also very less.
Here is the recipe.
Ingredients
White/Crimini mushrooms - 8oz
Basmati rice - 1 1/2 cups (Rice of your choice)
Salt - 2 tsps (adjust as per taste)
Pepper powder - 2 tsp (I don't know what is the relation between mushroom and pepper, but mushroom doesn't taste great without pepper)
Finely Chopped Cilantro - 2 tbsps
For tempering:
Prep Work:
Chop mushrooms and onions
You can either cook the rice first and mix it with the mushroom mixture or cook the rice along with mushrooms.
Steps:


Heat the pressure pan/cooker or kadai and add oil.

Once the oil is hot add mustard seeds and cumin seeds.

As they start to splutter, add onions and saute them till they turn translucent.

Now add mushrooms and turmeric powder. Saute them for couple of minutes.

Add salt, sambhar powder, and pepper powder and mix well. (If you have cooked the rice, saute till all the water get absorbed and mix the rice)

Add the rice and 3 cups of water. (Check for salt for salt, before closing the cooker)

If you are using basmati rice, 2 whistles should be good enough or if you are using regular rice leave it for 3 whistles.
Once the pressure is gone, add the chopped cilantro and serve hot with raita.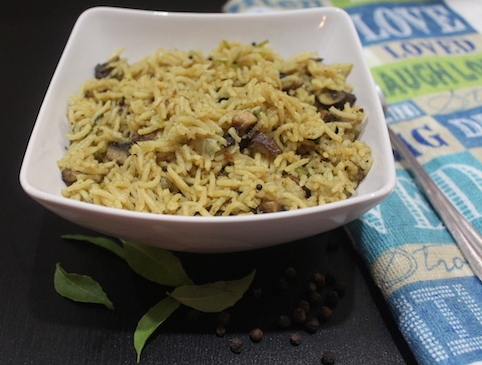 Cross posted here earlier.
All image credits: Vidhya