New Children's Books from India: Books We Loved in February 2023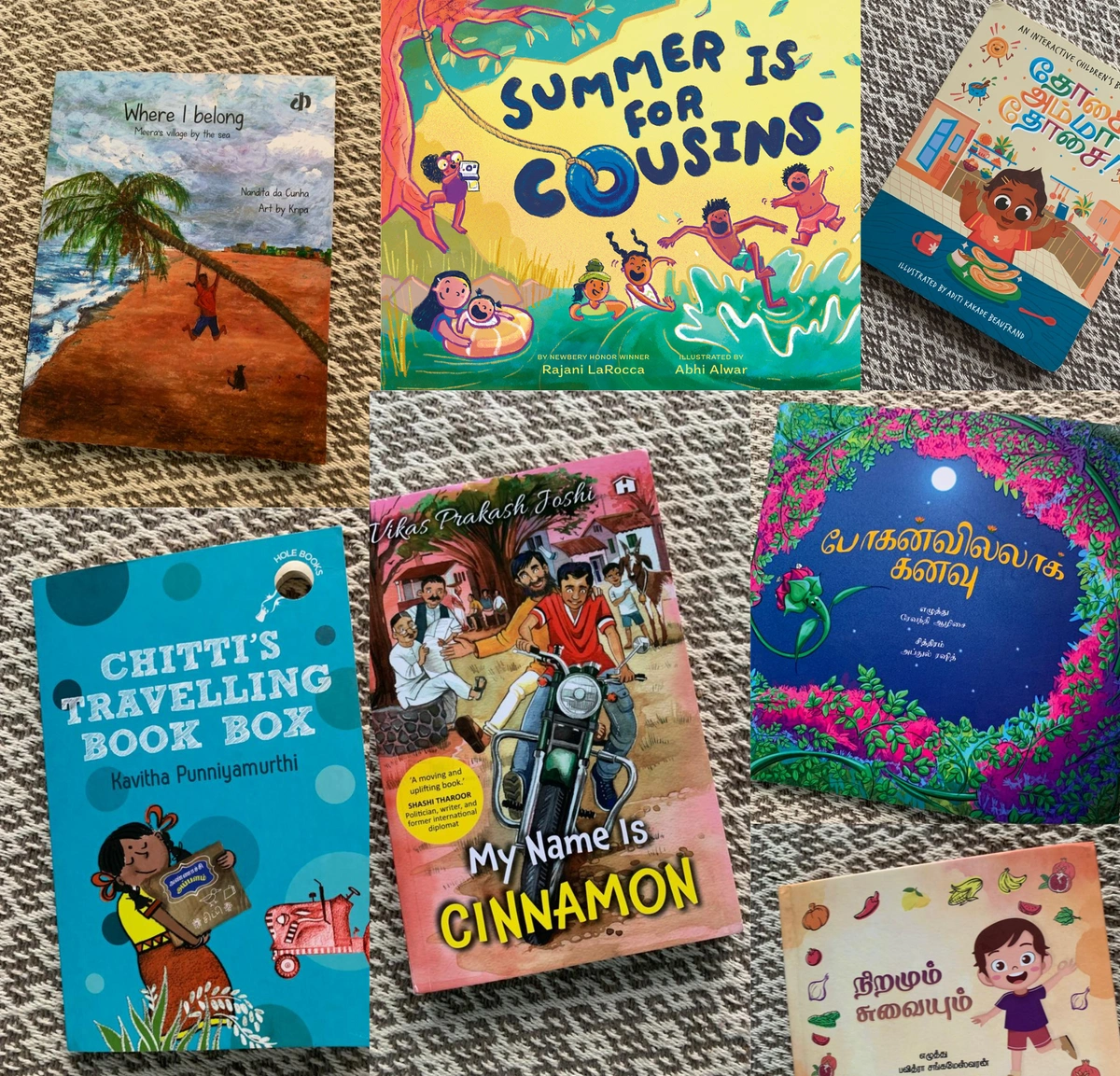 We start the New Year with a bang and with some incredible books on our shelves!
Nila Nila Odi Vaa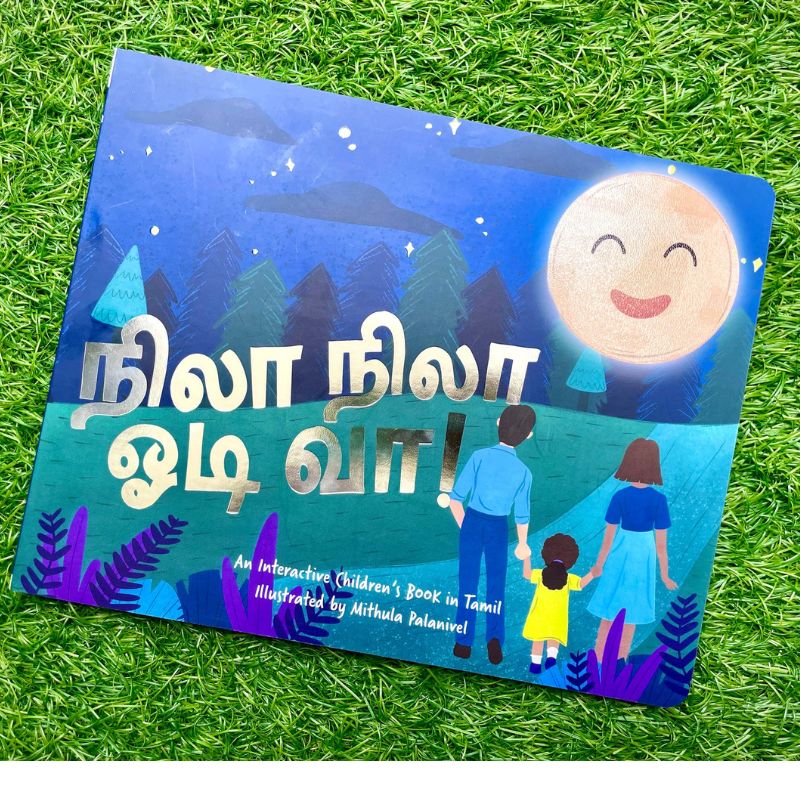 My mother sat down with my daughter and read this book, and my heart just stopped.

You will love this new Tamil board book! I grew up listening to 'Nila Nila Odi Vaa' and singing it! If your mother tongue is Tamil, chances are you heard it too! Based on a famous children's song in Tamil, this book asks the moon to come to the children, up the hill and to bring jasmine flowers. The rhyme and beautiful imagery truly help a child grasp the essence of a language like Tamil. The song asks the moon to come closer to humans, to come spinning like a top or flying like a kite.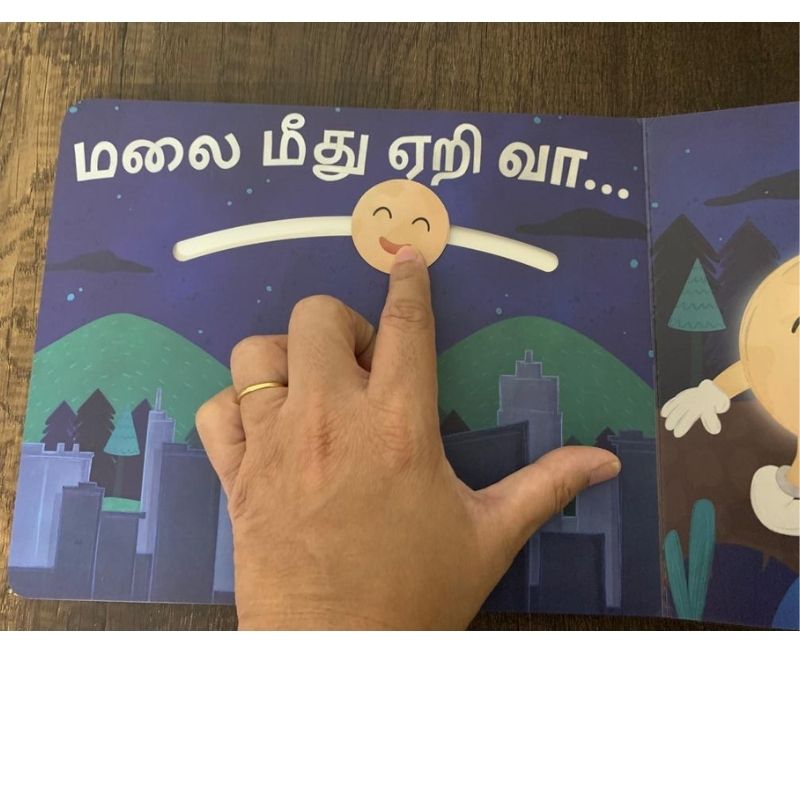 The book has beautiful illustrations and is large and so appealing to small hands and curious eyes. You can move the moon using a tab from one corner to the other, and use other interactive elements in the book! You absolutely must add it to your book collection.


Thosai Amma Thosai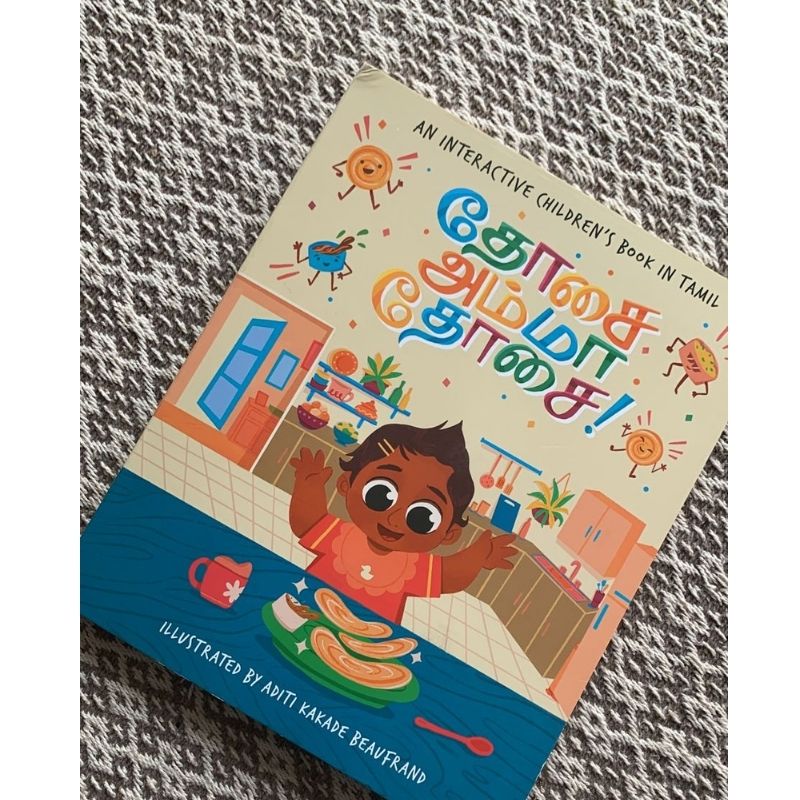 Another household favorite, my amma used to sing this every time we made dosai together. The rhyme talks about how dosai is made, how you mix rice flower and urad dal, and it is also a fun counting game woven in. You say, "4 for appa, 3 for amma, 2 for Anna" and more. This backward counting skill is a useful one for a toddler's working memory and understanding that numbers can be used in different sequences! The last page says that you will be spanked if you ask for one more dosai, because it is over!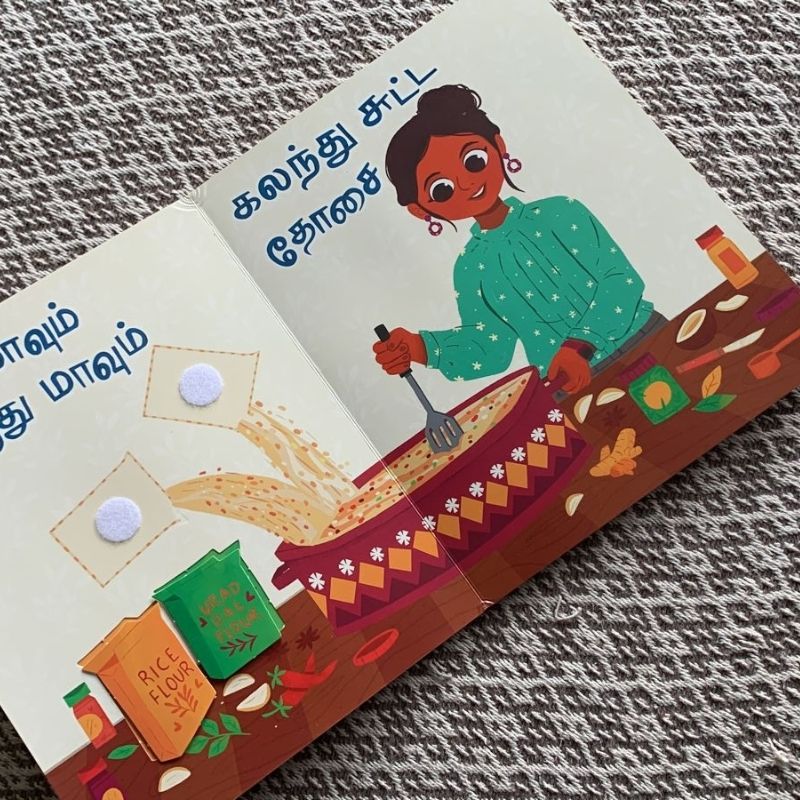 Beautifully created, this book will bring all those lovely Tamil rhymes back to your children! Like me, I am sure you must have wanted your kids to learn and hear these rhymes. In beautiful board book form, here's your chance! The touch and feel element is great too.
Buy this
Naan Oru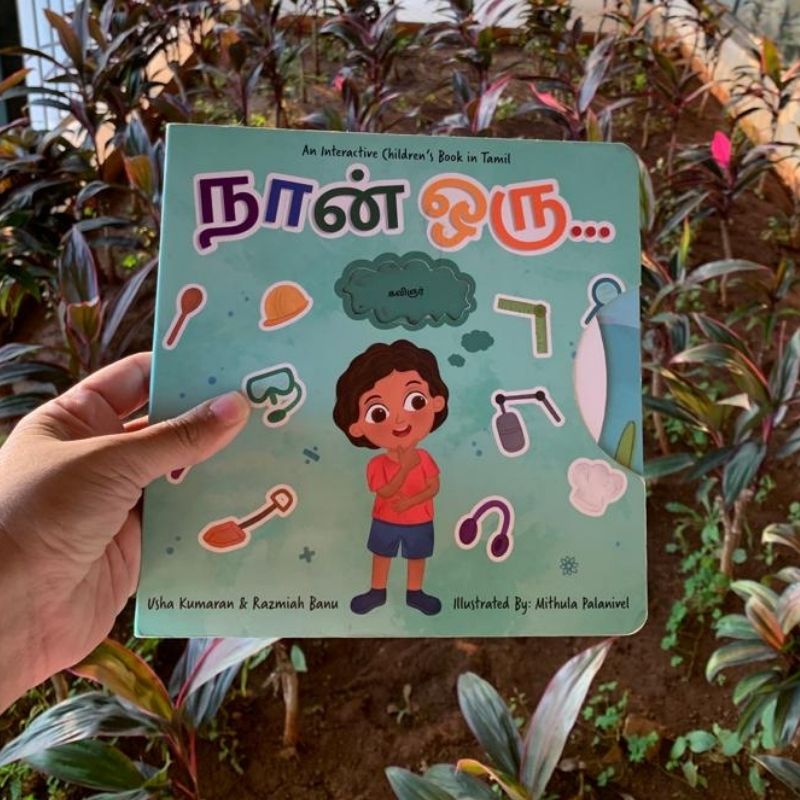 This beautiful interactive board book in Tamil shows children exploring different modern-day passions and occupations. Children understand and imbibe life scripts from the time they are small and such books can show them that so many possibilities exist. Each page shows a fun and simple riddle in Tamil and the corresponding page shows a flap that you lift to reveal a child exploring an occupation or a passion - a radio jockey, a professional cook, a full-time parent, a poet, a computer wizard, an archeologist, and more!
Written is a book that introduces children to the endless possibilities of modern occupations that they can aspire towards. Presented in a fun riddle-based format, and accompanied by captivating illustrations, the book encourages children to think outside the box. Adults can use this book to kickstart conversations about interests and ambitions with their children.


Karuppum Sivappum Azhago Azhagu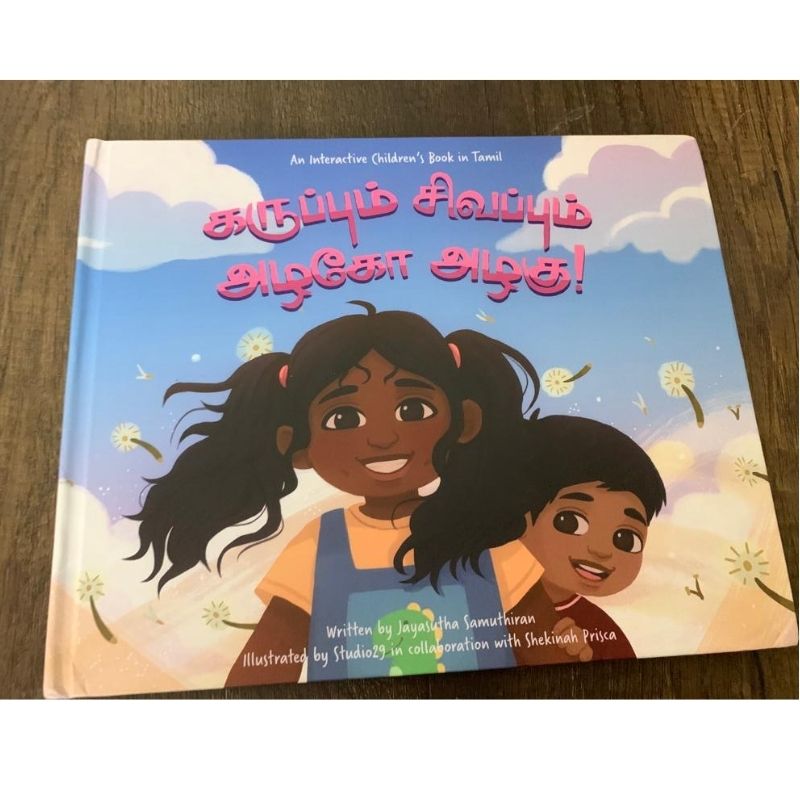 This beautiful and important book is narrated from the point of view of a girl, Akila, who visits her new baby brother in the hospital. Her mother and father are there, and so is their extended family. Akila's uncle tells her that her brother looks just like her, and her aunt says, "but he is sivappu." In Tamil, sivappu means red but it is also used to convey fair-skinned people.
Akila doesn't know this and she is confused. Her dress is red, her ball is red. How can her baby brother be red?

Her father then clears her confusion. He then tells her that each person has his or her own complexion and it is beautiful. Both black and red are beautiful. Karuppum sivappum azhago azhagu.

Akila says that her little brother's complexion is so beautiful, like the sand castle that we build on the sea shore. Her mother tells Akila how smart she is and adds that Akila's skin is as beautiful as the soil that gives life to the flowers and trees.
We love the book because it has all the little scenarios that play out in it happen so often in real life! We condemn fairness creams but we want our kids to stay out of the sun. Our relatives, although they mean well, always point out differences in complexion.
We recommend this book because it is not preachy but is worded so naturally and beautifully, and the scenarios seem so organic somehow. At the end of the book, you read about why every person's skin color is different and a little activity that has your children listing out things they like about themselves.

A must-read!
Tiny Tot's Playful Plot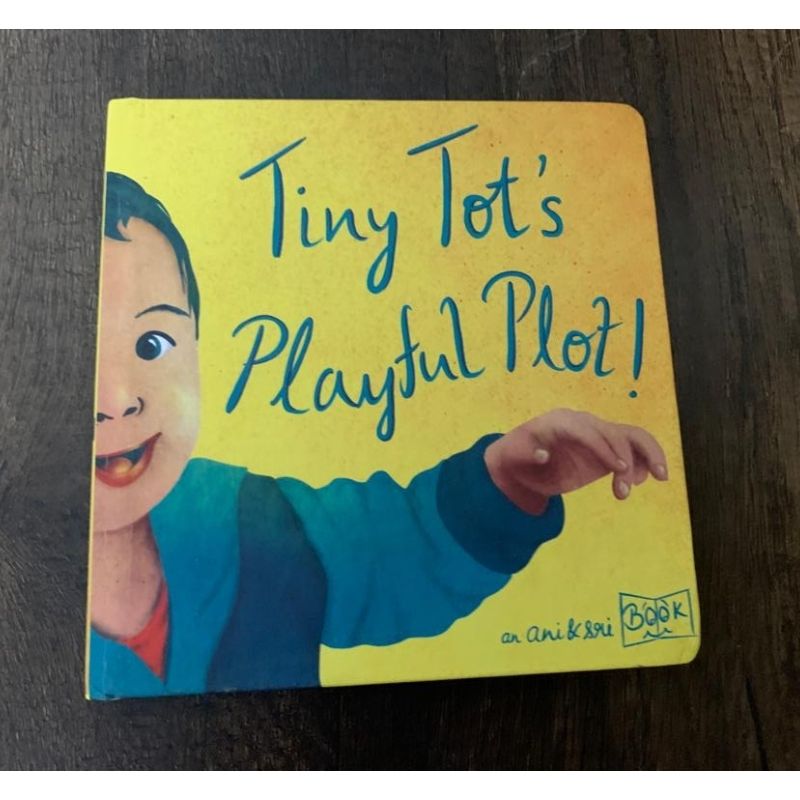 One tiny tot, peers into a pot and spies something sweet, a yummy treat! And so he plots, to eat the whole lot. But will he get caught?
We are always looking for great interactive board books for toddlers, board books that weave in basic literacy and numeracy in creative ways, with a dash of Indian culture. We found another gem in Tiny Tot's Playful Plot! This board book uses gulab jamuns to get children to count! You count down from five little gulab jaumns to one gulab jamuns. Counting backwards is a great skill but what we love is that this book does so much more. It makes simple yet powerful little connections, with a cause and effect scenario. "Three little gulab jamuns in the pot, Raccoon tasted one and thought sweet like an apricot!" You can use the finger puppets to mimic the action of the tiger or the raccoon eating the gulab jamun or just playing along!

One little gulab jamun in the pot. Elephant picked it up and said what's this dot I spot?

The rhyming is perfect. The finger puppets are beautiful. An absolute treat for your infant and toddler!
Niramum Suvaiyum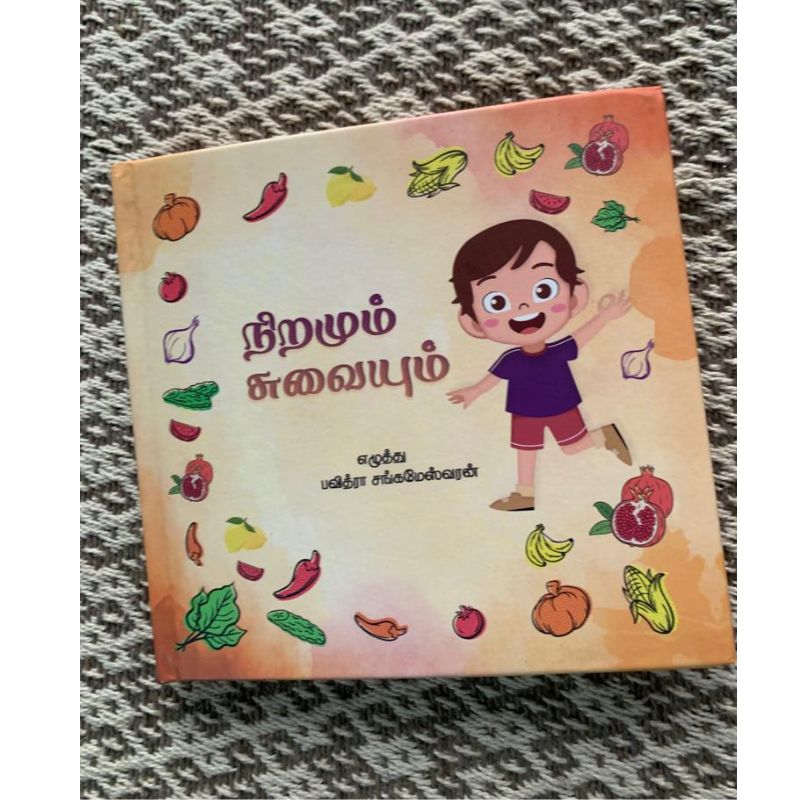 This beautiful Tamil board book does three things - introduce children to flavors, to food, and to colors, all in Tamil!

In this book, Appu invites us to come taste six items. "This is the red-colored chilly," he says. "I am going to bite it. Ah! Hot!" Appu then tastes salt, bitter gourd, jaggery, and many other food items. What we love about this book is that Appu also describes a food's taste. He calls bitter gourd 'bitter', lemon 'sour,' and more! This book is a fantastic introduction to learn about colors and tastes of food, with beautiful illustrations and each page in the same color as it describes.

It is a great idea to talk to our kids about food, textures, and tastes at a young age. They need to try different types of food and also be mindful about their food choices and what they eat. This board book in their native language is a great first step!



Where I Belong/Jadugar Meera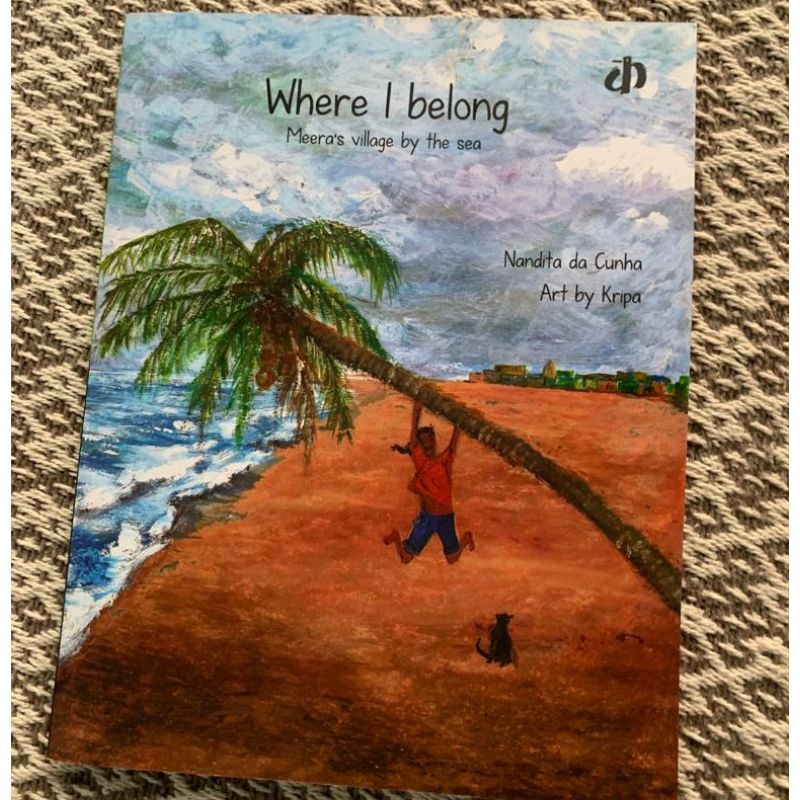 Nandita Da Cunha's brilliant storytelling makes this book a wonderful and important read. A girl from a fishing family in Koliwada, Mumbai, finds that a new building is coming up and threatens to destroy her home, among many other homes. The residue from the construction and cast a monster shadow over the village, scaring away the fish. Soon, a road is planned leading up to the building. Meera's aaji knows that this will destroy their livelihoods and displace them. The family prepares to give up their livelihood as fishermen and seek employment in construction in another area. Meera feels upset that her childhood home, where she has so many great memories, will be destroyed. She then comes up with a lovely plan.

The story captivates us from start to finish. Other details in the book, about a fishing community in a village by the sea, their lives, customs, and everyday habits, also add to the vibrancy of this book. Kripa's stunning illustrations bring the sea to us and we can almost smell the saltiness in the air.

The book is a great read and your kids will ask you many great questions. It is a wonderful way to think about where we come from and how to fight for what we believe is right.

The book is available in Hindi as जादूगर मीरा!



Bougainvillea Kanavu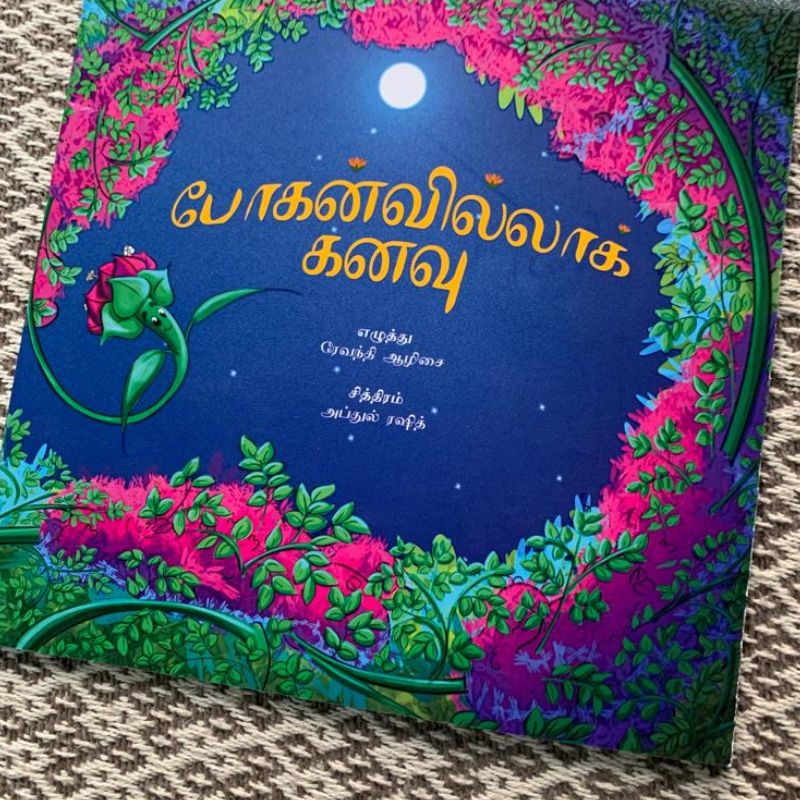 This beautiful Tamil book is about a tiny bougainvillea that cannot see the moon no matter how hard it tries. The baby bougainvillea then asks the help of a hibiscus plant, which helps the bougainvillea up but in spite of climbing on top of it, the bougainvillea cannot see the moon. It seems a champak flower tree and asks it to hoist it up but even after that, it cannot see the moon. What happens in the end? Does the bougainvillea give up?

The illustrations are dreamy and beautiful in this book, transporting us to another world. The moon looks so bright and irresistible in this book. It's no wonder that the bougainvillea needed to see it!
Dakshin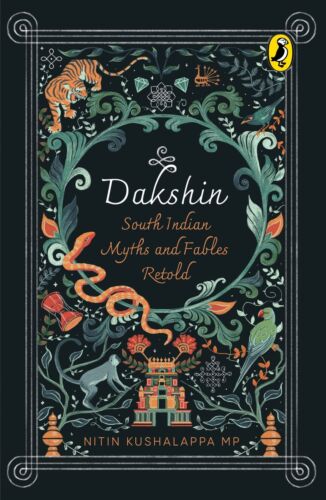 A story about an elven kingdom off the Malabar coast, a fable about a mynah who would never give up, a well-known folktale from Kerala about a cat, a fly, and congee. A myth about Bala Nagamma and the evil sorcerer with crescent shaped swords and shape shifting serpents.

You and your kids will LOVE this NEW book of myths and fables retold from South India! You will find stories that have their roots in Tamil, Telugu, Malayalam, Kannada, and even Kodava, an endangered Dravidian language spoken in Kogadu in Karnataka, a land rich in folklore, and also the author's hometown.

Laugh at the funny deeds of a miser. Cry at the misfortunes of the naïve. Wonder at the courage of the weak against the mighty. Come, revel in these fantastic folk tales!


Chitti's Travelling Book Box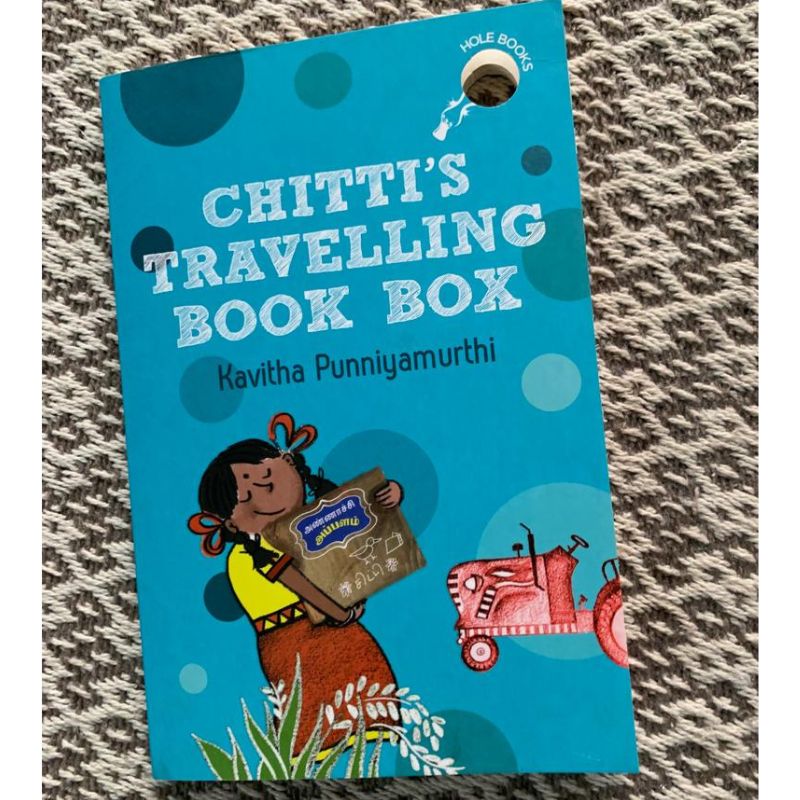 Chitti lives in Chinnapalyam and is happy playing with her friends or climbing on top of her father's old tractor and pretending to be an astronaut going to space. One day, she gets some free books to read from Fathima Akka, a neighbor, and her life changes. Her friends in the village though are unimpressed. They want to play with her and they think books are boring. Chitti then finds a way to get her friends interested in books - a very clever way! She and her friends then run a campaign to get the village to read more. She then has a plan - to start a traveling book box!


Summer is For Cousins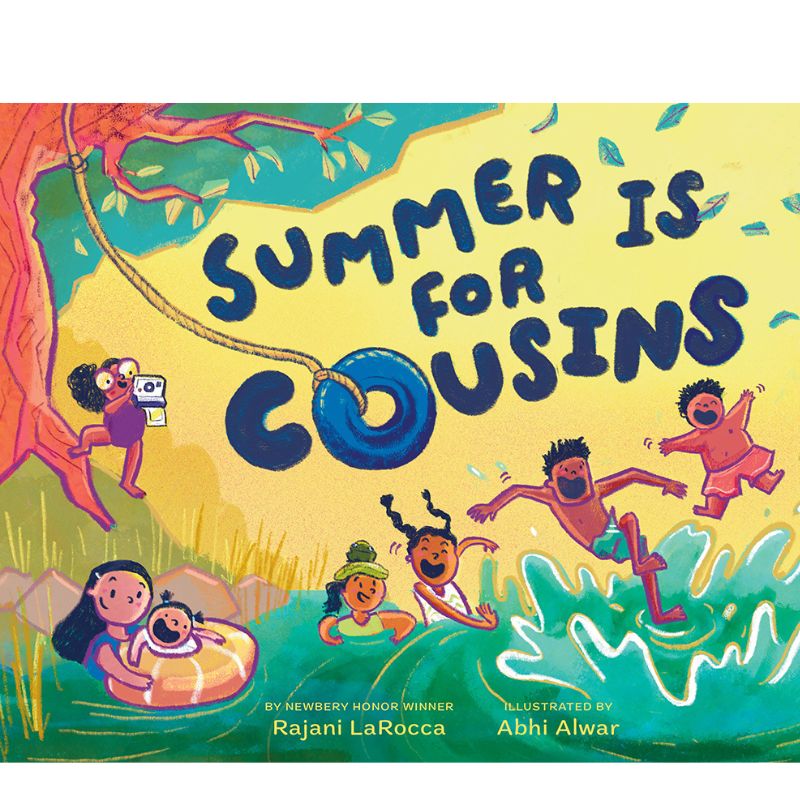 Written by Newbery Honor author Rajani LaRocca comes a book that really hits close to home. I remember when I was a kid and I'd go away with my parents, cousins, uncles, aunts, and grandparents on vacation every summer. Those summers were highlights of my childhood.
In this picture book, Ravi goes on an extended family summertime trip with his mom, dad, cousins, uncles, aunts, that ha and paati. They spend the Sumer at the lake house. They eat ice cream, pizza, lemon rice and korma. The adults take turns making meals. The family goes to a drive-in, the kids go paddle boarding, play mini golf, swim, splash and have a lovely time. The family solves a huge jigsaw puzzle on the floor. I used to do this with my family too! The book ends with Ravi making ice cream and the kids ending the vacation on a note of nostalgia and contentment.
This picture book will resonate with all families, and in particular, with Indian kids and parents. It is a story of family, memories, and bonds created for a lifetime.
My Name is Cinnamon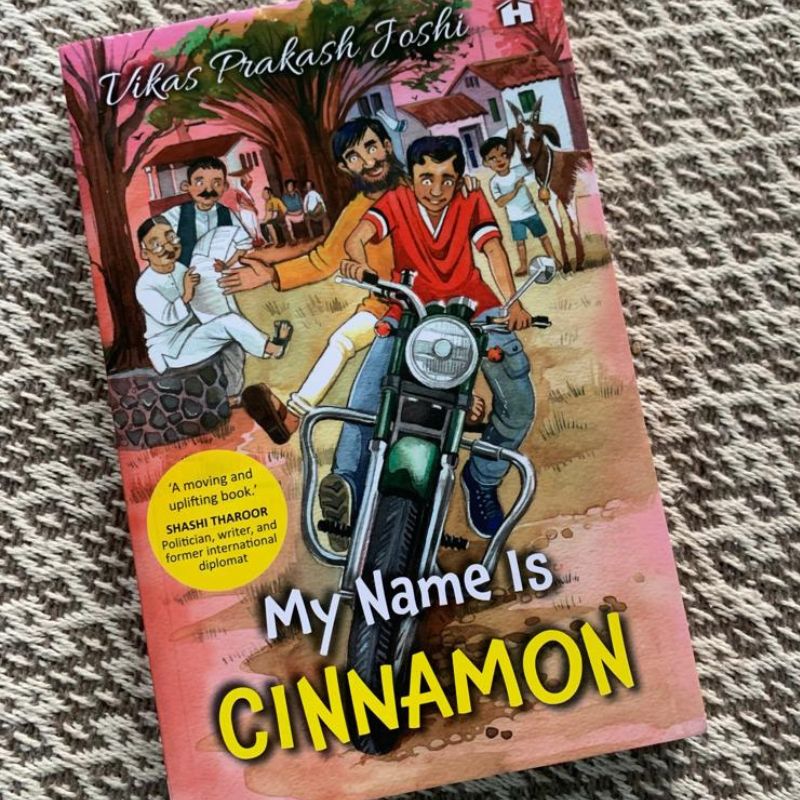 My Name is Cinnamon is a riveting, wonderfully written book about a young boy, Roshan, who lives with his adoptive parents. The book shows us all the events in Roshan's life, the ups and downs, every football game played, school fight, struggles with math, and heartbreaks. When Cinnamon asks for a bike and his parents don't give him one due to a few cutbacks in costs, it hits a nerve and makes him vent feelings that have been building inside him for a while now. Cinnamon knows he's adopted but when people ask him why he doesn't look like his parents, he always wonders about his birth parents. He fights with his parents and one day declares that he would like to see his birth parents.
Cinnamon's need to see his birth parents is heartfelt and genuine, and not just because he didn't get what he wanted. He is curious and heartbroken that someone could give him up. The book shines a light on adopted children and their ups and downs. All children have ups and downs - with adopted children, there are some that are specific to their stories.
When Cinnamon's parents reach out to their adoption agency and find out where Cinnamon's birth mother lives, the family embarks on an unforgettable journey. The finale to the book is realistic, sensitive, genuine, and filled with interesting events. Humorous, heartfelt, and an absolute joy to read, don't miss Cinnamon! Your kids will absolutely love it and truly empathize with the titular character.
The Whispering Tree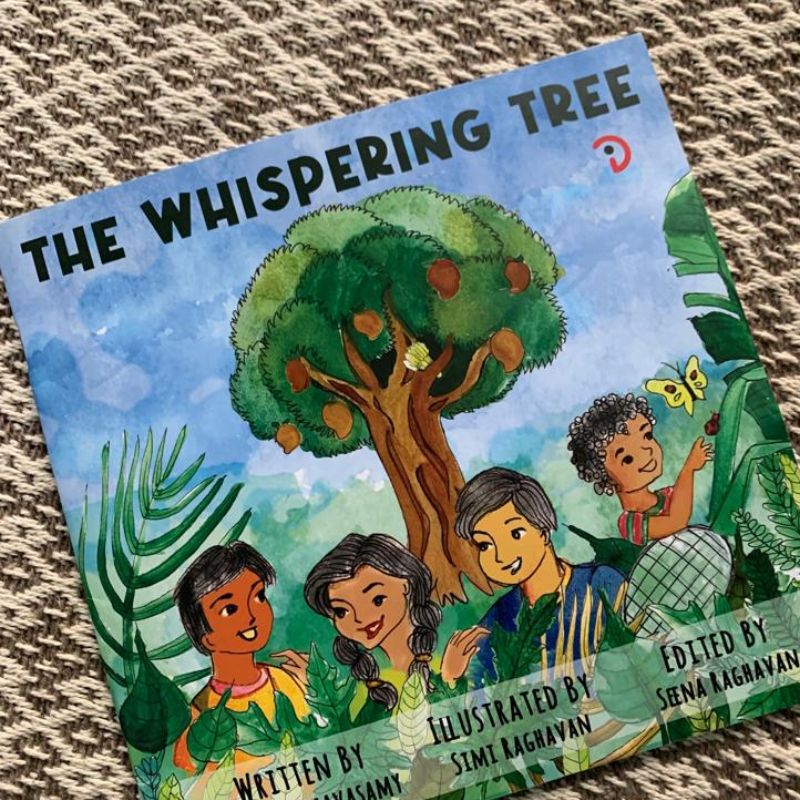 When I read Cauvery Kesavaswamy's book, The Whispering Tree, I realised that I had been searching for a book like this for many years. Inclusion is something that children need to understand and feel on a personal level. When kids get together and keep a child out of their clique or gang, they end up narrowing their circle and keeping others out. Friendship and childhood are about inclusion.

Sanju, his friend Aditya, and Sanju's cousins are excited about their summer holidays. They plan to have more kids join their group and play. One boy, Varun, wants to join their group but the children find ways to exclude him. He finds it difficult to play games with the older kids because they have difficult rules. The children would only call Varun over to borrow his shoe so that they can hurl the shoe at a badminton shuttlecock from the tree and Varun dislikes this but cannot do anything about it.

One day, the children decide to put up a skit for their parents. Varun is given a part - a tree! He s not happy because he doesn't have much to do. On the big day, something interesting happens in Varun's favor!

Written with warmth and sensitivity, this book shows us that we all tend to exclude others when we have the capacity to be inclusive. Truly a must-read for kids!