A Peek into Past Boxes
April 2019
Skill of the Month
SPATIAL AWARENESS
Stacking blocks are part of every child's toy chest. The hand-made blocks in this box have no sharp edges and help with hand-eye coordination, spatial awareness, motor skills, enhances logical thinking and teaches kid's cause and effect.
Book: Shubh Raatri Dost

Author and Illustrator: Nidhi Chanani
A sweet bedtime book as we bid goodnight to animal friends and all that a warm spring evening brings, with beautiful illustrations in calming colors.
Play Kit: Mango Wood Stacking Blocks
A modern take on the classic stacking blocks made with mango wood. These blocks conform to safety standards and are fair-trade, sustainable and hand-made by artisanal communities in North Central India.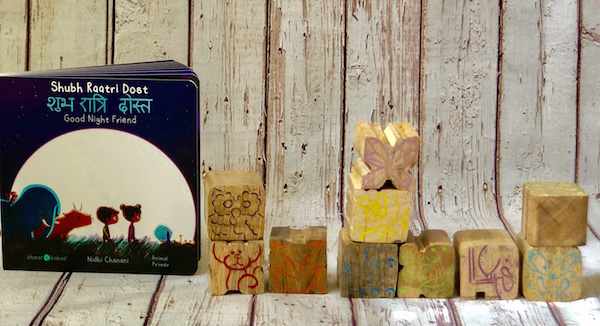 March 2019
Skill of the Month
MOTOR SKILLS
Develop Fine Motor Skills and Language skills with this box. The book has flaps and tabs to open and pull, while the classic toy made by a traditional Channapatna artisan with natural dyes is ideal to develop not only motor skills, but visual and spatial perception along with language skills when talking about numbers,colors and indulging in creative play.
Book:
Das Din
Play Kit: Non-Toxic Traditional Channapatna Ring Stacker