July 2019
Skill of the Month
EDIBLE SENSORY PLAY
Did you know? Sensory play builds nerve connections in the brain's pathway.
Babies and toddlers explore the world through their senses! Sensory play is the biggest teacher during the first few years. The brain develops when the sense are activated. They will use these senses as building blocks for learning in the later years.
Edible sensory play activities make this exploration safe and fun! They also help the baby grasp language, build their brain, and strengthen their fingers. They also learn – yes! – problem solving skills. Ever watched baby trying to climb out of that crib or find a way to get something they don't want? They are determined little people. Sensory play helps them navigate the world and is great to prepare them for social interactions.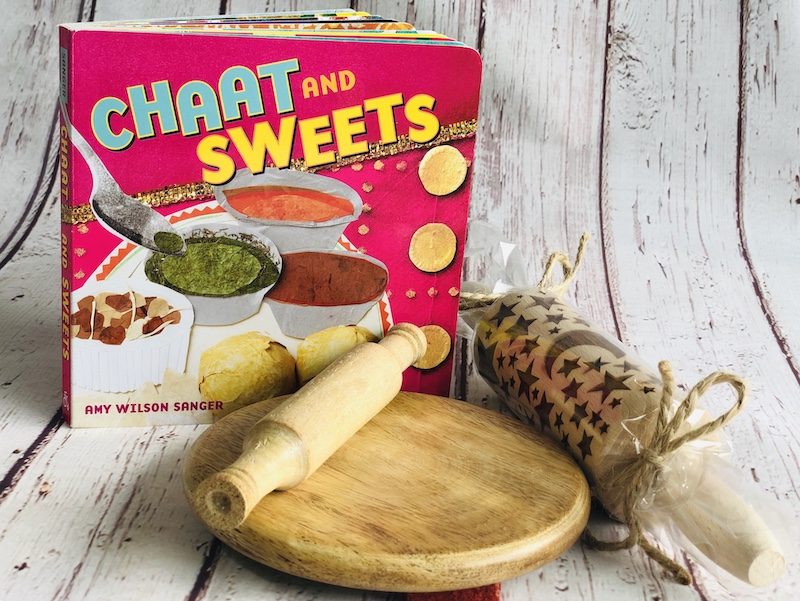 Book: Chaat and Sweets

Author and Illustrator: Amy Wilson Sanger
Scrumptious collage art meets yummy text in this beautiful book exploring chaat! This board book is a complete sensory experience! It's perfect for your little one exploring all the flavors and textures in South Asian food. After all, food is social history. We explore our senses through our food and our culture.
Play Kit: Wooden Roti Maker
Babies and toddlers do as we do! And every little one who has ever watched their parents or grandparents make roti, wants in on the fun. Why not have their own food grade wooden roti maker with which to play along? This box is powerful because sensory, cognitive, physical and emotional skills are built simultaneously.