Book Review: Susie Will Not Speak by Shruthi Rao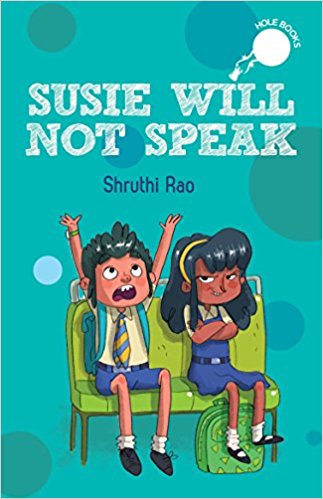 Susie Will Not Speak by Shruthi Rao is about a girl who lisps, the people who bully her for it, and the one friend who sticks up for her. What's not to love?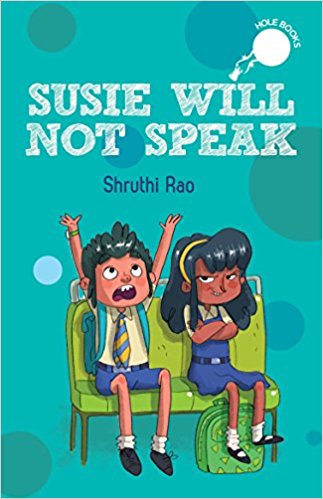 Susie Will Not Speak by Shruthi Rao is a book about a girl named Susie who talks with a distinctive lisp. Kids at school laugh at her and the boys in the park call her 'Thoothie.' Fed up, Susie decides that she won't talk at all. What is her best friend Jahan going to do? How can he get her to talk again?

Everything about Shruthi Rao's book is a triumph. For one, it lured my daughter into reading a chapter book. She isn't an avid reader, although she is obsessed with comic books and graphic novels. But the premise of Susie Will Not Speak really intrigued her. This was her foray into chapter books, by the way. Let's just say that this author hooked a somewhat reluctant reader. Isn't that incredible?

Susie Will Not Speak is my favorite book in Duckbill's fabulous hOle series. Both my daughter and I simply loved the writing. Witty, touching, funny and delightful in equal measures, we couldn't put this one down.

Of course, we loved how the book stood up for the child who is different. However, I think the beauty of Susie Will Not Speak is that it does so in such a natural way, with no false note whatsoever. It is a great book, with or without the dilemma of the underdog.

For instance, we loved how carefree Susie and Jahan are with each other. Susie does argue with Jahan and challenges him. She doesn't feel a sense of obligation just because he stands up for her. On his part, Jahan is mature about how he talks to her or boosts her self-confidence. He is quick to identify that he is accident-prone and clumsy too. They understand each other well.

Parts of the book were so spot-on that I almost yelled, "yes!" Divya's obnoxious father, who gets his kicks from imitating Susie's lisp? We've met many of those, I can tell you. I also loved the book's many moments of hilarity.

It takes a very gifted writer to create a story about a child who is different, without being too earnest about this diversity or being didactic about it. Some authors who write about neuro-diverse children tend to be somewhat sentimental about their characters and their problems, but Shruthi Rao writes about Susie and Jahan so naturally that really, I think this book is about a great friendship and a wonderful little adventure.

My daughter and I loved how the book was paced. Each chapter ended with the promise of more interesting events. We couldn't stop reading! We also loved how Jahan got Susie to speak. Let me just tell you that it is ingenious! Also, all the pictures by Lavanya Naidu are just fabulous but am I allowed to pick my favorite? This is when Susie stops speaking and starts writing to communicate her thoughts and needs.


Buy now!

Liked this article? Subscribe to our Weekly Book Love newsletter and receive a weekly digest of all the latest children's book titles, book lists, must-reads, giveaways, activities, latest releases and more! Subscribe now