6 Modern and Fun Picture Books for Kids on Diwali
posted by Toka Box Editorial Team , October 10, 2018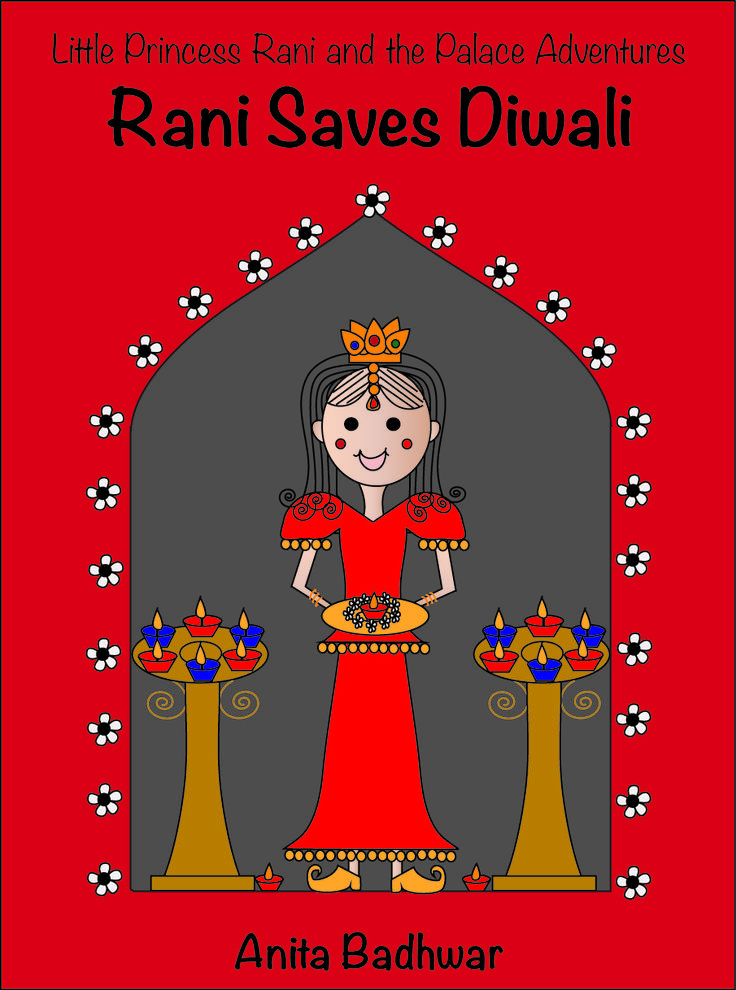 The festival season is in full swing and we give you 6 modern and fun picture books for kids on Diwali! These 6 books bring multicultural and diverse experiences to the celebration of this beautiful Indian festival.
1. Rani Saves Diwali
Recommended Age 3+
Rani Saves Diwali is a fun book that takes us through Diwali celebrations at the Palace. Written by Anita Badhwar, this is a fun book that takes us through Diwali celebrations at the Palace. The Royal Decorator had an accident and cannot complete the preparations for Diwali! What will Princess Rani do now? Will she be able to complete all the preparations? Can Princess Rani and her friends get all the To Dos done? You need to read the book to find out! This is a modern spin on Indian culture and festivals. The book takes us through how the festival is celebrated.
Growing up here in the US, Indian festivals for my daughter are something we celebrate at home and at a couple of friends' houses. It is not part of the "outside world" or as my daughter says – "Nobody knows Indian things in my school." Representative books where characters that look like our kids and have Indian themes help with giving kids who grow up here a narrative and confidence in their way of life. After all, it is not just them celebrating Diwali, this is how it is done, it says so in a book too!
We love the book's fun Diwali narrative, and its contemporary nature with a lot of Hindi words and cultural references!
Intrigued? Here is a sneak video peek into the book!


2. Junior Kumbhakarna
Recommended Age 4+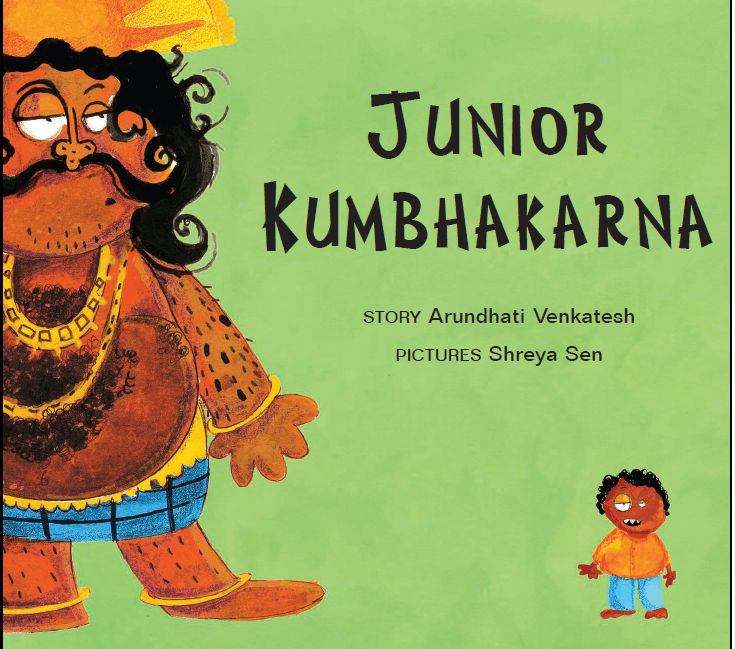 Written by Arundhati Venkatesh and illustrated by Shreya Sen, the book is about a boy named Kukku who wants the story of Kumbhakarna to be narrated again and again and again. This so resonated with me, because my child me to tell her the same stories again and again and again. So Kukku's dad starts telling him the story of the character in Ramayana, who eats and sleeps and only sleeps. When Kumbhakarna is sleeping, waking him up is a big task. All sorts of efforts are put up to wake up the man, donkeys braying, elephants walking on him, and even laddoos being made. Does he wake up? How does the story end?

You should read the book to find out! What we loved about the book is its simple style and beautiful storyline, which hooked us completely. The illustrations are fabulous and they add so much more character to the book. Even if a child can't read, the illustrations are superb enough to tell the story. We also love that it retells a portion of the Ramayana in a humorous and funny manner. The book is perfect for Diwali. Read a detailed review and an interview with Arundhati Venkatesh here!
3. Let's Celebrate Diwali
Recommended Age 3+
Harini is excited to share her story about Diwali with her school friends. What does she discover?

Meet Harini's multicultural class in this children's book aimed at kids aged 3 and up. Harini is excited to share her Diwali story, but she quickly learns that she's not the only one!

Join Harini as she learns about Hindu, Sikh, Jain and Buddhist Diwali traditions in this colorful, engaging tale from teacher and author Anjali Joshi and illustrator Tim Palin. This diverse children's book from publisher Bharat Babies helps introduce your child to the wonderful festival of Diwali which is celebrated around the world.
Buy Now: Amazon US | Amazon India
4. The Diwali Gift
Recommended Age 4+
The Diwali Gift is a fun and contemporary book to explain Diwali to your child, especially if you are living outside India. The book does a wonderful job of holding a child's attention and making Diwali fun!
Suno, Dekho, and Jaano are three monkey friends and Suno's grandmother sends them a Diwali Gift. She offers some clues – it is round, it is shiny and brings good luck.

With each clue the three wonder – is it Bangles or Sparklers or Diyas?

You need to read the book to find out what the lovely gift was that grandma sent.
We loved the touch of calling grandma on a video call, which is very much how kids, nowadays, relate to the grandparents. Also, Suno twirls around in her lehenga wearing bangles. Well, the next day, of course, my daughter had to wear lehenga and all her jewelry! The book offers a fabulous narrative of how everyone celebrates Diwali. This is something we sorely lack in our life here. Everyone knows what to do for Thanksgiving or Christmas. But what are the rituals for Diwali? It is not part of the majority community narrative and this book gives my daughter that.
Buy Now: Amazon US | Amazon India
5. Lights, Camera, Diwali!
Recommended Age 5+
Light, Camera, Diwali! is a great way to tell children about the significance of Diwali, the Indian festivals of lights. The story is engaging and also very relatable. It also tells children about Rama and why we celebrate Diwali. It is when Lord Rama returned from 14 years of exile after defeating Ravana!

Dia loves her Diwali gift. It is a camera! She uses it to capture all the wonderful moments in her house on Diwali. She photographs her family eating sweets, the rangoli, clay lamps, decorations, and more.

We especially love how the book weaves in a motif of the triumph of good over evil. Don't miss this one! The illustrations are a riot of color, almost like fireworks are set off inside the pages.
6. Ved and Friends celebrate Dussehra and Diwali
Recommended Age 5+
Dussehra has begun and Diwali will be here soon, which is why we are really excited to read this book, Ved and Friends Celebrate Dussehra and Diwali from author Diksha Pal Narayan. The book traces the celebrations and stories of Dussehra and Diwali for kids growing up outside of India.

The author is based in Canada and she tries to make these festivals relevant and relatable for kids whether they are growing up in Canada and USA or anywhere in the world.

The book is divided into 3 parts. Part 1 is about how Dussehra and Diwali are celebrated. Part 2 retells the stories behind the festivals and Part 3 includes activities, printables, and recipes to celebrate the festivals whether at home or with your child's class at school!
The attempt to make the celebrations relatable by creating customs that fit the lifestyle outside of India. For example, the Ravan Dahan using a campfire and barbeque pit is a masterstroke. in Part 3 of the book, on how to make your own little Ravan effigy! The printables, recipes and activity ideas at the back of the book. The coloring page at the back of the book can be used to introduce Diwali celebrations in your child's classroom. The illustrations by Abira Das are colorful and fun!


Buy now!
Amazon US | Amazon India

Do you have other books to recommend on Diwali? Do leave your suggestions and comments below!