Book Review: Junior Kumbhakarna by Arundhati Venkatesh and Shreya Sen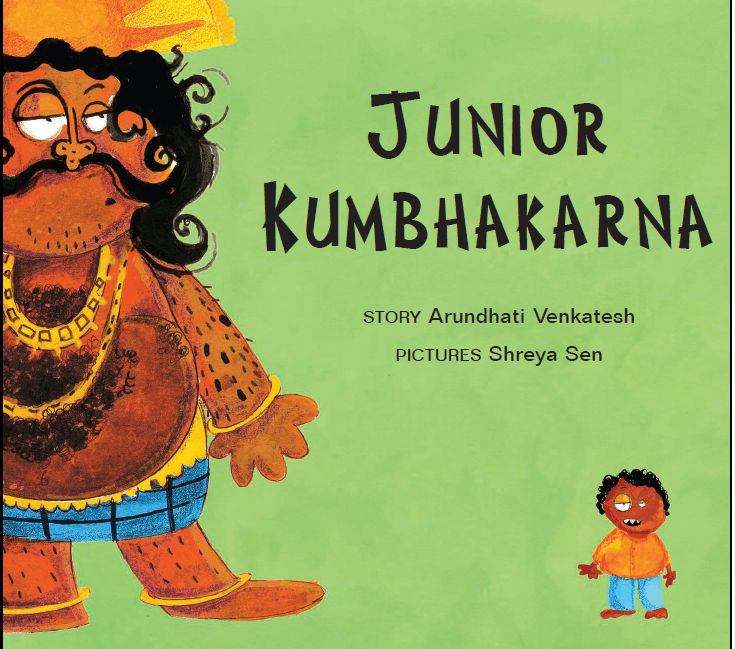 We are a family who loves to eat and sleep. It's like the two favorite activities which everyone in the household loves.
And hence Kumbhakarna has been a favorite character of the brat for long. When we came to know about the Junior Kumbhakarna book by Tulika publishers, we rushed to read it.
It's a hilariously funny book which is highly recommended for children 2 years plus. R and I just couldn't stop giggling when we were reading the book.

Written by Arundhati Venkatesh and illustrated by Shreya Sen, the book is about a boy Kukku who wants the story of Kumbhakarna again and again and again. This so resonated with R, who bugs me to tell her the same stories again and again and again. So Kukku's dad starts telling him the story of the character in Ramayana, who eats and sleeps and only sleeps. When Kumbhakarna is sleeping, waking him up is a big task. All sorts of efforts are put up to wake up the man, donkeys braying, elephants walking on him, and even laddoos being made. Does he wake up? How does the story end? The book needs to be read for that :)
What we loved about the book
The simple words and the lovely storyline make the book a delightful read.
The illustrations are fabulous and they add so much more character to the book. Even if a child can't read, the illustrations are superb enough to tell the story.
Retelling a portion of Ramayana in a humorous and funny manner
The ending, both R and I loved it

In fact, R liked it so much that we ended up reading the book at least 3 times in a row and R kept giggling EVERY time! It's so funny.

Next day morning, when I was combing her hair, she started giggling all of a sudden. I asked her what she was laughing about. She said 'Amma, I am thinking about the book Junior Kumbhakarna. It's so laughy-laughy. (That means its so funny!)

Guess that tells it all about the book :)

Much recommended!
This book is part of the Diwali Toka Box for Preschoolers!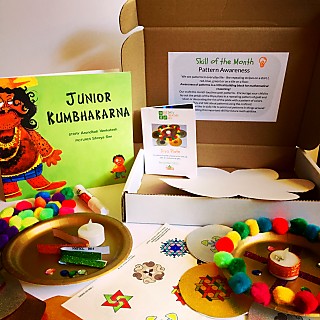 We spoke to Author Arundhati Venkatesh about her book
Today we interview Arundhati Venkatesh, the author of Junior Kumbhakarna.
Her book has brought a smile to many a face while teaching children about a character from the Indian epic of Ramayana. Arundhati contributes regularly to Saffron Tree and Womensweb, and is also a book reviewer and editor. In her previous work avatars, she managed projects at an IT major and headed communications at a non-profit. Read on to know her views on children's books, the Indian publishing industry and how she came up with the idea of a super-duper book, and learn about her new book as well.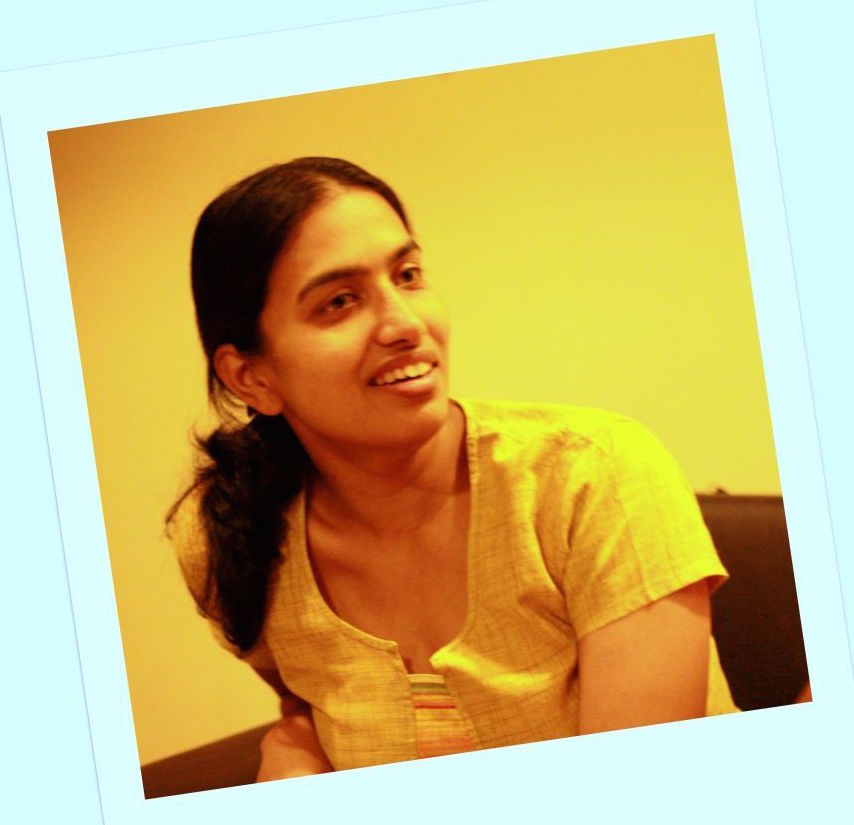 IMC: We loved your book. I think this is the first book I have read which makes Ramayana so child- friendly. How did you come up with the idea of writing about an important character of Ramayana in such a wonderful manner?
Arundhati: Thank you! And thank you very much for a fabulous review. It all started because I felt the Ramayana has a lot to offer to kids – flying monkeys, shape-shifting rakshasas, snoring giants… so many fantastic characters and such fun! And yet, there is a lack of material for young children, those who are too little to be presented with the detailed story.
I wanted to write a fun book for young kids. It didn't take me long to decide that it had to be about Kumbhakarna. I've always found Kumbhakarna fascinating. As a kid, it was because eating and sleeping were my favorite activities (still are!). I could see there was scope both in terms of story and visual possibilities. But I had to give it a contemporary spin, add my own little touch. My subconscious must have worked on it because a few months later, I knew how I was going to do it. It still needed a clever line at the end; I thought I'd tackle that as I went along. The solution appeared before me as I was writing; it seemed like the perfect ending.
Two years on, Junior Kumbhakarna is out. The book has been very well-received. There's been a great deal of enthusiasm from children, appreciation from parents, and a thumbs-up from reviewers. Junior Kumbhakarna was launched to a full house in Bangalore, received a warm welcome in Mumbai, and is traveling to Chennai and Delhi next (April 20th at Just Books, Chennai and April 26th at Eureka! children's bookstore, Delhi).
IMC: In a picture book, illustrations are very important. How did you and Shreya Sen coordinate on the pictures? Was it all her imagination or did you have specific illustrations in mind when you wrote the book?
Arundhati: Actually, we didn't communicate at all. Until the illustrations were done, that is. When I saw the completed drawings I had to tell her how happy they made me. It was completely and utterly different from the style I had visualized, but much much better than anything I could have imagined. At every reading, I mention the lovely illustrations and the talented artist behind them.
IMC: You have another book coming up by Duckbill publications. Tell us a bit about it?
Arundhati: Petu Pumpkin Tiffin Thief is a chapter book for young readers making the transition from picture books to the world of chapter books (I must say here that one must never stop reading picture books). It is part of the series called the Duckbill hOle books – The hOle books are heavily (and beautifully) illustrated. They're short and easy reads, with a nice, big font. Petu Pumpkin Tiffin Thief is a school story. Pushkin, Petu Pumpkin to friends, starts emptying his friends' tiffin boxes. They form a secret society to save their lunches. But the magic potion is a flop and the super glue is a disaster… Beyond that, my lips are sealed.
I had a great time with Petu Pumpkin and his friends and I'm sure children will enjoy reading the book.
The book will be out this month (April 2014). I'm looking forward to it.
IMC: What are your thoughts on the current lot of children's books available in India from Indian publishers? It's definitely a growing industry, but do you think this growth will sustain?
Arundhati: There are some excellent books being published. There's interest worldwide – the legendary Barry Cunningham (the one who actually signed up JK Rowling!) tweeted about Duckbill Books :- (@BarryChicken): '… one of my favorites is charming, child-friendly and simply joyful http://www.duckbill.in/ so cool and worth it!'
Tara Books won the International Book Industry Excellence Award in the Trade Children's & Young Adult Category at the London Book Fair 2014.
Karadi Tales' The Rumor written by Anushka Ravishankar and illustrated by Kanyika Kini won the 2013 South Asia Book Award for Children's Literature.
Book Uncle and Me by renowned author and expat Indian Uma Krishnaswami won the Scholastic Asian Book Award (SABA) 2011.
There is tremendous potential in terms of the market. What we're seeing is just the tip of the iceberg. There is no dearth of talent either. Writers, illustrators, publishers, editors, bookstore owners, reviewers are all doing their jobs well. What the industry needs are buyers. Books are priced as low as they can possibly be, with hardly any margins. Rs. 150 will give a kid joy for hours, considering a book gets re-read dozens of times. If parents who can afford it buy a book a month for their kids, the industry will not just survive, it will thrive.
IMC: And finally, if there are 5 books you would recommend for children between the age of 4 to 8, what would those be and why?
Arundhati: Read Junior Kumbhakarna five times. Then read Petu Pumpkin Tiffin Thief five times. There, that's ten!
On a more serious note, read widely. All genres, all kinds. Books by Indian authors as well as those published abroad. Whatever appeals – if they like dogs, they'll like books with dogs in them. Every kid can love books; it's just a matter of finding the right ones. It might seem like an effort at first, but the benefits are enormous. Kids who read for pleasure excel academically (this has been proven by research), they retain their imagination (despite our education system), and reading equips them for life. Makes it infinitely easier for the parents too – schoolwork is a breeze and all you need to do to prepare for the holidays is stock up on books. So get going. *hint* You could start off with Junior Kumbhakarna and Petu Pumpkin Tiffin Thief!