Book Series Review: Dealing With Feelings, Story-and-Activity Books by Sonia Mehta
posted by Shweta Sharan, May 19, 2018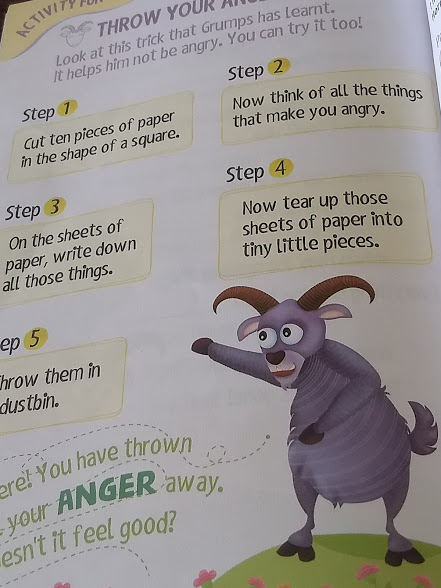 Dealing With Feelings, a series of story-and-activity books authored by Sonia Mehta, is perfect for toddlers and preschoolers grappling with feelings like shyness, fear, anger and anxiety.

When your toddler is all grown up and ready to go to preschool, they are handling a huge emotional transition. They meet new people, interact with children their age and are dealing with many complicated, new feelings. When my daughter was 4, she was incredibly shy. Whenever I would introduce her to a friend or a new child in our neighborhood, she'd turn her head, bury her face in my shoulder and not look up. She was a lot like Prickles the porcupine, one of the animal characters in the book. How I wish I had had Sonal Mehta's books to help her understand that there is no need to be shy! Don't miss these lovely Dealing With Feelings books, published by Puffin India.
Perfect for Preschoolers and Primary Schoolers

Your toddler is all grown up. He or she is grappling with new feelings -- anxiety, feeling left out, sulking and more. Sonia Mehta's lively, beautifully written and engaging little books, Dealing With Feelings, are perfect to address these feelings. The books are set in Foggy Forest, where every animal is dealing with a feeling. Prickles the porcupine is painfully shy. Woops the worm worries all the time. Grumps the goat has a bad temper and cannot control his anger.

Crumble the Cat is too curious for her own good and gets into trouble. Scaley the Dragon is always scared. Uff the Snail is always sulking. Find out how they deal with these emotions! The books have wonderful stories that address these emotions. The ending to each book has a simple strategy and thought process to deal with each complex emotion.
Beautiful activities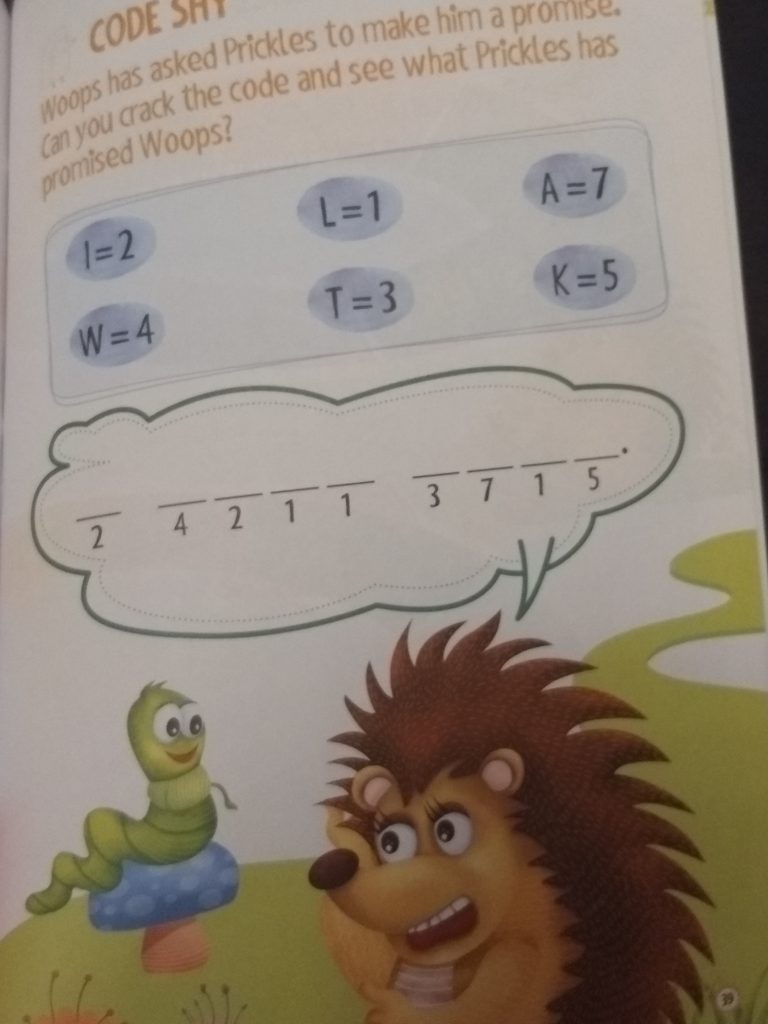 The books have fun activities that follow the stories. There are puzzles, crosswords, mazes, craft ideas, fun codes, patterns, word searches, join the dot activities, interesting question and answers and more. There are also activities with pictures of emotions that children can identify. They can circle the pictures that they are 'feeling' at the moment.
There's No Need to Be Shy

Prickles the Porcupine is painfully shy and whenever another animal would try and talk to her, she'd curl into a ball of needles. Why? Because whenever someone talks to her, her mind goes blank and she doesn't know what to say! She is scared that the other animals won't like her.
Sulking Isn't Any Fun

Uff the Snail sulks all the time. He thinks no one likes him. Uff comes by a few animals who are nice to him. He sulks, thinking that no one likes him or cares about him. It takes a clever little Butterfly to get him to lose his sulks.
There's No Need to Be Scared

Scaley the Dragon gets terrified of the smallest things. He hides under his bed one night because he thought he saw something scary. Little does he know that it's his imagination and that he should find a way to get over his fears!
It Isn't Nice to Be Angry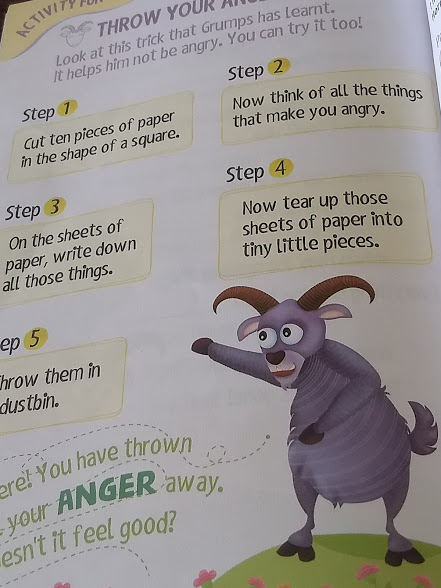 Grumps the Goat loses his temper at the drop of a hat. He isn't nice to his friends when he is angry. During a picnic with the other animals, Snoffle the squirrel dances with gusto and accidentally topples the picnic basket. Grumps is 'so angry that he cannot think.' The book tells us how he almost loses his friends and how he realizes that he must keep a lid on his anger.
Worrying is No Good

Woops the worm worries all the time. He worries that he is not smart, that his teachers don't like him, that his friends think he is stupid and that everything will go wrong. Little does he know that he is a constant worrier. One day, Woops meets Willa, a worm who worries more than he does. He is focused on making Willa feel better and forgets to worry!
Being Curious Can Be Tricky

The title says it all. Curiosity is good but not an overdose of it. Crumbles the curious cat always likes poking her nose into everybody's business. She never understands that too much curiosity can lead to danger and mix-ups. She learns her lesson in an adventurous way. Her friends come to her rescue!
What We Love

We love the book's little strategies. In each story, an animal deals with an emotion with help from their friends. This lets a child know that he or she can ask for help.

We also love the logic behind the emotion. When you are scared, talk to your friends! When you worry, do something you like and take your mind off it. If you are angry, clear your head.

The books help children understand simple yet effective strategies to deal with their emotions. A must-read for preschoolers!

Buy Now

Amazon India