Banana Froyo
posted by Preethi Chandrasekhar, June 06, 2017
Banana Froyo is an easy and a perfect summer recipe prepared with frozen bananas and yogurt. Banana is a readily available fruit year around, and this recipe can be made not only during summer but year around too. When you have some excess bananas or ripe bananas, you can peel the skin and put them in a ziplock and freeze them. And I used those frozen bananas for this recipe.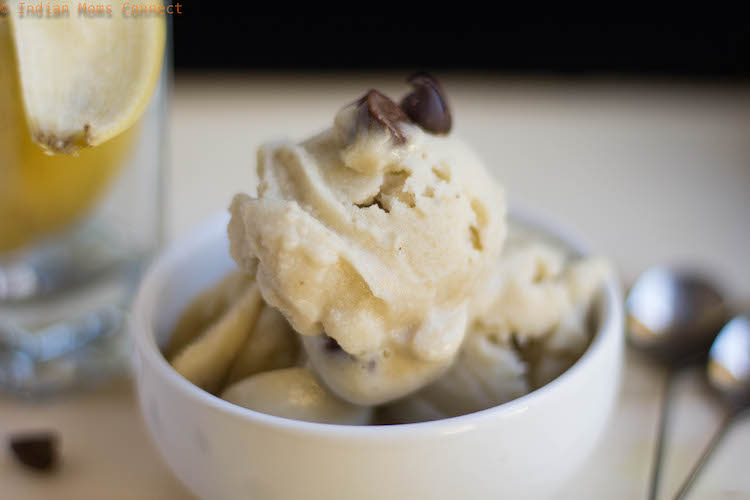 Usually, when I have ripe bananas, I mostly prepare milkshakes with them and occasionally banana bread too. But recently I started to freeze them so that I can use them for these froyos or ice creams or even milkshakes. We recently discussed the importance of probiotics, and you can read it here. When bananas rich in B6 combined with yogurt, you get not only a yummy treat but also a healthy one.

Here is the recipe,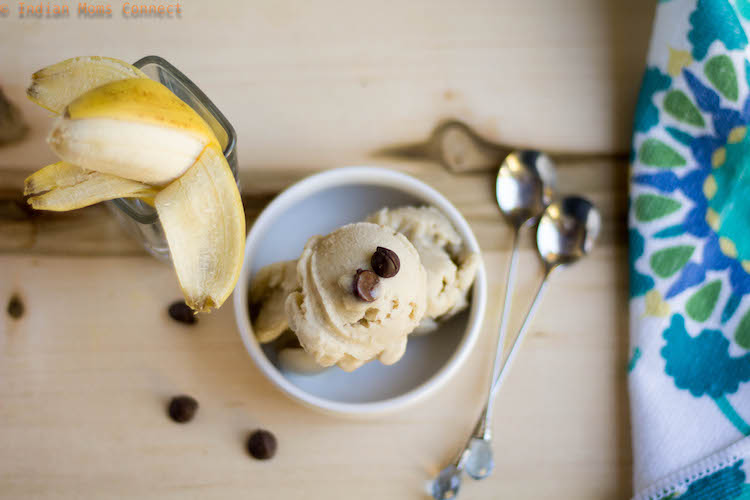 Ingredients:
Frozen Bananas - 3 (If you don't have frozen ones, take three bananas and peel the skin and freeze for at least 24 hours)
Chocolate chips - 3 tbsps (optional)
Steps:
Remove the bananas from freezer and let it sit for 10 minutes.
Blend the bananas, yogurt, sugar into a smooth mix.
Pour that in a freezer safe container and fold in some chocolate chips.
Freeze this mix for 20 more minutes and top it with more chocolate chips just before serving. (Freeze the rest for longer shelf life)
Notes:
Adjust the sugar as per your preference.
Instead of chocolate chips, you can add your favorite nuts, dried fruits or candied fruits, etc.