A Book About Kites & Kai Po Che - Dev & Ollie : Kite Crazy
posted by Vidhya , August 12, 2015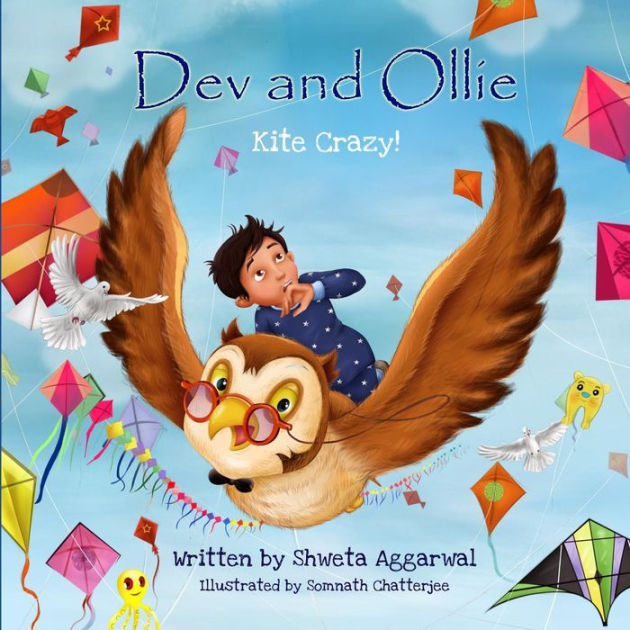 Dev & Ollie - Kite Crazy written by Shweta Aggarwal and illustrated by Somnath Chatterjee is a book perfect for kids aged 4+. Dev is a cheeky, clumsy and of course, a curious boy and Ollie is Dev's magical cuddly toy who comes alive only in the night and they together take off on adventures. Interesting huh?
Dev unwraps his birthday presents and finds a cool new kite. But there is a problem, he doesn't know how to fly it. His grandpa promises to teach him the next day. But he doesn't want to wait till then. So he together with Ollie decides to go on an adventure and learn to fly a kite? So where do they go? They go to one of the largest kite festivals in the world. You might all have guessed it by now. It's Gujarat. :-) So to know what do they do there and how do they learn to fly a kite and did they learn Kai Po Che, you need to read the book. :-)
What we liked about the book
1) Bright and colorful illustrations. The front cover reminded me of Harry Potter riding in buck beak.
2) The story starts with a small introduction to all the characters in the story.
2) Along with the story, they teach the traditions of India and also the landscapes and important places.
3) At the end of the story, they have the facts page which gives more information about the topic they discussed in the story.
4) The small game, in the end, is fun for curious minds.
It's altogether a great book and kids will love it for sure.
This book is part of our Toka Celebrate Makar Sankranti Box. View details of the box here.