Mehendi, Matchmaking, and Technology intersect in this Awesome South Asian YA novel!
posted by Shweta Sharan, May 21, 2019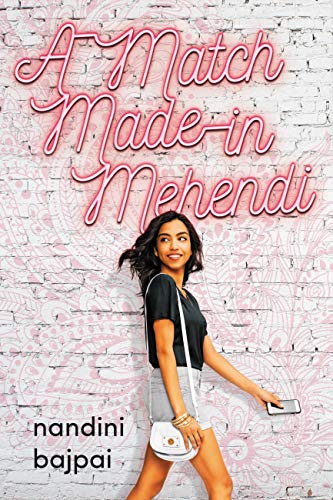 This awesome new South Asian YA novel is engrossing from start to finish, and should be on your reading list!

Nandini Bajpai's A Match Made in Mehendi hooked me right from the start. The writing is perfect and simply draws you in from the very first page. The book is charming, witty and strikes the perfect register when it comes to capturing the South Asian teen experience.

This book is the Toka Box Chapter Book pick for September. Read on to find out why you MUST buy this!
Entertaining and original
The book practically starts with a bang. Fifteen-year-old Simran (or Simi, as they call her) accidentally breaks a vase when shopping with her mother and aunt in an Indian furniture store in New Jersey. She is aghast but finds herself inadvertently matchmaking her beautiful and picky cousin Preet with the furniture shop owner's son, surprising even herself in the process. Her family thinks that Simi has got the gift of matchmaking. After all, she comes from a long line of Indian vichole or matchmakers. These are middlemen who help find good matches for girls and boys.
At first, Simi brushes off these proclamations. Her first love is art, but after a lot of thought, she and her best friend Noah decide that they want to do something really cool that year. They come up with the idea to start a unique matchmaking app, Matched! This is an app that pairs people according to how they answer quiz questions designed by Simi. She takes a lot of inspiration from The Shagun Matchmaking Guide, a book that is a family heirloom of sorts, which has guided generations of matchmakers in pairing people successfully.

Things take quite the turn when Simi pairs an ordinary girl with a soccer star. This turns the status quo on its head, and Simi finds herself targeted by Amanda, who is livid that Simi's app matched her ex-boyfriend with the school wallflower. Amanda and her friends are out to get Simi and Noah, and what happens is a cathartic showdown worthy of any awesome rom-com.
Being South Asian is really cool!
The book does full justice to its South Asian characters, finding humour in situations that are so familiar to Indians all over the world -- the bargain-loving mum and mausi, or the furniture shop owner's son who is studying to be a lawyer. What is wonderful is that there isn't a single false note when representing these characters. They are funny, human, relatable, progressive and rise above tropes. Simi is fun, hilarious, likeable and charmingly disinterested in the reality that the adults in her life want to cook up for her. Teens will instantly connect with her humour and ingenuity. The adults will too! The last time I read a book that took me back to my own adolescent years was when I read the Ruby Redfort series by Lauren Child.

Now more than ever, South Asian teens need wonderful books that represent their myriad cultures and sensibilities, books that centralize the South Asian teen experience by making it the lens to society in general. What's really cool about A Match Made in Mehendi is that it does all these things and still is a fun and interesting book about all the things that teenagers like -- falling in love, finding purpose, beating bullies, finding out that the cute guy actually likes you, and of course, realizing how cool your culture is when your art teacher asks you to explore mehendi as a medium!