Book Review: The Good Indian Child's Guide to Eating Mangoes
Hilarious, tongue-in-cheek and innovative, The Good Indian Child's Guide to Eating Mangoes brilliantly combines the creativity of a children's book with the quintessentially Indian obsession with mangoes.

When I was a child, I always looked forward to the mango season. My favorite mango was the Banganapalli. My parents loved the Himampasand but it was never my favorite. I also liked the Alphonso.

My father would eat the mango like he belonged to the British royal family. He'd cut it into perfect little pieces and eat each one with a toothpick!

I had a very different way of eating a mango. I'd cut the brat into three pieces, scoop out the seed, and bite them silly until they resembled straws. At the end of it all, I'd be smeared with mangoes.

Written by Natasha Sharma and illustrated by Shreya Sen, The Good Indian Child's Guide to Eating Mangoes is filled with that same joie de vivre and carefree love for mangoes that I had as a child.
A crazy good ride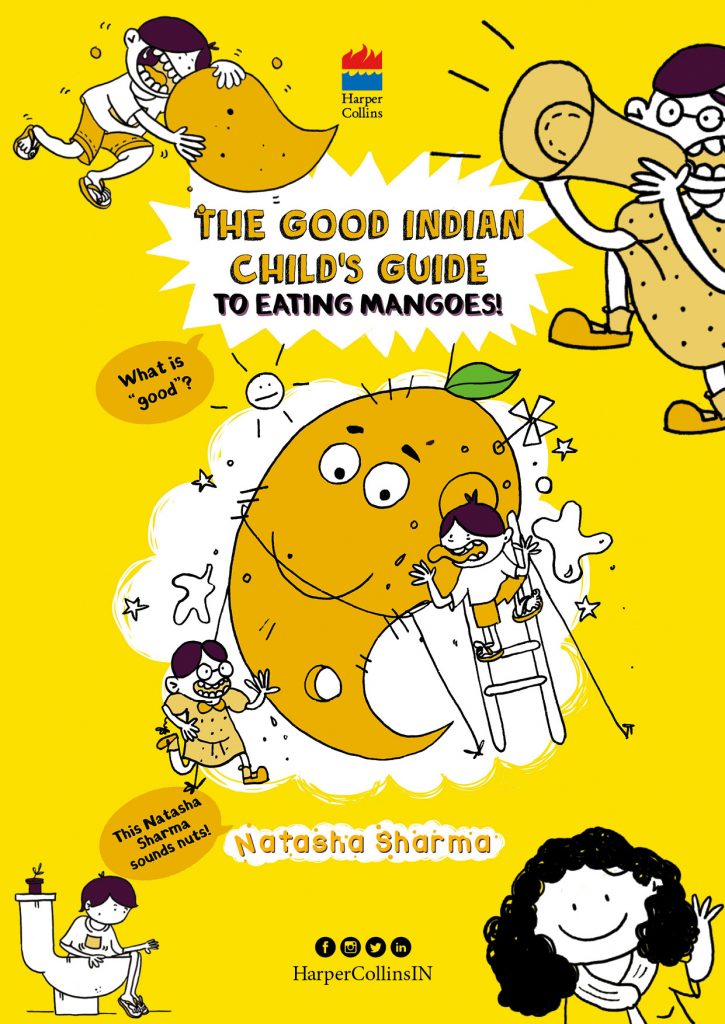 On the face of it, The Good Indian Child's Guide to Eating Mangoes aims to be a true guide and to tell your child how to devour mangoes. But scratch the peel and you will notice that this book has so much more. There is humor, a mango personality quiz, and even some essential mango kinesthetics, including one involving ways to prise a mango wedge out of your teeth with your tongue. Yes, this is high-level stuff.

My favorite part about Natasha Sharma's book is the humor. Children love crazy humor, as do many adults (ahem). There is some fabulous mango-based character building, mango recipes, and even mango math! The Good Indian Child's Guide series published by Harper Collins will be the first of many series. We really look forward to The Good Indian Child's Guide to Playing Cricket!
Fabulously eccentric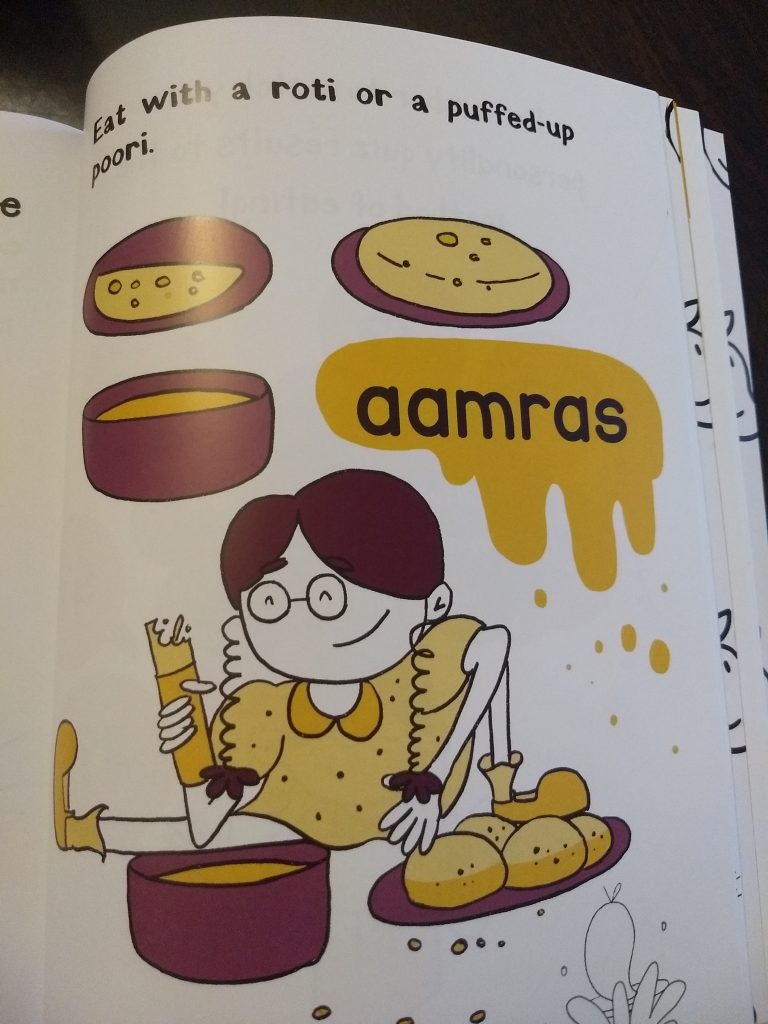 This book reminds me so much of Dr. Seuss's The Cat's Quizzer, one of my all-time favorites. Boy, I will never forget Ziggy Zozzfozzel!

The Cat's Quizzer is crazy as hell but deep down inside, I loved its dig at education and conventional notions of knowledge. In a similar way, Natasha Sharma's book urges you to not take decorum too seriously and to really connect with your wild, unrestricted side. I hope this book has two interesting results. One, I hope it teaches crazy people like me to go to the decorous side and make and eat 'mango art.' Two, I hope it teaches the hoity-toity lot to go completely cuckoo and eat mangoes like they are going out of style.

There is also a mango personality quiz in this book. You are also encouraged to develop some important mango personality traits in the process of reading this book. For instance, as the author says, the best way to research is to eat tons of mangoes.
The King of Fruits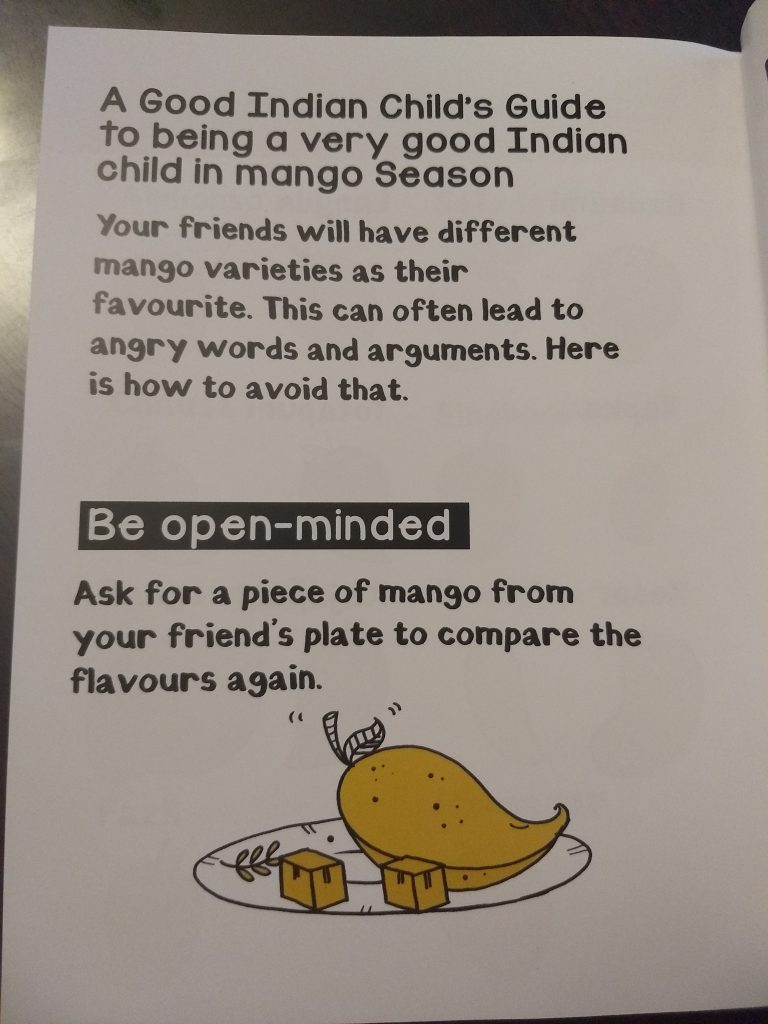 Apart from the mad and fun ride that this book is, it also presents beautiful facts and illustrations about the different kinds of mangoes you find in India. Whether it is a tiny tapka, "the sweet-like-sugar chausa," or "a parrot-beaked totapuri," the descriptions of mangoes in this book are just delicious!

What can I say? I think you'd be crazy to give this book a miss. But not as crazy as saying no to a plate of mangoes.

I recommend reading this book with mangoes cut so that they resemble kayaks. Keep the plate of mangoes near the book as you read it. And make sure you don't get a squint thanks to the number of side-eyed glances you'd be giving.
Buy now!
Liked this article? Subscribe to our Weekly Book Love newsletter and receive a weekly digest of all the latest children's book titles, book lists, must-reads, giveaways, activities, latest releases and more! Subscribe now