Mother Language Day: Bilingual Books With Toka Box!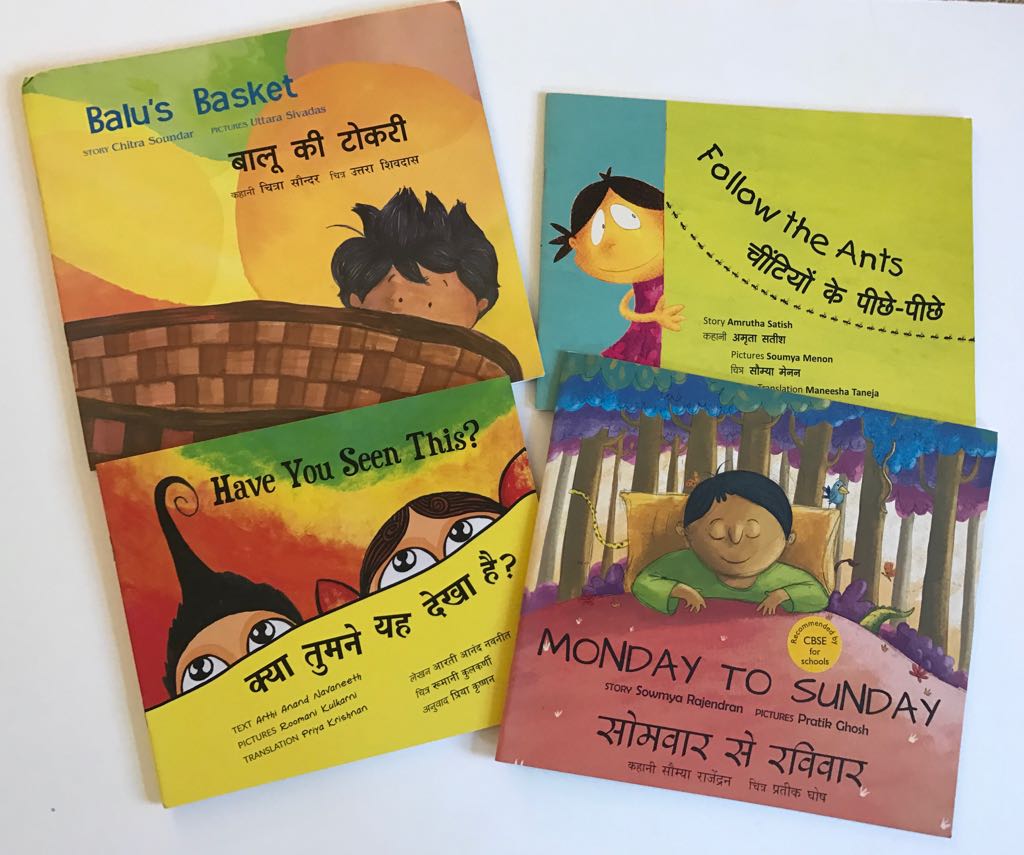 Happy Mother Language Day! If you are planning to raise your child bilingual, we at Toka Parent are really excited about the amazing book choices, especially for young kids these days!
Bilingual Board Books
Das Din
Das Din is a board book with flaps to open and tabs to pull is a fun way to learn to count in Hindi. The book has Hindi script as well as a transliteration in English for those who are not familiar with the hindi script but know the language. The illustrations by Alicia D'Souza are adorable. A great book to have in your child's bilingual library!

Das Din is now available in Tamil as Patthu Natkal!

Buy this book now!
Kahaani Purani by Pridhee and Alicia D'Souza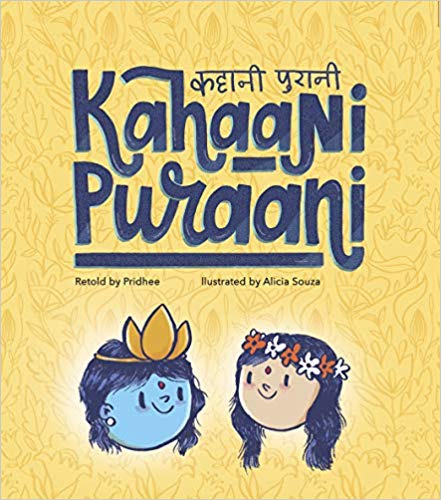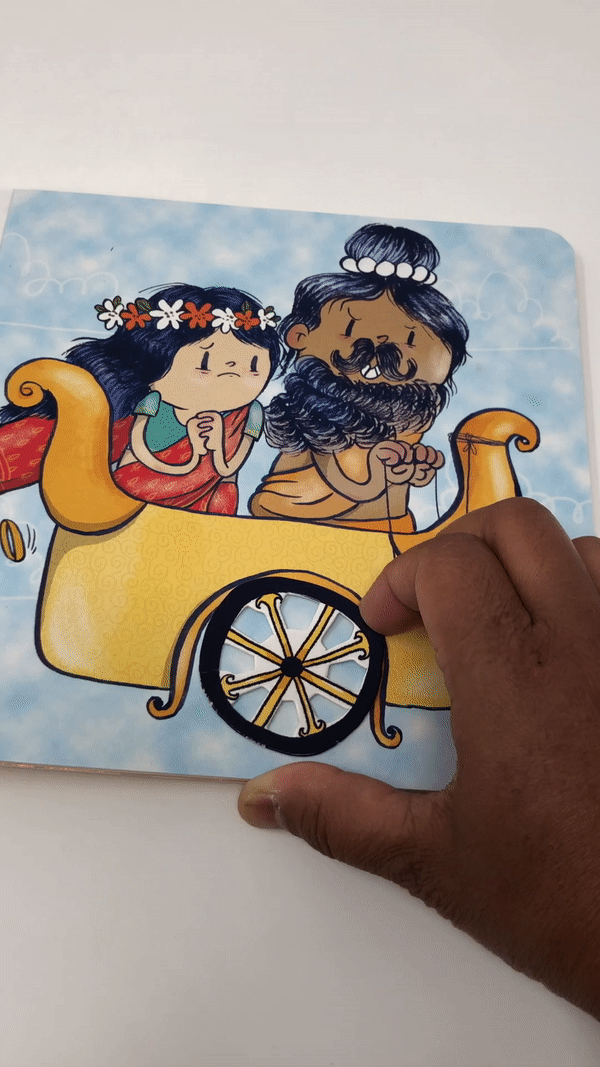 Kahaani Purani is a brand new board book that is written and retold by Pridhee Kapoor Gupta and illustrated by Alicia D'Souza. It has stunning illustrations and really pushes the boundaries of the board book format! Don't miss this one! We love how interactive and creative this book is, thanks to the wonderful Alicia D'Souza! Check this out -- there are flaps you can push, tabs you can pull, and wheels you can rotate. Your baby can even push and pull Rama's arrow, and make some cool things happen with Lakshmana!


Shubh Raatri Dost by Nidhi Chanani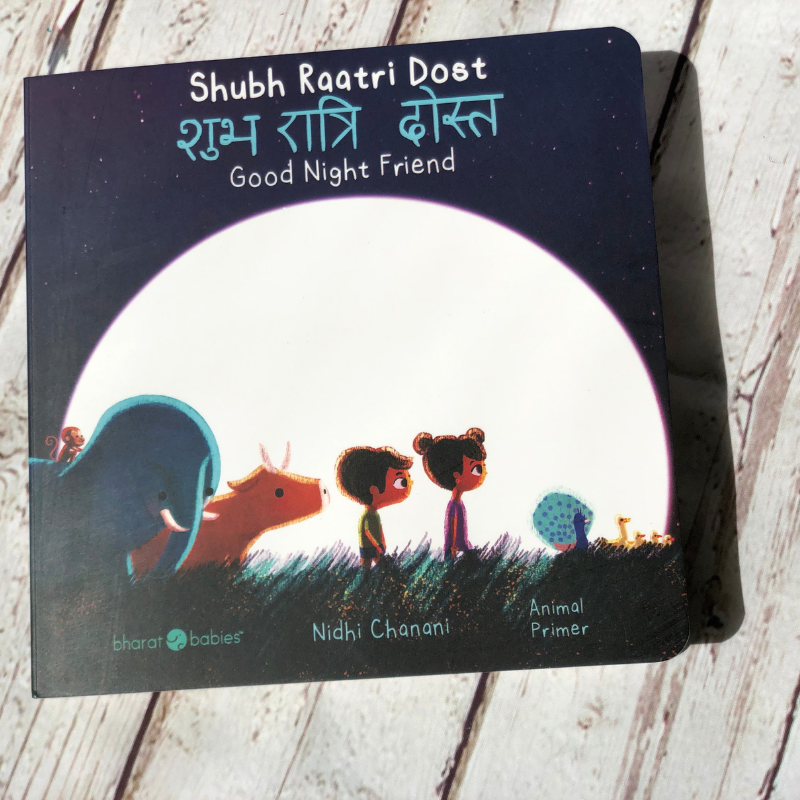 This was declared the Best Board Book of the year in the Toka Box Top South Asian Books list of 2019, which we published this week! Shubh Raatri Dost written by Nidhi Chanani and This beautiful Hindi-English board book shows how Bhai (brother) and Behan (sister) walk through their Indian farm home, bidding each and every animal goodnight. The book, with its refrain of 'Shubh Raatri' or 'good night,' works as a beautiful bedtime story. Its mood, ambience and the gentleness of its words and illustrations really make it a soothing, calm and gentle bedtime tale for babies. We like how Bhai also says 'Shubh Raatri Pyaas' meaning "good night thirst" even as he drinks a beautiful steel tumbler of water!
Every sentence in every page has a Hindi translation in the Hindi script, Romanized Hindi and English, making this an accessible and easy bilingual book that actually works! We love the way the babies in the book say 'dhanyavaad' or 'thank you.' We love the sequence that the book follows, the soothing repetition, and the rhythm.
Gol Mol Bol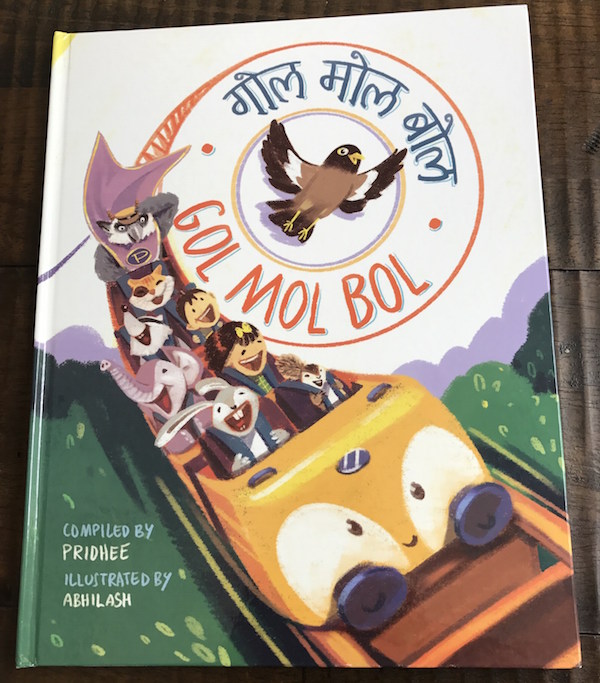 Gol Mol Bol is a book of familiar Hindi nursery rhymes from our childhood. This book has the poems in Hindi script as well as a transliteration like the board book.The book comes with music by Ramya Shankar, available for download. This was a lot of fun for us! Sing along to the old Hindi rhymes like Akkad Bakkad, Aloo Kachalu and others from your childhood days and share them with your little ones! Includes Music by Ramya Shankar. Also includes English transliteration to help older children read with a special central pop up for the children to enjoy.
Buy this book now!
Bolo Kya
Written by Pridhee Kapoor and illustrated by Abhilash, Bolo Kya? is the first-ever lift-the-flap board book in Hindi for children of the age 0-2 years. With English transliteration, Bolo Kya? opens up the wonderful world of colours, animals and Hindi to your little one. Language is best learnt through stories and picture books.


Learn a new language and make a suncatcher!


The Bilingual Visual Art for PreschoolersPreschoolers is a wonderful way to learn a new language and exercise other skills like fine motor, gross motor, and creativity. We use tissue paper to assemble a simple collage, work on motor control and coordination, and use color to express feelings and moods. As for the book, 'One and Many,' it brings us a step closer to nature creating a love for gadget-free outdoor games. Thanks to illustrator Deepa Balsavar, we enjoyed playing hours of 'I Spy' inspired games. We spotted specific objects from elaborate. We loved every minute of it!
Bilingual Board Rhyme books
Haathi Bai

This rhyme is adapted from the Gujarati language. When Haathi Bhai arrives waving his ears and swinging his trunk what happens? This rhyme beautifully brings it out. Pictures by Paridhi Didwania makes us love the cute Haathi Bhai.

Buy this book now!

Akkad Bakkad

This Punjabi rhyme adapted in English brings out the concept of numbers, ascending and descending order of numbers in a wonderful way. Colorful pictures by Shreya Sen makes the numbers alive by making them walk, run, skip, see, laugh etc.

Buy this book now!

Buy it outside India | Buy it in India!
Dosa Amma Dosa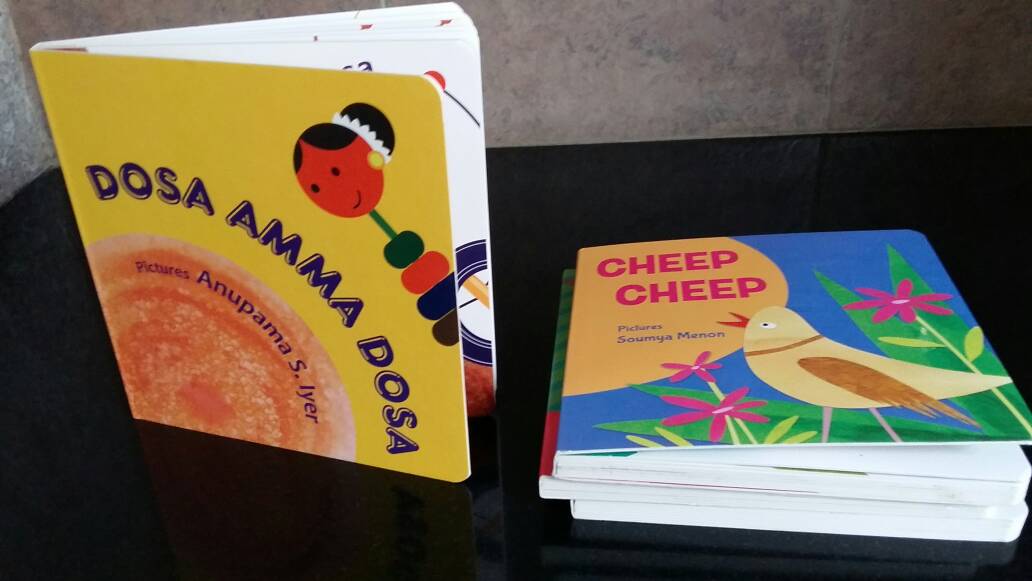 A very popular Tamil rhyme is adapted in English. Dosa is a snack item universally loved by all. In this poem, the preparation of dosa and how it is shared between family members is described. This beautiful rhyme teaches sharing as well as simple arithmetic. Pictures by Anupama S. Iyer brings out the concept of numbers and counting beautifully
Buy this book now!
Cheep Cheep

Cheep Cheep is a beautiful rhyme adapted from the Marathi language. In this book, children are introduced to the sounds from the world they hear around them. This rhyme helps kids to observe nature and things around them. Pictures by Sowmya Menon are colorful and the sounds are highlighted in each page wonderfully.

We can happily recommend and gift these books to babies and young pre-school kids. There is no doubt they will love them!
Bilingual Books -- English and translation

Follow The Ants / Chintiyon ke Peeche Peeche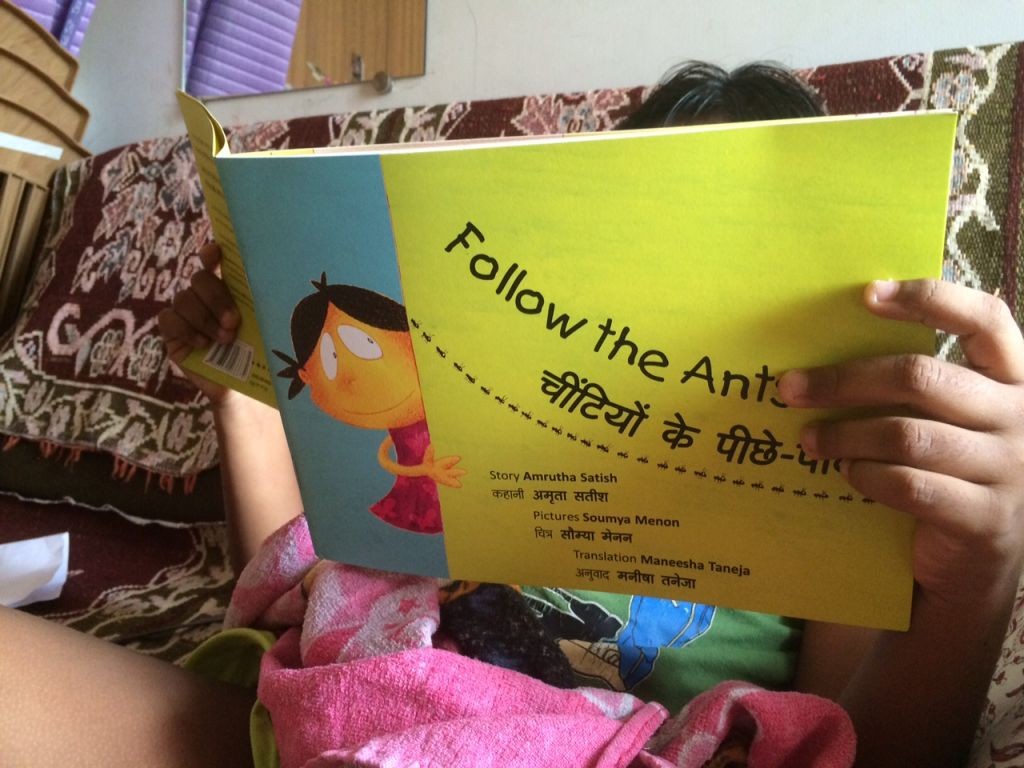 Written by Amruta Sathish and Illustrated by Soumya Menon is a bilingual book and we loved the English-Hindi edition. The translation by Maneesha Taneja is easy to read. The book is a delightful way to introduce toddlers to everyday Hindi words and make them observe things around us. We loved the author's imagination of taking an everyday occurrence and converting it into a story which make us want to keep turning the pages to see where the ants will go next. Read the full review of Follow the Ants here !


Buy this book now!

Buy it outside India | Buy it in India
Balu's Basket by Chitra Soundar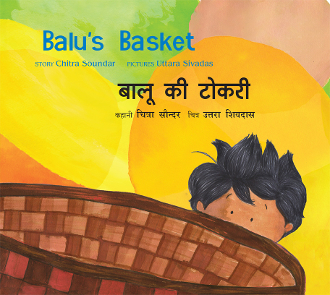 This book too was part our Toka Junior box for 2-5 year olds! One day, Balu finds a basket. What does he do with it. Bright, clean pictures create a cheerful backdrop for this fruit-filled book. A great way to introduce preschoolers to the HIndi words. We have this book in Tamil too!

Buy the English-Tamil book now!
One and Many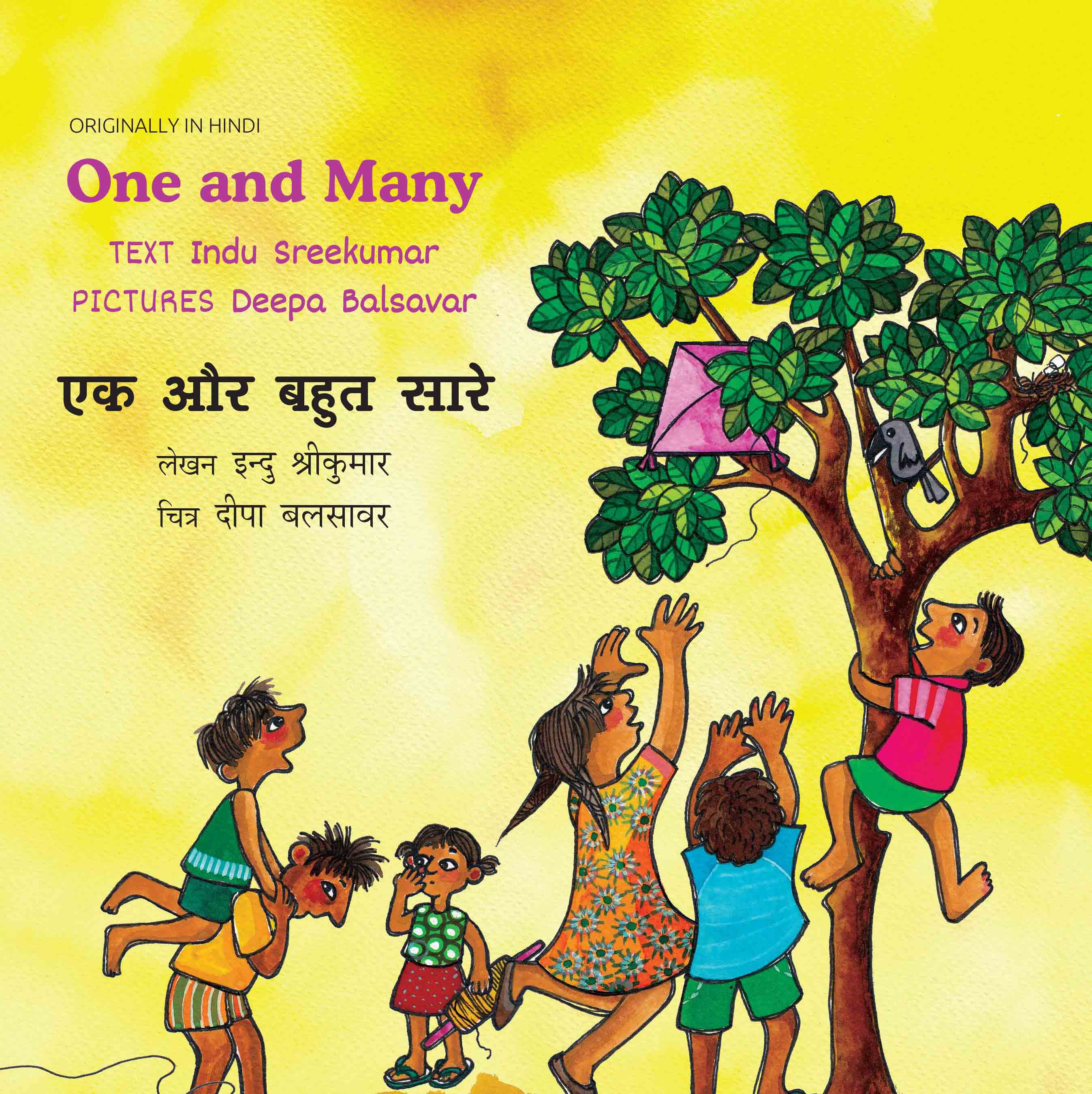 One and Many is a beautiful bilingual book from Tulika publications that play on the words 'one and many' and 'ek aur bahut saarey' beautifully. Bilingual books are a great way to introduce a child to many languages in a single sitting! This Hindi-English Bilingual book Ek Aur Bahut Saarey is Indu Sreekumar`s first book with Tulika Publications. Indu Works in the NGO Eklavya in Bhopal. Her book Ek Aur Bahut Saarey has been translated and adapted into English under the title 'One and Many'.

The book goes about in simple sentences that have words 'one' and 'many' repeating itself through every page. This book is a great way to introduce the idea of singular and plural terms. After multiple readings of the book, it was a treat to see my son recognize and read the Hindi words 'ek ' ,'aur,' and 'bahut.'
Not Yet! Abhi Nahin!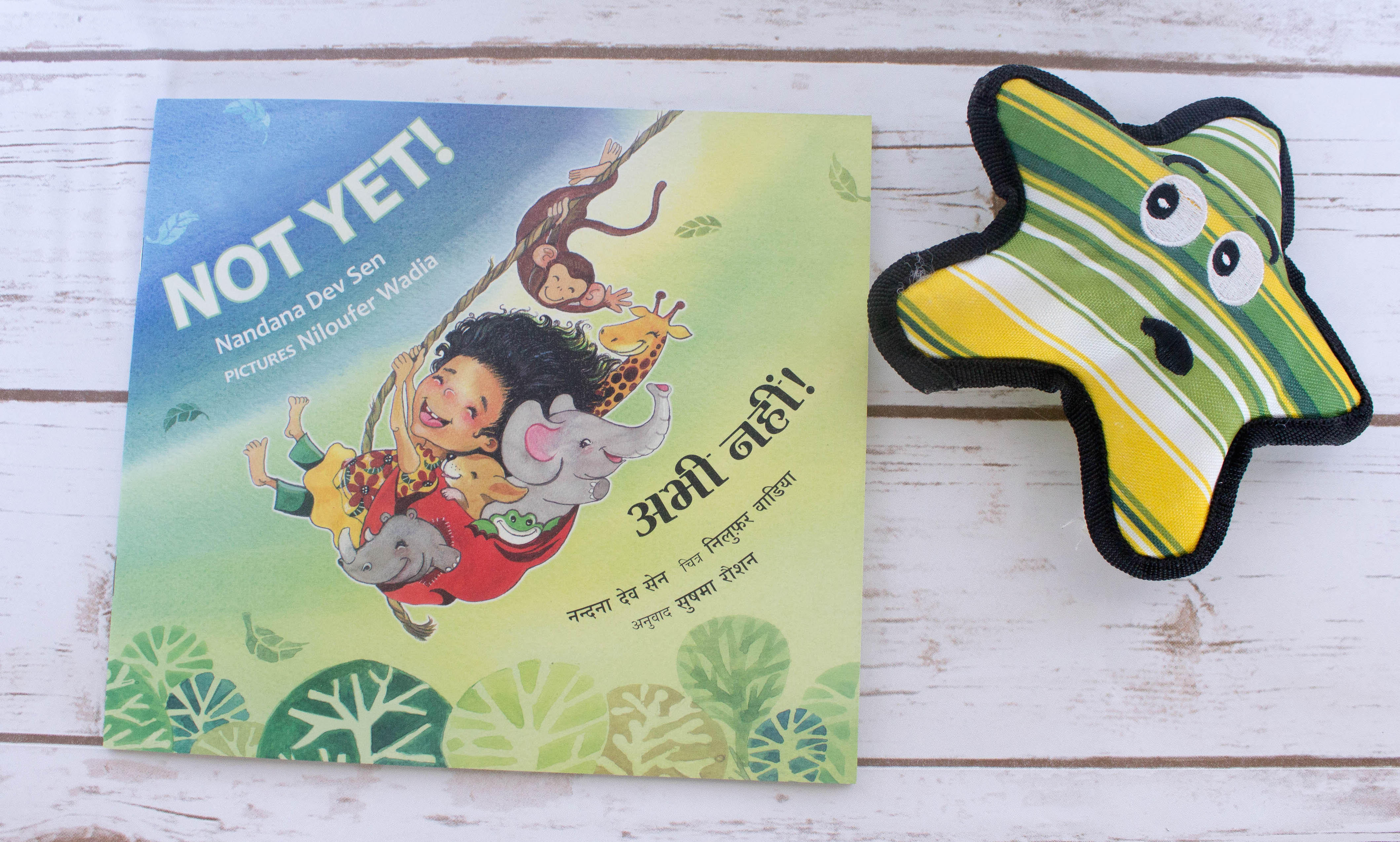 Written by Nandana Dev Sen and illustrated by Niloufer Wadia, Not Yet! is about a bedtime ritual that all our children follow -- try and postpone sleep time by asking questions that very important at that time!
"My dear, it's time for bed," says Ma. But "Can a frog stand on its head?" wonders her little girl. Lost in a world where she must learn to fly with birds in the sky, snuggle a whale, kiss the kangaroo… she has so much to do! Sleep? Not yet!
My Grandfather's Stick/Mere Nanaji Ki Chhari by Nandini Nayar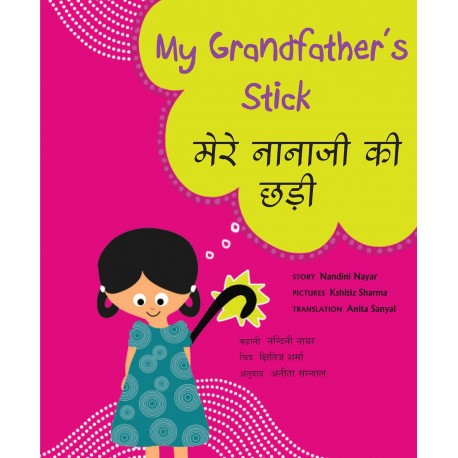 Written by Nandini Nayar, illustrated by Kshitiz Sharma and published by Tulika Books, this beautiful book reimagines grandpa's walking stick. It can fly and do magic. It is a horse and also a pencil. What is it? Bright cutout illustrations give wings to a child's imagination.


The Snake and the Frogs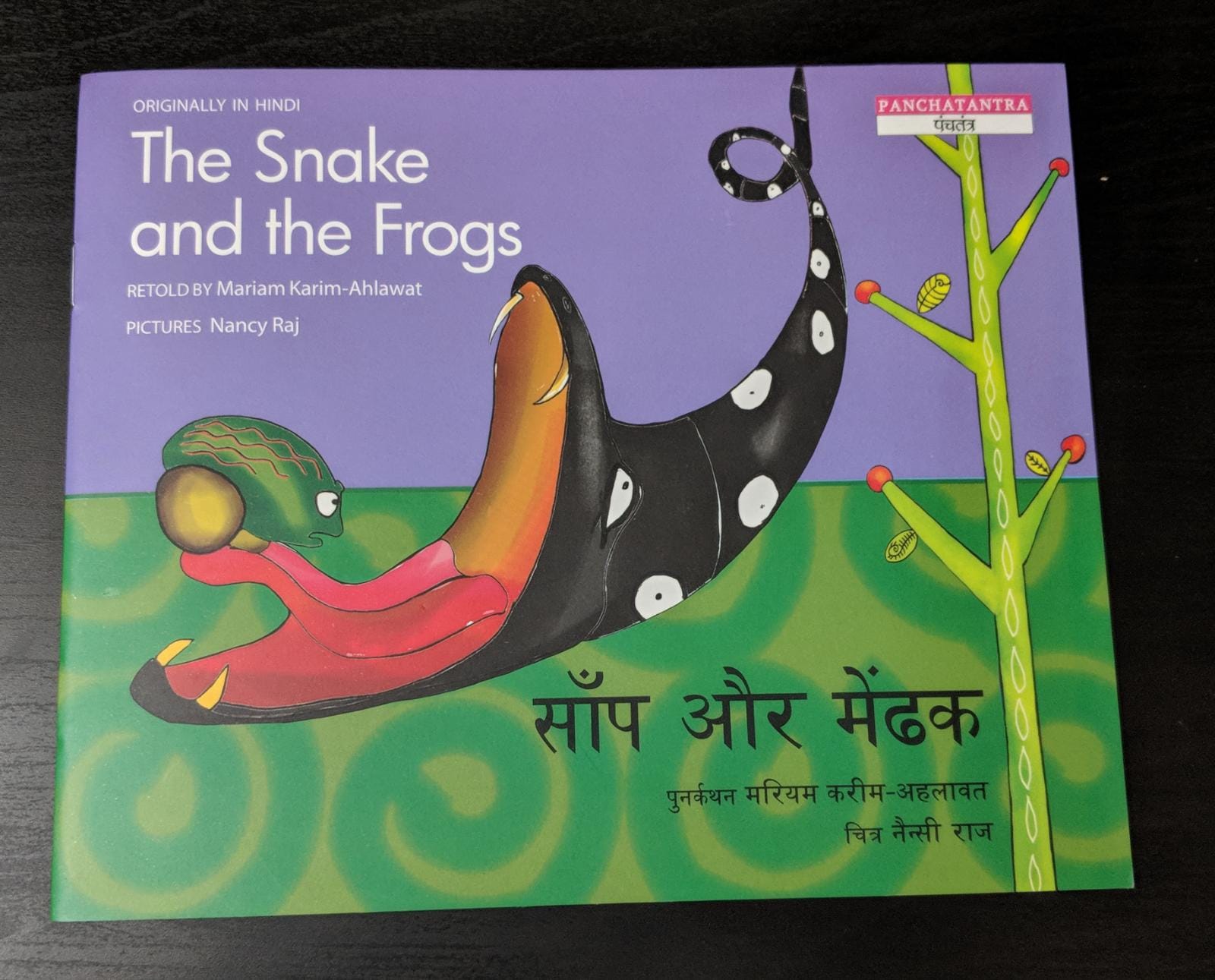 The Snake and the Frogs is a famous fable retold by Mariam Karim-Ahlawat. Karim-Ahlawat is a french teacher who loves designing multimedia for children. The Snake and the Frogs is Tulika and is truly a bilingual treat! Both Hindi and English readers will love this book.

The book tells a story about an old snake. The story is about a sly snake who wants to eat a group of frogs near a pond. The snake tells the frogs that he is weak and has poor eyesight because a man once cursed him. Delighted at getting the upper hand, the frogs take charge of the frail snake and ride on it to their hearts' content. Little do they know that they should devise an alternate plan in case the tables turn!

The Snake and the Frogs is a unique story. The retelling swings sympathy in favor of the snake.This simple story has many perceived morals. Always know your limit. Never exploit a giver. Every cloud has a silver lining. Man proposes, God disposes!
The Lion and the Fox
Panchatantra stories are the oldest surviving fables from ancient India. Most stories employ animal characters and aim to impart moral values to young kids through interesting stories. The Lion and the Fox is one such fable retold by Deepa Balsavar. The book is published by Tulika. Balsavar emphasizes the environmental issues of the modern world. The lion and the fox scavenge for food in a barren forest. They strike a deal to share any available source. A woodcutter falls prey to his own greed. He lets the animal trick them. He realizes his folly when the fox names him brainless and shuts down his own escape route. The story brilliantly portrays the need for conservation. The ending will give a hard blow to young minds. It is a good way to understand our world and ecosystem in a new light.

After witnessing Deepa's artistic side through her book One and Many, I loved her impressive narration that makes the age-old fable more contemporary in ideology. You can't miss the rich illustrations by Amrita Kanther, an alumna from the Industrial Design Centre, IIT Bombay. Her culturally rich Gond art from the people of central India speaks for itself.This book brings to light the serious issues of deforestation and man`s greed in exploiting natural wealth to the point of completely devouring it. The Lion and the Fox is relevant to our times.
Sowing a Seed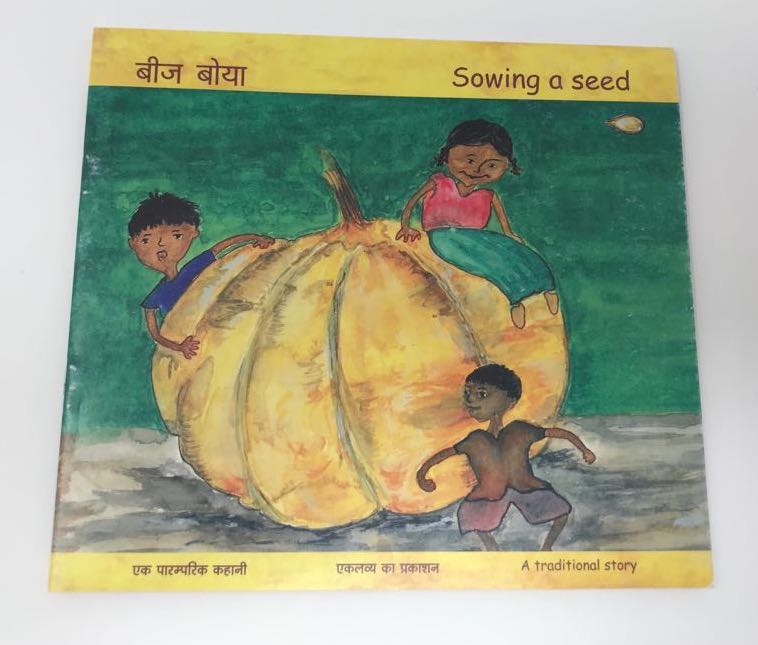 Bilingual books are all the more powerful if they run in parallel with STEM lessons that children learn in school. In this book published by Ekalavya, children learn about sowing a seed and how plants grow. A simple but essential concept like germination, when told in a mother tongue or a different language, can really get those neurons firing away!

Buy this book now!
Neelu's Big Box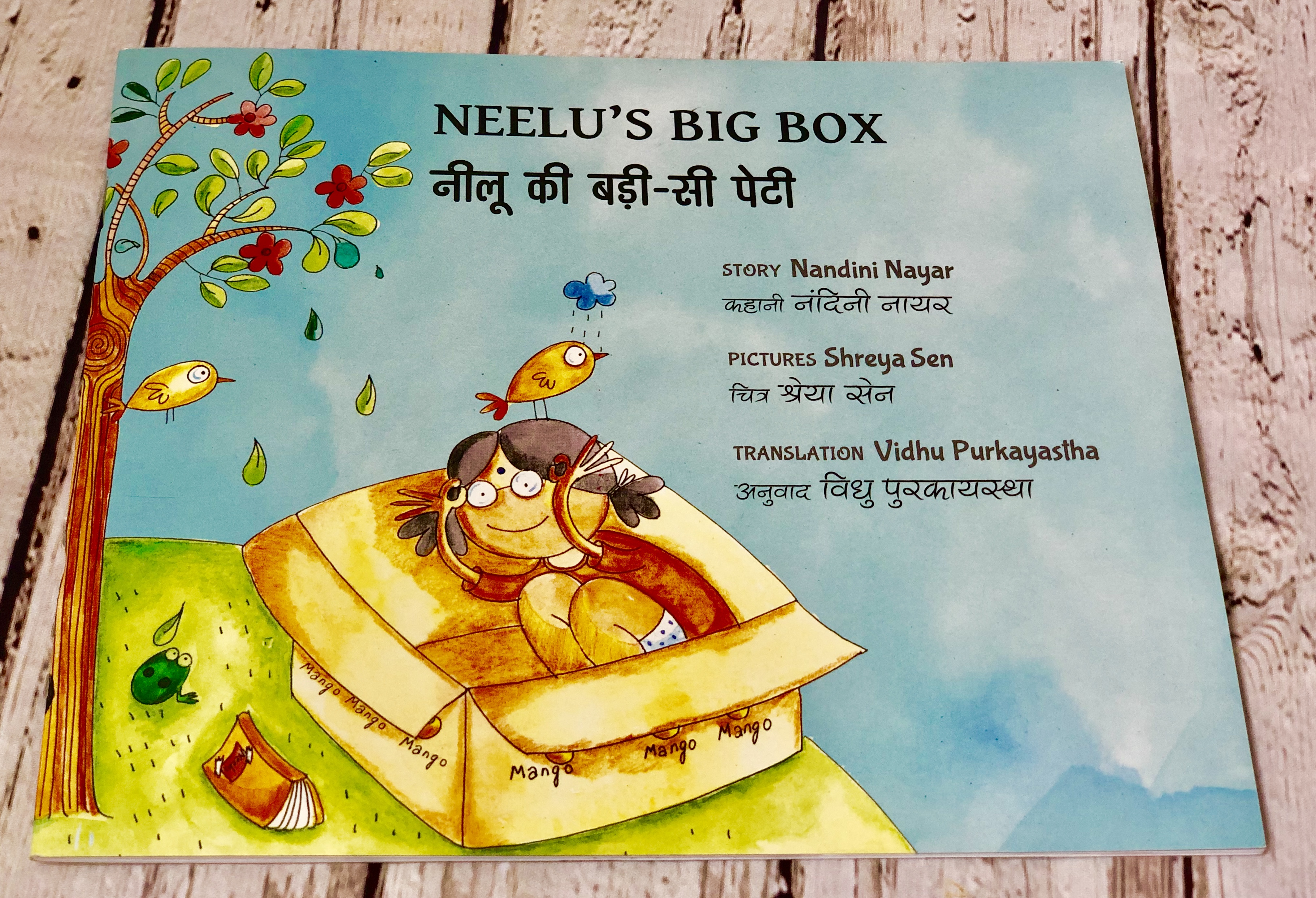 A big box, her grandparents' walking sticks… Neelu has everything she needs for her big, strong fort. But she trips and falls, and the box becomes flat! Whacky pictures take us on a colourful ride into a child's imagination!
Buy this book now!

We run a science experiment about what floats and what sinks! We then build 2 different kinds of floating boats with simple materials and make it move with the wind!


Buy the box!
Dinaben and the Lions of Gir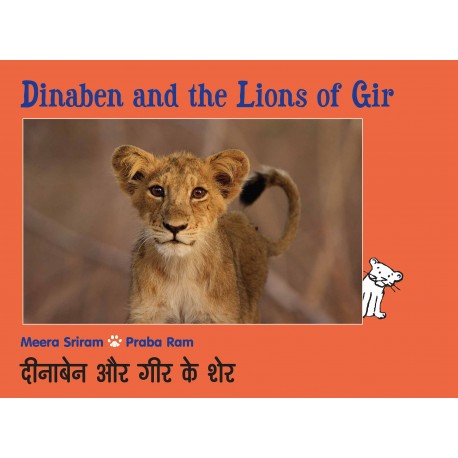 We really loved this bilingual book from Tulika Books by Meera Sriram and Prabha Ram. Dinaben is a Maldhari and her village is right in the middle of the Gir Forest where the Lions live. What does she do? How does she live? The book offers glimpses into how the Maldharis and the lions have coexisted peacefully for many years. Informative text and evocative photographs capture the many facets of life in the Gir forest of Gujarat. Children will find it easy and fun to follow the story in 2 languages.


Have You Seen This?/Kya Tumne Yeh Dekha Hai?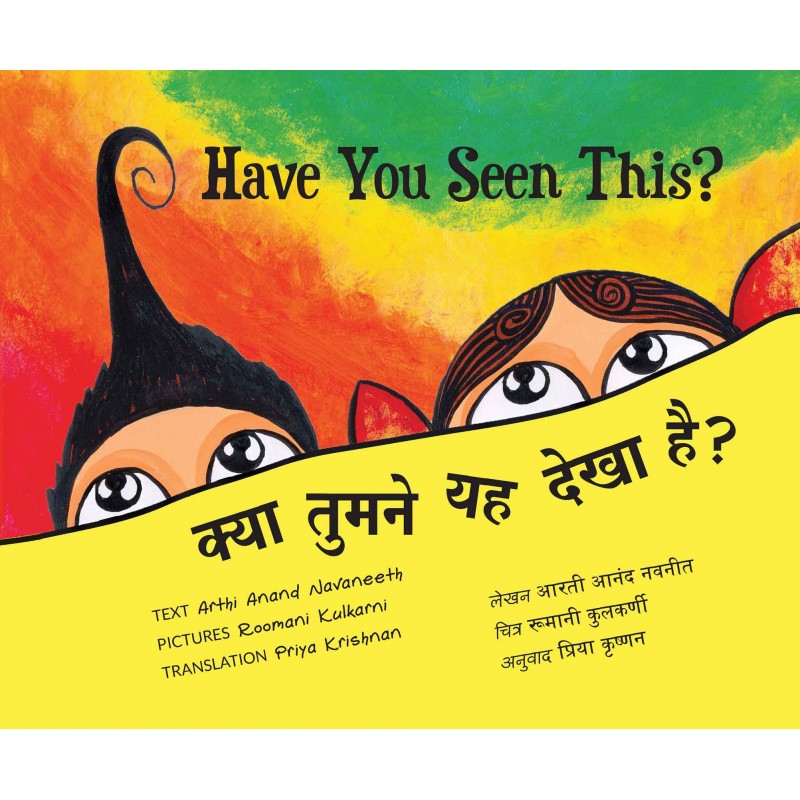 This funny and adorable book is written by Arthi Anand Navaneeth and illustrated by Roomani Kulkarni. From Tulika's incredible stable of books, Have You Seen This? Kya Tumne Yeh Dekha Hai? is all about make-believe! Enter a very mixed-up world where flowers talk and trees fly! The goofy text spins on whacky illustrations that whirl the reader along.


Monday To Sunday/Somvaar Se Ravivaar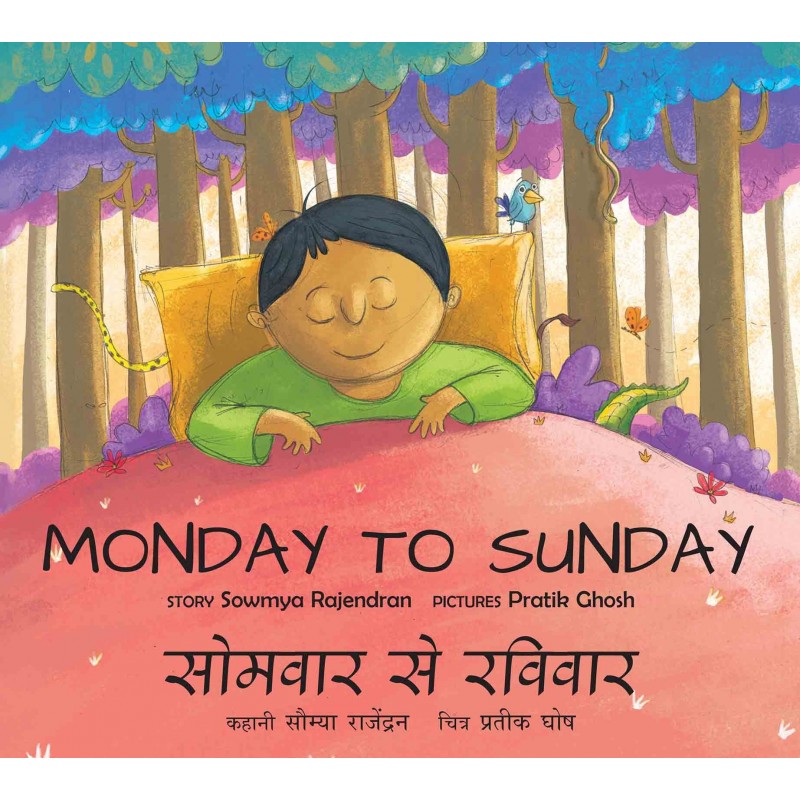 On Monday Mani is a monkey, on Tuesday he's a crocodile, on Wednesday… A days-of-the-week-book that gives a real ride to the imagination! It is also a wonderful way to learn about the days of the week.


No/Nahin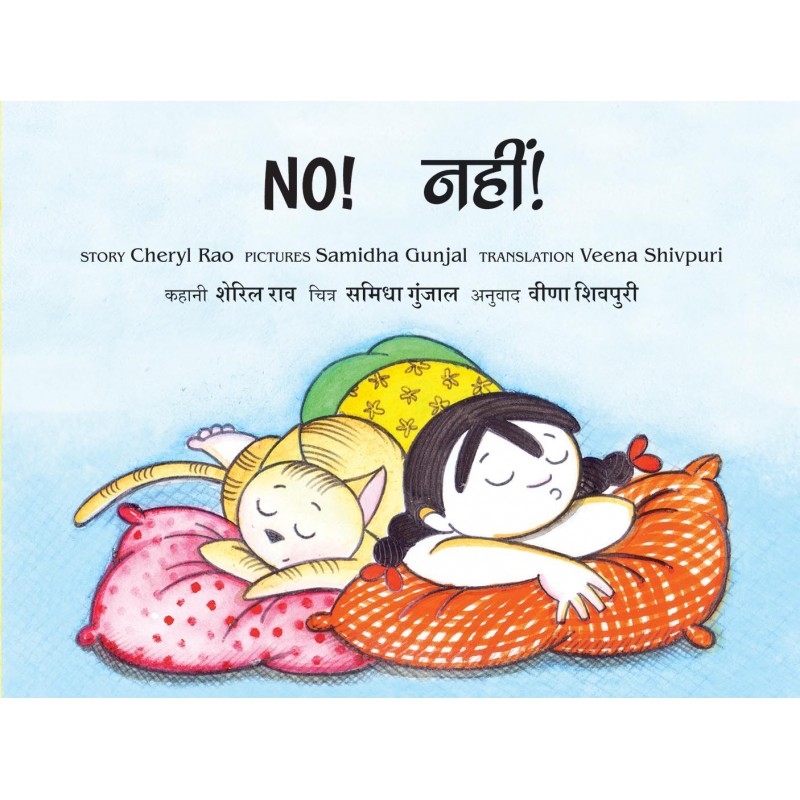 Papa tries hard to wake Annika up but all she says is "NO"! What does Papa do now? Endearing pictures highlight the father-daughter bond. This sweet and delightful book is written in English with Hindi translatins and is illustrated by Samidha Gunjal. The book is published by Tulika.

Buy this book now!
Bilingual books -- English, transliteration and translation
Meri Bindi - A Bilingual Book

Meri Bindi / My Bindi by Anu Anand is a lovely bilingual book that surprisingly covers quite a bit of Hindi vocabulary - from colors, shapes, sizes to general terms like "look" , "come" and "friends". The text covers a lot of the words that you would typically learn when you start out learning any new language.This was the page we liked the most! The light and dark is depicted so beautifully!
The text is written in English, Hindi in English script for English readers learning Hindi, and in Hindi script. The Hindi in English is a nice addition and one I have not seen in other bilingual books. It will help a kid who can read English and speak Hindi, "read" in Hindi , while still working on the Hindi script. It takes away the script barrier and helps with the spoken language.
A little girl – Noor and a little boy – Neel, a packet of Bindis and a menagerie of animals complete the book. The text is accompanied by absolutely gorgeous illustrations using cut-paper collage by Lavanya Karthik. The 3 dimensional effect of the collages along with the bright colors made me want to run my hands over the illustrations more than once.
This was the page I liked the most ! The light and dark are depicted so beautifully!
Bilingual Books - Transliteration
Choti Katori Ko Chahiye Doggie: Choti Katori Wants a Doggie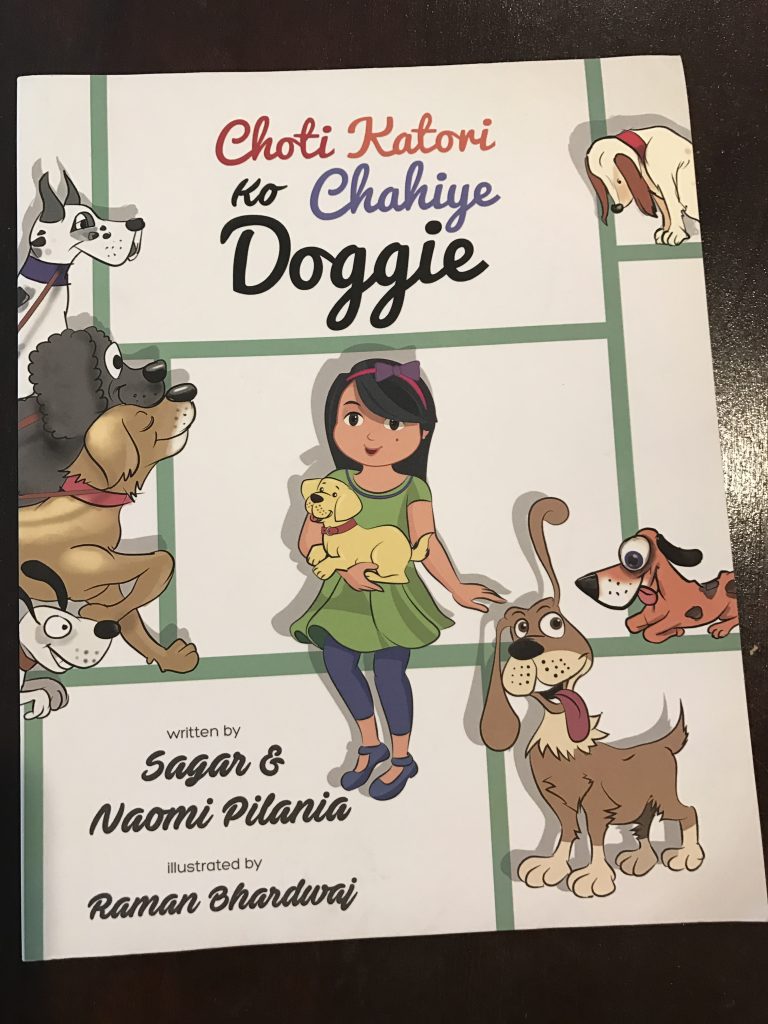 Choti Katori Ko Chahiye Doggie: Choti Katori Wants a Doggie, Written by Naomi and Sagar Pilania and illustrated by Raman Bharadwaj is a great book if your child has at least a passive , smattering understanding of Hindi. The book is written in Hindi transliteration so parents who may speak Hindi but not know the script, will still be able to read it. The Hindi is colloquial and the story is fun! Choti Katori wants a dog and every year she wishes for one, and finally on her 10th birthday, is her wish fulfilled? Get the book to find out. There is also a fun coloring and activity page at the back of the book.
The illustrations are colorful and add to the text. A fun read to add to your Hindi library to build vocabulary and spoken Hindi!

Learn Hindi Books
My First Hindi Words by Reena Bhansali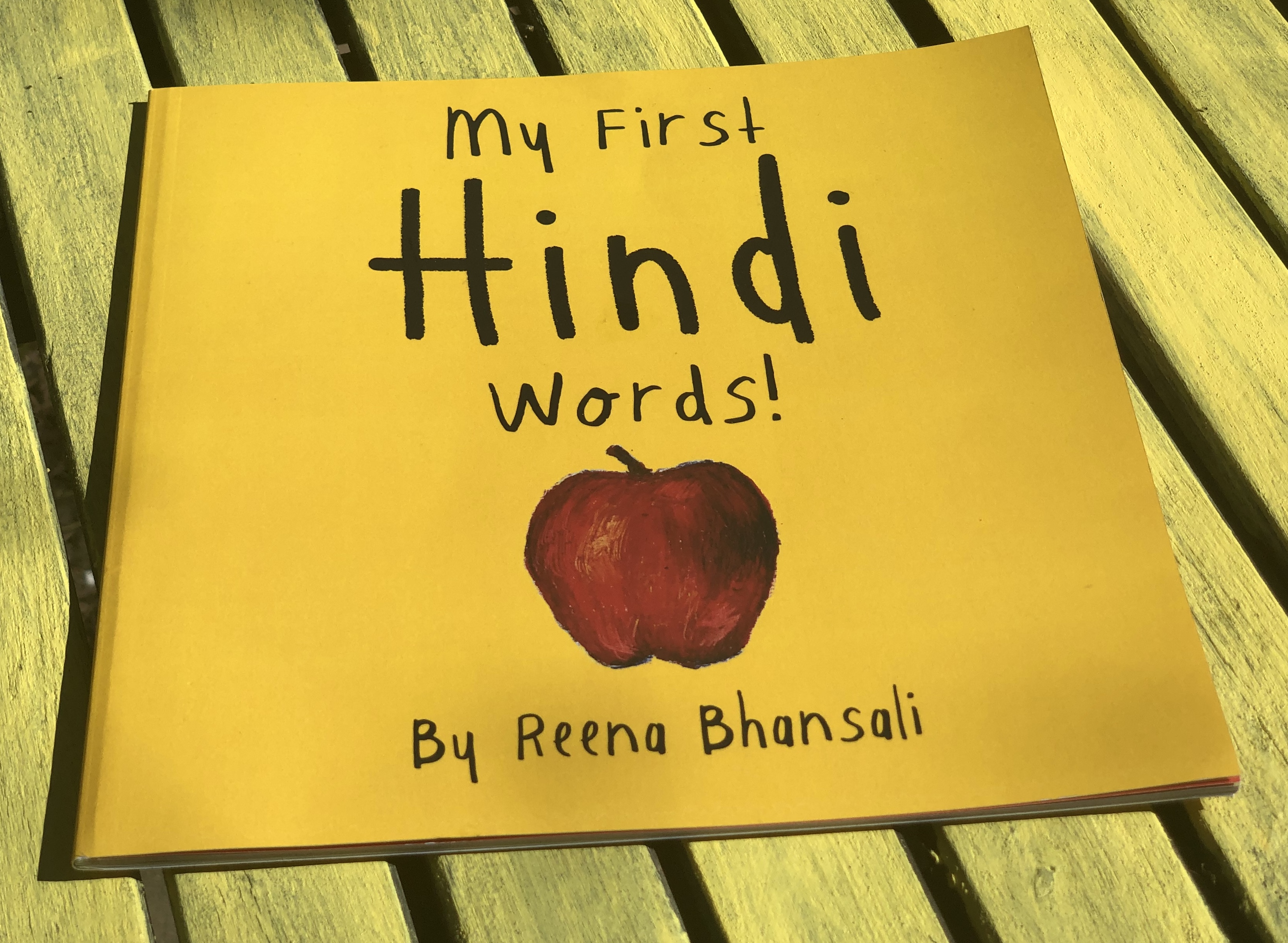 The book is simple, fun and colorful and what I noticed was that my daughter was not intimidated to pick it up and glance through it when I had left it for her to read. Each page has a colorful background with an object in it and the word to describe it in Hindi (but written in English).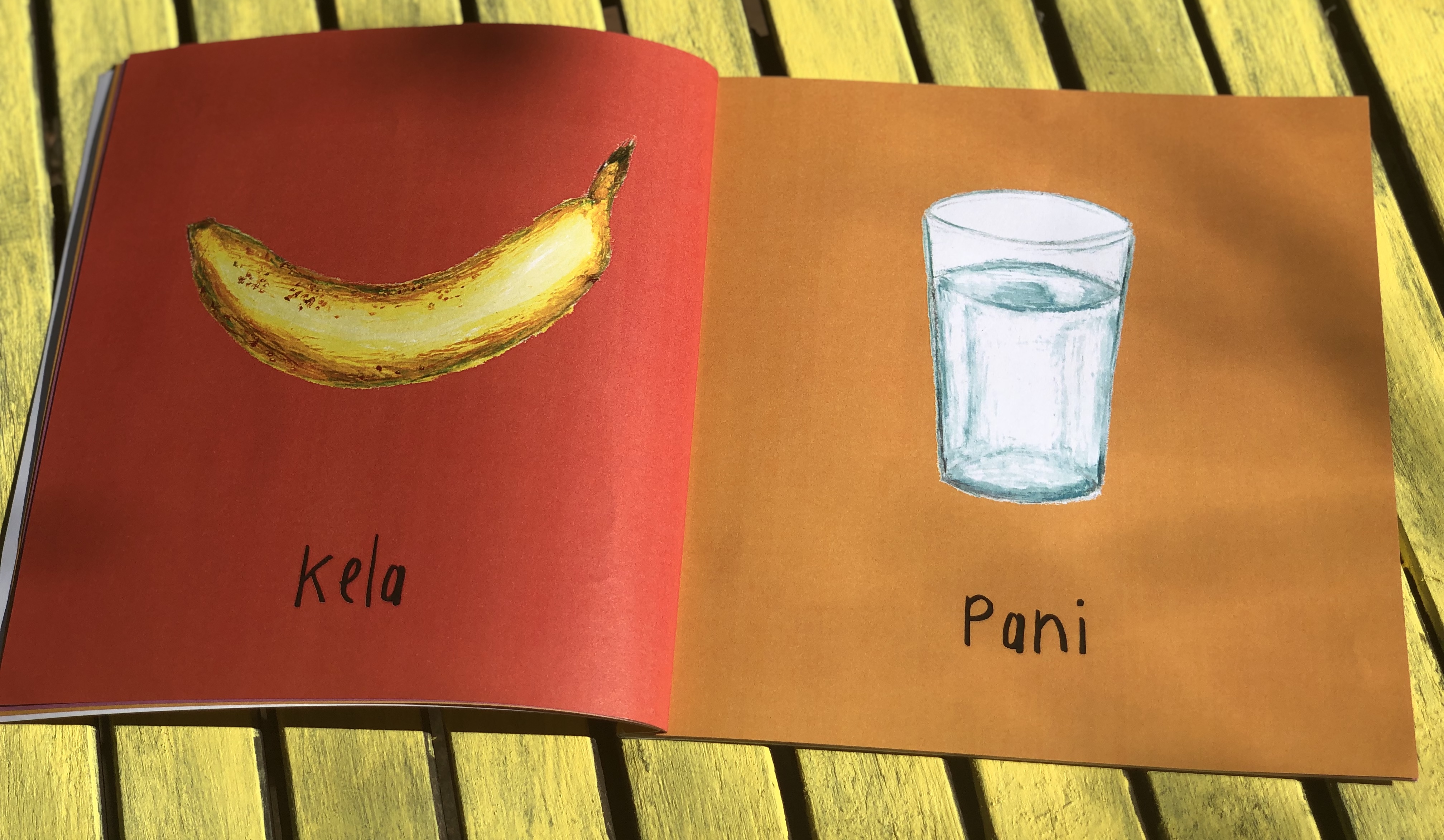 This meant that my daughter could pick it up herself and use it as a reference. The other day, she was walking around yelling "Silly, Billi" at our cat. Then she confirmed Billi really did mean cat in her My First Hindi Words book! Perfect!
We are well on her way to cross the first barrier; learning a few words, not worrying about the accent, and using that word in a sentence, albeit a "silly" one.
If you are just starting out on your Hindi vocabulary journey and need a book that holds your child's interest and meets them where they are without intimidating them with the Hindi script and complex words, this is a must-have in your library!
Buy Now:
My First Book of Hindi Words By Rina Singh: An ABC Rhyming Book of Hindi Language and Indian Culture
This book has been in our library for a while, a great introduction to Hindi words from A to Z - from Akaash to Zukaam! There is a new word introduced for each letter of the alphabet. The word is written in Hindi script and English. It is accompanied by a little rhyme in English that incorporates the meaning of the Hindi word. I learned a few words myself like Olay for Hailstones and Lattoo for a spinning top!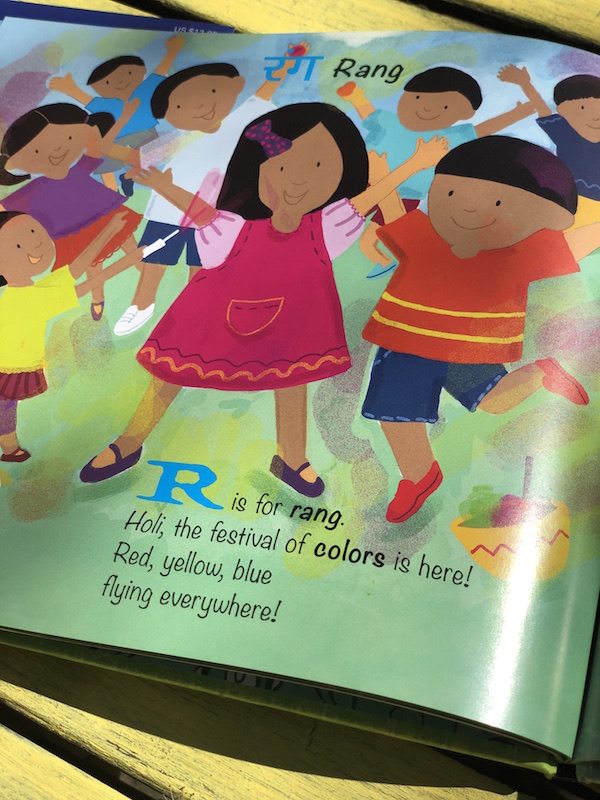 A fun, colorful way to introduce some fun more words in your child's Hindi vocabulary! The illustrations are bright, colorful and full of charm.
Expand your Hindi vocabulary library with this book!
Buy Now:
Let's Read: Set of 11 Books
The bilingual texts in this series of booklets can be enjoyed in both English & Hindi, as young children can fruitfully use a known language to learn a new one
Although these books are bilingual, they contain meaningful texts and not just word-to-word translation from one language to another.

Meet Buckley/Buckley Sey Milo
Meet Buckley/ Buckley Sey Millo is our interesting find for International Mother Language Day!
It is a lovely book about the day in the life of the author's dog Buckley who lives in Austin, Texas. Simple sentences narrate the day in English as well as in Hindi Transliteration - ideal if your child is learning the language being spoken at home! There are colored highlights that identify a vocabulary word in English and its corresponding Hindi word like Afternoon and Doepayhar or Today and Aaj and so on.
I loved that the Hindi word is phonetically spelled how we say it - so my 9 yr old daughter who is a Hindi novice could read it herself with reasonable accuracy.
Highly recommend it for your language library!