8 Lovely Activities to Do this Diwali
posted by Toka Box Editorial Team , October 13, 2019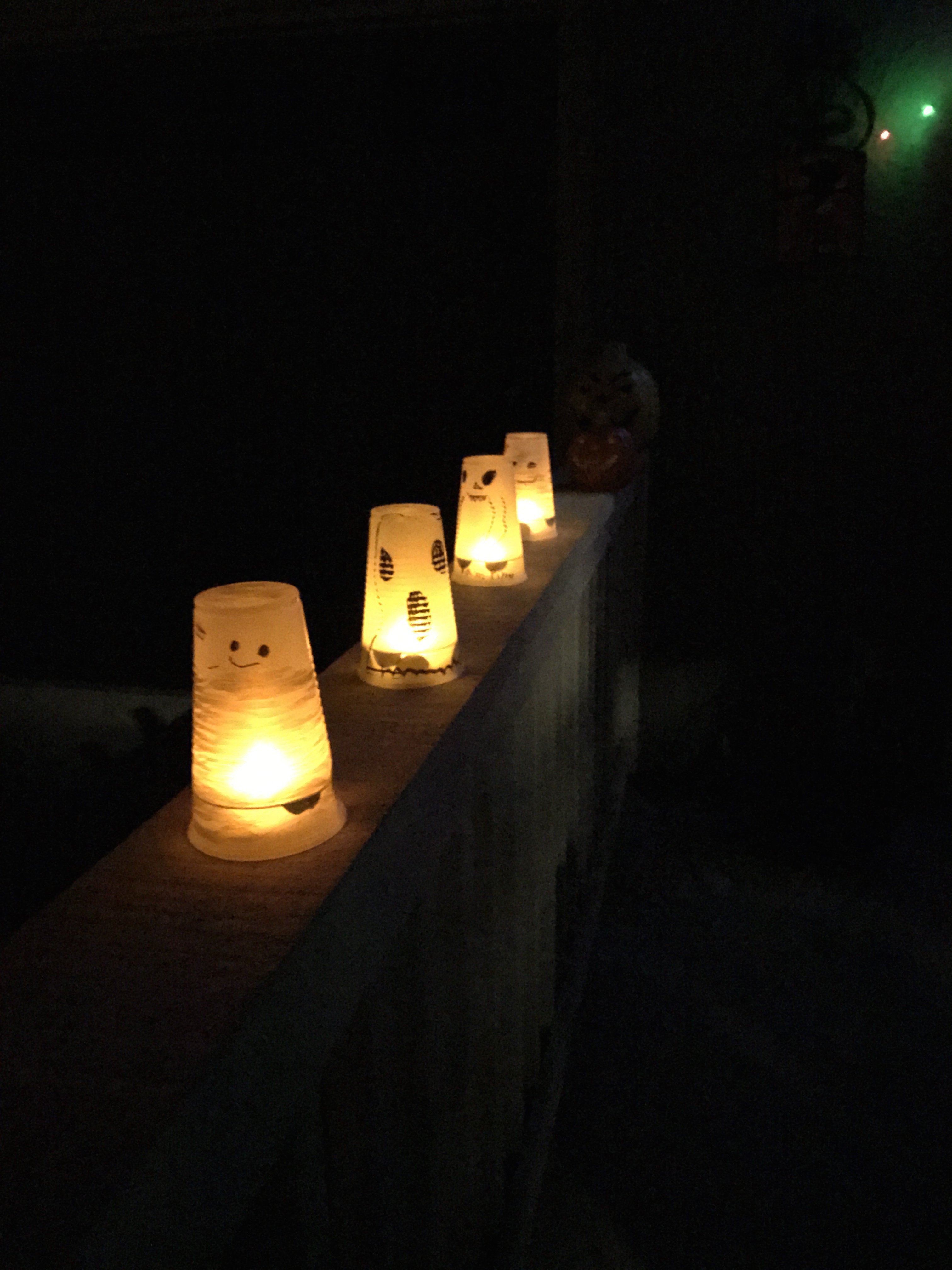 Diwali is just around the corner and we have some fabulous activities that you can do with the kids!

We bring you beautiful activities for Diwali that you will love doing with the kids. We love the variety of these ideas -- a Diwali wreath, for example, is such a lovely and novel idea! Curated from mums around the world, you will love these ideas.
1. Jack O'Lantern Diyas!
by Preethi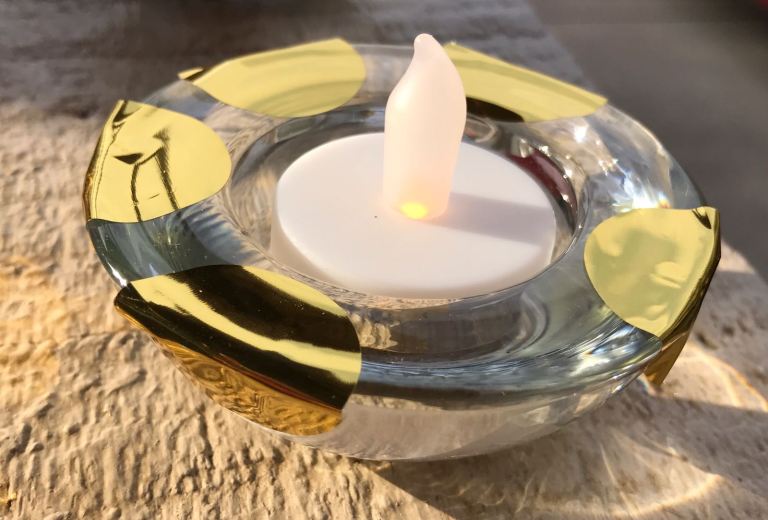 Make Diwali diyas with tea lights! A super easy thing to do and they do double-duty for Halloween too! A quick trip to Target or another local store should ensure you get glass tea light holders, flameless tea lights and of course some stickers and gems to glam them up!

This is what we did! We interspersed the tea lights with Rangolis using our Toka Box Rangoli Stencils. You can find them in our Diwali boxes and our Ramayana boxes - both Junior and Explorer!
Easy Peasy! Make Rangoli powder by mixing rice flour and turmeric from your pantry. Organic and smells so good!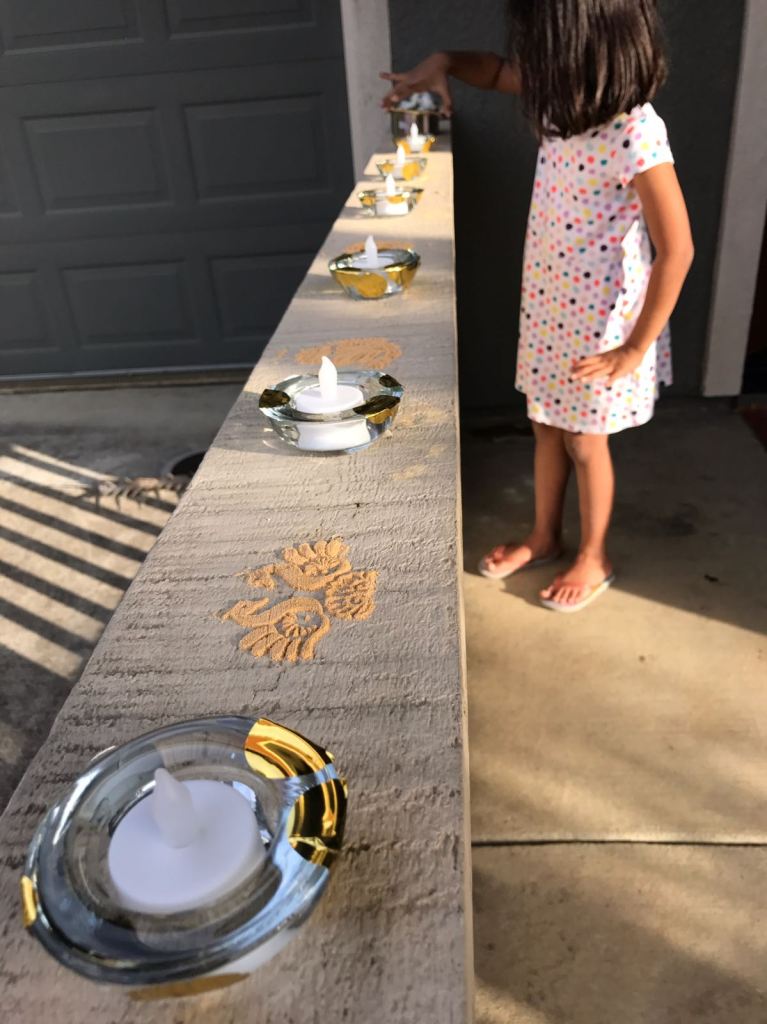 We lined them up outside our house and we made spooky Halloween Diya covers with plastic cups that looked amazing at night!




So cool, right? You should have checked out the looks on the children's faces when they saw them. Here's how they look at night.


2. Diwali Wreath
by Preethi
You Need:
Paper Plate ( We used Gold Colored ones)
Decorative Mesh to make wreaths (We found it in Dollar Tree)
Construction Paper, Glitter Paper
Glue
Gems and Jewels
Ribbons
Cut out the center part of the paper plate leaving a ring. Wrap it in the decorative mesh. Make a Diya shape with glitter and construction paper such that the back and front both have designs and it will look great whichever side it twists. Attach it to the ribbon. Tie the top end of the ribbon to the paper plate and hang it up!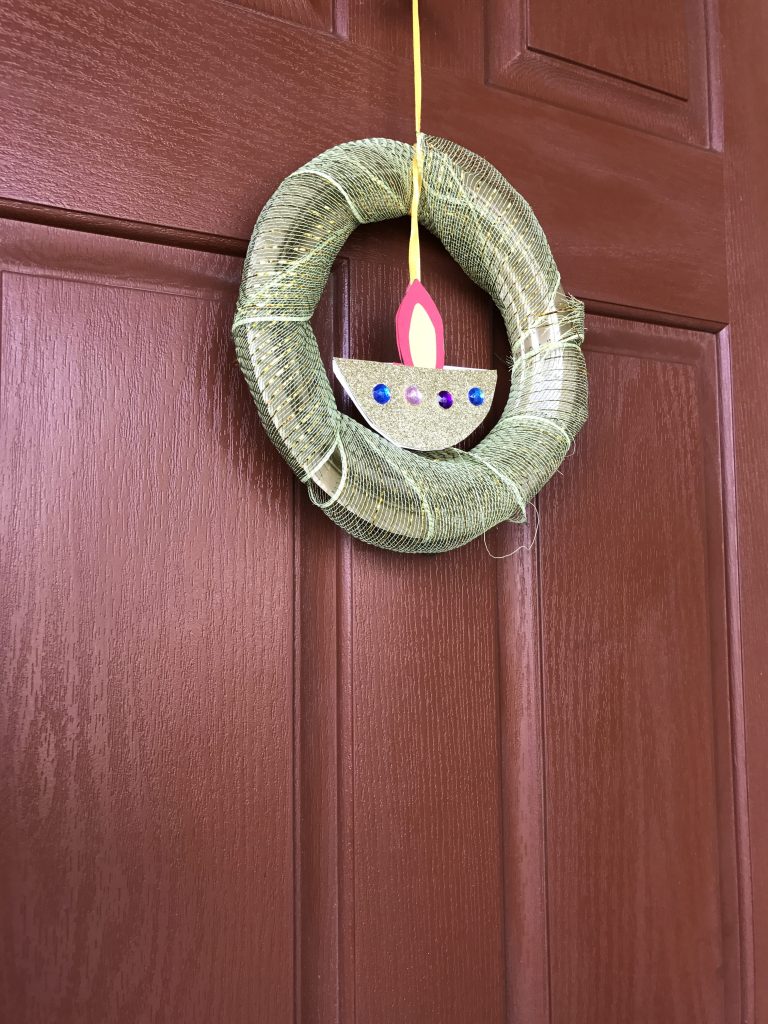 You can change the wreath for Halloween or Fall by just replacing the Diya with any spooky elements or just fall leaves!
3. Henna Pumpkins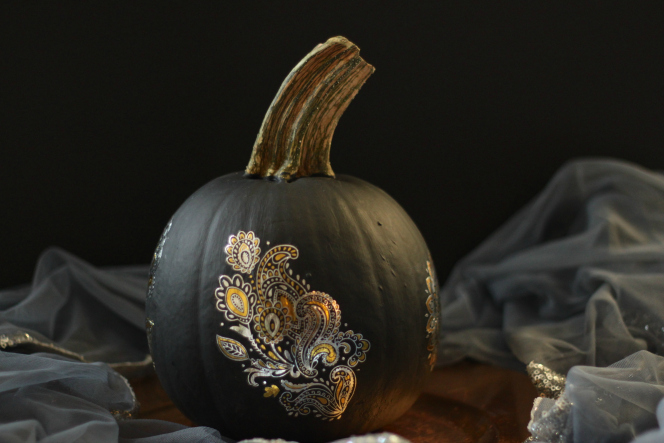 Photo credit: Love Laugh Mirch
We think Henna pumpkins are the perfect way to celebrate Diwali and Halloween! We love this DIY Henna Pumpkin craft by Love Laugh Mirch, which is originally published here!
What you'll need:
Pumpkin (painted or plain)
Clean sponge
Water in a bowl
Metallic henna tattoos*
Scissors
*Since many of you asked where I got the henna tattoos from, these are the ones I used.

Step One
Paint your pumpkin a matte color, black and whites look great, so would fall colors. Let completely dry.
Step Two
Cut out the tattoo design you want from the sheet (if needed) and decide where you want to apply the design on the box/tin.
Step Three
When you have your desired position, peel the plastic cover off of the temporary tattoo.
Step Four
Place the paper on the pumpkin with the tattoo side on the pumpkin. Apply pressure evenly.
Step Five
With a damp sponge or wash cloth dab on top of the tattoo paper, covering the entire tattoo. Be sure to completely saturate (not soak) the paper because the water is what releases the tattoo from the paper. Hold this for 30-60 seconds to ensure the whole tattoo is transferred.
Step Six
Peel the paper off to get a look at your decorated metallic henna pumpkin.
4. Diwali Lamps Made with Air Drying Clay
by Rama
We couldn't really look forward to light lamps outside the house here as it gets too windy and chilly in the evenings. So instead of purchasing the deep clay lamps, I decided to make hollow short-staying lamps at home. I had purchased air-drying clay at Hobby Craft, not really knowing what to do with it, just because it looked interesting to me. I got to work.
I started with simple designs – being a novice with a three-year-old apprentice, I did not want to dream big. So we started with basic shapes – square, circle, rhombus, triangle. Then we made a star and a couple of slightly deeper lamps. They were pretty easy to make as the clay really molds well in your hands. You might need some water to assist you if you want to use a blob again – it kind of starts hardening even at room temperature.

When I handed some clay to A to get her also involved in the fun, I got a little adventurous. I tried a floral shape lamp. Hmmm, not bad. We had just visited a museum last week where the Amazon Rainforests were on special display, and A wanted me to make an anaconda. And so I did! All in all, it wasn't a bad idea at all. We proudly displayed our creations to Appa when he came home from work. The next day, we sat about coloring them with acrylic. Acrylic gives a thick shade and also a shiny texture. With some glitter glue and some paint on paint designs, we glowed with pride at our finished product. They looked absolutely sublime!
We lit them on Diwali day and decorated our home with them!
This was the rough cut – after they were dry.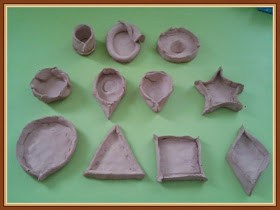 And this was the colored final output.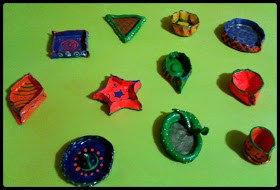 Did you check out our green, slimy anaconda?
We also decorated our Rangoli with them!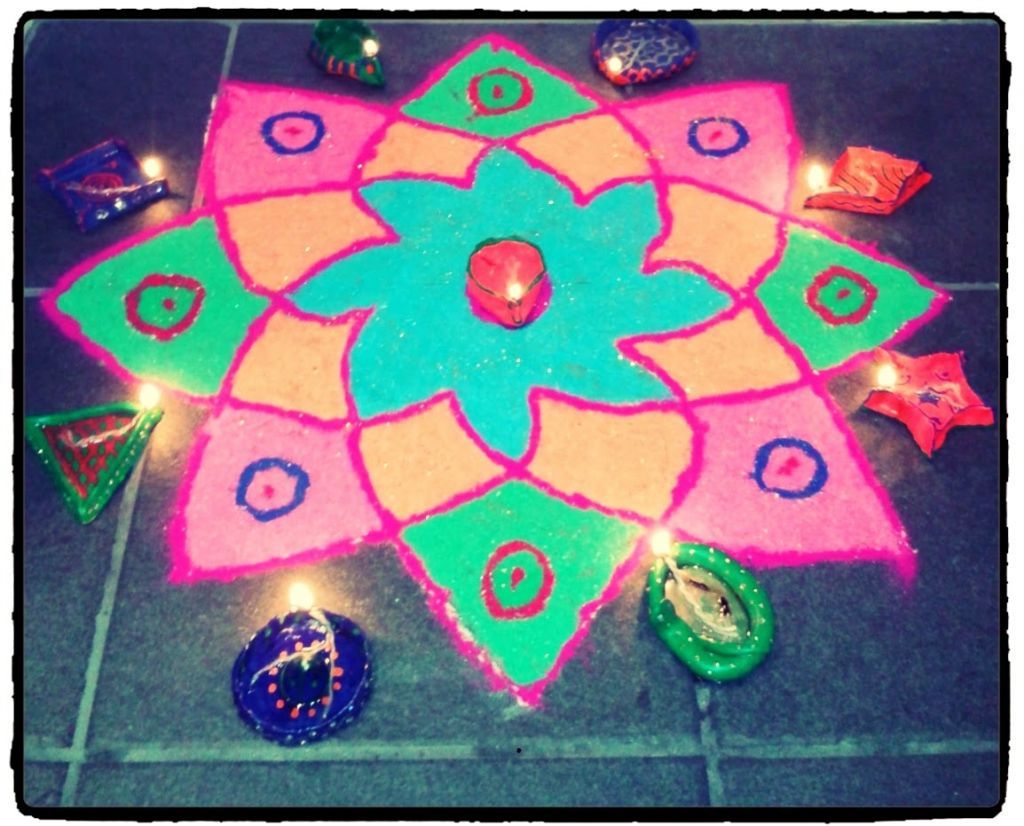 All image credits: Rama

5. Diwali Coloring Pages
by Preethi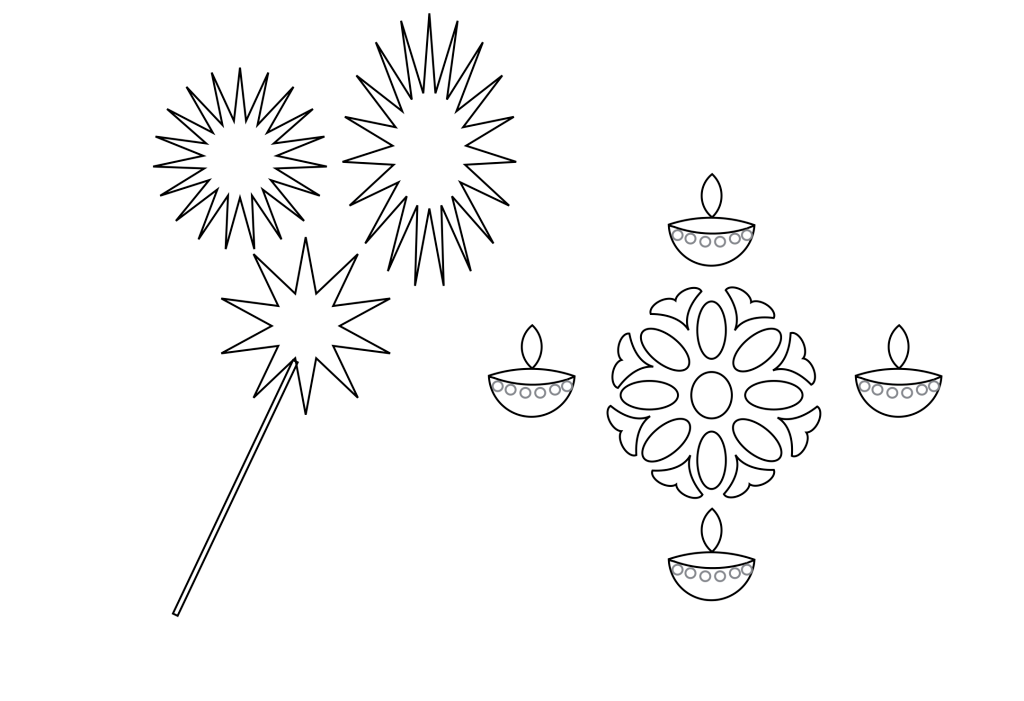 This is a simple, fun and quick activity for the kids. You can download free Diwali coloring printables here.

6. Diwali DIY Dia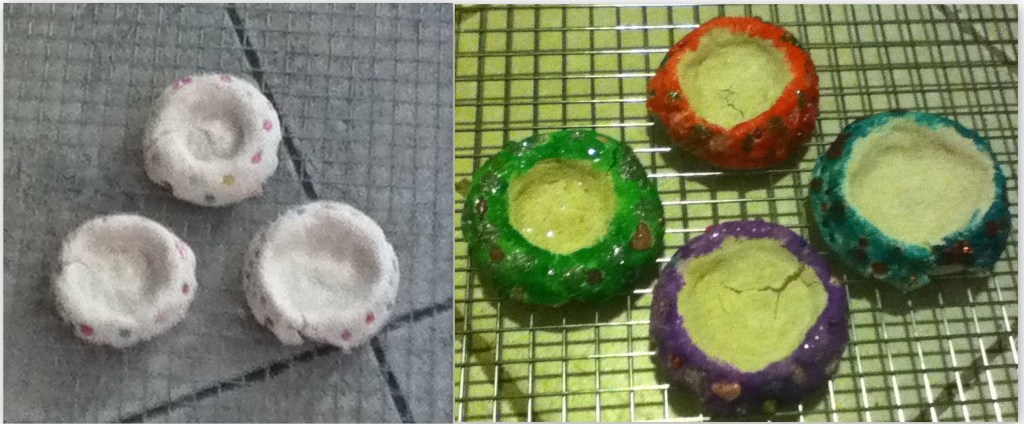 Hello all! How is the preparation for Diwali going on? We are yet to purchase new clothes and decide on the sweets and savories to be prepared at home but have taken that first step by making our own DIY simple yet cute Diyas.
Materials Used:
Plain flour - 2 cups
Salt - 1 cup
Lukewarm water - 1 cup
Small beads/ornaments - for decoration
Paint
Glitters (Optional)
Method:
1. Mix the flour and salt in a bowl.
2. Add lukewarm water little by little and knead the flour/salt mix to make a dough.
3. Divide the dough into 4 or more equal parts based on how many Diyas you plan to make.
4. Roll each part into a smooth ball, flatten it gently with your palm and elevate the outer area as shown in the picture.
5. Decorate it with small colorful beads or ornaments. Just press the beads on the dough. Some of them might fall off while drying. No worries. We can always glue it again.
6. Let it air dry for a day. I first placed it in a plate and noticed that that bottom was not getting dry so then shifted the Diyas to wire rack so that it gets dried on all sides. I read on the Internet about oven baking to dry it too but didn't try it myself. We made the diyas on Friday evening and let them dry till Sunday evening by placing it upside down for a day.
7. Paint the dried diyas and decorate them with glitters.
8. Place tea light candles in the center and light them all around the house on the special day of "Festival of lights".
When we did this craft, we were yet to buy the tea light candles as there was a scarcity for candles/flashlights at East coast due to Sandy. So, couldn't post the picture with candles.
Left side is the one before painting and the right side is the finished product. Hope you all like them!
7. Diwali Kolams
by Preethi
With Diwali around the corner, I had asked my mother to send me a simple Diwali activity. I wanted a rangoli/kolam for our doorstep. I wanted to include my daughter in coloring it and then we could place Diyas.
My mother dug up her trusty old notebook filled with hundreds of rangolis, lovingly created by her and her sisters. And sent me these gems.
Here they are, for you to try out. Click on each Rangoli, go to the page and download the PDF that has the step-by-step pictures for each Rangoli. So download away, fill it with colors and light up those diyas!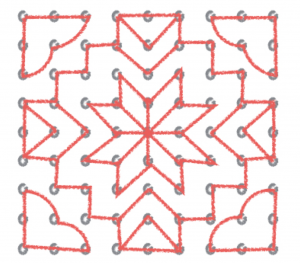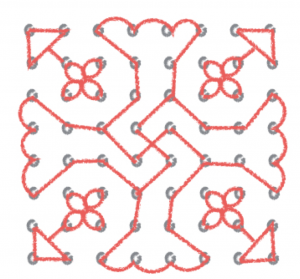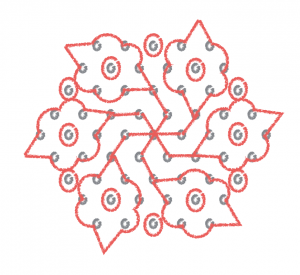 8. Diwali Banner/Toran
by Preethi
Make your doorway full of creative joy & cheer and give friends and family a warm welcome this Diwali - with this super fun and easy Diwali Banner!
You Need:
A String
Pom Pom Beads
LED Lights (optional)
Download our Diyas_template, Color and decorate!
String up the pom-pom beads leaving spaces for the Diyas or you could buy pre-made pompom garlands in any craft store or the Target party decor section.
Decorate the Diyas and stick them in the gaps. You can also intertwine the banner/toran with LED lights!
Your toran/banner for Diwali is ready to spread joy and light!
Happy Diwali!