Book Review: Always Anjali by Sheetal Sheth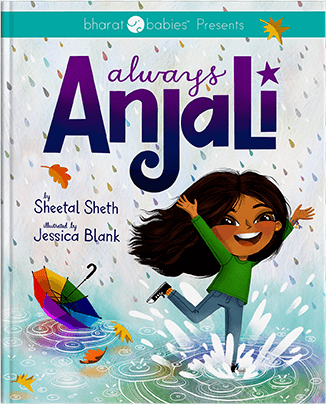 Always Anjali is a beautiful children's book about a 7-year-old who feels out of place in her environment.

Anjali is 7 yrs old and is excited to get her new bike and take it to her school carnival with her friends Courtney and Mary. At the carnival, they decide to get name license plates for their bikes. But guess what! Courtney and Mary find their names pretty quick. There is Alex, Andrea, and even Angela but no Anjali.

When a child named Zachary calls Anjali Peanut Butter An-Jelly and everyone laughs, Anjali is very upset and even demands that her parents change her name to something everyone will recognize!

Does Anjali change her name? What does her name mean? How does she deal with this situation? You have to read the book to find out!
What we loved about the book

1. We all have something unique about us that would have caused us grief as kids. Whether it is our name or the way we look or how our hair curls or even that we wear glasses. Ultimately it is about how we learn to embrace what makes us different and hence special.

We loved that idea behind the book, something every grade school kid needs, whether struggling with a uniquely South Asian name or not!

2. The illustrations by Jessica Blank are lovely and representative of an Indian family. I especially loved how she depicted the parents. Boy! was I glad to see myself in a children's book too :)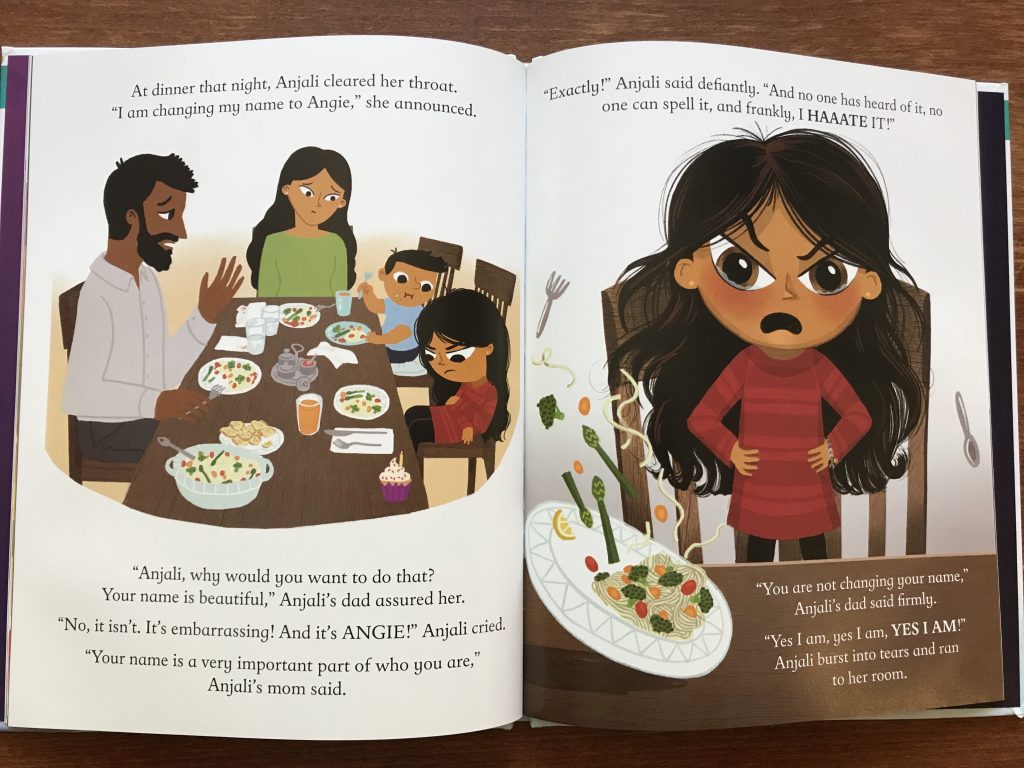 The Best Part About the Book

My 7-yr-old daughter and I read this book together. When I asked her if others ever teased her about her name, she said "Not really. Everyone has different names in my class!" Perhaps a symptom of the city we live in.

So then I asked her what was the best part of the book. She said the end when Anjali takes matters into her own hands! Without revealing the whole thing, it really was my best part about the book too!
We asked the author, Sheetal Sheth, a little bit about her books!

IMC: As an actor, what made you choose to write a children's book?

Sheetal: Telling stories is what I love to do- I've just been doing it through a different medium. But in this case, my purpose crossed disciplines organically. When I was pregnant with my first child, I was dismayed at the lack of representation in kids literature. I didn't see enough children's books that featured kids of color just living their life. Most of the ones I found were centered around a cultural holiday or an event. It's very similar to frustrations so many of us feel with mainstream media and film/tv. I thought we are never going to feel like we are part of the fabric of the mainstream unless we are the heroes of stories where we are doing 'normal' things.

IMC: How has your name shaped your journey so far?

Sheetal: This book is definitely inspired by experiences I and many of my friends have had as children. But even as an adult, I deal with conversations that make my head explode. When I was starting out as an actress, I was asked repeatedly if I was going to change my name. I lost jobs because of it. But I have never been more proud to have not compromised. We say who we say we are.

IMC: Do you have more children's books in the offing? What does the future hold for you?
Sheetal: YES! Anjali is meant to be a series and I have a draft of the 2nd one in the process. And I have several other ideas for books with varying topics. I just need the time to write!
We talked to children's book illustrator Jessica Blank about how she drew those fabulous pictures for Always Anjali

IMC: What was your inspiration for the lovely and apt illustrations for Always Anjali? I must say I loved how the parents were illustrated, we South Asian parents usually don't get represented accurately in children's books :)

Jessica: First off, thank you! I'm so glad the images resonated with you. I had help from the Bharat Babies team and Sheetal. They made sure that any cultural indicators that would not be a part of my background but would be important to South Asian readers would show up in the illustrations.

Jessica: That's the great thing about this publisher and this author. They are living their books. Their authenticity comes right through into the work they create. The rest was easy. People are more alike than different so I just drew a family doing family things. Loving and caring for your children is pretty universal. It was important for us all that Anjali would be a character that any child could relate to.
A unique collaboration

IMC: How do you usually work? Does a completed story come to you to illustrate or is it a collaborative effort with the author? How did it work for this book?

Jessica: Well I don't have a way that I usually work because this is my very first picture book to illustrate! My understanding is that an illustrator does generally get the full manuscript, as I did for Always Anjali. Sheetal and I worked closely the entire time I was illustrating the story, we went back and forth with ideas and ways of telling the story visually, it was a real collaboration.

IMC: What is your favorite topic to illustrate - people, nature, abstract etc.?

Jessica: I really love the natural world and am most inspired by being outside in it, so themes of science, nature, and the environment interests me. I also love storytelling, am an avid reader and am passionate about narrative art.

Always Anjali

Author: Sheetal Sheth, Illustrator: Jessica Blank, Publisher: Mango Marigold Press
Liked this article? Subscribe to our Weekly Book Love newsletter and receive a weekly digest of all the latest children's book titles, book lists, must-reads, giveaways, activities, latest releases and more! Subscribe now