7 Diwali Sweets With a Crossover Flavor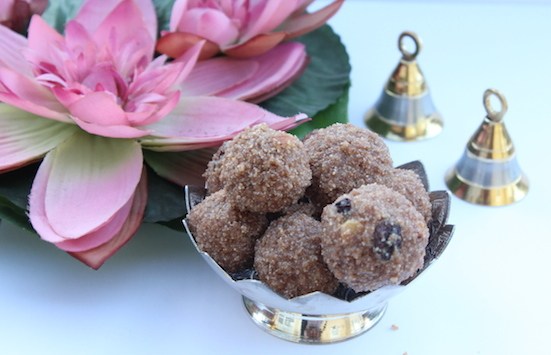 Diwali is here and we bring you 7 Diwali sweets with a crossover flavor. From instant choco nariyal laddus to baked spicy Shankarapali, these recipes combine the best flavors of India and the rest of the world. Enjoy!
1. Diwali Pumpkin Spice Laddoo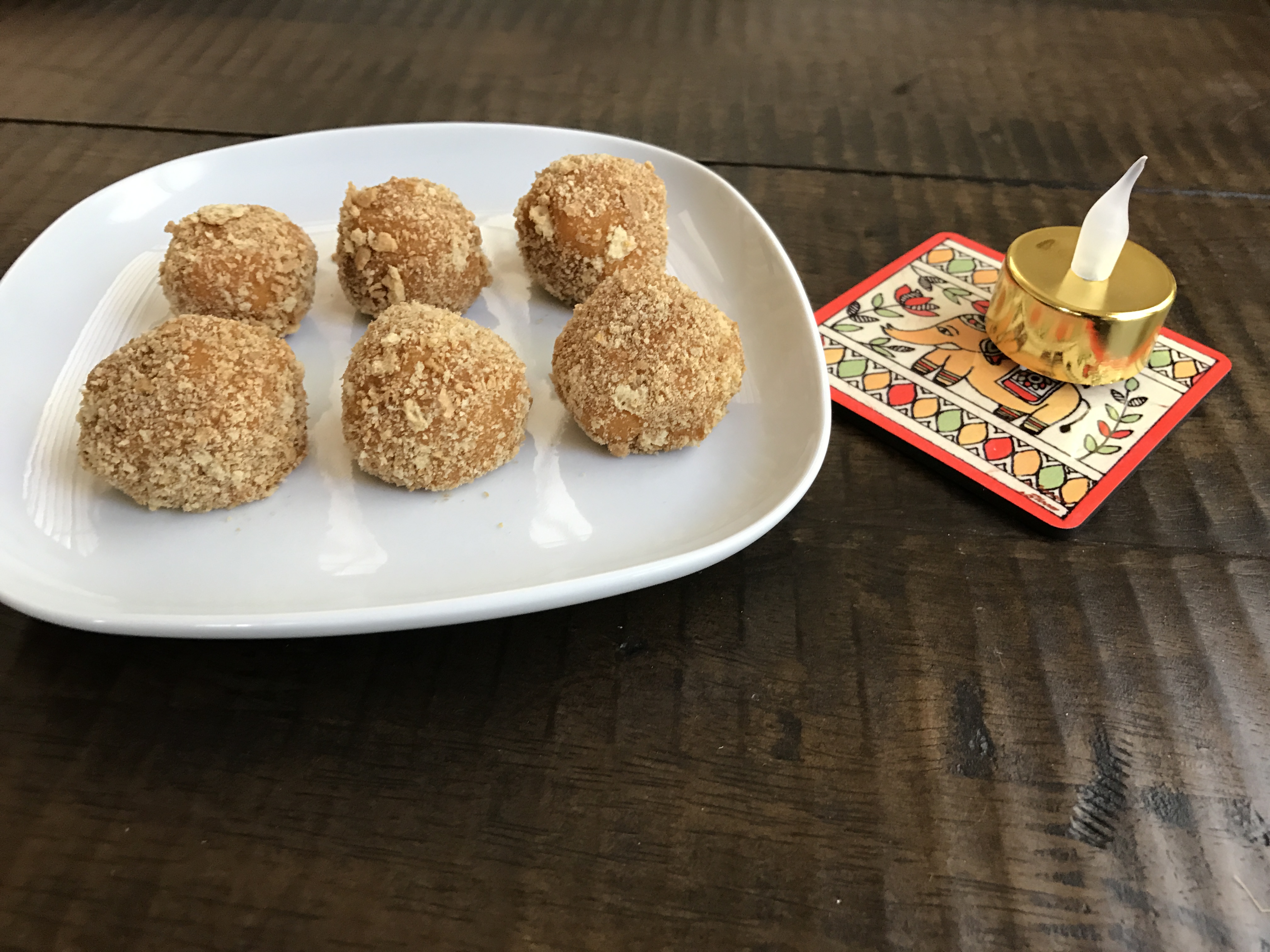 This is a yummy dish that has an international flavor but is perfect for Diwali!
Ingredients:
1 can of sweetened condensed milk
1 can of pumpkin puree
3/4 cup Almond Flour (You can also use Milk Powder)
Pumpkin Spice Mix
3/4 Graham Crackers
Mix all the ingredients in a microwave-safe bowl and microwave it – stirring occasionally till the water is evaporated. It can take between 10 -15 minutes depending on the microwave power. You can also cook the same on the stove if you don't want to use the microwave.
Meanwhile, crush the Graham Crackers using a ziplock bag and a rolling pin. Once the mixture starts looking powdery, it is ready to be rolled into balls. Get your child to help in making the balls and rolling them in the Graham Cracker powder.
Enjoy your Pumpkin Spice Laddoos, a festive Fall dessert that you can repeat or save for Halloween too!
This recipe is part of our 'Take Diwali to your child's classroom' pack. Find out more here!

2. Choco Rava Laddu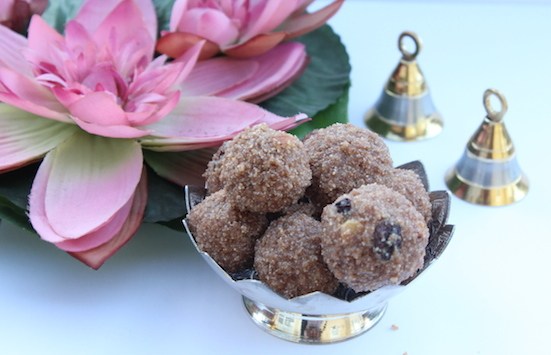 Rava laddu is one among the traditional and authentic recipes that are prepared for all festivals. My grandma used to dry roast rava or semolina and dry ground them along with sugar. Then she would mix them both and with the help of ghee, she would shape them into balls. Oh yeah, the flavors are enhanced with elaichi or cardamom powder and dry fruits and nuts.
As I get fine sooji/rava and sugar here, I didn't powder them. Instead, I dry roasted them and started to shape them into balls using milk.

Also, I added an unsweetened cocoa powder to add the chocolate flavor to wow the kids.
Here comes the Choco Rava Laddu recipe!
Ingredients
Rava/ Sooji / Semolina – 3/4 cup
Sugar – 1 cup
Unsweetened Desiccated Coconut – 2 tbsps
Ghee – 2 tbsps + 2 tbsps
Milk – ¼ cup
Elaichi Powder – ¼ tsp
Raisins , Cashews – 1 tbsp. each
Unsweetened Cocoa – 2 tsps
Poppy Seeds – 1 tsp (optional)


Steps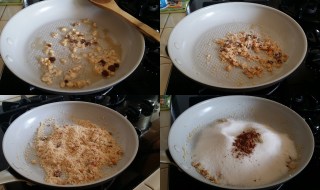 Heat the kadai or heavy bottom pan and add 2 tbsps of ghee.

Once the ghee is hot, add the raisins and cashews.

Roast them until they turn slightly golden brown.

Then add the desiccated coconut and poppy seeds and fry for about two minutes.

Now add the rava and fry in low heat for 5 to 6 minutes.

Finally, add the sugar and cocoa and mix well.

Add one more tbsp of ghee and let it roast for couple of minutes and turn off the heat.

Let it cool down for 5 minutes. Sugar might crystallize a bit, but we can break it down when we add milk.

After 5 minutes, when the mix is enough to handle, add lukewarm milk little by little and break the sugar crystal and mix well.

Now add the remaining 1 tbsp of ghee and mix well again.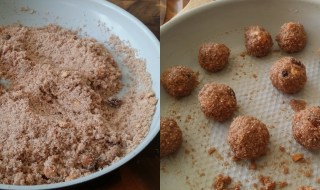 At this stage the mix will be cooled down, you will be able to start shaping the balls. (Get help from your kids and have fun rounding them). I shaped around 12 small lemon sized balls.

Let it sit for half an hour and that's it. Your yummy rava laddus are ready!
Notes
I didn't powder rava and sugar and the texture was coarse. If you prefer a soft texture, you can roast the rava, powder it and also powder the sugar and then follow the same procedure.

Adjust sugar as per your preference.

I used desiccated coconut that we use for baking. Regular grated coconut can be used too.

During the cooling down process, sugar might crystallize, mix them and break them down again with milk.

Add milk on required basis. Do not pour the entire 1/4 cup of milk at a time.

3. Dry fruit cardamom cookies
This Diwali, make something that's multicultural, yummy and healthy! Something that is sweet but not overpoweringly so. Yes, I have decided to make assorted cookies. One of the variety is Dryfruit Cardamom Cookies.

It totally reminds me of the Nan khatai that my mama used to bring from Surat! Needless to say, they are totally yummy and you can make them healthy too by replacing all-purpose flour with whole wheat flour and refined sugar with jaggery powder. And they are great with milk, tea or coffee!
Need any more reason to make them?! Let's get to it!
Ingredients:
1.5 Cups All-purpose flour (you can replace it using whole wheat flour to make it healthier)
3/4 Cup Sugar – powdered (Replace with jaggery powder for a healthier version)
3/4 Cup butter – softened to room temperature (preferably unsalted butter, but if you have the salted variety then use it and skip salt)
1/4 teaspoon salt ( Skip this if using salted butter)
1/2 cup sliced Almonds, Cashew or Pistachio (i use my mortar and pestle to get big chunks of nuts)
3/4 teaspoon cardamom powder
2-3 tablespoon of milk (if needed)
Method
Mix all the dry ingredients (i.e. wheat flour, sugar powder, salt-if using, chunks of dry fruits and cardamom powder)

Now, add the butter. It really is important to keep it at room temperature.

Mix well and knead the dough. If needed add milk, little by little and knead.

Pre-heat the oven to 150 degrees C.

Grease a baking tray.

Take the dough of the size of a lemon and flatten it to get the circular, cookie-like shape and arrange on the greased baking tray.

Using a fork, mark straight lines on the flattened cookies.

Bake the cookies at 150 degrees C for 25 minutes (time may vary depending on your oven) on the middle rack of your oven.

I flip them at around 15 minutes (but Ii think even if you don't flip, there won't be much harm)
Take out and cool on wire rack. Store in an air-tight container and impress your guests with homemade goodies this Diwali!!
This recipe was originally posted at Mom's Cooking Adventures.
4. Maalaadu – Split Roasted ChickPeas Balls with Quinoa Flour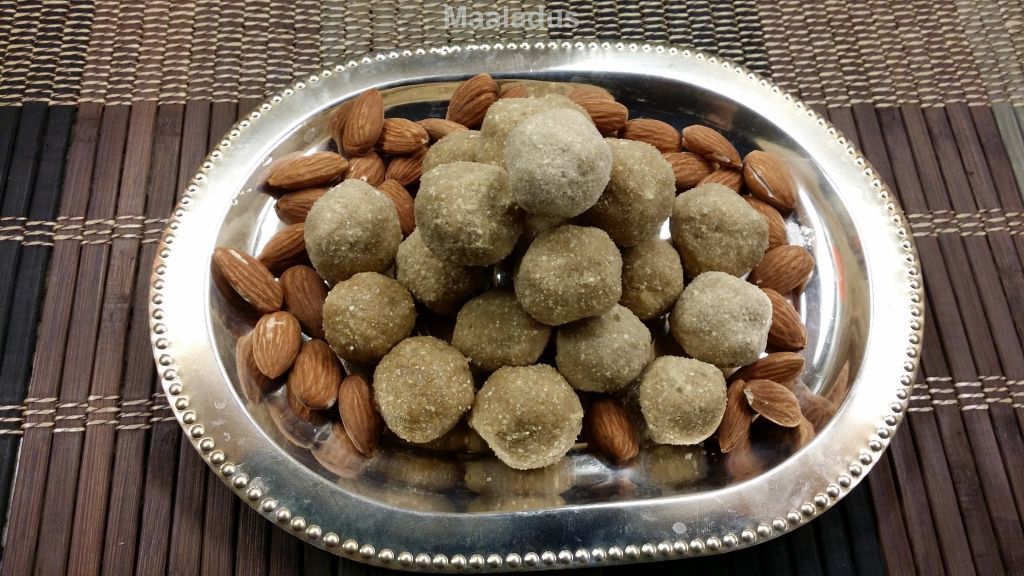 Maalaadu is pottukadalai urundai, or roasted dalia sweet balls. My mom used to make these a lot for me during my UG hostel days. They remain fresh for about 10 days when stored in an airtight container. Rain or shine, always from home to hostel, maaladu was always there for sure in my luggage.
This is a no-stove dish. I never made this for my child till we read Junior Kumbhakarna. In order to wake up Kumbhakarna, they bring mountains of delicious smelling laddus. My child got hooked that and started asking for laddus. I know making laddu is not an easy task and that's when I thought, why can't I try the maalaadus instead of laddus? So here comes the recipe. I just added quinoa flour to make it more healthy, but that is completely optional.
Ingredients
Pottukadalai/Split roasted chickpeas – ¾ cups
Quinoa flour – ¼ cup. (If you are not using quinoa flour, take 1 cup of split roasted chickpeas)
Sugar – 1 cup
Melted Ghee or Clarified butter – as required but a minimum ¾ cup is required as ghee is the binding agent for holding the balls.
Chopped nuts like almonds, pistachios – ¼ cup (optional)
Method
Grind pottukadai/roasted chickpeas and sugar together and then mix the quinoa flour if using.
Also if you are using chopped nuts, add them and mix well.
Mixed Flour, recipe roasted chickpeas
Split the flour into 4 equal parts.
I usually add 2 to 3 tbsps of melted ghee on a portion of the flour and mix them and see if I can make urundai/ball out of it. If it's not holding I add little bit more ghee and make the balls.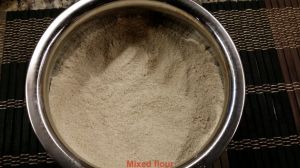 Repeat the process for remaining flour.
More the ghee, more the taste and the shape of the ball will be perfect. Also, adjust sugar quantity according to your taste. My hubby and kiddo have got major sweet teeth, so I went with 1:1 (flour:sugar) ratio.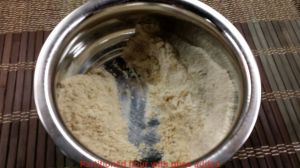 All images credit: Vidhya
5. Mom's Dry Fruit and Oats Laddu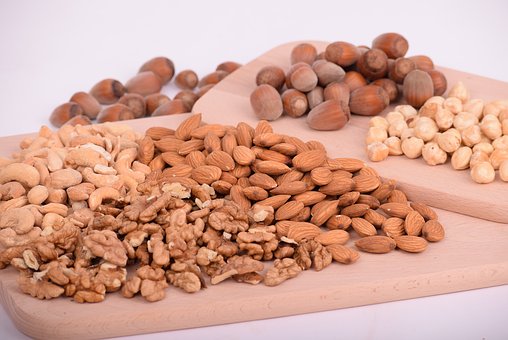 Photo credit: Pixabay
Most Indian moms and grandmoms make all kinds of healthy and tasty laddus. My mom made her own version of the healthy laddu. Here's the recipe from Mom which I love and she does oblige whenever she can!


Ingredients
Oats (the instant kind) 1 cup powdered
Almonds 1 cup powdered
Cashewnuts 1/2 cup powdered
Raisins and dates (preferably the dried ones) powdered together-1 cup
Methi seeds roasted and powdered-1/2 cup or less (not more) (All the above to be powdered coarsely)
Whole wheat flour -1/2 cup
Jaggery 3 cups powdered
Ghee-1 cup
Elaichi, saffron (optional) a pinch for flavour
Method
Mix all the powdered ingredients and wheat and keep aside. Melt the jaggery in a pan with little ghee (no water). Once it starts to melt sim the gas and add the rest of the ghee to it. Once fully melted, turn off gas and add the powdered mixture, elaichi powder and saffron and mix well. Now make round shapes a.k.a laddus of the mixture.

Make the laddus when the mixture is warm or else it won't set well!

Allow it to cool and serve.
I'm sure not just moms, but all those with a sweet tooth will enjoy this!
6. Instant Choco Nariyal Laddus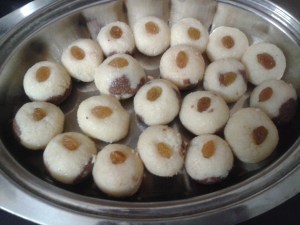 Recipe and photos by Prachi K
I was determined to try my mom's quick recipe of choco nariyal laddoos last Sunday.
Mom used to prepare it with fresh cream which is available in plenty in my hometown because of the a better quality of milk available there. With the kind of thin paper layer of cream we get in Mumbai, I had no option but to use Amul mithai-mate.
The end result was still amazing. The entire pack of 20 laddoos was taken by my husband for his colleagues, and the rest were wiped off by family and my friends at work. So this festive season, do try this quick and yummy sweet recipe.
Ingredients
Grated coconut powder: 250 gms
Amul mithai-mate: 200 gms
Dryfruits : raisins, pistas, almonds (for garnishing)
Cocoa powder: 1 teaspoon
Preparation time: 15 min
Method
Pour Amul mithai-mate in a non-stick pan and heat it on a medium flame till a slight boil, while continuously stirring it.

Add grated coconut powder and mix it thoroughly to form a soft dough.

Divide the mixture into two parts. Add cocoa powder to one part and mix it properly.

Take two small parts of each mixture and roll them together to make small laddoos.

Garnish the cute little choco nariyal laddoos with your favorite dry fruits.

The yummy and quick laddoos are ready to be eaten!
Alternatively, the mixture can be used to make choco layered barfi.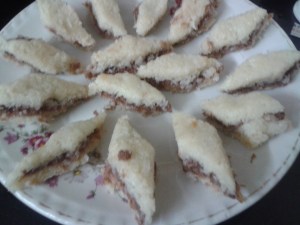 Photo credit: Prachi K
Grease a steel plate with few drops of oil/ghee.
Spread a layer of plain mixture, then a choco mixture and again a layer of plain mixture.
Keep it in the refrigerator for 10 mins to set.
Cut into small pieces and garnish them before serving.
7.Baked Spicy Shankarapali
A festival is not complete without food, especially the sweets and savories.
All the Diwali savory snacks are perfect Diwali tea time snacks also. These taste yum after a long tiring day with a cup of tea. Here is my attempt to make one of the savory snacks a bit healthy by baking and reducing the oil that it takes for frying. According to Wikipedia "Shankarpali/ shankarpaale / shakarpara are a snack popular in Maharashtra, India. It is traditionally enjoyed as a treat on the Diwali holiday"
When I was asking my friend P for the traditional recipe she gave me hers and also when I mentioned I am planning to bake, she gave me this blog which has a recipe for baked sweet shankarpara. I just checked for the time and prepared the spicy one. But the time and temperature are completely different for the sweet and the savory one. Here is my version of the baked shankarpara,
Ingredients:


Wheat flour - 1 /2 cup + 2 tbsps for dusting.

Maida or All Purpose Flour - 1/2 cup

Salt - 3/4 tsp (adjust to your taste)

Baking Powder - 1/2 tsp

Ajwain powder / Carom seeds powder - 1/2 tsp

Oil - 1 tbsp + 1 tbsp for spraying

Cumin seeds - 2 tsps.

Red chilly powder - 1/2 tsp (adjust to your taste)

Water for making the dough.



Method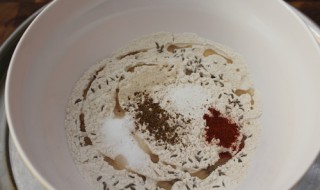 Sieve the wheat flour and maida.
Now add the salt, carom seeds powder, cumin seeds, baking powder, red chilly powder and 1 tbsp of oil.
Slowly add water and prepare the dough. (Pretty much like chapatti dough)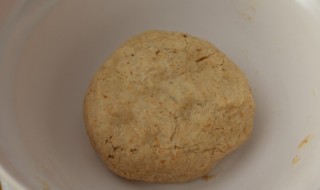 Now I took half of the dough and spread it on the working area dusted with flour.

Roll it out like chapatti and using the cookie cutter make different shapes.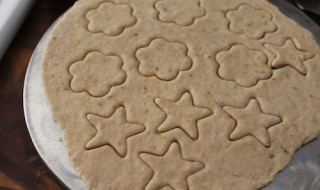 With the other half, I rolled it out and cut them into diamonds and squares.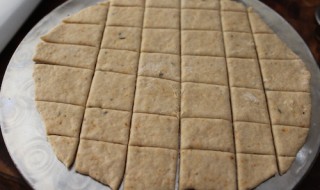 Preheat the oven to 350 degrees F. In a cookie tray spread the parchment sheet and transfer all the cut shankarparas into them. Spray some oil on top and bake it for 20 minutes.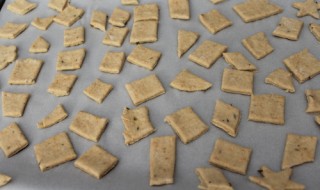 Now flip them and spread some oil and bake it for another 12 minutes.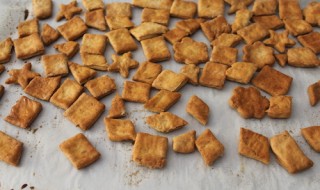 That's it crunchy and crispy shankarparas are ready.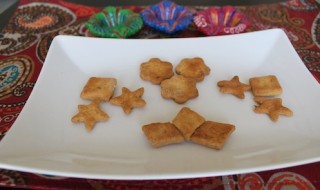 Image credits: Vidhya
Do you have other recipes or ideas to share? Leave your suggestions below!