Healthy Lunchbox - Carrot Cabbage Millet Paratha
posted by Toka Box Editorial Team , October 17, 2017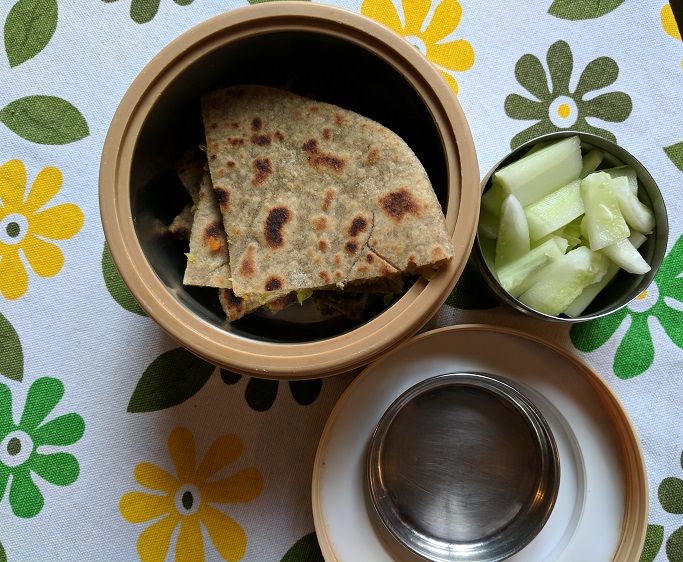 Parathas are an excellent option for kids' lunchbox - nutritious, fresh and non-messy. My daughter loves aloo parathas, which features atleast once a week in my menu. The recipe for carrot cabbage millet paratha I'm sharing now is also a favorite of hers.

A healthy lunch box recipe with veggies sneaked in - carrot cabbage millet paratha. It has the taste of spring rolls because of the carrot and cabbage stuffing. To make it more nutritious, I have used half the quantity of mixed millet flour and half the quantity of whole wheat flour to make the dough. You can use any millet flour - ragi, bajra, jowar, amaranth, foxtail millet etc. They are easily available in most supermarkets. Or you could order them online from BigBasket too.

Millets are gluten-free and rich in many vitamins and minerals.


Ragi(Finger millet) - high in calcium
Bajra (Pearl millet) - high in iron
Jowar (Sorghum) and Rajgira (Amaranth) - high in protein
Foxtail millet - rich in betacarotene
Carrot Cabbage Millet Paratha Recipe:

Ingredients:

For the outer dough


1/2 cup whole wheat flour


For the filling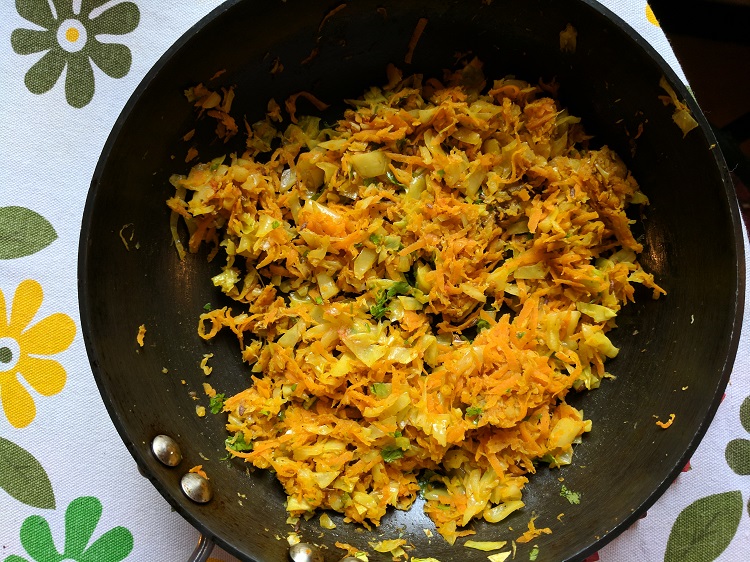 1 tbsp chopped coriander leaves
pinch of Kashmiri red chilli powder (add more if your kid loves spicy food)
1/4 tsp garam masala powder
1/4 tsp chaat masala powder


Ghee to roast the parathas

Method:


Mix the whole wheat flour, millet flour and salt
Add water little by little and knead the dough
Let it rest for atleast 15 minutes
If you are short on time, knead the dough the previous night and store in an airtight box in the refrigerator
Heat a pan, add oil
When oil is heated, fry the cumin seeds
Add grated carrot and cabbage. Saute for a minute till it softens a little
Add the spice powders, salt and coriander leaves. Mix well and let the mixture cool down completely
Take a big lemon sized ball from the dough
Roll it thick and stuff it with the veggie mix. Seal it tightly
Roll it again softly and roast it on a hot tawa
Spread ghee evenly on both sides and roast the parathas
Cut the paratha into triangle shapes and pack in a steel box


Along with the parathas, I'm sending a few pieces of cucumber sticks to munch on. You can also pack some thick curd along with the parathas.

Apart from carrot and cabbage, you can also add finely chopped bell peppers to the stuffing.