Vegan and Gluten Free Potato Murukku / Chakli |Toka Chef recipe
posted by Vidhya , October 05, 2017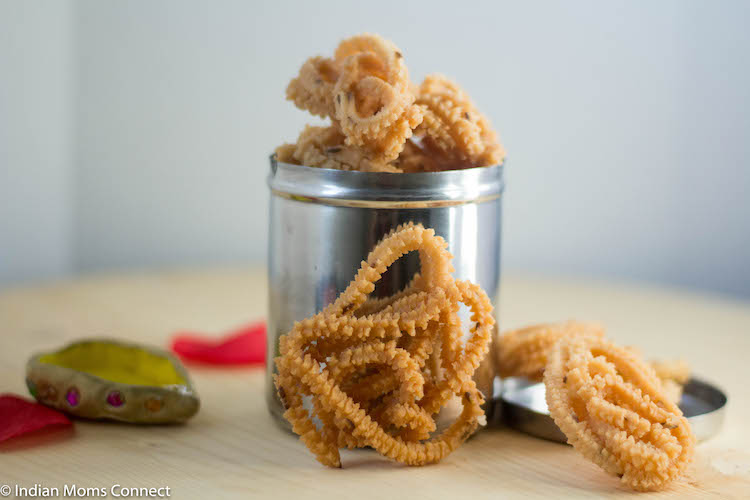 As I posted a sweet recipe last month, this time, I decided to go with a savory Diwali special recipe. It is Murukku as we say in Tamil or Jantikalu as we say in Telugu or the Chakli as we say in Hindi. :-) Precisely, it is Potato Murukku which doesn't require urad dal flour. This is an instant, crispy, vegan and gluten-free murukku recipe that you can prepare with your family.

Our Toka Box theme this month is Diwali, so I wanted to post a Diwali special recipe too. This murukku fits perfectly for this theme, and it's a fun recipe to do with your kids. We had fun pressing the murukku, and I need to agree that we didn't get a perfect shape. But who cares huh? It was all about fun family time and of course, the taste. The kiddo couldn't just stop with one murukku, and that says it all. :-)
Fine Motor Skills

According to the wiki, Fine motor skill is the coordination of small muscles, in movements--usually involving the synchronization of hands and fingers--with the eyes. You don't need specific toys for improving this skill. If you notice our day to day simple kitchen activities are best examples of fine motor skills. Be it peeling the potato skin or pressing this murukku, it all improves their fine motor skills. Let your child experiment the safe and straightforward kitchen activities and see their fine motor skill grow.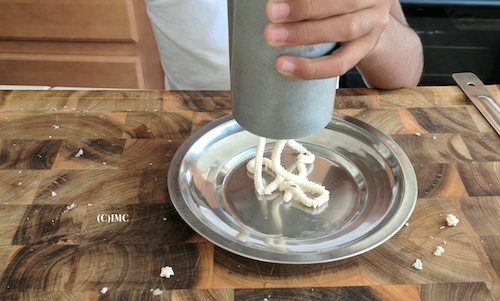 Ingredients
Water - 2 tbsps + as required. I used 1/2 cup+ 2 tbsps
Coconut Oil - 2 tbsps + as required for greasing the chakli maker
Rice Flour / Idiyappam Flour - 1 cup
Red Chili Powder - 1/8 tsp
Preparing the Potato Puree
Parent Step - Microwave the potato in the potato mode setting or boil the potato in your preferred way and let it cool.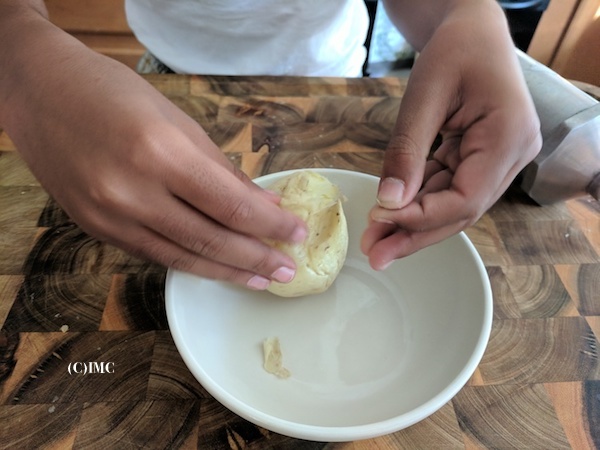 Child Step - Let your child peel the potato skin.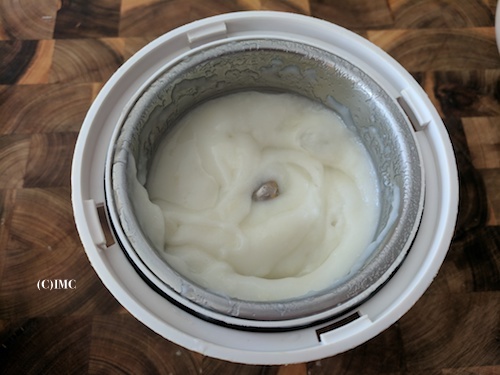 Parent Step - Grind the potato into a smooth puree by adding 3 tbsps of water. Set aside 1/4 cup of this puree. We only need 1/4 cup of this mix.
Preparing the Chakli Dough

As kiddo was more interested in pressing the murukku, he didn't help me with mixing the dough. But you can get your child to help with this step too.


Parental and Child Step - Sieve the flour in a wide bowl. To this add the potato puree, chili powder, hing, salt, cumin seeds and coconut oil. Mix them thoroughly and add water little by little and start forming a dough. The dough should be smooth and thick. If it's too watery, it will absorb more water and if it's too thick it is hard to press. So carefully add the water. I used about 1/2 cup plus 2 tbsps of water.
Pressing the Chakli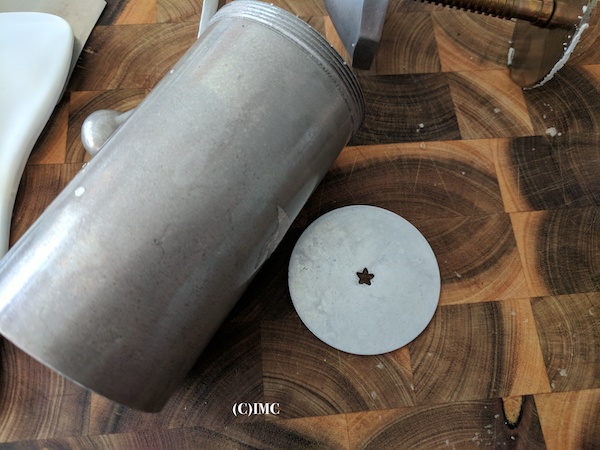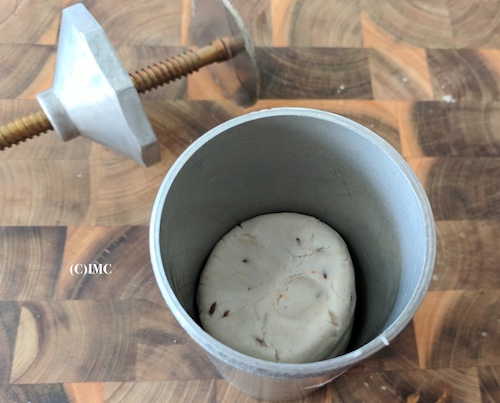 Parental Step - Let your child pick his/her favorite mold. Grease the chakli press with oil and add the dough inside. I filled the dough halfway through as it made easy for the kiddo to press.
Parental Step - Heat the oil for frying.
Parental and Child Step - Press the murukku on the back side of the ladle like below or you press on a plate as well. Help your child while pressing and as mentioned do not worry about the shape.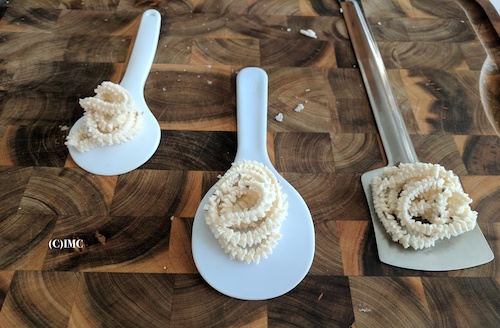 Parental Step - Carefully drop the pressed murukku in the oil. Make sure the oil is over low-medium flame. Fry the murukku for 45 seconds on one side and carefully flip them over and fry until they turn light brown like below. I usually fry until the bubble sound ceases.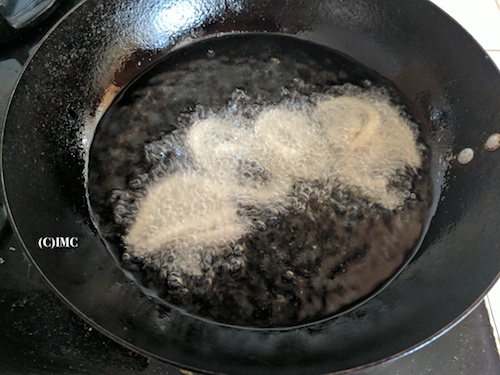 Let it cool and store in an airtight container and enjoy!. Happy Diwali Folks.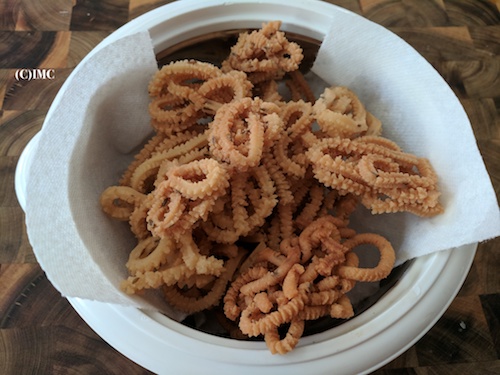 Toka Chef Moment

I wanted to use the simple round press mold, but vaandu opted for the star one. So I went with star-shaped one, but after pressing quite a few murukku, he wanted to try the round one and also other molds. I just let him chose the pressing patterns, and these molds kindled his interest, and he started asking if we can press cookies like murukku. But coming to think about it, I have cookie press which pretty much works the same way. Why not try cookie in murukku shape? I like these food connections that vaandu makes.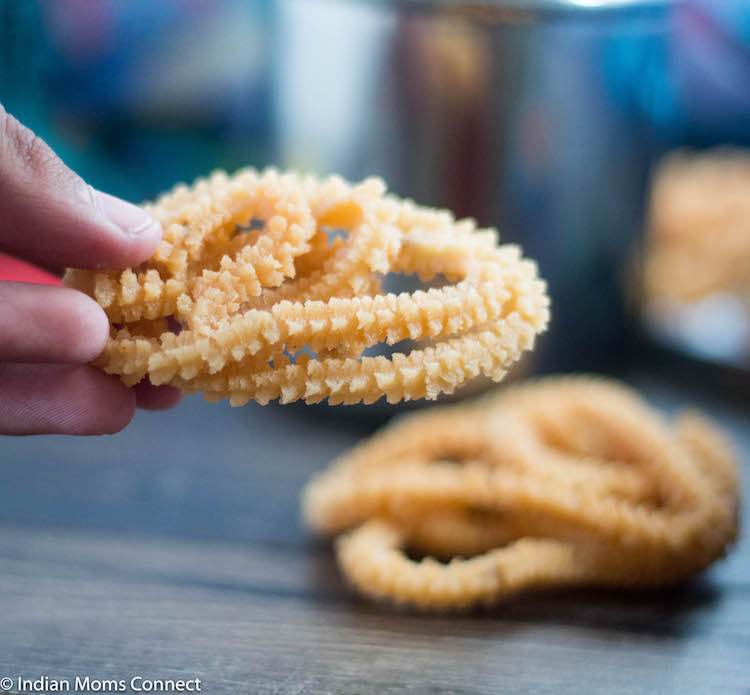 Toka Yum Moment

As I mentioned above vaandu couldn't just stop with one murukku. He knew that we are preparing this recipe for Toka Box. After tasting, he made sure that I will be making the very same murukku recipe on the Diwali day too.