Book Review: Do! by Gita Wolf, Ramesh Hengadi and Shantaram Dhadpe (Tara Books)
posted by R's Mom , August 06, 2014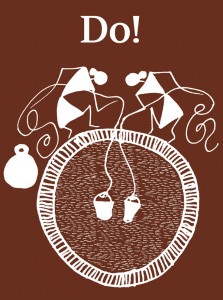 Do! is a very different book. I won't call it a storybook, and I won't call it an academic book. Do! is a book which is like poetry in motion.

What do you do about a book which has no storyline, but excellent illustrations which are Warli painting based, and give a feeling that you are watching something moving constantly.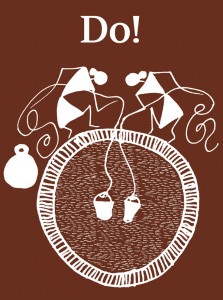 I think the concept behind Do! was not to be used as a story book, but a book which teaches little kids nouns and verbs, and exposes them to the simple but extremely artistic world of Warli. And I think the book succeeds in that.

The book gives insights into various activities which we do in our everyday life. For every one word like 'Pull', 'Farm', 'Grow', 'Climb' or 'Dance' the illustrators have drawn a riot of drawings around the word which emphasize the word and teach children what exactly the word means. I loved the pages of 'Climb', 'Eat', 'Cook', ' Read' :) There is even a depiction of 'Fight'

I wish I had come across this book earlier, I would have taught my 6-year-old, what action word means via this book.

What I loved about the book

1. The illustrations. They are the heart and the life of the book. I am at awe at the illustrators' imagination. A simple word can be transformed into illustrations in so many ways. It's just so inspiring. And the best part is the simple words which we use, see and experience in our everyday lives are illustrated so well.

2. The words which the author has selected. Any child will immediately connect to the simple words. Even fight :)

3. The brown background and white paint with which the figures are painted. It gives a feeling as if we are seeing this on the wall of a hut in Maharashtra and not in a book

4. The concept of the book is unique and it's almost like watching a motion movie or something.


I would strongly recommend the book if you have a toddler at home. To teach new words and concepts behind the words. The book should, in fact, be introduced to nursery children when they are learning action words. I am sure it will be a big hit and the children will connect immediately to the word and its action.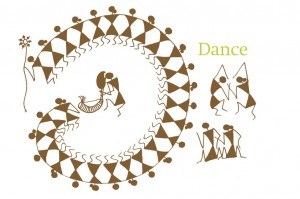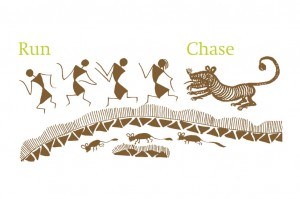 Tamizh Book Review by Maya


Seidhu
Paar, which translates to 'Do' in English, is a book which contains action pictures. Wait! These are not just any pictures. These are pictures rendered in Warli Art. Actions like play, dance, pull and so many more are all illustrated using Warli Art.

Now, what are our takeaways from the book
1. We (as in the kids!) learned a lot of new Tamil words. Although we speak Tamil at home, it is kind of a mixture with English and sometimes, even a little bit of Hindi and Telugu. So, when words like 'Yeru' or 'Sandai Idu' were given, we blinked big time. Then, I had to explain to them how 'pure' Tamil words have changed over time to form colloquial words that we use today. So, this learning was a big winner from the book for me.

2. We didn't have to read much, but observe the minute details of art as given in the book. Which was so unusual for us yet very satisfying.

3. At the end of it all, we tried our hand at drawing pictures of a man and woman using the instructions given in the end of the book; this in Warli Art. Although the key word here is trying, we had loads and loads of fun doing it.

All in all, a simple beautiful book from Tara Books!

=====================================================================

Maya was kind enough to review the Tamizh version of the book for us. Thank you, Maya for doing it :)