Author Interview: Gita Wolf, Author of Do! and Following my PaintBrush
posted by R's Mom , August 06, 2014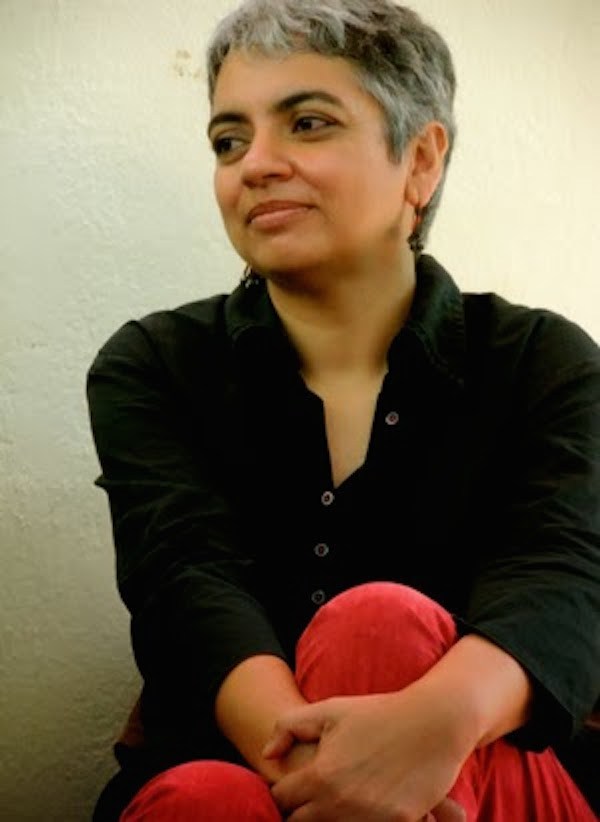 Gita Wolf, the author of Do! and Following my Paint Brush, was kind enough to talk to us about her thoughts on encouraging indigenous artists as well as how Indian traditional tales will enrich our children.

From the Tara Books site, Gita Wolf has written more than 14 award-winning books for children and adults. She was an academic by training before she moved into publishing, with a research focus on comparative literature. She continues to pursue her interest in exploring and experimenting with the form of the book and its status as a revered cultural object.
IMC: How did you think of roping in local artists to illustrate the books? More importantly, the book 'Following my Paint Brush' actually talks about the story of 'Dulari Devi' the illustrator. How did you think of such a wonderful concept to introduce children to the local artwork of India?

Gita: Working with indigenous artists is a project that we have worked on for over 15 years.

The fundamental question for me has to do with how we can re-imagine children's literature. What possibilities are there in a publishing world that is increasingly dominated by big business, best sellers, and a certain sameness in what we think is suitable for children?

To create something that was original, we looked around for Indian illustrators, and what excited us most was the potential we saw in traditional artists.

These were folk and tribal artists, from rural and remote communities, who painted according to certain traditional styles of rendering. Although there were many very different traditions, most of this art arose from common everyday sources: the decorating of homes, community spaces or places of worship. Much of it was and still is, painted on walls and floors.

With time, as it happens, things changed. Many artists now also paint on paper and sell their work. But before we began working with them, hardly anyone had made a book. Illiterate and poor, many of them were, by definition, outside of the conversation of mainstream bookmaking. And yet they had a wealth of talent, imagination, and intelligence that we found humbling.

There was another important personal reason why we chose to work with them. Such collaborations cut through a lot of the hierarchies that we ourselves are part of. As middle-class English speaking Indians, working creatively with these artists enabled us to go beyond many of the limitations of caste and class that language carries. The perspectives these artists bring are unlike anything we would ever have come up with. They are invaluable in our search for alternatives.

Traditional artists, as the name suggests, work within an inherited tradition, but many of them are eager to explore new ways of taking their work forward. Tradition is something that changes constantly.

As for Dulari, she came to us for a workshop, and we talked to her about her life, and what led her to become an artist. We then worked with her to come up with the illustrations and put down her oral story as text.

IMC: Today's children have a lot more exposure to the traditional Indian stories and even stories based on Indian characters as compared to the previous generation. Do you think this is a trend which we will continue to witness and how do you think this will benefit the children of today?

Gita: I'll answer this in continuation with the earlier question. We're one of the pioneers who began this process of bringing indigenous artists and stories into children's literature. When we started publishing in 1995, there were very few pictures books for children in India, except for CBT and NBT books. Ours has been a largely oral tradition, and the notion of children's literature came from abroad. So Indian children's books tended to be derivative. It's important for children to have access to a variety of voices, and stories in familiar settings. The main thing is that the book should communicate in the way it is intended, only then will it create real empathy with the protagonist. When this actually happens, particularly with an individual who is normally 'invisible' - as with people like Dulari - then the book becomes transformative. By giving a voice to those who are not normally heard, we imply that their points of view are valuable, worth preserving and passing on. The challenge here is not to set them up as exotic outsiders, in a niche, but as our equals. Children then accept that this different kind of story and art is 'natural', part of what they grow up with. What do such voices bring to children's literature? I think exposing children to a variety of perspectives is crucial. Today, it feels like we have more choice than ever before in our history, but if you look closely, much of it is really homogenous - popular books are marketed worldwide, television programs are beamed across the globe, internet content is available everywhere - all of them give us an illusion of unlimited choice, yet they are often clones of each other. Seen another way, it is commerce and the market which largely decide on what is put out and what is worth taking notice of. So we need this difference.

IMC: While there are many children's books publishers in India, the ones focusing on Indian based stories are still only a handful. Will this change in the coming years? Will we witness international exposure to Indian based stories for children?

Gita: I think and hope so. I'm not sure of the statistics from other publishers, but around 75% of our books have been published in other countries and languages.

IMC: What has been your favorite book as a child and why?

Gita: Little Women. I identified with Jo as a feisty character.

Thank you Gita for talking to us.



Featured Image: Saffron Tree