Book Review: Ambushed! - A Girl's Adventures in Tigerland!
posted by Preethi Chandrasekhar, April 15, 2016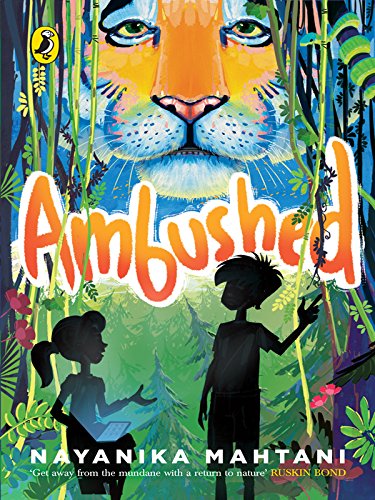 Summer vacations have started and the scorching heat waves too. It's hard to stay outdoors but at the same time we don't want our kids to hook on the gadgets also. So what's the solution? Books - The gift that can be opened again and again and again. Here is one such book with a great cause and perfect for tweens, Ambushed - by Nayanika Mahtani.
It's a story about a 10-year-old girl Tara who is, of course, a gadget geek like most of today's kids. She thinks that it is unfortunate that she has to spend her summer vacation in one of the tiger reserves in the Himalayan foothills where "Nothing Ever Happens". But somethings do happen. She meets a mysterious kid Satya and the story is all about their adventures. Tara gets caught by a gang of poachers but she escapes. Satya and she then set out to save the tigress and her cubs. Did they save the tigress? What all do they encounter? Will they be able to break the poachers' network and plan? Read the book to know the details...
Kids these days are into apps and games which means basically they are into the virtual world. The author brings out the real world in this story, especially living in close contact with nature and about tigers and tiger poaching. Tigers are known for their strength and majestic nature and they are the National Animal of India. But the sad truth is because of poaching, we are losing them slowly. This book brings about the awareness and helps the kids to learn about our natural resources and dangers awaiting tigers.
What I liked about the book was,
The chapters are small which gives the sense of completion and satisfaction for the beginners who are starting chapter books
Day to day characters and its easy for the kids to relate so well
Explanation of Indian tribes and the forests and our resources
Last but not least, the concept of "Save Our Tigers"
A great pick for kids aged 10+.
Image credits: Google images