14 Books You Should Absolutely Read Aloud to Your Kids!
posted by Preethi Chandrasekhar, June 24, 2020
Who doesn't love reading out loud? Here are 14 books we think are a lot of fun to read aloud!
1. The Book With No Pictures by BJ Novak


As the title says, the book has no pictures, but we don't miss it. There is a lot conveyed using fonts, letter sizes, and colors! The premise of the book is that the poor hapless mom/dad HAS to read whatever is written in the book. When a Hippo named Boo Boo Butt makes an appearance, you can bet your little one will be howling with laughter! When I read this to my daughter, she completely forgot the need to rely on pictures. She was jumping, clapping, guffawing and rolling around with glee. Who said you need pictures for every book?
Check out BJ Novak reading the book here! You will then realize just how you need to read this book.



Buy Now: Amazon USA | Amazon India
2. Silly Story of Bondapalli by Shamim Padamsee, Illustrated by Ashok Rajagopalan


A really funny book from Tulika Publishers, this one is reminiscent of our Chandamama and Tinkle comic days. A Prince in a kingdom is a picky eater. Always saying No! Awful! Take it Away! How bondas came into being, how the prince fell in love with bondas and what happens when everyone in the kingdom only eats bondas? Of course, you make the neighboring kingdom of lean mean folks pretty jealous! What happens next?

Pair this book with a fun activity on a balanced meal with the Toka Box.
3. Don't Let The Pigeon Series by Mo Willems


Don't Let the Pigeon Drive The Bus was the first book in this series. Read it with emotion when the pigeon pleads to be allowed to drive the bus and your child says a resounding No! to all his entreaties!
The outline of the book is simple – The bus driver tells the kid reading the book "Don't let the Pigeon drive the bus" and in pops the pigeon asking to drive the bus. Oh! The Pigeon, drawn so simply, but can express so many emotions, with his eyes and slump of his neck. I simply fell in love with the illustrations!
The pigeon then proceeds to convince the reader to let him drive the bus, then has a little meltdown. The reader (3 yr old ) gleefully says No! to every entreaty and request. When the bus driver comes back he is happy to see that, indeed, the pigeon did not drive the bus! (Now the pigeon dreams of driving 18-wheeler trucks)
4. Catch that Crocodile by Anushka Ravishankar, Illustrated by Pulak Biswas


Anushka Ravishankar's rhyming words that lend themselves to reading aloud!

Here is R's Mom perfect reading of this book!

5. The Day The Crayons Quit by Drew Daywalt, Illustrated by Oliver Jeffers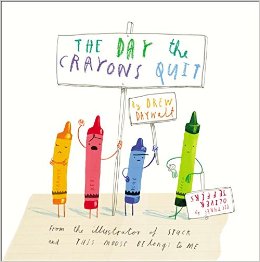 Duncan's Crayons write him letters about each of their complaints. The Blue crayon is just a stub from all the work Duncan made him do, while the pink crayon complains about never using her. Imagining crayons as having feelings will make the next coloring session even more imaginative!
6. What Did the Monster Child Eat Today? by Sampurna Chattarji, illustrated by Vibha Surya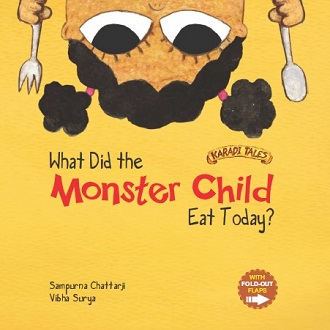 An unusual book that had my daughter talking for days, there is something delightful and satisfying about reading and immersing oneself in What Did the Monster Child Eat Today? My daughter's imagination feasted on its language and clever exaggerations. The book is about a little girl who asks us not to be fooled by how she looks -- she is a little monster inside her head! We see her proclaiming all that she eats because she is a monster child: eyeballs as runny as egg-yolk, delicious lice (instead of rice) crispies burnt extra black (we like all the play on words) and more. Every child is hungry for these kinds of bookish experiences and this was such a good meal for my daughter! Sampurna Chattarji's clever use of hyperbole and Vibha Surya's quirky illustrations bring a child's monstrous imagination to life.

Guess what I had for lunch?
My ultimate treat...
an Egyptian mummy
wrapped up in a sheet.

The book is full of clever illustrations by Vibha Surya. Lift the fold-out flap on the monster child eating a mummy and you see that below, instead of a mummy there is a waffle, a banana for a head and two slices of an apple for legs! We now know that the monster child has a wild and vivid imagination. For children like mine who like dualities, who like being many people at once, this book offers the necessary flight of macabre imagination as well as the safety blanket - that down below, things are quite normal and okay, much like that waffle!


7. Gajapati Kulapati - Ashok Rajagopalan Published by Tulika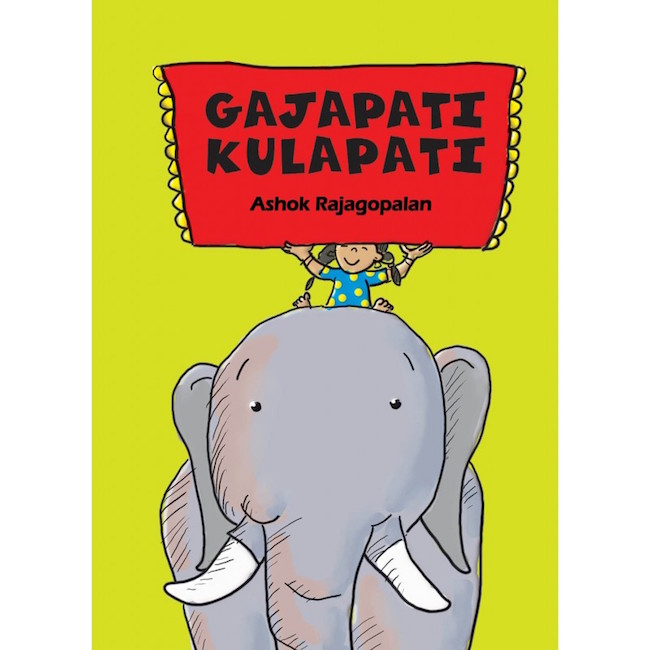 With repetitive sounds and words that rhythmically roll right through the pages, this story puts the zing back into storytelling and reading aloud. Bright, zesty pictures and dynamic visual text echo the lilt, making it one big book of fun.
With repetitive sounds and words that rhythmically roll right through the pages, this story puts the zing back into the storytelling and reading aloud. Bright, zesty pictures and dynamic visual text echo the lilt, making it one big book of fun.
8. Tiger in My Soup - Kashmira Sheth
A young energetic boy is left in the custody of his elder sister when the parents are away from home. His sister, who is overloaded with household chores and meal preparations, is reluctant to babysit her brother. She chooses to immerse herself in the book of her choice and the little brother tries to do the same with his book about tigers!. But reading a book alone is no fun! After minutes of loneliness with his book, the little brother is all agog to hear the tiger story in his sister's voice. In an attempt to gain his sister's attention, he grows insistent and imaginative.

And once you conjure a tiger, you never know where it will take you or how far the gag will go.


9. Tiger on a Tree - Anushka Ravishankar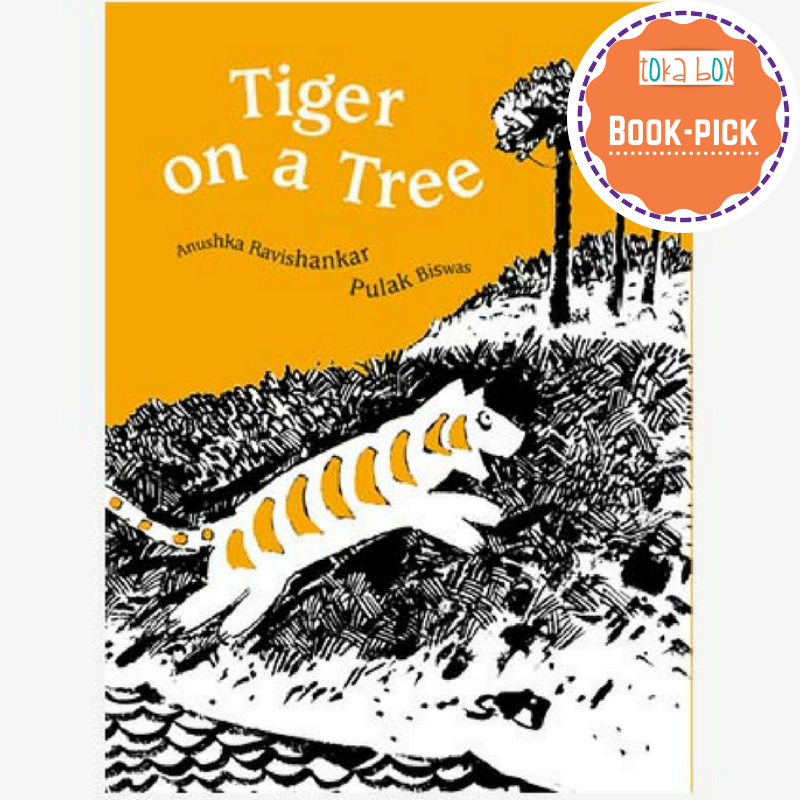 From the beloved children's book author Anushka Ravishankar, comes this rhyming little story of a tiger who crosses the river and gets scared of a goat and climbs a tree. The humans then trap him and wonder what to do with him? "He's caught. He's got. Now what?" they say. They then vote unanimously to release him and the book circles back to "Tiger, Tiger, On the shore".
The illustrations by Pulak Biswas in black, white and orange have a earthy quality to it, in the same style as Catch That Crocodile, another favorite with us.
10. The Why Why Girl - Mahasweta Devi published by Tulika
Moyna lives in a little tribal village. She cannot go to school because she has to tend the goats, collect the firewood, fetch the water... But she is so full of questions that the postmaster calls her the 'why-why girl'!
Mahasweta Devi is one of India's foremost writers. In this delightful story, her first picture book, and the only children's book she has written in English, she tells us how she meets Moyna (and her mongoose!) and helps her find answers to all the why-whys - in books, that Moyna herself learns to read. Some of the translations have been done by well-known writers: Malayalam by Paul Zacharia, Tamil by Ambai, and Kannada by Girish Karnad.


11.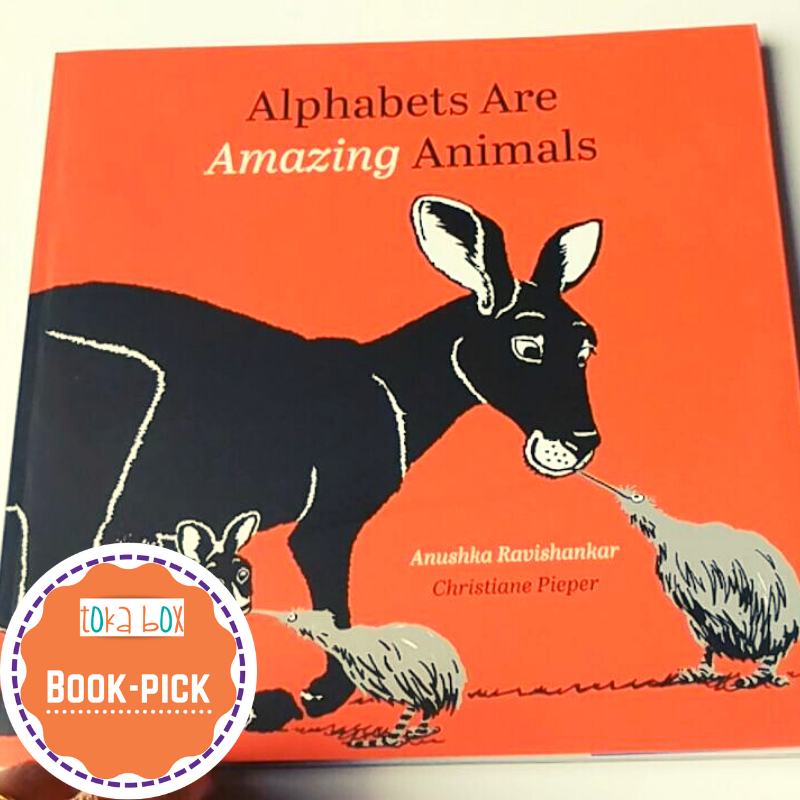 "Kind Kangaroos Kissing Kiwis", there is no end to the strange things animals get up to in this alliterative book! You will enjoy reading it out aloud! You will love this one so much you would not want to put it down. We think Anushka Ravishankar is a true master of read-aloud books.
Rooster Raga by Natasha Sharma, Illustrated by Priya Kuriyan
Do roosters sing ragas? Ruru does, but like all true artistes, discovers it after a struggle! This foot-tapping story, vibrantly illustrated, invites readers to move and sing, clap and tap along with the animated Ruru and friends.
2015: Best Indian Children's Book (0-5 years), Parents and Kids Choice Award.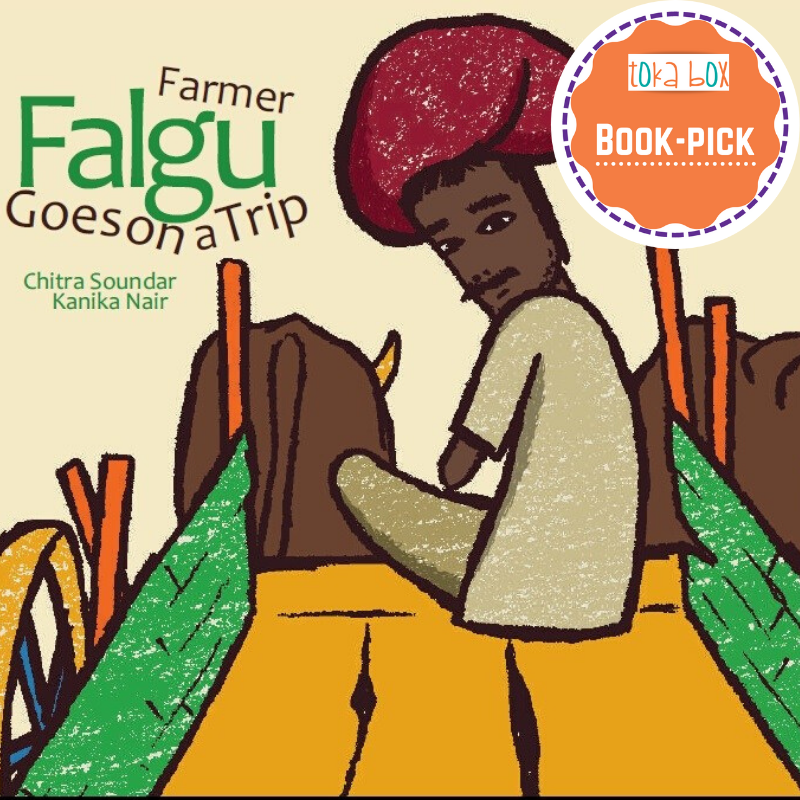 Farmer Falgu decides to set out on a journey to find some silence. One by one, he is joined by a new crew of noisemakers culminating in a cumulative cacophony. When he finally finds the silence that he has been craving for, he realizes that it was not all that he had imagined it to be.
Buy this book now!
Not Yet! describes an everyday bedtime ritual involving an energetic child and her loving mom. Mom tries to wheedle her way into retiring for the night, but it is hard to persuade her animal-loving child switch to routine from her reverie. There is so much to do before bedtime and so little time. The little one says that she is not ready for bed yet, so is a mom to do than to try and woo?

Children's Book Excerpts and Read Alouds from our Soundcloud Channel