Traditional Recipes that Make Diwali What it is!
posted by Toka Box Editorial Team , November 05, 2018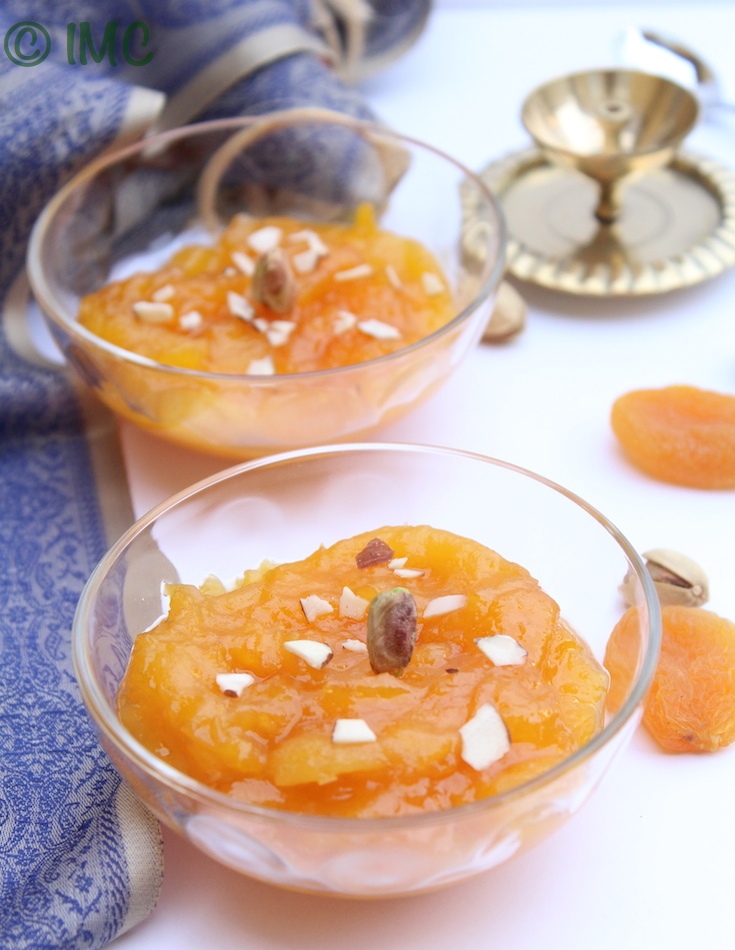 Whether it's the Qubani Ka Meetha or the besan ladoo, we give you recipes for amazing traditional Diwali sweets that make the Festival of Lights truly magical!
1. Quick-fire Ribbon Pakkoda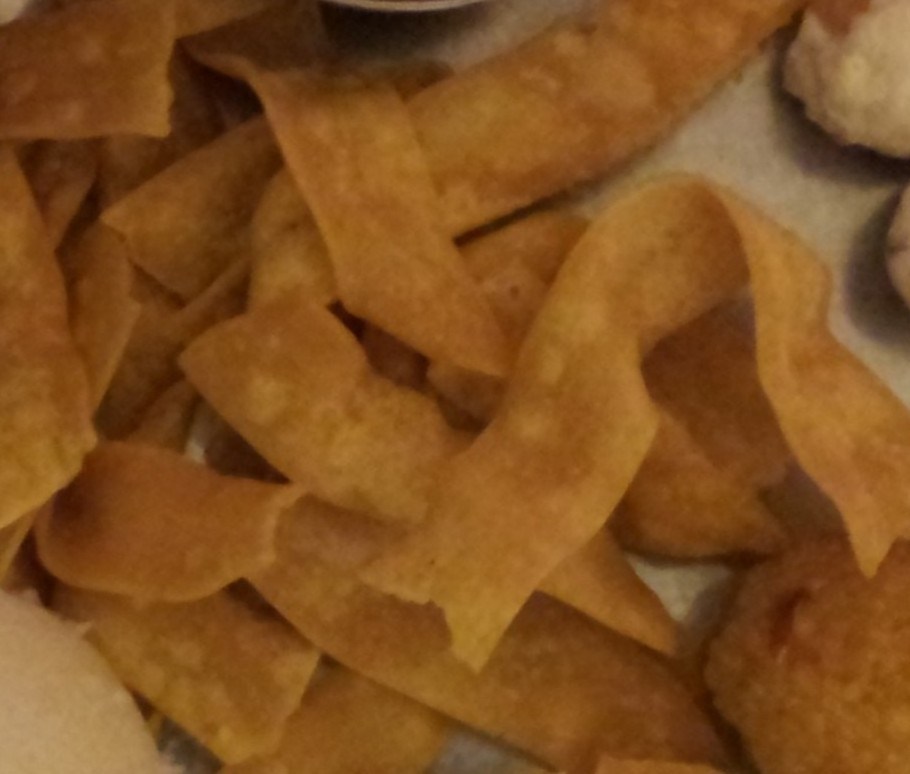 This quick and simple recipe of ribbon pakkoda is made without the mould and is a Diwali favorite!
Ingredients:
1 cup gram flour (besan)
1 cup rice flour
1 cup wheat flour (I used atta and this is a shift from the traditional recipe)
2 tbsp fine semolina (sooji/rawa)
4 tbsp oil
1 tsp salt or to taste
1 tsp red chilli flakes
1/4 tsp carom seeds (ajwain)
Pinch of asafoetida (hing)
1/2 cup water or add as needed
Oil to fry
Steps:
Mix all the flour, salt, carom seeds, asafoetida, chilli flakes and oil.
Add water as needed to make firm but smooth dough. Cover and set aside for ten minutes.
Knead the dough for another minute and divide into four equal parts.
Roll them like rotis but thinner. Prick them with a fork all over so they don't puff while frying.
Cut each of the rolled dough into half inch-wide strips and then into 3 inch-long pieces.
Heat oil in a frying pan on medium heat.
Add the strips one by one. You can add as many depending on the oil but ensure you have enough place so you can turn them over easily.
Fry them until both sides are light golden-brown. Instant ribbon pakkodam is ready.Let it cool and enjoy!
This was my first attempt and I found it turned out really well-crisp and oil free! A major hit at home
2. Therattipaal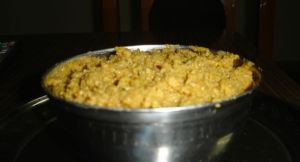 This sweet is loved by both kids and adults alike!
Ingredients:
2 cans of condensed milk of 400g(for less quantity use only one can)
1/4li milk or milk powder
Procedure: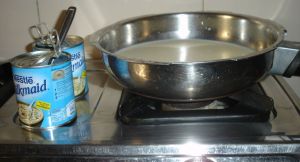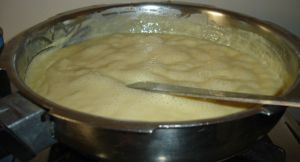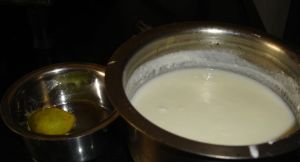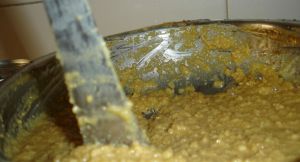 Pour the condensed milk in a heavy bottomed vessel.
Pour the 1⁄4 li milk or milk powder.
Condensed milk already contains sugar. Only add 2 spoonfuls of sugar for the extra milk or milk powder.
Start heating and bring the mixture to boil stirring continuously for 15 min.
Add two big spoonful of curd to the mixture.
Add a small spoonful of lemon juice. The mixture will start curdling.
Stir continuously till the mixture leaves the sides and does not stick to the bottom of the vessel .(it will take 20 to 30 min for the therattipal to completely part ways and does not come together when you run a ladle through it.).
Put off the gas.
Yummy therattipal is ready!
3. Vellai Appam
Here is one of the staple foods at many households on Diwali day!
Vellai appam will be usual breakfast in my house on Diwali along with Diwali legiyam. Usually we prepare the batter overnight itself to allow it to ferment. One of the easiest dish to make on any occasion. Crispy and yummy. Here is the recipe .
Ingredients:
Raw rice [Patchai arisi] – 1/2 cup

Urad dhal [Ulutham paruppu] – 1/2 cup

(1:1 ratio of raw rice and urad dhal)

For Tempering
Ginger – small piece, finely chopped
Green chillies – 2 medium size, finely chopped

mustard seeds – 1 tsp

Pepper – 1tsp

Salt – as per taste

Coconut – 3 tbsps

Curry leaves – 2 strands

Cilantro – 1 tbsp chopped (optional)

Oil – for frying + 2 tsp for tempering

Steps:
Preparing the batter
Soak rice and urad dhal separately for 2 hours.

Grind them nicely and add salt as required.

Let this batter get fermented for at least 3 hrs.
Adding the tempering and frying:
Chop the green chilies and ginger finely.

Heat small quantity oil for tempering.
Once the oil gets heated, add the chopped ginger and chilies.

Add mustard seeds, pepper, and curry leaves also.

As they start to splutter, add this mixture to the batter.
Also, add the grated coconut, and the cilantro if you want to use it.

Now heat the oil for frying.

Use deep-rounded spatula for pouring the batter into the oil.

Fry them till it becomes golden brown.
Yummy rice fryums are ready. Serve hot with coconut chutney.
Cross-posted from here.
4. Khubhani Ka Meetha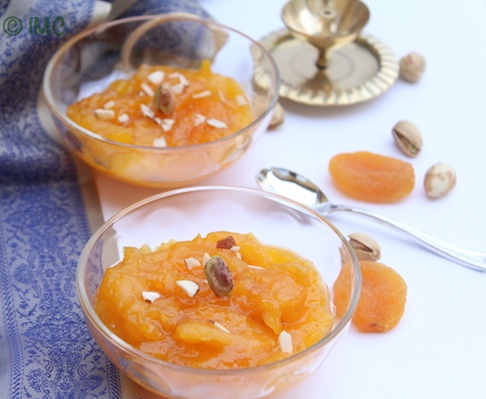 Diwali the festival of lights is right around the corner and this time it's just before the Halloween. I love the orange fall color as well as the sweet and sour taste and when I saw those beautiful dried apricots, I knew what to prepare – the Mughlai special Qubani ka meetha or Khubani ka meetha. Khubani ka meetha is a very popular dessert of Hyderabadi cuisine which is prepared with dried apricots.
Once the apricots are soaked, the recipe can be whipped up in no time. The sweet and slightly sour taste from the apricots and with chunky nuts, this dish is an absolute winner and its perfect for trick or treat Halloween parties also. Please refer the notes for variations and other ideas.
Ingredients:
Dried Apricots – 20 (I bought the deseeded ones)
Sugar – ¼ cup
Water – 1.5 cups + ½ cup if required
Chopped nuts of your choice
Prep work: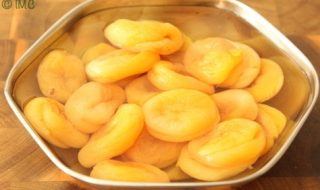 Soak the dried apricots overnight in 1.5 cups of water.
To make the process easy, you can boil 1.5 cups of water and soak the apricots in hot water and this reduces the soaking time too. I went with this way and soaked it for 5 hours.
Steps:
Heat a heavy bottom vessel and add the soaked apricots including the water. Do not drain the water.
Let it simmer for about 5 minutes.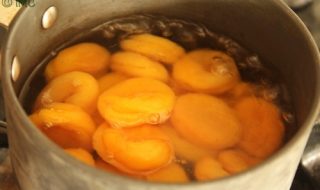 Now using a ladle or a potato masher, mash the apricots well into a coarse jam consistency.
If it gets dry, add 1/2 more cup of water. At this stage add sugar and mix well.
Let it cook until it thickens slightly.
That's it. Yummy Qubani ka meetha is ready. Let it cool down and store in airtight container.
Serving:
Add chopped nuts of your choice and also drizzle some condensed milk before serving.
I prefer chilled qubani ka meethi.
Notes and variations:
Adjust sugar as per your preference.
Instead of sugar, condensed milk can be used for creamy and richness.
Saffron, elaichi powder can be added for flavors.
Pistachios and Almonds are usually used while serving. But you can use any nuts of your choice.
This meetha can be used as a sandwich spread also. Instead of Peanut Butter Jelly, try this with peanut butter.
5. Badam Kheer
Apart from being perfect for festivals, this is something HOT for your kiddos during the COLD winter months. It is yummy and vry healthy for kids.
Ingredients:
• A handful of peeled Almonds (soaked overnight in water but as a last-minute thing, you can soak it in hot water for 30-40 minutes).
• 2 – 3 cups of milk (you can make it thin or thick consistency as per your preference)
• Saffron 4-5 strands (optional)
• Sugar (as per your sweet tooth taste)
Steps:
1. Take the soaked almonds and peel the skin off. Once the skin is off grind it to a paste in the mixer using milk (instead of water) to a fine consistency
2. Boil the desired milk into a pan and add the ground almonds to it.
3. Add the desired sugar as per your taste to the milk and almonds
4. Add the saffron
5. Keep on stirring continuously till the milk is well boiled and you think you got the right consistency
6. Kheer is ready to eat.
Tips:
I. The kheer stores well in the refrigerator for a few days
II. If you have stored it in the refrigerator for a few days and you think it's too thick you can always add milk and get it to the correct consistency
6. Sajappa or stuffed sweet pooris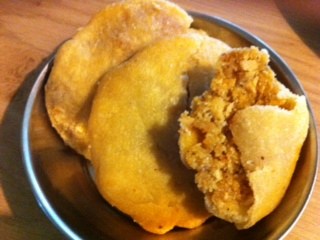 The first time I'd encountered 'sajappa' was at the husband's place – it is a deep fried sweet made in Mysore and Bangalore side for festivals. On principle, it could be broadly similar to the 'gujhiya' or 'ghugra' or 'karanji' or 'karjikayi' – yes I am talking about those moon shaped stuffed dumplings with dough. And yet, it is in a league of its own. It is now one of my favorite sweets, not just because of the taste, but also because it is much easier to make since you don't have to be that careful with the shape.
Ingredients for the stuffing:
Coconut grated fresh- 1 cup
Coconut dry- 1/2 cup
Cardamom powder – 1/2 teaspoon
Fine sooji/rawa – 1/4 cup
Poppy seeds – 2 tablespoons
Jaggery – 1.5 cups
Ghee- 1 tablespoon
Making the stuffing:
Heat ghee in a pan and then add the rava and the coconut first, followed by the jaggery. Once jaggery melts, add the rest of the ingredients till they all come together to form a loose-sort of mixture, not wet but again not too hard as then it will be difficult to roll out the stuffed puri ball.
Ingredients for the pastry/outer cover:
Maida or refined flour: 1cup
Fine sooji/rawa – 1 cup
Pinch of salt
Oil- 2 spoons + Oil for deep frying
Water – as needed
Making the dough
Make a soft dough with this and then cover it with a wet cloth so it does not dry.
Final assembly
Make a lemon-sized ball with the dough and roll it into a small round puri.
Stuff this with a couple of spoonfuls of the stuffing and bring the open ends together and seal them by pressing them together.
Make sure the stuffing does not come out.
You can then roll it into a small puri or pat it back into a poori shape, whatever is comfortable for you.
Slow fry these stuffed sweet puris in medium hot oil on both sides.
There, you have the sajappa ready.
These can stay for a week outside but if you have not finished them by then, keep in the refrigerator. You can warm these and eat.
7. Poha or Murmura Chivda
No Diwali is complete without Chivda. All people love it, young and old and it can be modified to everyone's taste.
Ingredients:
Poha around 4 cups
Peanuts
4-6 tbsp oil
Cumin and Mustard seeds
Green Chillies chopped (optional)
Curry Leaves (optional)
Salt
Sugar (just a touch)
Procedure:
Dry roast the Poha (Beaten Rice) or Murmura (Puffed rice) in a pan around 5-7 minutes or when it is crunchy after it is cooled down.
Dry roast the peanuts and get the skin off and cool it
In a pan take the oil, heat it , add cumin and mustard seeds and let it splutter.
Add the curry leaves and green chillies and wait for a few minutes
Add the peanuts to the oil
Add the turmeric, close the gas.
Now to the dried poha, add the salt and sugar and pour the tadka over the poha or murmura.
Stir it well till you see all of the poha is turning yellow
Let it cool down and it is ready to eat
Tips:

If you notice that the poha is not yellow all the way that means you need to add either more oil or turmeric so that it can spread easily
8. Besan Ke Ladoo
Earlier appeared in
Smita's Food blog

and re-used with her permission

Ingredients

(Makes 30 pieces)

Besan (Gram Flour): 1/2 kg

Powdered Sugar/ Sugar Boora: 300 gms (400 gms if you like extra sweet)

Ghee: 300 gms

Dry Fruits– Raisin & Cashew nuts (A Handful)

Process

Heat the ghee on a high flame in a Kadhai (skillet) and add besan to it. Keep stirring on the high flame for 2-3 mins and then reduce the flame. Keep stirring the besan so that it doesn't get stuck and neither does it burn. This is a long process but you need to be patient.

You need to be careful while putting the ghee because if the quantity of same is in excess it will be very difficult to bind the ladoos (I had committed this mistake during diwali and my ladoos were quite sticky) later. You can check the correctness of the quantity of ghee by checking the consistency of the besan in the kadhai. The consistency should be like a halwa. See the picture below. And check the consistency!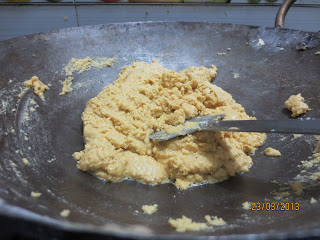 Keep turning the besan and turn off the gas went it turns light golden in colour. Also remember that you need to stir the mixture for some more time because the vessel is very hot and the besan can burn. And stir like there's no tomorrow!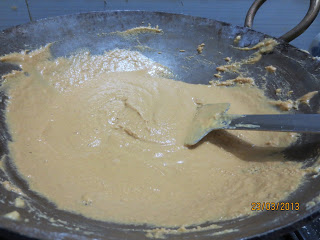 Let the mixture rest for sometime and in the meanwhile you can powder the sugar. It is however preferable to use the boora as it gives a nice texture to the Ladoo. Out here the same is not available so my MIL made it at home and I will post a separate post for that, for now you can substitute that with the sugar.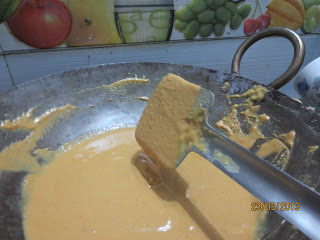 See the change in color. It is ready!


15-20 mins later take the besan and add powdered sugar & dry fruits to it. The trick here is that the besan should be lukewarm when you add the remaining ingredients in it. The reason behind it is very simple, they are easier to bind then. Mix them well and the ladoo's are ready to be made. Take a small portion in your palms and very firmly smooth roll it into a ball.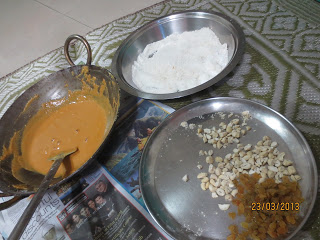 Now it's sweetened!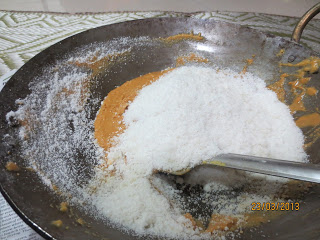 Saas, Bahu
aur
Ladoo!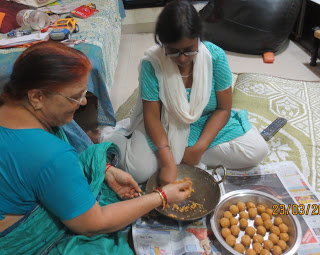 Ready to be devoured!