Book Review and Giveaway: Ten Heads for Tanuj by Priya Narayanan
posted by Shweta Sharan, November 05, 2018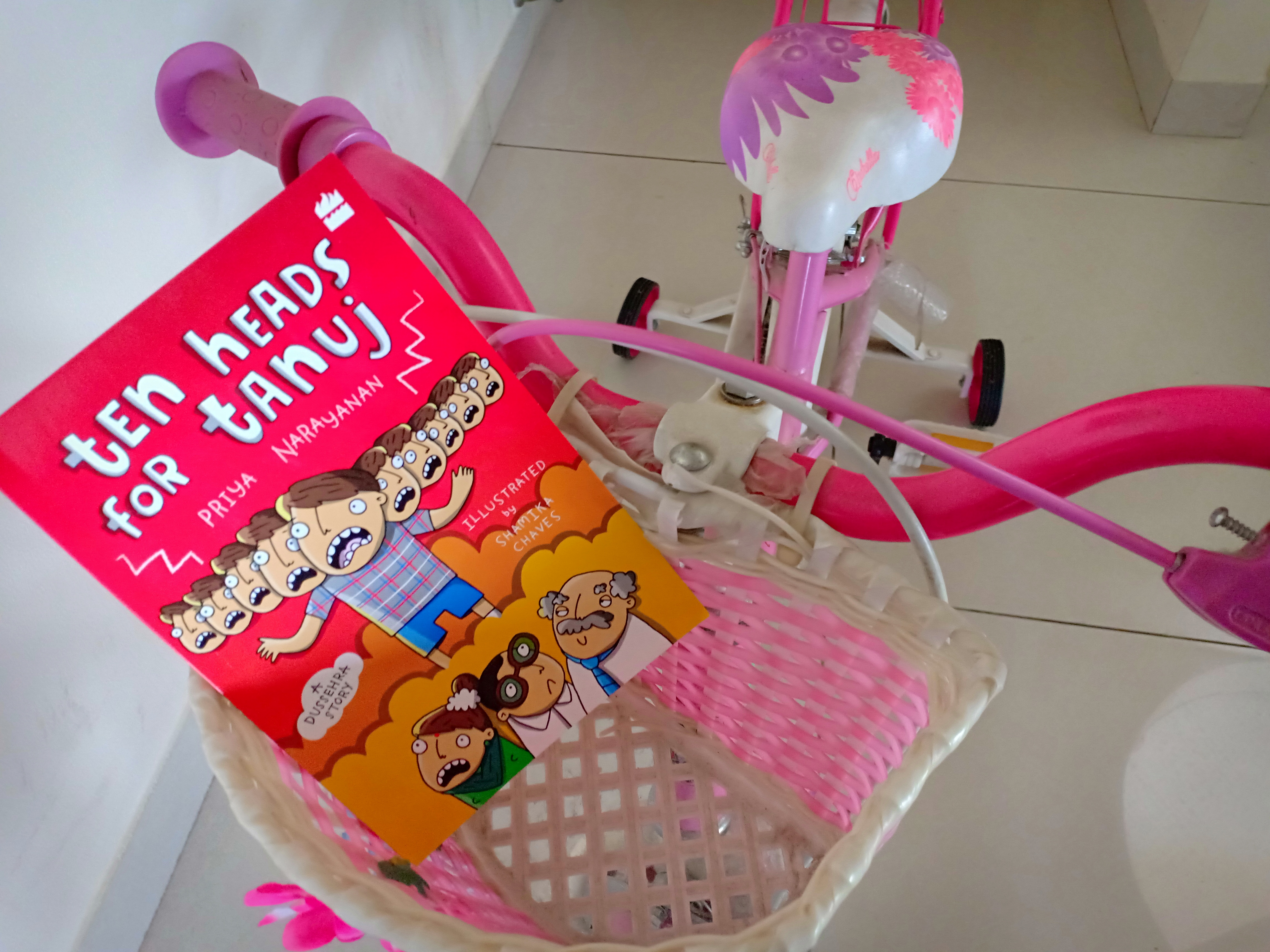 'Ten Heads for Tanuj' by Priya Narayanan is a hilarious, engrossing and completely entertaining story about Tanuj, who idolizes a particular Lanka King with ten heads. One day, Tanuj wakes up to find that he also has ten heads! Apart from being a fun ride through and through, the book gives a voice and a modern context to one of the most intriguing super villains of Indian Mythology. Surely you can guess who that is?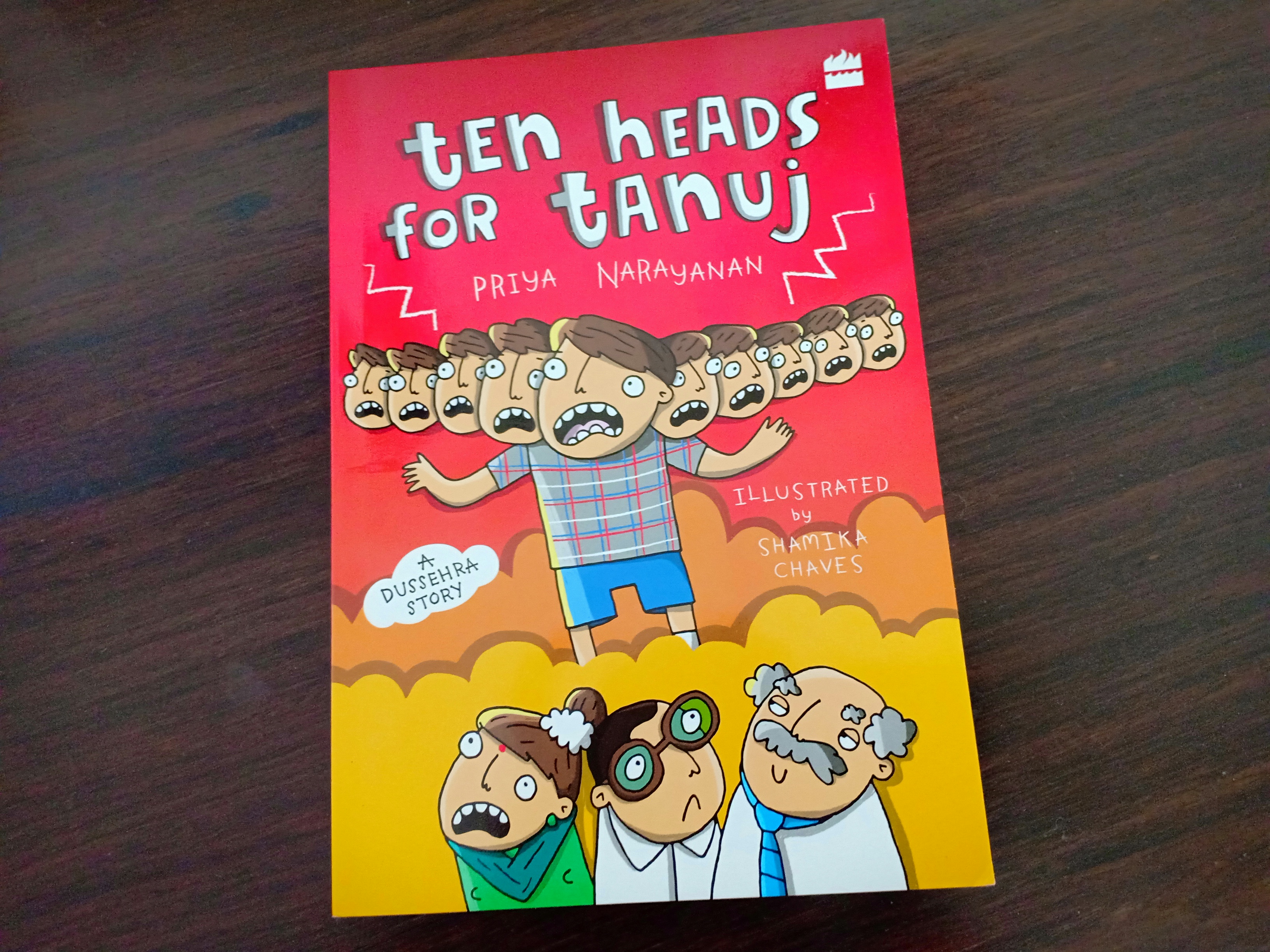 Ten Heads for Tanuj by Priya Narayanan begins with a stunning image. Dusshera had just ended and nine-year-old Tanuj is reminiscing the time when he saw the burning effigies of Ravana, Meghnand and Kumbhakarna. "As the sounds of claps and hoots filled the air, the ten heads of Ravana had tumbled to the ground in a cloud of smoke."
The book begins on this magnificent note and segues into full-speed humor and a fabulous suspension of disbelief. A day later, Tanuj is about to go to bed and asks his mother to tell him the story of Ravana. In an epic that is filled with many interesting characters, it is the ten-headed Lanka King's story that fascinates him. Tanuj's mother narrates the story of Ravana, "both a hero and a villain," and tells Tanuj things he never knew before. For instance, Ravana once lifted the entire Mount Kailasa with his hands. His ten heads actually represent his astonishing knowledge of the four Vedas and six Upanishads.
Tanuj goes to bed chanting "East or West, Ravana is the best." The next day, he wakes up to discover that he has ten heads, much to his mother's shock and his father's disbelief. What follows is a laugh riot involving Tanuj and his parents as they try to make the best of the situation and to keep their (ahem) heads above water. At school, Tanuj becomes an instant celebrity. Tanuj's schoolmates wonder if it's a magic spell or a curse. Miss Titli the Drama teacher is excited as she has the perfect Ravana for the inter-school Ram Leela contest. Random strangers want to take selfies with him. The principal Mr. Khanna is keen to milk this opportunity for all it's worth to make the school famous.
Does Tanuj go back to normal? Find out as he has a confrontation with the original ten-headed Lanka King himself!
Ten Heads for Tanuj is written with crackling wit and is plotted to perfection. Every character, situation, and incident adds to the mirth and vigor of the storyline. My daughter and I especially loved the author's humor and how brilliantly she wrote the dialogues. We loved the exchange between Tanuj and his parents and how Appa and Amma managed to make the best of Tanuj's ten-headed situation! The teachers, the principal, the confrontation with Ravana and Tanuj's only way to break the spell -- the book had us hooked until we finished it!
We highly recommend Ten Heads For Tanuj. It's perfect for children aged 7 and above. My daughter finished it in one gulp and we read it together too! She thought the father was a pretty funny person.
Appa sighed. "So Tanuj has ten heads now," he mumbled, "that means ten sets of teeth to be brushed. No problem. I'll run to the grocer's and get nine more toothbrushes. Then we're all set."
We also loved how the book gave Ravana the spotlight and made him more relatable somehow. Our mythologies are wonderful because they can be mined for stories like this and because they have characters who are both heroes and villains. This makes it easier to really understand their motivations.

We also loved the Ravana Trivia at the back of the book! The illustrations by Shamika Chaves are fun and really bring out the humor in every situation that they depict!
Want to win a copy? We are running a giveaway of the book! There are 3 signed books in the offing. Here's how you can stand to win a copy!
Enter this Book Giveaway, open only to India!
Ten Heads For Tanuj: Book Giveaway!