School Card Exchange, Heart Shaped Dhoklis, and More -- We give you some super Valentine Ideas!
posted by Toka Box Editorial Team , February 01, 2019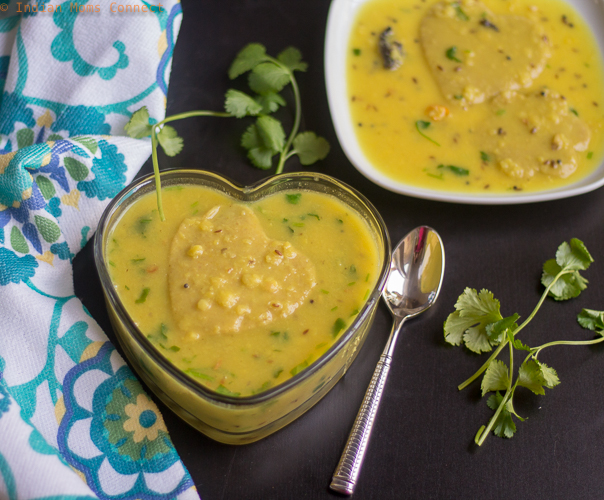 Make Heart-Shaped Dhoklis!
by Vidhya
Why does it have to always be heart-shaped cookies, cakes or chocolates for Valentine's Day? How about presenting a traditional recipe with a simple tweak instead? Here comes the kid-friendly heart shaped dal dhokli!

I always call Dal Dhokli Indian wheat pasta simmered in yellow lentil sauce! Last September I posted a Rajasthani Style Dal Dhokli on my blog. As kiddo likes this very much, I decided to try the Gujarati version also. And that's when I got the idea of trying different shapes of dhokli and decided to put my cookie cutter to its best use.

I have shared the dal version that my family likes. But the sky is the limit for the dal recipe. You can make your style of dal and add these dhoklis. This is a perfect brunch recipe that you can try on many occasions as well as over the weekends.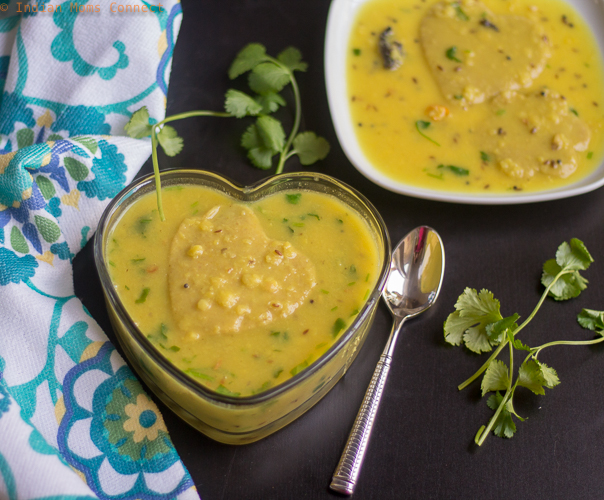 Let the creativity begin | The Toka Chef Moment:

A kitchen is a place where a lot of creativity can happen. Like our previous toka chef recipes, kids explore food texture (flour, dal and kokum) and fine motor skills. As I mentioned before, we are presenting a traditional dish in a different way. Talk to your kids about how food can be presented in different ways and I bet they will come up with loads of new ideas.
Dal Dhokli Recipe
Ingredients

For the Dhokli


Wheat Flour - 1/2 cup + as required for dusting
Turmeric Powder - 1/8 tsp
Water - 1/3 cup + 4 to 5 cups for cooking the dhokli


For the Dal


Turmeric Powder - 1/8 tsp
Cinnamon - 1/2 inch piece
Curry leaves - 5 to 6 leaves
Finely Chopped Ginger - 1/2 tbsp
Chopped Cilantro - 2 tbsps
Steps

Parental Steps | Prep work


Wash the toor dal (you can let your kids wash to toor dal too) and pressure cook for up to 4 whistles by adding 3 cups of water and 1/8tsp of turmeric.
Let the pressure release and once cooled, mash the dal and set aside.
Soak the two kokums in 3 tbsps of hot water for at least 45 minutes to 1 hour. Mash it well and extract the juice.


Preparing the Dhokli


Parental Step - Add the wheat flour, besan, turmeric powder, red chili powder, salt and sugar in a wide bowl.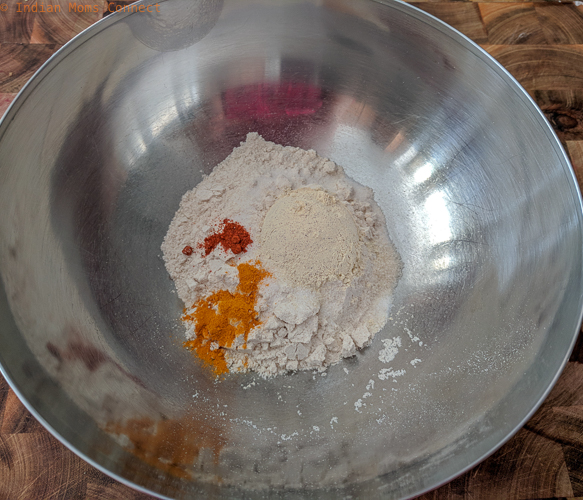 Parental Step - Boil about 4 to 5 cups of water in a wide bowl.
Child Step - Let your child mix the ingredients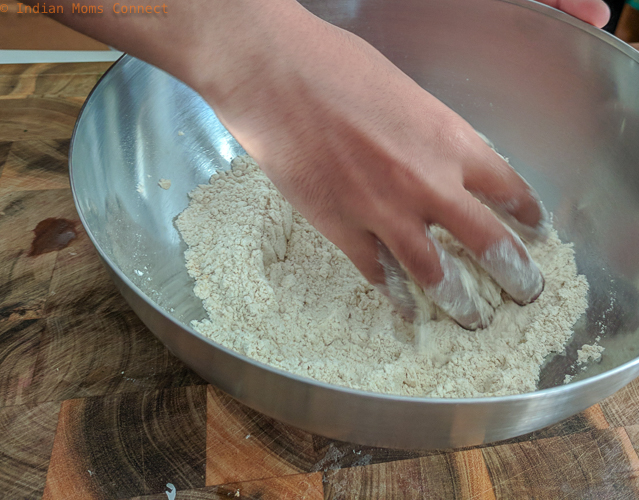 Parental & Child Step: Add water little by little and help your child mix the dough. Let them knead it and set it aside for 5 minutes.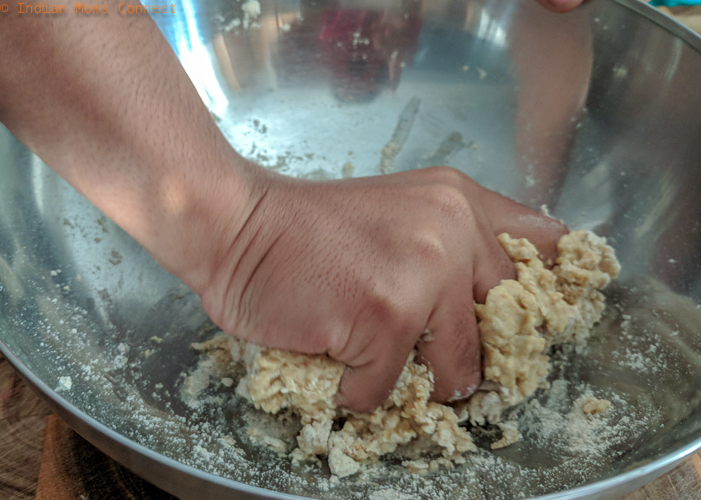 Parental & Child Step: Pinch a small ball of dough and roll it flat like we do for roti.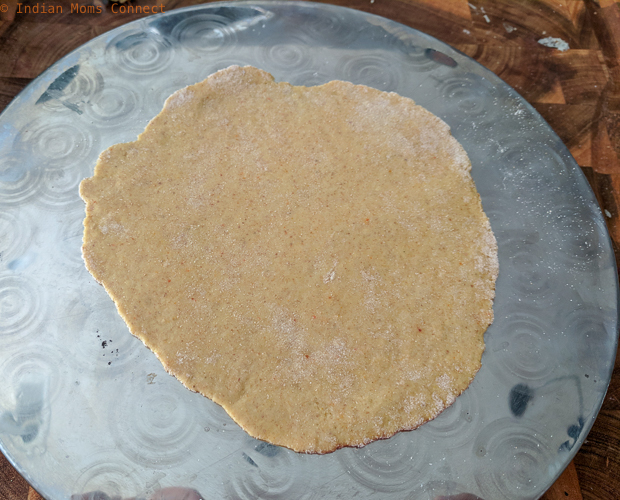 Child Step: Using a cookie cutter, let your child cut the desired shapes and set it aside.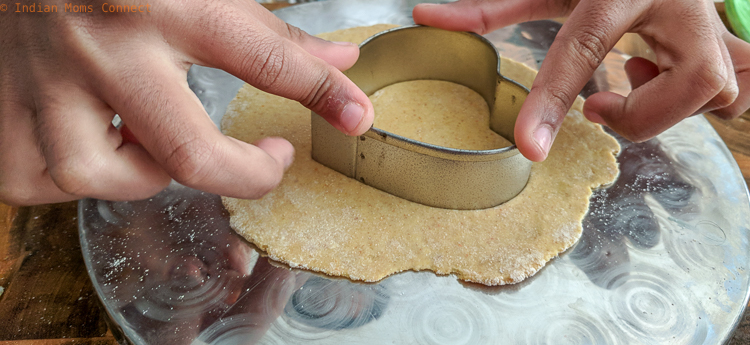 Similarly, carve out the desired shapes with the remaining dough.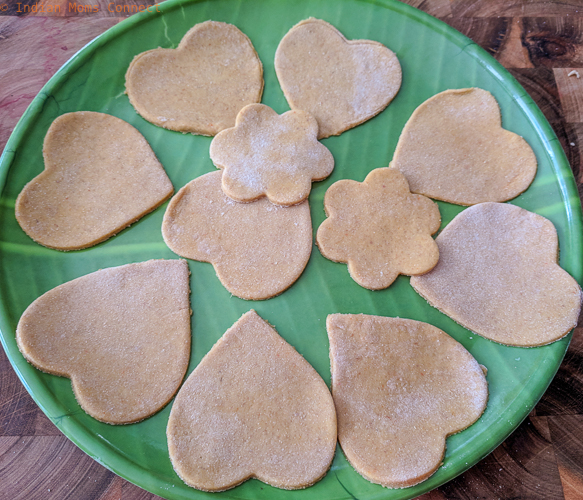 Parental Step - Slowly add the dhoklis and let it boil for 5 minutes in medium heat.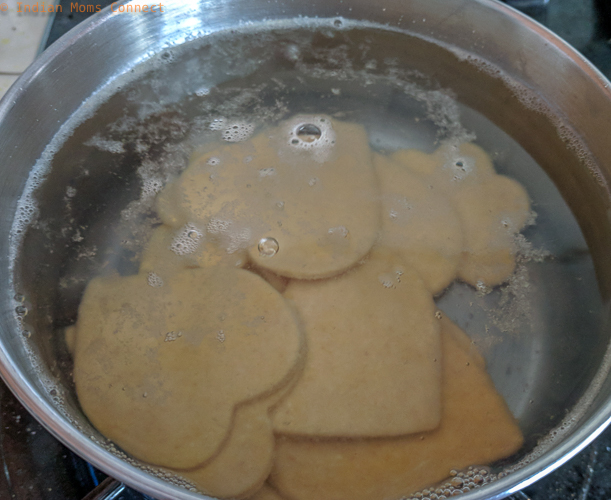 After 5 minutes, you can see the dhoklis come on top.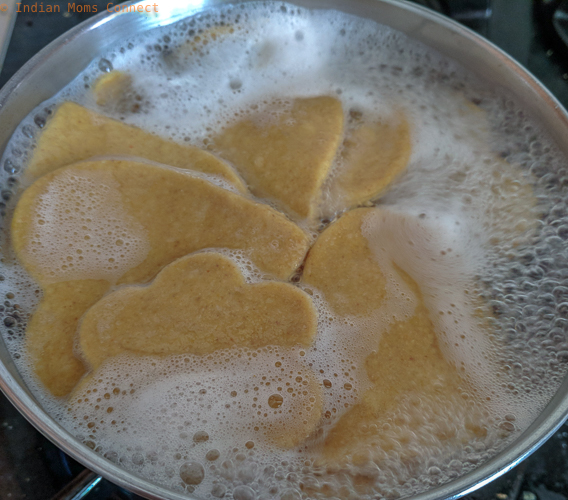 At this stage turn off the heat and let it sit in the water until the dal is done. You can drain the water, but make sure it doesn't get dry.


Parental Steps | Preparing the Dal


In a pressure pan or kadai heat ghee or oil. Once it is hot, add the mustard seeds, cumin seeds, hing, curry leaves.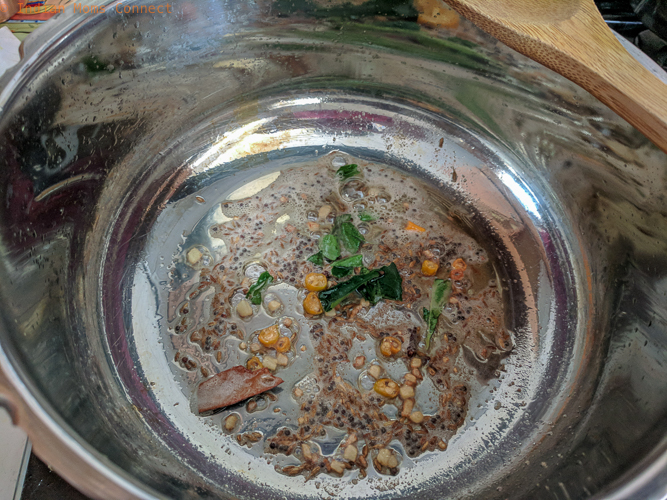 As they start to splutter, add the chopped green chilies, ginger, cloves and cinnamon. Saute for a couple of minutes.
Add the mashed dal, salt, and sugar and mix well. Also, add the kokum juice and bring it boil.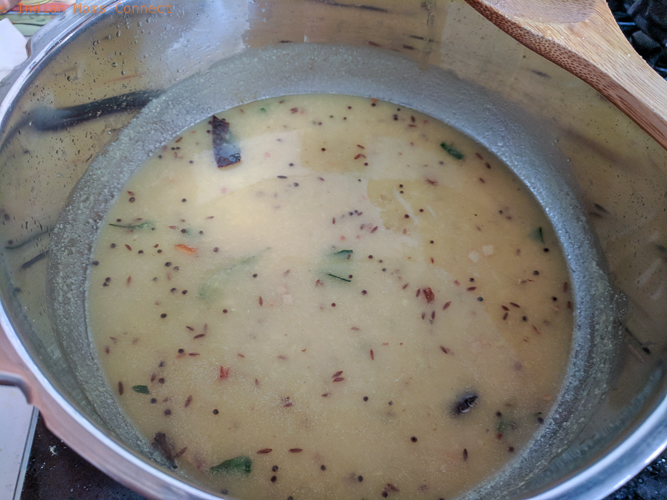 At this stage, drain the dhokli water and add it to the simmering dal.
Let it cook for 5 minutes over low heat.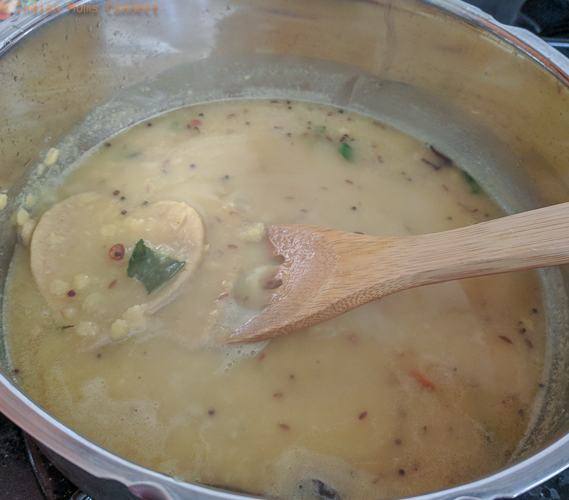 Finally, add chopped cilantro and turn off the heat.


Serve hot with a dollop of ghee.

Notes


Adjust the salt, spice, and sugar as per your preference.
You can use lemon juice instead of kokum.
As I mentioned, I prepared a no onion no garlic simple dal. But you can prepare dal in your own style.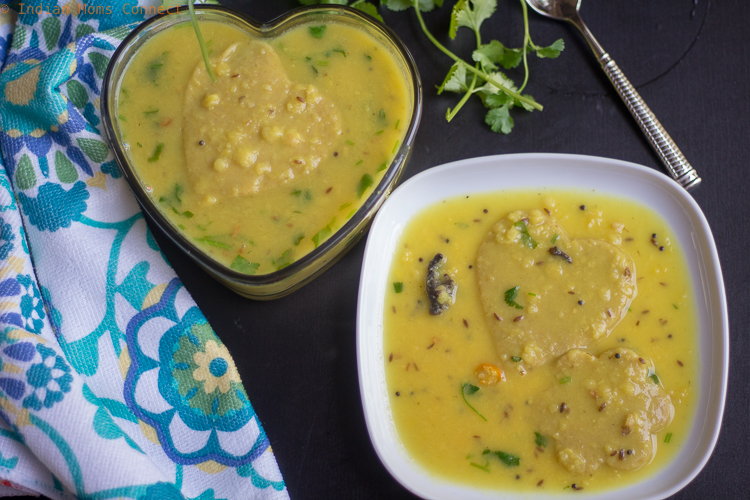 Toka Yum Moment

As I mentioned above, my kiddo likes this very much and every time I make this he keeps asking this question - why can't we prepare rotis and cut them into strips and call it dal dhokli? True right? What are your thoughts?
Exchange School Cards!

by Preethi
1. Valentine's Day is coming up and I found out that my daughter's school does a card exchange. I thought – Ok fine! I will go to Target and get those cards and be done with! Then a rainy Sunday arrived with absolutely nothing to do. Anyone with a 4 yr old knows that they demand to be kept busy otherwise there is a destruction of property, whining and crying, unreasonable demands … you get the picture!
What better to keep a preschooler busy than making a ton of mess!
Here is what we used:

1. Card paper – plain white
2. Red and Pink watercolors
3. Large brush
4. Scissors
5. Glue
Most of us would have this paraphernalia at home. I had decided I had to come up with something that –
1. It did not involve running out to the store.
2. It also had to involve a fickle preschooler
3. It could hold her attention and
4. I should not end up doing all the work (Gosh! I hate that! :))
We went through some iterations, which were too intricate and involved too much work – for me.
Then I decided to get simple. Hand over the paint and brush and have the preschooler go to town painting on card paper.
Find something with texture so it is not just paint smeared. Actually, if it is paint smeared that would be ok too!
Let the paint dry. Create a heart-shaped template using some card paper to use to cut out heart shapes from the painted pages. Meanwhile, your child might have gone off on a side project painting and drawing on the floor or making valentine cards for her own self (as happened with us!)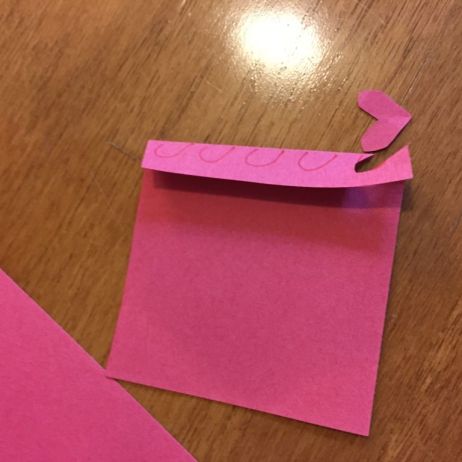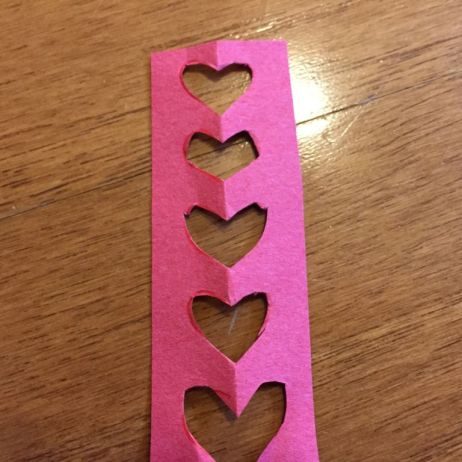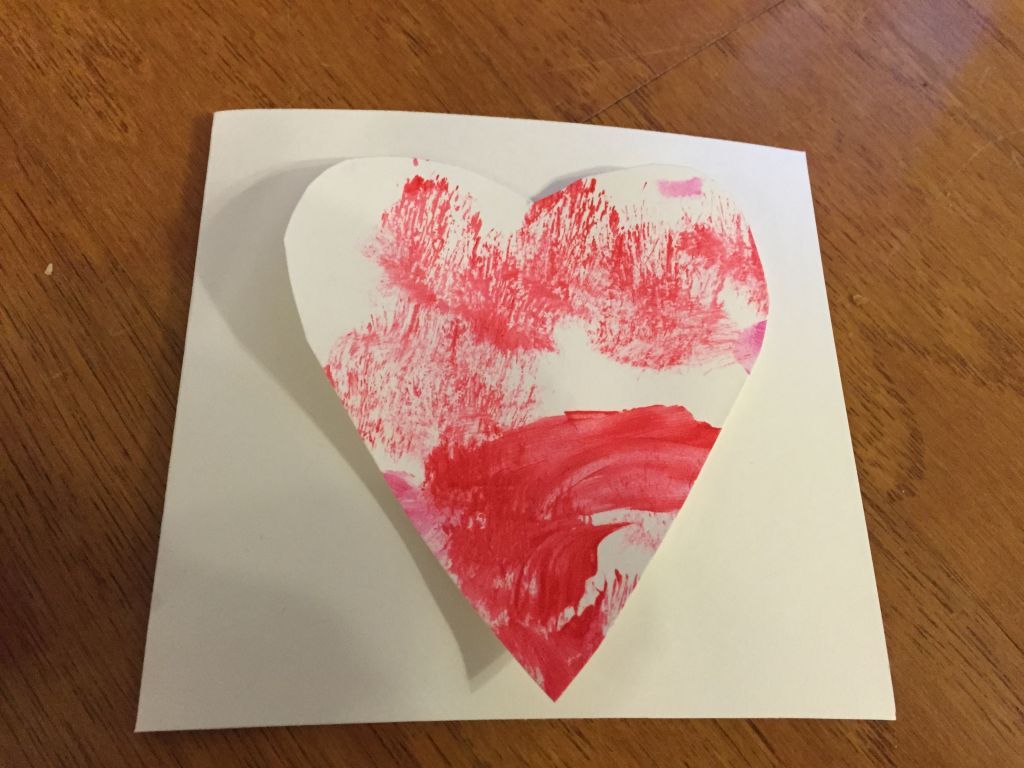 Next using a plain white card paper, fold in half longitudinally.
Place a heart shape to measure and cut a folded square card.
Give your child some glue and have them stick the heart right in the center.
That's it! You are done!
Happy Valentine's Day!
Make a Tree of Love!
by Ramya
I came across a number of Valentine's Day crafts on Pinterest. A's school got the kids to make a heart out of air drying clay and painted it red. They sent it home to us, after placing a tea light holder in the center of the heart.
Though back home, I had never seen anyone involve kids in a Valentine's Day celebration; the school's involvement here made me hunt for some crafts. I have a friend in the US, whose 2 sons had to each make 30 valentine day cards for their schoolmates and some more for their teachers as well. My friend, who chose to make the cards at home, instead of simply buying them from the store, swore that this was her first and last time at it!
So I thought, why not, let me give it a shot too – at least, I had no such commitments at school, so we made it a home project. I looked up a number of crafts and the 'Valentine Tree' interested me. Though what I saw was a miniature craft, a thin branch of twigs arranged in a small pot and hung with decorations, I ended up making just something else altogether! I wanted to use the tissue paper rolls which we had begun to save up, by default – just in case, a craft caught our fancy! So I set about making my tree from scratch.
I picked up 2 kitchen tissue rolls that are almost double the length of the standard toilet tissue rolls and fixed one on top of another vertically to make the trunk. I then cut a dozen regular tissue rolls to flatten them up. I asked A to color all of them with a dark brown hue and by using watercolors. Once they were dry, A and I drew bold branch shapes on them and I later cut them out. I stuck the branches on either side of the tree trunk so that it resembled a tree. I tried making bark shapes on them with crayons and chalk pastels. This is how the first cut looked: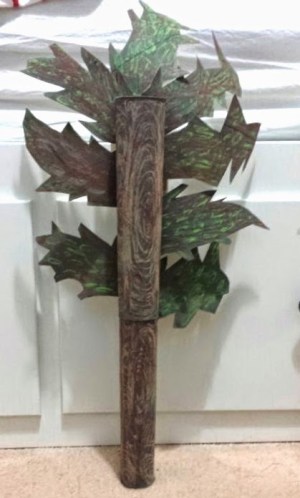 I wanted to jazz it up a bit, but couldn't think of anything, so this is how our tree looked for almost 3-4 days. And then, as I was punching colored paper one day for some other craft, I had an idea. I picked up 2-3 different green colored sheets and punched them quite a bit and stuck all the green dots randomly on the tree. I liked the look, here it is: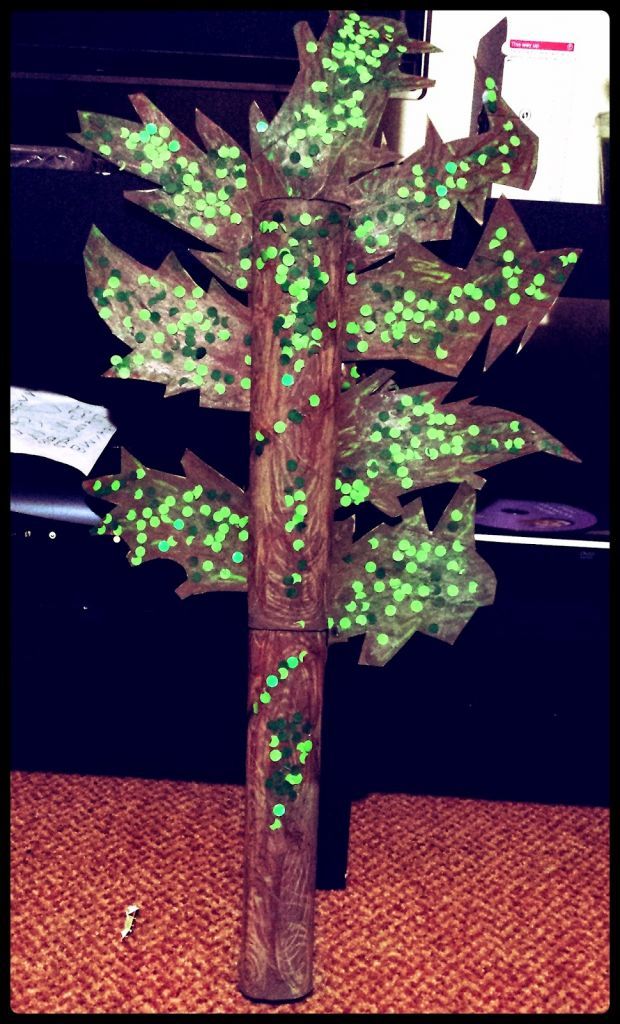 For the hearts, I picked up another recycling idea; you would probably laugh if I tell you this! I cut out hearts from plastic milk cartons! Hahaha!! I got this idea from a mommy online who made suncatchers with these – they did not seem like a very bad idea. A and I got to work with doing patterns and decorations on the hearts. We used everything and anything from buttons to felt to foam to beads to stars to even paper! A glimpse –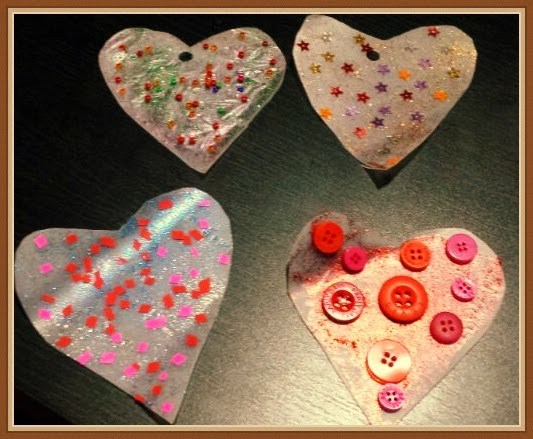 All the decorations were done by A with glitter glue and regular glue. I just did the cutting work wherever required! We took about 2 days to dry all our crafts and when they were ready, I punched a hole at the top middle of the hearts and drew red satin strings through them. When everything was ready, we put up the hearts on the tree and the decoration was done!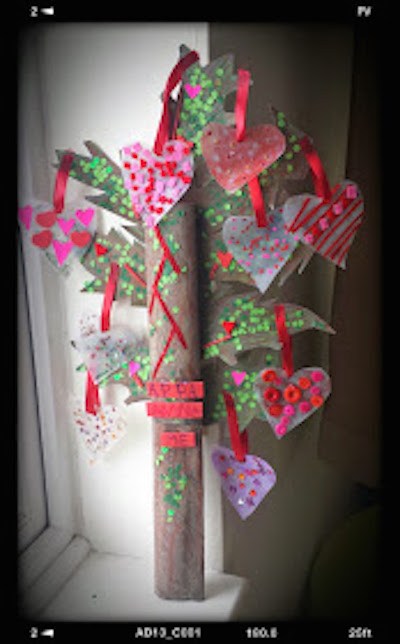 This is our tree of love – 'Appa, Amma and Me!' We presented this to Appa when he came home tired on Valentines' day evening – as expected, it was perfect to brighten up his evening! This was followed by a special dinner too! Heart shaped pasta! Yay!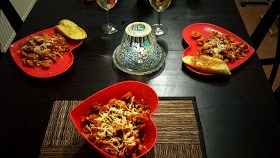 Happy Valentine's Day!