The Sacred Banana Leaf | Book Review
posted by Preethi Chandrasekhar, July 10, 2017
Trickster tales appear in the folklore of most cultures around the world. They are the popular tales about the wise, the clown, the fool, or the small animal who outwits the larger more powerful animals in the jungle. Tricksters and clowns can be human, animal or God-like characters, but their stories always convey social values of the culture they come from.

In Indonesia, these tales centered around Kanchil are most often told through shadow puppetry. These tales are now available as books for young readers.
The Sacred Banana Leaf

'The Sacred Banana Leaf' by Nathan Kumar Scott is a trickster tale which features Kanchil, a mouse deer. Kanchil lazily trots through the forest, engrossed in his favorite rice cake got from the Sunday market. He accidentally falls into a deep pit which was too slippery for him to climb. After a few failed attempts, he quickly devises a plot by turning the wrapper (Banana leaf) of the rice cake sacred.

[caption id="attachment_35285" align="aligncenter" width="800"]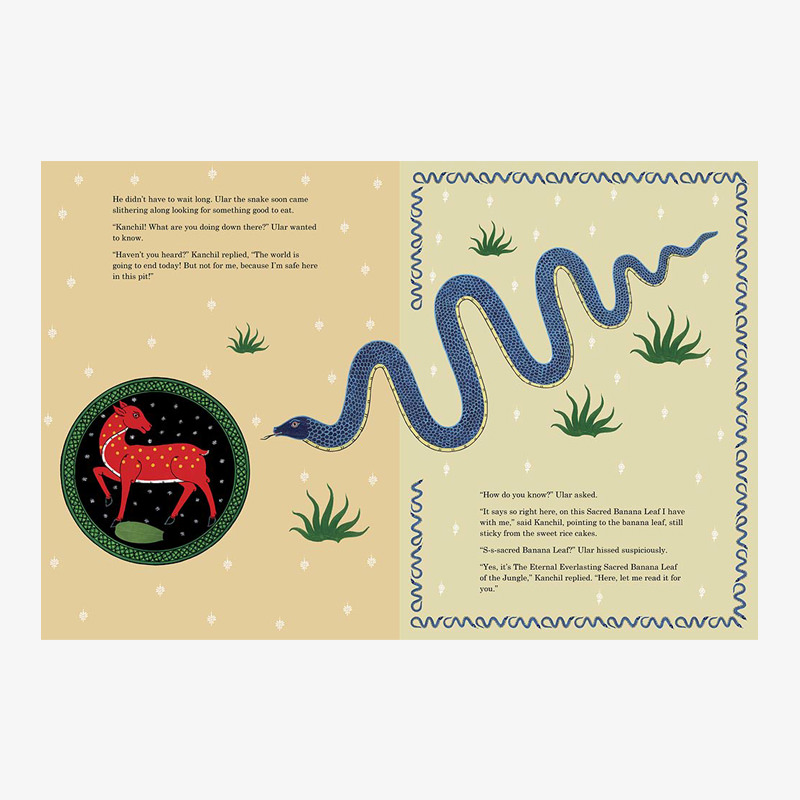 Pic Credit: Tara Books[/caption]

If you had followed the author's other books on Kanchil series like, 'The Great Race' and 'Mangoes and Bananas', you would have known by now that the illustrations of his books are unique. They bring to limelight traditional art forms from various regions of the country. This book has been etched with 'Patachithra', by Radhashyam Raut based out of Puri, Orissa. The art form specializes in extracting colors from plants and minerals found in that area. Hence, traditionally restricted to colors white, yellow, red, black and blue.

Simple language and interesting story line!
Buy Now

Amazon USA:


Amazon India:



Featured Image Source: Tara Books