An Interactive Journey Through Indian Art Movements
posted by Preethi Chandrasekhar, October 03, 2016
After Raza's Bindu, authors Ritu Khoda and Vanita Pai are back with Eye Spy Indian Art, an absolutely gorgeous and well-crafted book that takes us on a journey of the evolution of Indian Modern Art and its various movements.

They start with the pre-modern phase of the Company School depicting life, birds and animals in British India under the patronage of the East India Company and Kalighat Pats made of cloth that are accompanied by patuas who tell stories or sing folk songs.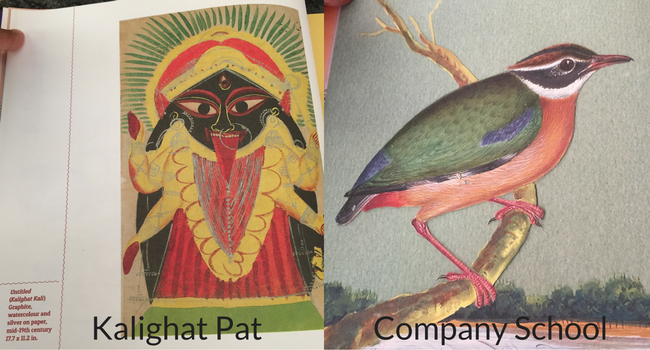 They continue with the Academic realism style of Raja Ravi Verma , the Bengal School or Shantiniketan style of Nandalal Bose and Jamini Roy, the Bengal Modernists, Progressive Artists' Group that include Tyeb Mehta and M.F. Husain, Modernists of the South, Delhi Modernists and the Baroda Modernists.

Each art movement has a sticker "key" to "unlock" it, and paintings to trace and cut and experience in a hands-on way!




Here is one we did with Nandalal Bose's Esraj Player, marvelling at the smooth sure lines that bring the painting to life.





[pullquote]This book is a keeper and a gift for any young artist to have in her library[/pullquote]

The book is an amazingly well-done effort to make Indian Art accessible, making it easy to touch and feel these paintings and look closely at them, guided by the authors questions to ponder and the little activities that let us peer in deeper. This book is a must-have and a gift for any young artist to have in her library, a book to come back to again and again, each time finding something new.

It is also not a book to be read in a stretch, leave the book lying around the house, come back to it and open it at random to read about a certain artist and peer closely at their paintings. Arm yourself with a marker and trace M.F. Husain's portrait, or finish Jamini Roy's painting with your own imagination or explore Amitava Das' painting with your art supplies!

Perfect for that lazy Sunday afternoon or make that many lazy Sunday afternoons!