Instant Pot Saatvik Kichadi | Toka Chef Recipe
posted by Preethi Chandrasekhar, June 06, 2018
Kichadi is one of the famous and staple food of India. There are different types of kichadi, and every state of India has their signature kichadi recipe. Today, I am going to share the Vrindavan style Saatvik kichadi without any onion and garlic.

Kichadi is also known as kitchari, khichuri, kichuri bhaat. This favorite Ayurvedic food is delicious, healthy and nourishing as well. This cleansing meal is easy to make as well.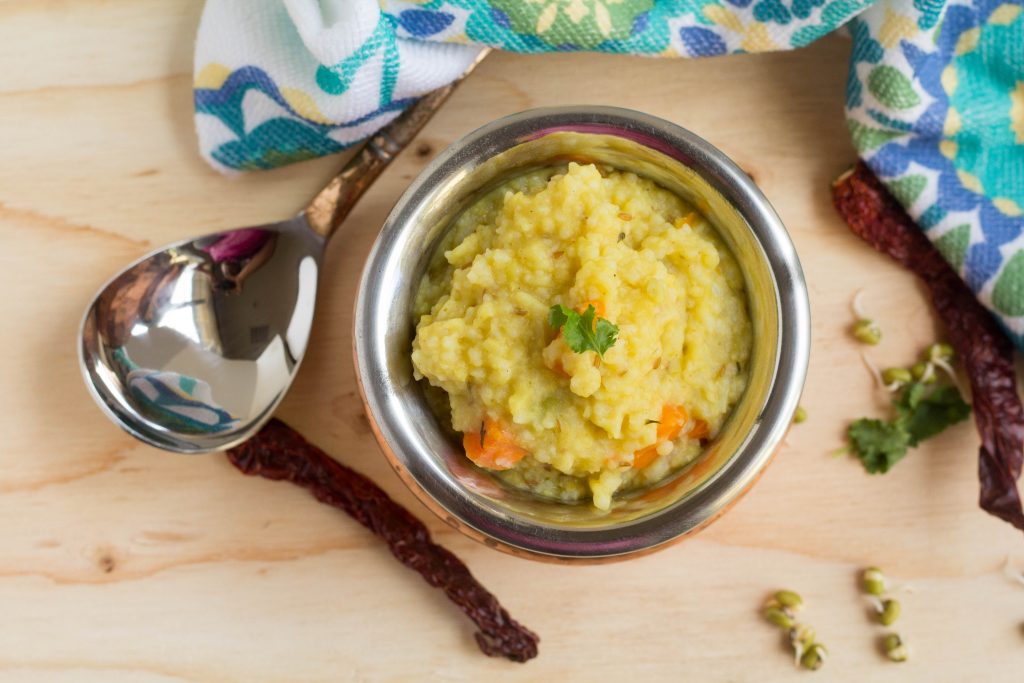 If you are planning to introduce rice to your toddlers, this is one among the best bet. Today I am sharing the Instant Pot version of it, but this can be made in the pressure cooker as well. Before I get into the recipe, I want to share about our "recipe live" that we do on Instagram every month. Join us on the last Saturday of every month at 9 AM PST where my son and I make the Toka Chef recipe.
Toka Yum Moment:

This June moth theme for Toka Box is "Yoga," and we want the recipe to align with the idea. I had few recipes on my mind, but as kiddo likes it very much, I went with kichadi. Kichadi is a very mild food prepared with rice and moong dal along with other veggies. The no onion no garlic Vrindavan style kichadi is very gentle and perfect for toddlers and young kids.
Toka Chef Moment:

We use different spice powders in this recipe, and it is a great way to introduce spice powders to your child. When we were doing live on IG, kiddo was asking about coriander seeds and powder. I mentioned that we get the seeds from cilantro plant and then immediately he wondered why say coriander powder instead of cilantro powder? One interesting question right? I didn't answer him on that day, but cilantro powder is dried cilantro leaves powder which is green in color whereas coriander powder is the dried coriander seed powder. Kids are always curious, and they ask interesting questions. We learn a lot from them too.

Now without any further ado, here is the recipe.


Instant Pot Version of Saatvik Kichadi

Ingredients:


Curry leaves - 5 to 6 leaves
Red Chili Powder - 1/4 tsp
Coriander Powder - 1/4 tsp
Turmeric Powder - 1/4 tsp


Prep - Work:


Child Step: Let your child wash the rice and moong dal. Allow them to rinse twice and drain the water.
Parent Step: Chop all the vegetables and set aside.


Steps:
(As I used IP, I let my son, add all the ingredients. But if you are using the pressure cooker, please modify the steps and help your child on needed basis)


Parent Step: Turn on the IP.
Child Step:

Let the child set the IP on saute mode and add the ghee.
Child Step: When the ghee melts, and it turns hot, let your child add the cumin seeds, hing and curry leaves. Let it fry for 30 seconds.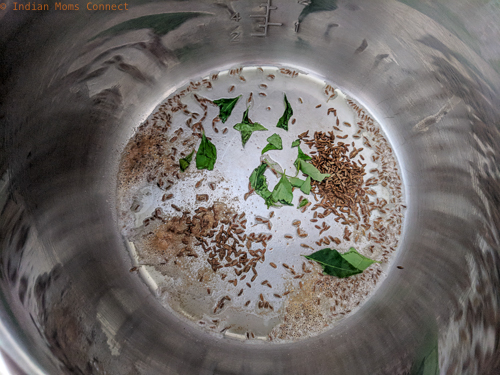 Parent Step/Child Step: Carefully add the chopped vegetables, red chili powder, coriander powder, turmeric powder, and garam masala.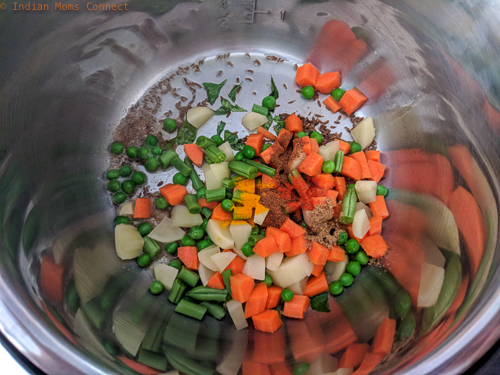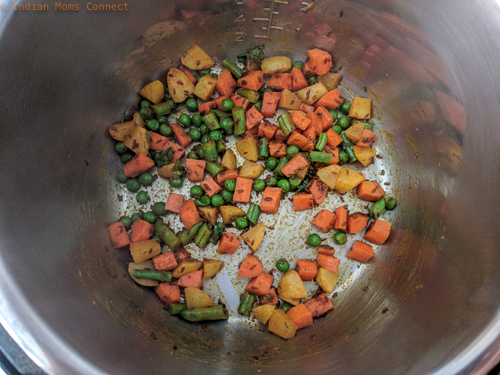 Parent Step/Child Step: Now add the washed rice, dal, salt, and sugar, followed by 4 cups of water. Mix well.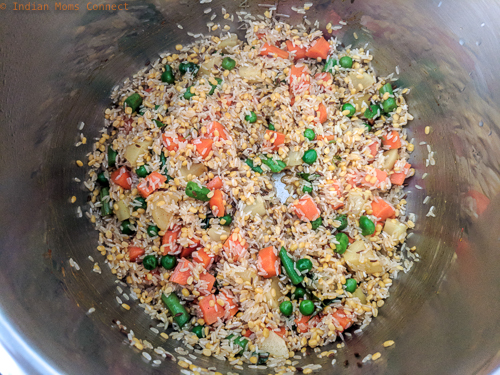 Parent Step: Close the IP lid and set it manual mode and cook it for 7 minutes at high pressure. Allow the pressure to release naturally.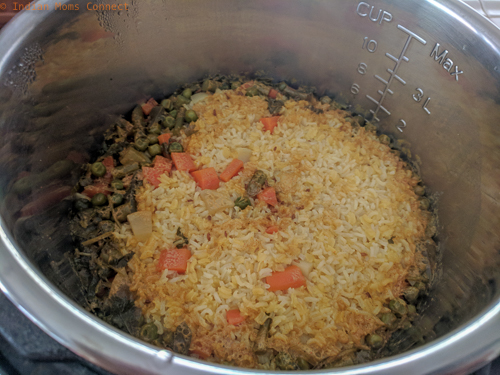 Parent Step: Carefully open the lid after the pressure is down. Mix it well and garnish with cilantro leaves and serve hot.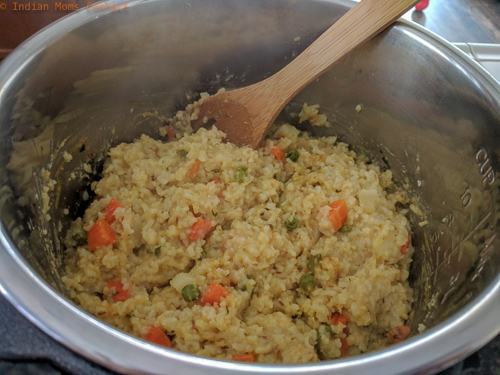 Notes:


As always adjust the spices and salt as per your preference.
You can use veggies of your choice. You can include onion and garlic as well for additional flavor. But as I mentioned before, Vrindavan style kichadi doesn't call for any onion and garlic.