Instant Pot Carrot Sauce Pasta | Toka Chef Recipe
posted by Vidhya , March 06, 2018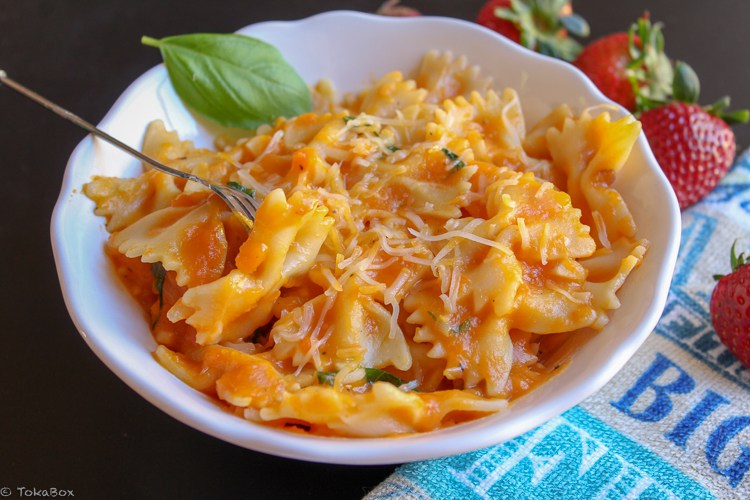 It's time for the toka chef recipe, and today I am going to share a pasta dish but with a twist! Instead of regular tomato and pesto sauce, how about using carrots for the sauce? And that's precisely what I am going to share today - a recipe for kid friendly carrot sauce pasta!

In March, Toka Box is all about spring and how to start your veggie garden. Both the Junior and the Explorer boxes cover this theme, and kids get to learn about spring gardening and climbers, creepers and root vegetables. Check out our Toka Box site for more information and also about our upcoming boxes. Don't forget to subscribe!
Toka Chef Moment

In this month's Toka Box, we spent more time discussing different types of vegetables. We kicked off the seed starting process and how plants make their food. We were playing a small quiz where the kiddo identified if the vegetable that I said was a creeper, climber or a root vegetable. Also, I was explaining the nutrients and vitamins in each veggie. Utilize this time and help your kids understand the significance of vegetables.

I prepared this carrot sauce pasta with the instant pot, but I have explained the traditional stove-top method on the notes section as well. Here comes the simple pasta recipe.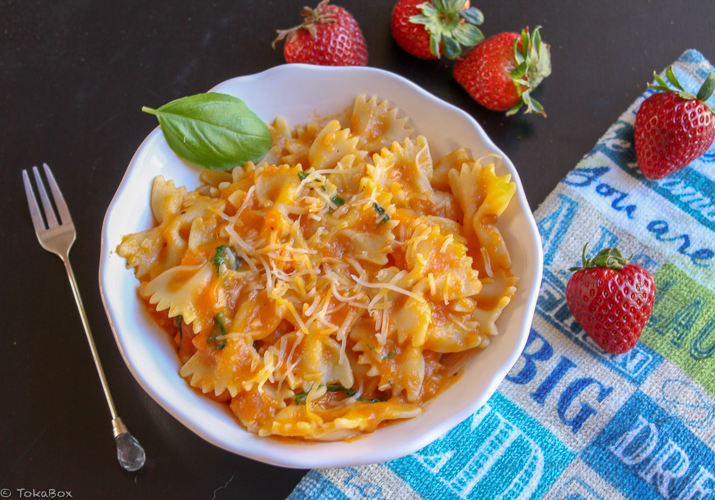 Ingredients:


Your choice of pasta - 2 cups
Fresh Basil Leaves - 4 to 5. If using dried, then one tsp.
Grated Pepper - as per your preference. I used about 1/2 tsp.
Cheese of your choice - as required.


Prep-Work:


Parental Steps: Peel and chop the carrots roughly. Also, peel and cut the shallots, garlic. Tear the basil leaves into small pieces.


https://www.youtube.com/watch?v=WqTusRiEh8A
Instant Pot Method
Parental Step - Plug in the IP and turn it on.
Child Step - Let your child add the pasta, water, carrots, one tsp oil, one tsp salt and mix them all.
Parental Step - Close the IP lid, vent sealed and set it manual mode on high pressure for 3 minutes. After it beeps, let it sit for 5 minutes and quickly release the pressure. Then carefully open the lid.
Depending on the child's age, parents can allow the kids to do the below step, or they can do it.
Child / Parent Step: Separate the cooked carrots and pasta. Do not discard the water.
Parental Step: Let the carrot cool and puree it by adding the pasta water.
Parental Step: Set the IP back to saute mode and add the remaining one tsp of oil.
Child Step: Let your child add the chopped shallots, garlic, and basil, and mix. Let it cook for a minute
Parental Step: Help your child add the cooked pasta, pureed carrot, and the pasta water. Mix them.
Let it cook for 3 to 4 minutes.
Child Step: Let your child add freshly grated pepper and mix again.
That's it. Sprinkle cheese on top and serve hot.

Notes:
Stove-Top Method
You can cook the pasta as per the directions on the cover. Make sure it is al dente. Drain the pasta and save about 1/2 cup of pasta water.
Pressure cook or boil the carrots in your preferred way and let it cool. Once it is cooled, puree it.
Now heat a pan or wok and add the oil. Then add the chopped shallots, garlic and basil and saute for a minute.
Then add the cooked pasta, pureed carrot and pasta water.
Let it cook for few minutes. Finally, add required pepper and serve hot with cheese.


Notes:


Adjust the salt and pepper as your preference.
You can prepare butternut squash sauce or pumpkin sauce similarly.
I just added basil, but you can try other Italian herbs fresh or dried as per your preference.
Toka Yum Moment

Kiddo liked this very much, and he asked to prepare it again for his lunch box. He wrote this on the roaring lunch menu so that I won't forget. That menu card craft was part of our June 2017 Toka Box! :-)