4 reasons your baby will love this unique South Asian board book!
posted by Shweta Sharan, April 23, 2019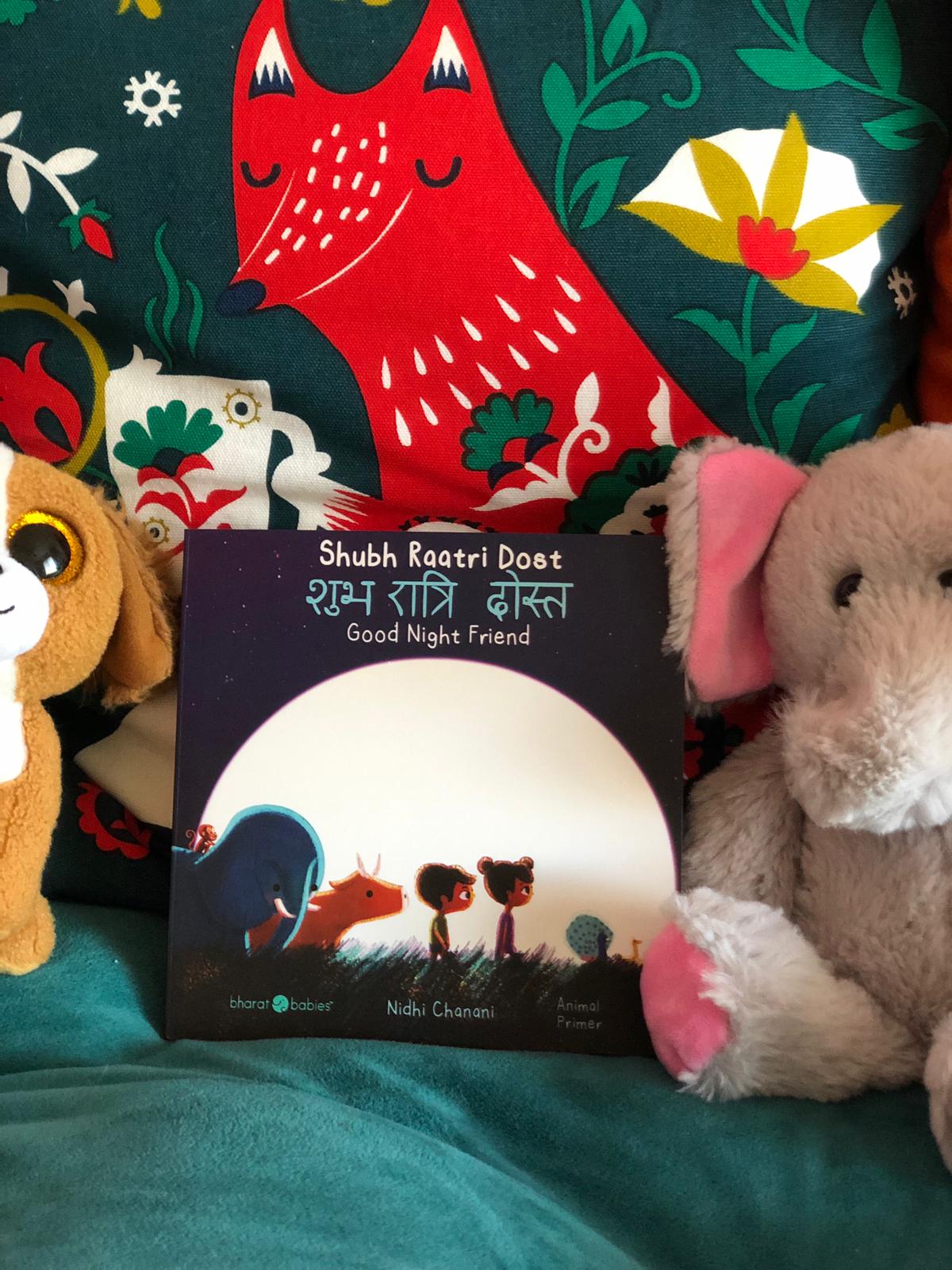 In a market that has very few South Asian board books, Shubh Raatri Dost by Nidhi Chanani is an incredible find!
When my daughter was a baby, there were no South Asian board books that were available. I was a little disappointed because I had read so much about how babies and toddlers need pictures and representations of themselves in board books. Diversity is the key to opening a baby's first understanding of himself or herself.
Better late than never! Thanks to Toka box, I discovered this beautiful board book and presented it to my good friend's little son who lives in America. My friend was thrilled and couldn't believe such board books existed. They do exist, and this fabulous book is brought out by Bharat Babies. Here's why I absolutely loved it!
1. It is a bedtime story with a difference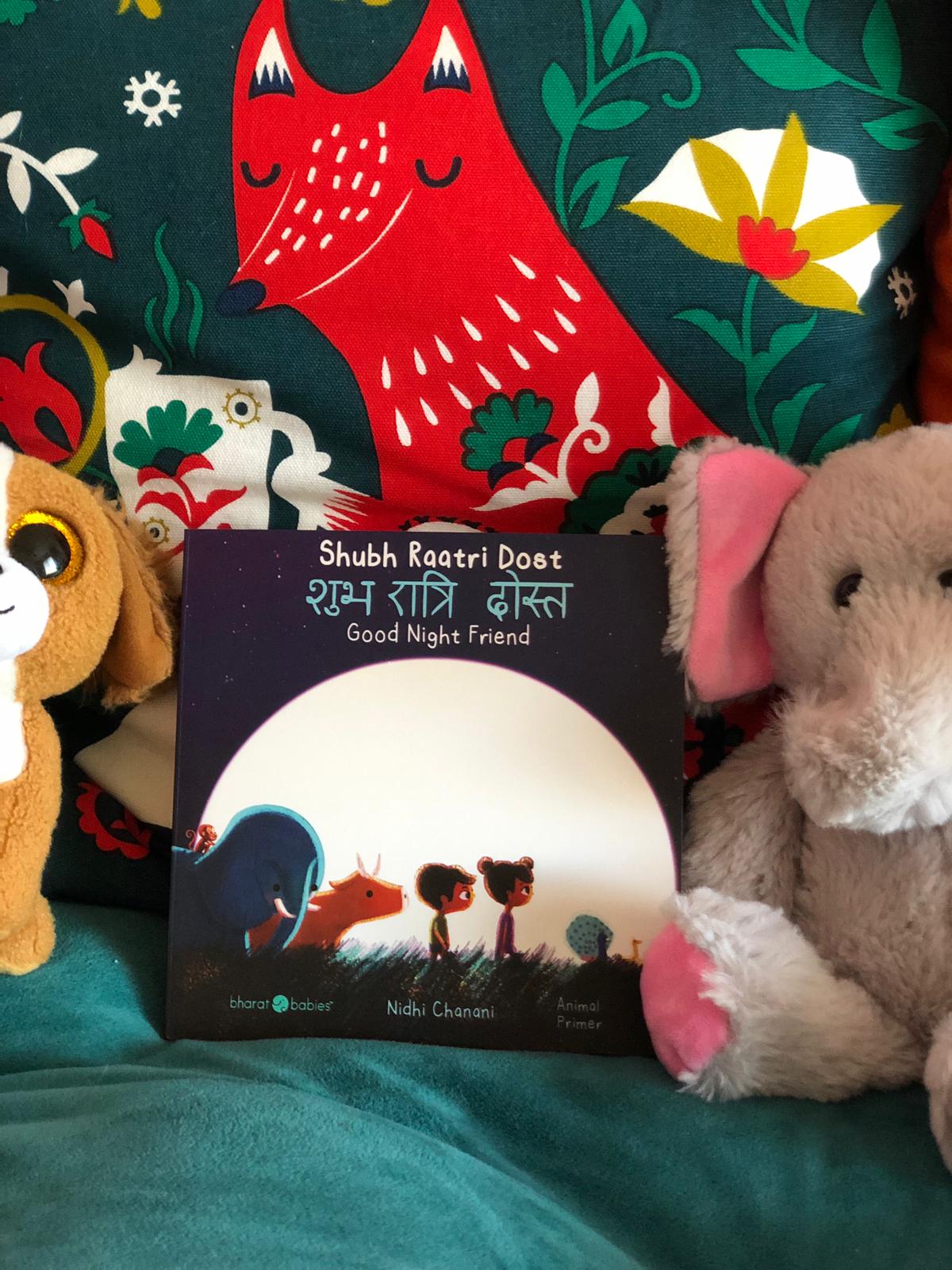 Shubh Raatri Dost written by Nidhi Chanani and This beautiful Hindi-English board book shows how Bhai (brother) and Behan (sister) walk through their Indian farm home, bidding each and every animal goodnight. The book, with its refrain of 'Shubh Raatri' or 'good night,' works as a beautiful bedtime story. Its mood, ambience and the gentleness of its words and illustrations really make it a soothing, calm and gentle bedtime tale for babies. We like how Bhai also says 'Shubh Raatri Pyaas' meaning "good night thirst" even as he drinks a beautiful steel tumbler of water!
2. It is bilingual in a way that really works!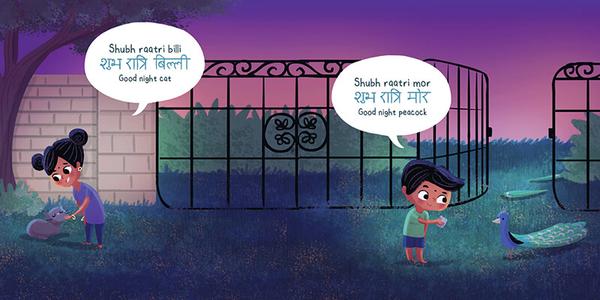 Every sentence in every page has a Hindi translation in the Hindi script, Romanized Hindi and English, making this an accessible and easy bilingual book that actually works! We love the way the babies in the book say 'dhanyavaad' or 'thank you.' We love the sequence that the book follows, the soothing repetition, and the rhythm.
3. The illustrations transport you to a baby's world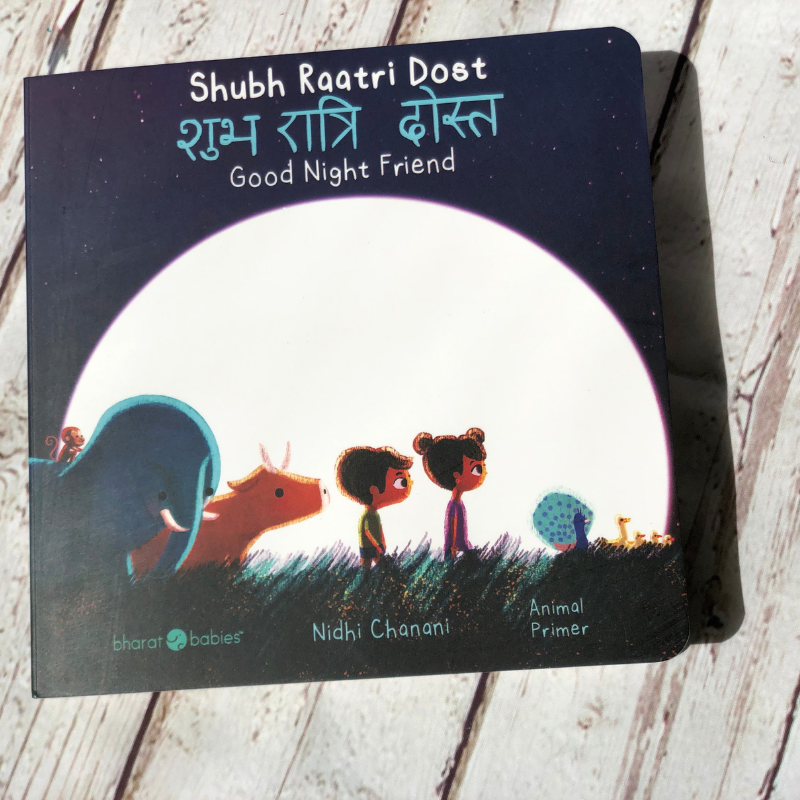 The author is also the illustrator! The color, tone, mood, and illustrations will transport you to a different world. They will make your baby yawn with a smile, and wind down beautifully so that they can prepare for bed. All the pictures are drawn and colored like they are bathed in moonlight. The last picture of the children sleeping outside their farm, with the animals and birds sleeping peacefully on the adjoining patch of land, assures you and your baby that when asleep, the world is at peace. Tomorrow is another day for sure!
4. It has South Asian characters
We love the South Asian characters, Bhai and Behan. Children love looking at people as families -- is that a brother and sister? Is that a mamma and baby? The two siblings will instantly appeal to your little one's sense of the familiar. The characters are closer to the age of a child who reads board books.
Watch a video!
This book is the Toka Box book pick for the April Toka Peanut Box! It is perfect for babies and toddlers. In the box, we combine it with stacking blocks that are fair trade, handmade from India and have South Asian imprints of animals and birds.