Toka Chef Recipe - Ice Cream Bread
posted by Preethi Chandrasekhar, May 04, 2017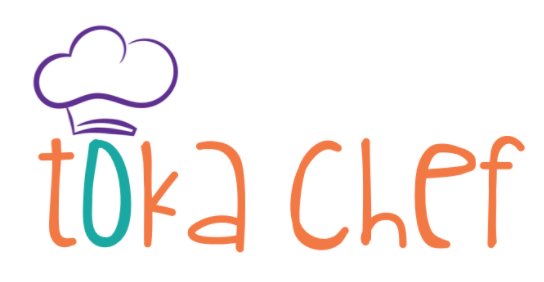 Can kids make bread all by themselves? Oh yes! with the Ice Cream Bread.

The month of May at Toka Box is all about Mother's day and so is the recipe! Try this two ingredient bread recipe and wow your mom!

A No Yeast, No knead Ice Cream bread - all you need is two main ingredients: Ice Cream and Self-Rising flour (refer notes for alternatives). Mix them and bake them. Voila! - Ice Cream Bread is ready.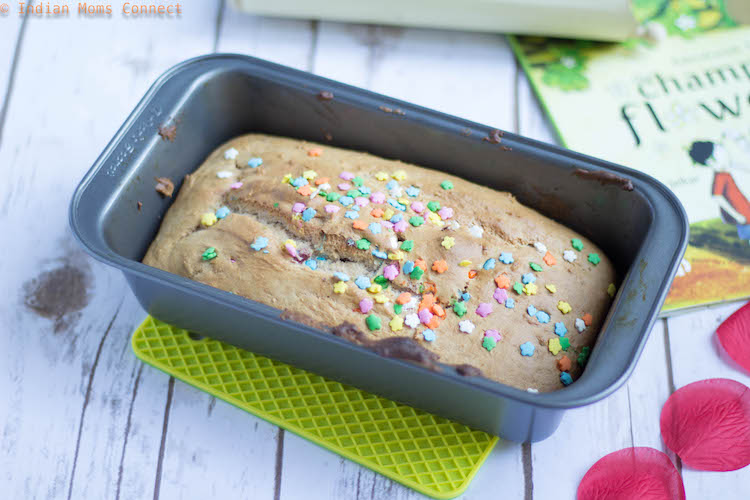 Earlier I posted this recipe on my blog where I used Vanilla Ice Cream. I make this bread many times, and one time, my son - vaandu helped me throughout the recipe! Which is when I decided it will be ideal for a Toka Chef recipe.

This time, I decided to use strawberry flavored ice cream and took a video too. You can see how simple this recipe is.

The interesting thing about this recipe is no one knows the origin of this bread. Apparently, someone posted the recipe they tried from the Southern Living magazine in food.com. This bread reminded me of the wonder cake that we used to have in India.
Ingredients:
Strawberry Ice-cream - 2 cups (softened) / 1 pint
Self - rising flour - 1.5 cups
Colored Sugar Confetti/sprinkles - 2 tbsps.
Prep-Work:
Parental Step: If you ice cream is not soft, microwave it for 20 to 30 seconds and set aside all the required ingredients.
Steps:
Parental Step: Pre-heat your oven to 350 deg F.
Child Step: Let the child add the ice cream and sieve the self-rising flour in a wide bowl.
Child and Parental Step: If you child can handle the hand mixer, let them combine the ice cream and the flour mix with it or a hand whisk works too. Help them on required basis and make sure you remove all the air pockets and mix until well combined.
Child Step: At this stage let your child add the sugar confetti or other toppings.
Parental Step: Fold the confetti and topping and make sure they are combined well.
Child Step: Let them spray the loaf pan with cooking spray or grease it pan with oil.
Parental Step: Pour the batter evenly.
Parental Step: Bake for 35 to 40 minutes or until a toothpick when inserted comes out clean.


Let it cool before slicing. That's it yummy ice cream bread is ready.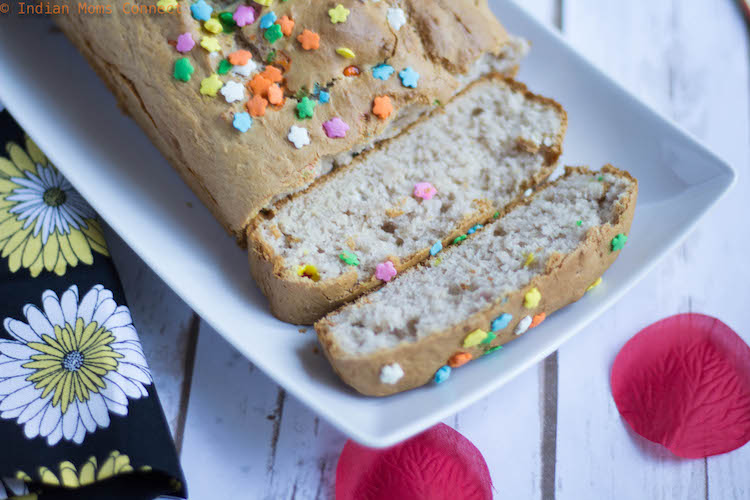 Notes:
You can use any flavored ice-cream, but try to avoid the non-fat ones.
You use any toppings like tutti frutti, sprinkles or even chocolate chips.
Insert a toothpick after 30 minutes and bake 5 or 10 minutes more accordingly.
If you don't have self-rising flour, you can prepare it by combining of 1 cup of all-purpose flour and 1.5 teaspoons baking powder and 1/4 teaspoon fine salt.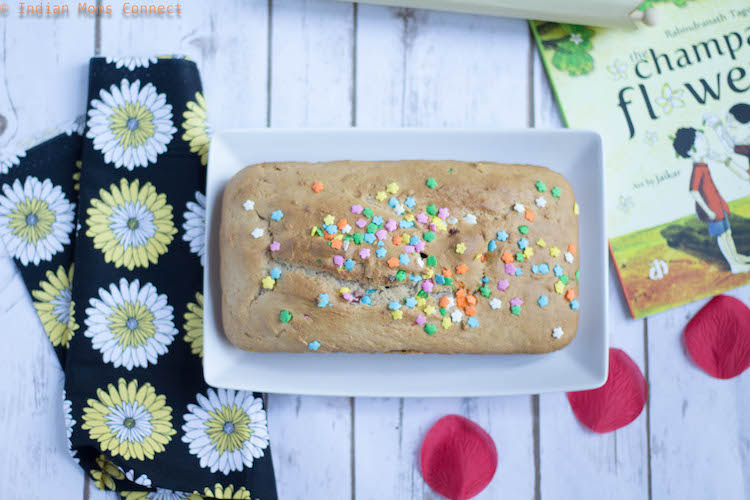 Math and Science!

Baking requires mathematical precision, from measuring the flour to ice cream ratio to setting the time to bake right!

How about exploring a little bit of the science behind the bread? Self-rising flour contains baking powder that acts as a leavening agent. Baking powder contains baking soda (sodium bicarbonate) and a dry acid (cream of tartar or sodium aluminum sulfate). When liquid from the ice cream is added to a self-rising flour, these two ingredients react to form bubbles of carbon dioxide gas that leaven or fluff up the bread!

Toka Chef Moment:
I was planning to add tutti frutti, but it was kiddo's idea to add sugar confetti's sprinkles.

Toka Yum Moment:
Like gujiya, the kiddo ate the batter mix and was super happy to lick the bowl clean.
Subscriptions are now open for the June 2017 Box with a Food Theme at www.tokabox.com