The Great Race by Nathan Kumar Scott | Book Review
posted by Preethi Chandrasekhar, July 10, 2017
"The Great Race" is an Indonesian trickster tale retold by Nathan Kumar Scott. It is the third story in the Kanchil series. The other books in the series include the popular 'Mangoes and Bananas' and 'The Sacred Banana Leaf'.
The Plot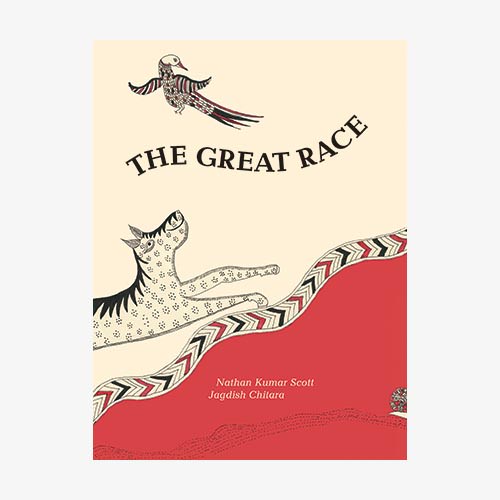 The Great Race is a story twined around social values. It begins when a mouse deer named Kanchil (speedster of the forest) who challenges his fellow inmates to compete with him. When no one dares to confront, a snail named Pelan does!
At the outset, the plot feels quite homogeneous to the hare and turtle race tale we all know. The story then spins revealing a dramatic turn of events that takes the readers by surprise.
The victory of the weak over the top notch performer appears as a bolt from the blue for the onlookers of the race. But the race happened not just once but twice, declaring Pelan, the undisputed winner.
This story not only educates the kids that sometimes a little smartness can help them win at something which is not their forte even against a naturally talented opponent but also teaches them the value of being humble.
The Illustrations

[caption id="attachment_35280" align="aligncenter" width="564"]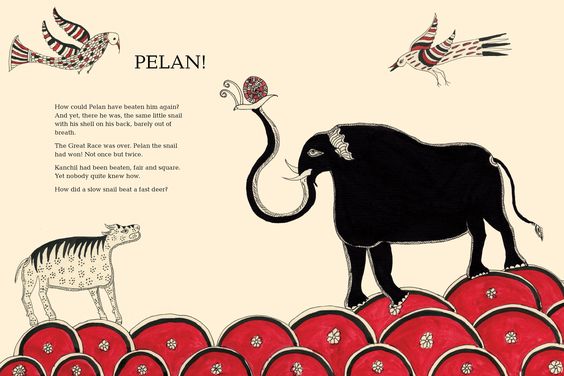 Pic Credit: Tara Books[/caption]

The highlights of The Great Race are the illustrations by Jagdish Chitara, a traditional artist of the Waghari group. This group actually does textile block printing in the exquisite 'Mata Ni Pachedi' style with natural dyes, representing Mother Goddess and the stories and myths around her. The colors used are mainly blood red, black and white. These traditional images exclusively contained for textiles were brought into contemporary forms in the book, while also retaining it's integrity and essence!
The Highlights

A combination of a fantastic folk tale, a traditional art form and thrilling narration. Simply a book in all splendor awaits you!

Buy Now

Featured Image Source: Amazon India