We are giving away 2 free copies of the latest book by Malala Yousafzai!
posted by Shweta Sharan, February 27, 2019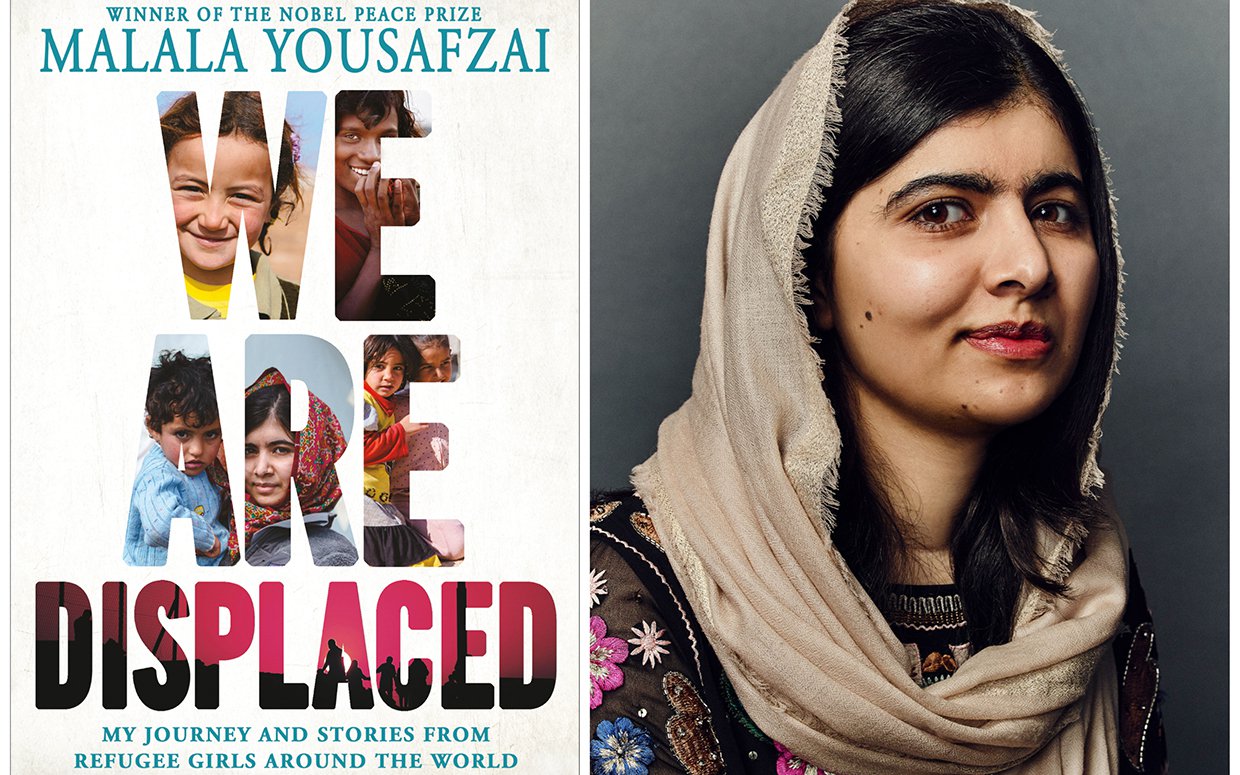 Filled with astonishing stories of displacement and courage, Malala Yousafzai's new book, We are Displaced: My Journey and Stories from Refugee Girls Around the World, is so brilliantly written and engaging to read that you will finish it in one go. We are giving away two free copies to coincide with Women's Day, so enter the contest now!
Like everyone else in the world, I love and admire Malala but more than her activism, I think she is a truly gifted writer. She writes with clarity, purpose and with a certain cadence that I find only with truly gifted writers. She can transport us to the world that she is remembering and describing. Her passion for education is so genuine and refreshing that I too am enthused whenever she talks about it or expresses her feelings on the same. She is a famous activist who won the Nobel Prize but her writing has no jargon or outright feminist polemics. Her views are so original and refreshing.
'We Are Displaced' is Malala's latest book and the title is very telling. Aren't we all displaced in some sense in this fragmented and deeply unsettling world that we live in?
Filled with fascinating details
The book begins with Malala writing about her time in the Swat Valley and gives us a glimpse into how the Taliban were attacking schools. At one point, Malala wonders why they attacked schools even when they had drained them of women and forbidden girls to get educated. Reading this section of the book keeps you on the edge of the seat, with the Taliban even banning cassettes and one harrowing incident when Malala and her family are traveling in a car and have to hide their cassettes during a Taliban inspection. Malala talks about she wrote blogs on BBC Urdu that told the world about the problems in the Swat Valley and how her father, despite many attempts to keep their girls' school open, was forced to shut it down.
When the family went to Shangla and then returned to their home in Swat Valley, one can observe Malala's happiness at being back home and in her bed and room, much like any other girl her age who longs for home. This longing for home is tinged with disbelief that it is still there. Even when she shifts to the UK following the shooting, she mulls over what she is expected to feel as an immigrant -- gratitude towards the country that has granted her space, or terrible homesickness? In Malal's case, it is a bit of both.
Stories of refugees
Some of the people who write essays in this book have such stupendous stories to tell. Each essay penned by refugees begins with a short note from Malala and how she met these young women. I was particularly moved by the story of Zaynab, a young girl who got a Visa to go live in Minnesota but her sister did not, and how they both ended up in different parts of the world. The journeys take us to Yemen, Cairo, Italy, and many other countries. Malala even gives voice to girls like Maria, who got displaced because of the Columbian civil conflict. Young women from Zambia, the Congo, Myanmar, Uganda, and of course, Syria, share their stories and journeys. The tales are staggering, moving, amazing, and engrossing. You just can't put this book down!
Throughout the book, we can sense Malala's yearning for her hometown and in the essays featured in this book, all written by all the displaced women, we can sense their immense sense of displacement, chaos, and disruption.
Don't miss reading We are Displaced: My Journey and Stories from Refugee Girls Around the World. It is one of the best books I have ever read in my life, and I read a lot!
Featured photo: https://parade.com/wp-content/uploads/2019/01/malala-yousafzai-we-are-displaced-ftr-1.jpg
We are giving away 2 copies of Malala's latest book. Don't miss it!
"We are Displaced" Contest Giveaway!