7 Hindi Picture Books for Your Child
posted by Toka Box Editorial Team , September 14, 2017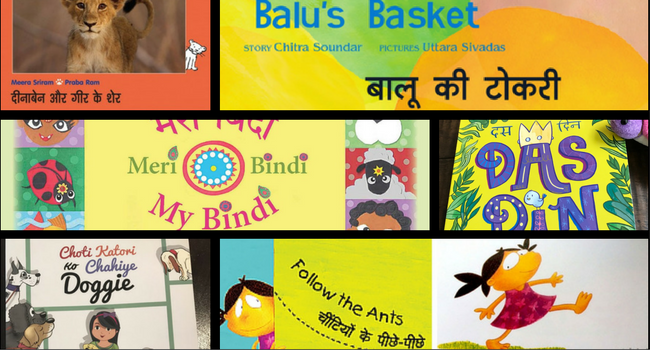 If you are planning to raise your child bilingual and Hindi is your chosen language then, we at Toka Parent are really excited about the amazing book choices, especially for young kids these days.
1. Meri Bindi - A Bilingual Book

Meri Bindi / My Bindi by Anu Anand is a lovely bilingual book that surprisingly covers quite a bit of Hindi vocabulary - from colors, shapes, sizes to general terms like "look" , "come" and "friends". The text covers a lot of the words that you would typically learn when you start out learning any new language.This was the page we liked the most! The light and dark is depicted so beautifully!
The text is written in English, Hindi in English script for English readers learning Hindi, and in Hindi script. The Hindi in English is a nice addition and one I have not seen in other bilingual books. It will help a kid who can read English and speak Hindi, "read" in Hindi , while still working on the Hindi script. It takes away the script barrier and helps with the spoken language.
A little girl – Noor and a little boy – Neel, a packet of Bindis and a menagerie of animals complete the book. The text is accompanied by absolutely gorgeous illustrations using cut-paper collage by Lavanya Karthik. The 3 dimensional effect of the collages along with the bright colors made me want to run my hands over the illustrations more than once.
This was the page I liked the most ! The light and dark are depicted so beautifully!
2.
Choti Katori Ko Chahiye Doggie: Choti Katori Wants a Doggie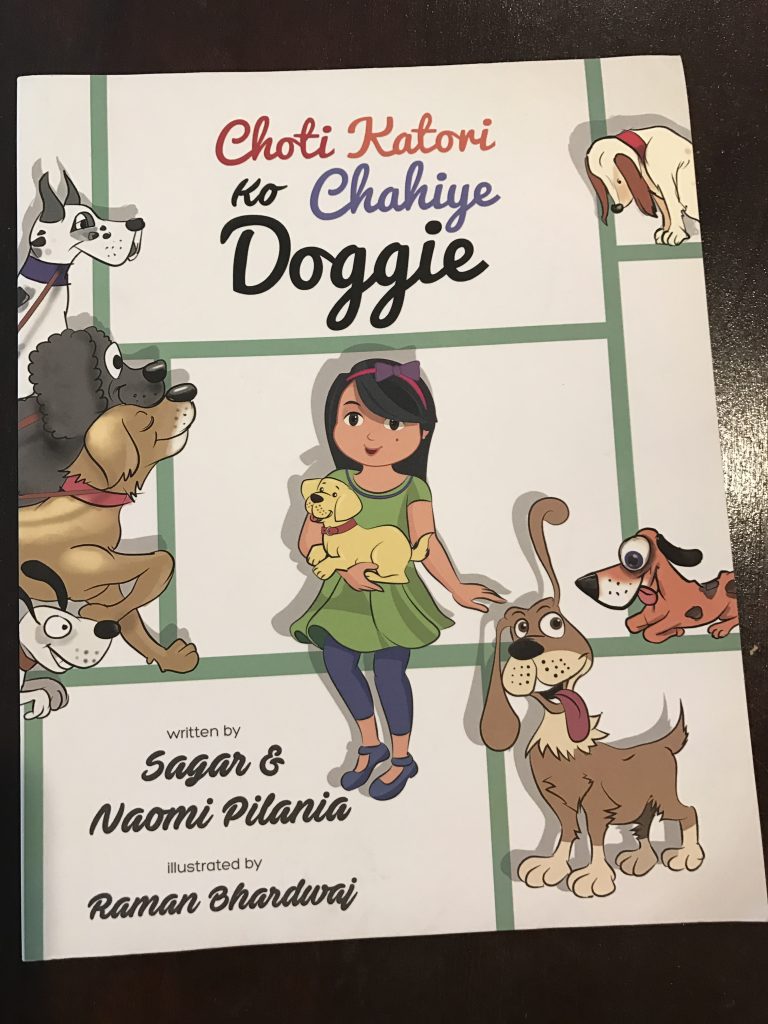 Choti Katori Ko Chahiye Doggie: Choti Katori Wants a Doggie, Written by Naomi and Sagar Pilania and illustrated by Raman Bharadwaj is a great book if your child has at least a passive , smattering understanding of Hindi. The book is written in Hindi transliteration so parents who may speak Hindi but not know the script, will still be able to read it. The Hindi is colloquial and the story is fun! Choti Katori wants a dog and every year she wishes for one, and finally on her 10th birthday, is her wish fulfilled? Get the book to find out. There is also a fun coloring and activity page at the back of the book.
The illustrations are colorful and add to the text. A fun read to add to your Hindi library to build vocabulary and spoken Hindi!
3. Follow The Ants / Chintiyon ke Peeche Peeche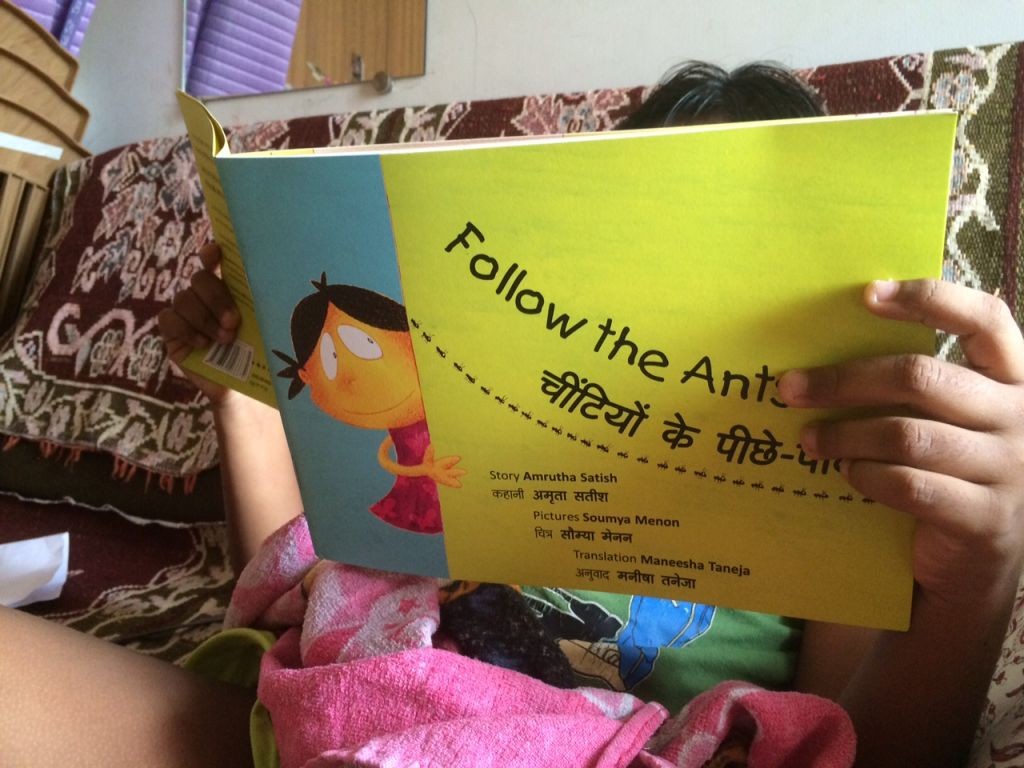 Written by Amruta Sathish and Illustrated by Soumya Menon is a bilingual book and we loved the English-Hindi edition. The translation by Maneesha Taneja is easy to read. The book is a delightful way to introduce toddlers to everyday Hindi words and make them observe things around us. We loved the author's imagination of taking an everyday occurrence and converting it into a story which make us want to keep turning the pages to see where the ants will go next . Read the full review of Follow the Ants here ! This book was our Toka Junior book pick last year and now available in the IMC Book Shop and Toka Book Shop!





4. Balu's Basket (English - Hindi Bilingual Book)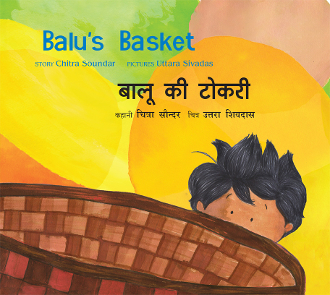 This book too was part our Toka Junior box for 2-5 year olds! One day, Balu finds a basket. What does he do with it. Bright, clean pictures create a cheerful backdrop for this fruit-filled book. A great way to introduce preschoolers to the HIndi words. This book is available in our IMC Book Shop as well as Toka Book shop!



5. Dinaben and the Lions of Gir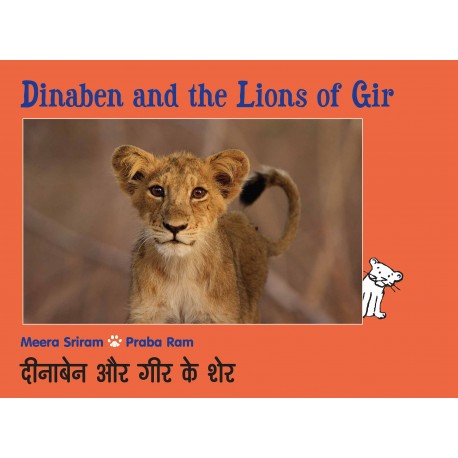 We really loved this bilingual book from Tulika Books by Meera Sriram and Prabha Ram. Dinaben is a Maldhari and her village is right in the middle of the Gir Forest where the Lions live. What does she do? How does she live? The book offers glimpses into how the Maldharis and the lions have coexisted peacefully for many years. Informative text and evocative photographs capture the many facets of life in the Gir forest of Gujarat. Children will find it easy and fun to follow the story in 2 languages. Limited copies of the book available in our IMC book Shop as well as the Toka Book Shop!



6. Hindi Board Book and Rhyme Book fromT4tales!



Here are two really well-made books from T4Tales, founded by Pridhee Kapoor Gupta - Das Din and Gol Mol Bol.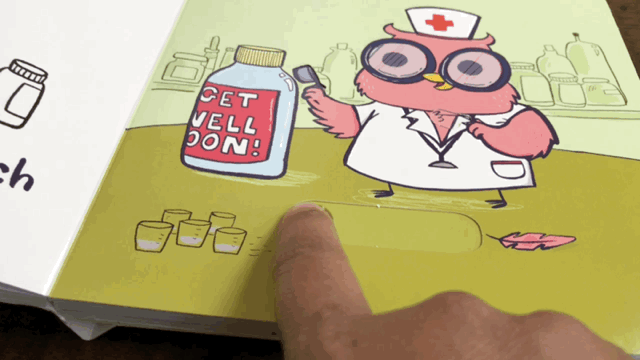 Das Din is a board book with flaps to open and tabs to pull is a fun way to learn to count in Hindi.The book has hindi script as wellas a transliteration in English for those who are not familiar with the hindi script but know the language.

Gol Mol Bol is a book of familiar Hindi nursery rhymes from our childhood. This book has the poems in Hindi script as well as a transliteration like the board book.The book comes with music by Ramya Shankar, available for download. This was a lot of fun for us!
7. Laddoo Books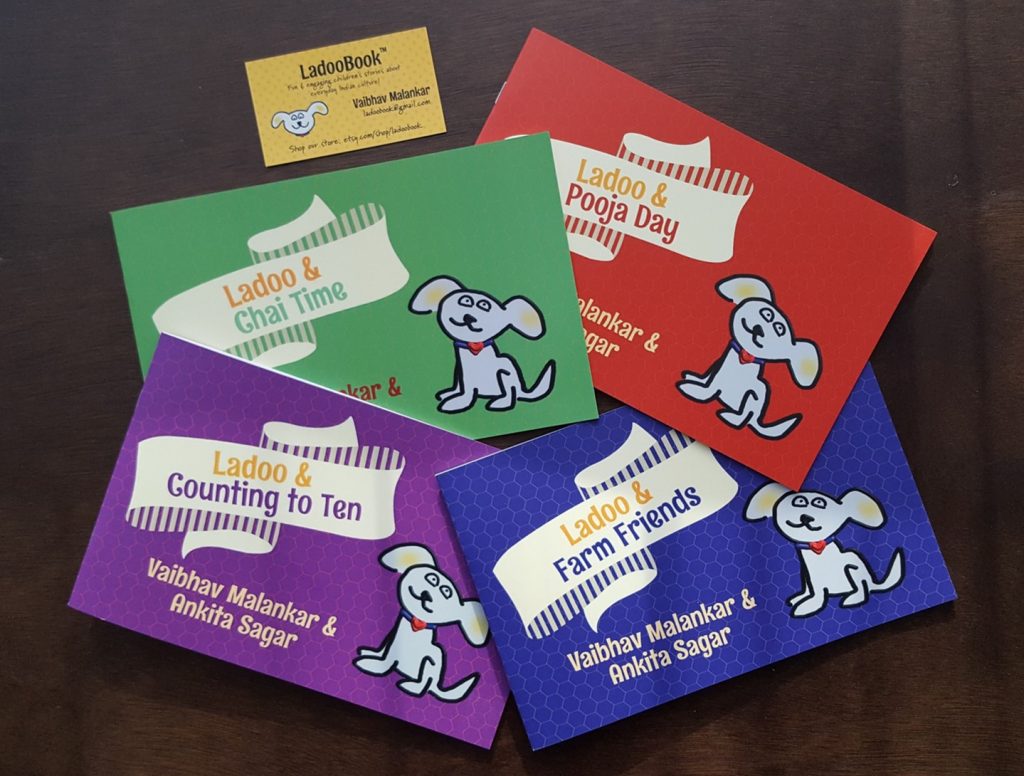 Ladoo books are a series of fun books for young learners from Vaibhav Malankar and Ankita Sagar. These bilingual books are ideal for kids aged 2-4. The series has four books titled 'Ladoo and Chai Time','Ladoo and Pooja Day', 'Ladoo and Counting to Ten', 'Ladoo and Farm Friends'. Find them Hindi and English, Marathi and English or Gujrati and English.