Book Review: Follow The Ants by Amrutha Satish and Soumya Menon
posted by R's Mom , August 16, 2015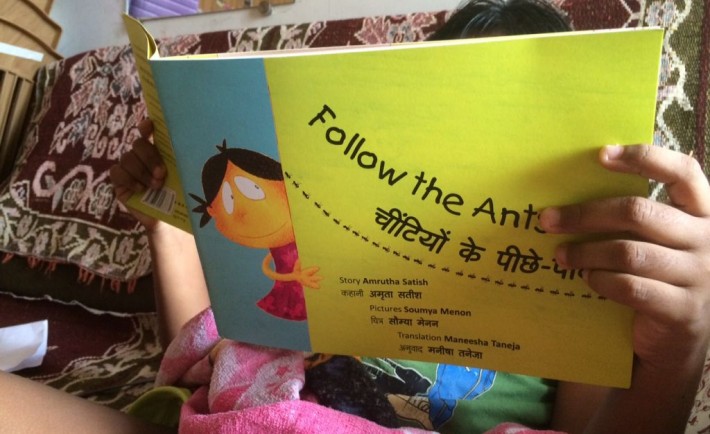 Follow The Ants written by Amrutha Satish, illustrated by Soumya Menon and published by Tulika Books is an interesting book to read aloud to kids !

Anita loves all small things - pebbles, insects, shells, and worms. One day she sees a long line of little ants. Curious, she decides to follow them. They take her along things she sees every day. But where do they take her finally? What does she do with them? Why is Anita happy about following the ants?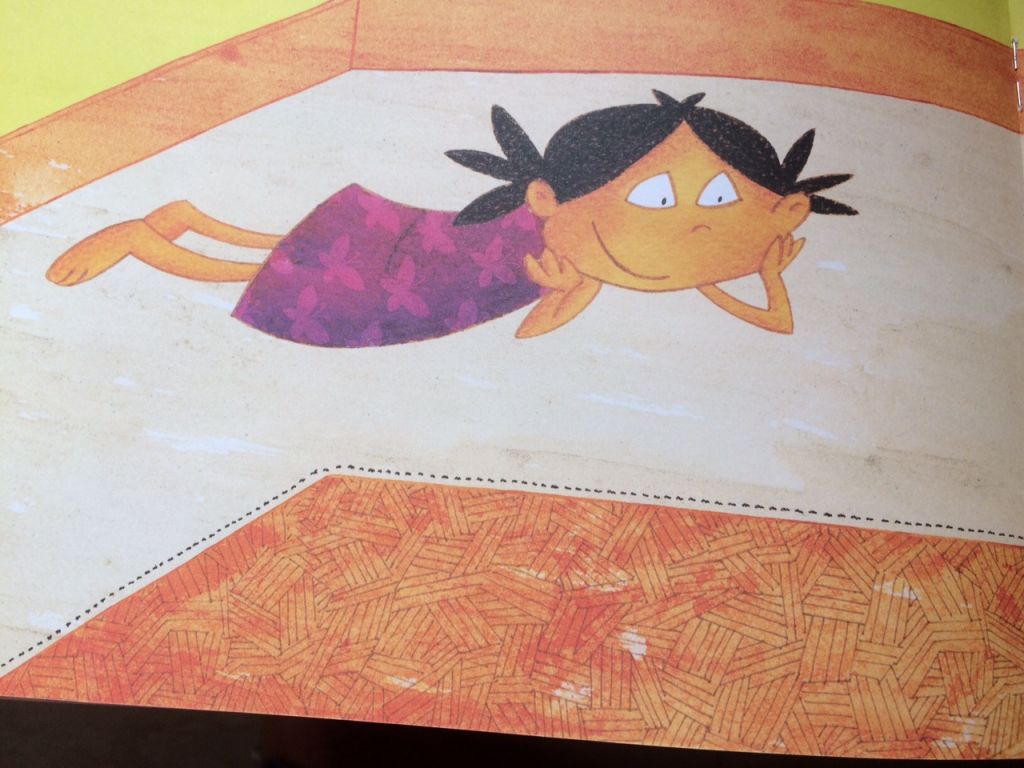 The book is a delightful way to introduce little kids to everyday words and make them observe things around us. I loved the author's imagination of taking an everyday occurrence and converting it into such a story which make us want to keep turning the pages to see where the ants will go next :)

The words are simple and on each page, we learn a new word which is what we see every day and yet never make an effort to tell our kids about it. The book is a great way to teach a young child new words and trigger a discussion about things around the house.

Soumya Menon does an awesome job with the illustrations. They are bright, vibrant and make the book so exciting. My 7 year old actually read the book with so much enthusiasm. She said Amma Amma look at the ants moving across the room. When you actually turn the pages a bit fast like she did, you can see the ants as if in motion.

The book is bilingual and we got the English Hindi edition. The translation by Maneesha Taneja is easy to read and the 7-year-old read simultaneously in English and Hindi :)
The
book

is a delightful addition to the family library.
Buy Now : Toka Shop | Amazon USA | Amazon India
Books With Simple Story Lines Have Strong Impact says Amrutha Satish
Chennai-based Amrutha Satish is an HR professional who loves music, yoga, and books. Follow the Ants is her first book with Tulika Books. Amrutha was kind enough to answer our questions on her book Follow The Ants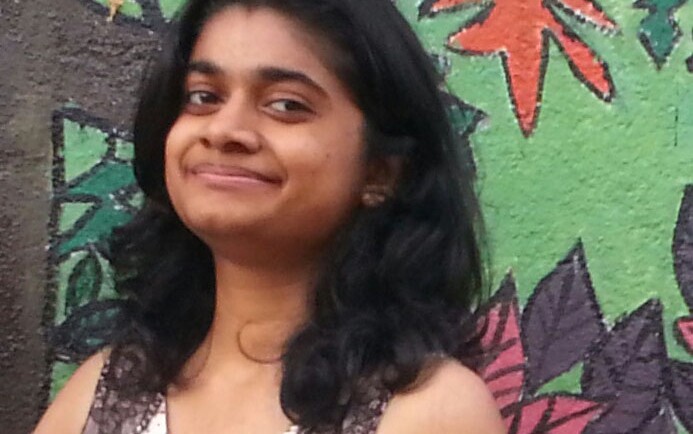 Thank you Amrutha for talking to us :)

IMC: How did you think of taking up such a simple act of everyday life and convert it into a book?
Amrutha: I have always felt that books with simple storylines have a strong impact on young audiences, as I have myself read several such books at a young age.
With respect to Follow the Ants, I felt that this would be something that every child could relate to, as ants are as much a part of any household as anything else. Sometime last year, I felt that I could be contributing to the vast ocean of Children's literature in my own small way. Hence, the book on ants :)

IMC: Ants are often treated with disdain. What made you take up ants as the main character of the story?
Amrutha: Ants are an integral part of our very delicate Eco-system. They have been found to exhibit very complex social behavioral patterns. I do not know any child who has never been fascinated by ants- be it the way they walk, the way they gather around food, or if one is very observant, even the way they rub their antennae. Although ants are treated with disdain at times, I feel that we all harbor some form of love for them. In almost every Indian household, a kolam is drawn every morning- And what are kolams, but food for ants. So, I felt that ants are a very interesting group of insects to write about.

IMC: A lot of us get hyper when we see our kids pick up small insects. What's your take on that?
Amrutha: Insects are nothing but beautiful creations of God, like birds and animals. They will defend themselves if necessary and go about with their own business when not bothered. Although it may not always be a good idea to pick up insects, observing their behavior and letting them be in their natural environment is a beautiful thing. If your child is fascinated with insects, it is probably a good idea to let him or her learn more about them. They are, after all, another intelligent life form.

IMC: Which are your favorite insects and why?
Amrutha: My favorite insects are - Ants, Butterflies, and millipedes. They are beautiful and intelligent!



Draw And Draw Lots! And Have Fun In The Process says Soumya Menon, Illustrator
Soumya Menon is a brilliant illustrator and had illustrated a number of books. Her illustrations are always colorful, bright, vibrant and very catchy to the eye. She spoke to IMC about how she went about with the illustrations for Follow The Ants.


Thank you Soumya!

IMC: What was your first reaction when you read the story? Did you immediately think of the illustrations?

Soumya: I absolutely enjoyed reading Follow The Ants. The story had me chuckling before I could get to the end. And yes- I did picture various scenes of the story and was itching to get drawing right away!

IMC: What has been your inspiration behind drawing Anita? I loved the big eyes and lovely smile she has..especially when you illustrate her for under the chair :)

Soumya: Thank you! :)

When I first read the story, Anita's impish mannerisms reminded me a bit of Mei Chan- the little girl in Miyazaki's animated film, My Neighbor Totoro.

To me, getting Anita 'right' was crucial before moving ahead- and developing the character is a process I really enjoy.
With Anita, I wanted to make sure she had all the traits of an animated, frisky little person. She had to be someone who looked at the world in wide-eyed wonder, curious and excited by everything around her -although it took a few rounds of exploratory sketches before Anita shaped up to look the way she does now.

IMC: What is your advice to children who want to take up illustrating as a career?
Soumya: Draw, and draw lots! And have fun with the process.
Draw to tell your own stories as far as possible- it doesn't matter if something doesn't look 'real'.
Experiment as much as you can. Try and think beyond pencil on paper alone - cutting, pasting and even tearing up paper are all fun ways to explore illustrating.