Why Enid Blyton is Perfect for the Transitional Reader
posted by Shweta Sharan, August 15, 2018
Perfect for the middling and transitional readers, Enid Blyton's books are lucid and beautiful. Hachette brings you two Enid Blyton original collections and two more games and pastiches based on the characters created by the beloved British children's author.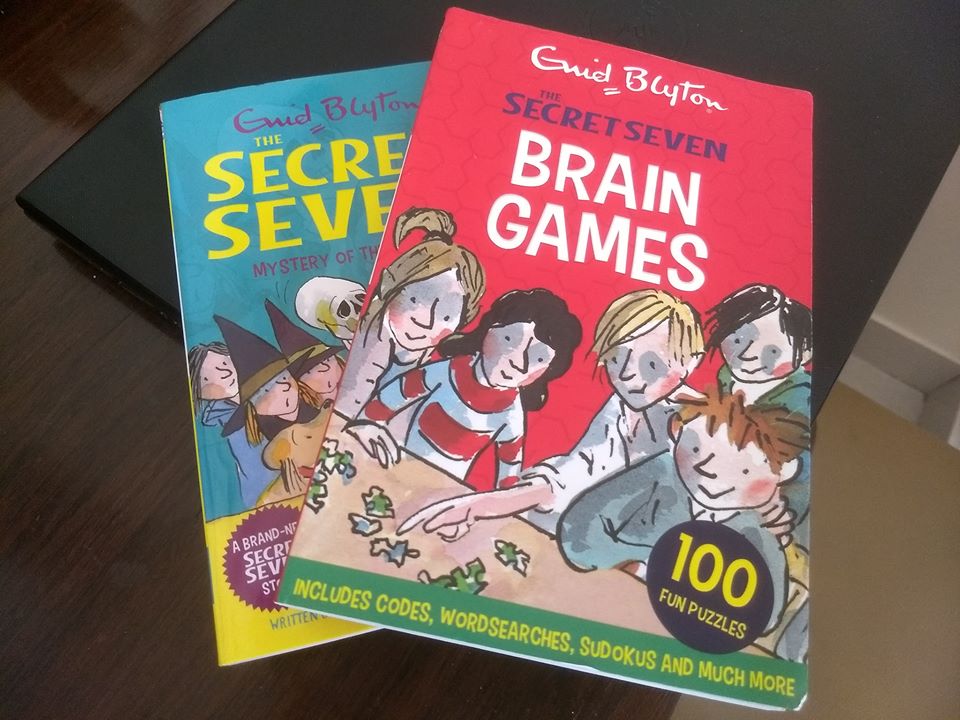 A few months ago, I tried introducing my daughter to Roald Dahl but it didn't work. Her teacher asked me to transition her to chapter books with another great author who was simpler to read and yet boasted of impeccable writing skills. It was Enid Blyton, of course, and I was thrilled.

I love the way Enid Blyton writes. It draws you right in and the sentences are perfectly put together. Blyton writes with a rhythm, clarity and cadence that I don't find in many writers. When I read her books out to my daughter, for instance, my daughter immediately sits up and listens. She follows the narrative keenly, the intonations and the singsong quality of the words.

Let's face it. A modern reading of Blyton's books would show many problem areas when it comes to gender, sexuality or even prejudice. A lot of the expressions are outdated or have different meanings in the context of today's world. Most of the stories anthologized by Hachette in these collections don't seem to have many of these irregularities. They are beautiful tales, pure and simple. Tales of kindness, good sense, caution, and generosity unfurl through superb narratives and excellent plots.

Hachette takes children on an Enid Blyton adventure with new anthologies, pastiches and even spin-off brain teasers based on her characters. We guarantee fun times ahead!
Springtime Stories

Famous Five, The Mallory Towers, Secret Seven, and St. Clare's are absolute classics but I look back with special fondness at the stories rooted in magic, nature and the outdoors. Pixies, fairies, brownies, and elves populate this collection. Stories on the farm, stories about jackdaws and tales about magic magnets and greedy rabbits burst forth from these pages. Many of the stories see children who meddle or are greedy learn their lesson but are more sensible by the end of it all.

The common thread that binds this collection is the theme of spring. Fairies hidden in Easter eggs, a boy who has a robin for a pet, and picnics that lead to mysterious clocks in the woods -- these stories thrum with the sights and sounds of Spring!
Buy now!
Summertime Stories

I jumped when I read a 'Mr. Twiddle' story in this collection. Mr. Twiddle, Mr. Pink Whistle, and Mr. Meddle are an interesting trio of Blyton characters who go about inviting all sorts of adventures during their day-to-day life. This collection is filled with the beautiful haze of summer. Your children will love the stories about the picnics in the sunshine, garden party adventures and the train that lost its way!
Buy now!
The Secret Seven Brain Games

Who doesn't want to be a member of the Secret Seven? Created by Enid Blyton, this fictitious mystery-solving club has captured the imagination of children through the decades. Remember the password at the door and the many heady adventures?

Well, the Secret Seven Brain Games is not by Blyton but it is based on her characters and her stories. Your children will spend hours over these puzzles and put their mind to some interesting detective work! Word puzzles, guessing games, crosswords, Sudokus and more, there is so much here to keep a child occupied!
Buy now!
The Secret Seven - Mystery of the Skull

This book is written by Pamela Butchart and is based on the original characters from and the premise of the Secret Seven. Sure, they don't have the charm of the originals but they are quite up-to-date and more Americanized if one can say so. I doubt if Blyton would have approved of words like 'freaked out' and 'mega annoyed' but hey, this is a new millennium and a new language (or lingo?) we are talking about, so a change is a good thing.

The book is fast-paced and thrilling, so Blyton would have approved of its pace!
Buy now!