Direct Dil Se with Shruthi Rao
posted by Toka Box Editorial Team , August 21, 2017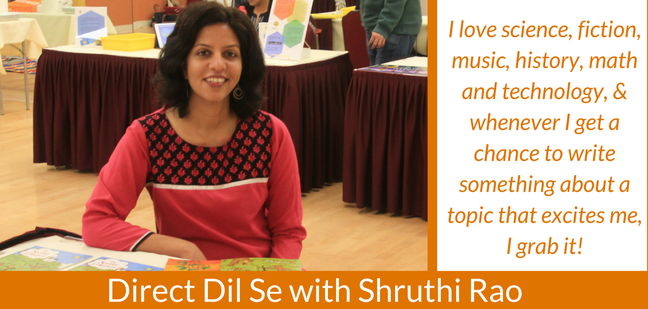 Today, we chat with Author Shruthi Rao about her new, award winning book - Manya Learns to Roar which is a perfect book for young readers.This book won the Children First Writing competition, organized by Parag, an initiative of Tata Trusts and Duckbill books.
From energy engineer to children's book author. How did it all start?

Well, I guess most young readers dream of being a writer, and it was the same for me too! The dream always lurked somewhere, but apart from little poems and a "novel" that I wrote at age 11, I'd never written regularly as an adult -- until I started a blog during my years in the software industry

The blog progressed well and garnered a fair number of readers. Then I took a break from work when my daughter was born. I wrote some more blogs, tried my hand at short stories, and then my first short story won a prize in the Sunday Herald short story contest. That was a big confidence booster. I made some writer friends, who introduced me to other writers and writer groups. By this time, I'd resigned from my job to try my hand at writing full-time. I wrote for adults initially, until a children's story won the first prize in the Unisun-Reliance TimeOut contest, and was turned into a picture book. And then, things just followed, one after another, and here I am!
The Secret Garden is all about science and now Manya Learns to Roar is a complete opposite. What inspires you?

Everything! I love science, and fiction, and music, and history, and math, and technology -- and whenever I get a chance to write something about a topic that excites me, I grab it!
Among Avani and the Pea plant, The Secret Garden and Manya Learns to Roar, which one is your favorite and why?

Hard to say! I love them all for different reasons.
Avani and the Pea Plant is the first time a manuscript I sent out was accepted, and it was lovely to hold the final illustrated version in my hands.

The Secret Garden was hard work and a product of the efforts of many people - and the final product is so beautiful that it is a matter of pride for me, for my name to be associated with it.

As for Manya Learns to Roar - well, it is my first chapter book, and the theme is close to my heart and so it is special to me. The fact that it was one of the winners of the Children First contest, and was published by Duckbill, whose books I adore and admire is just the chutney on the vada.
We have read a few of your short stories as well. Which one do you enjoy the most? Writing for preteens or for children or the short stories.

Actually, I'm not very sure! I'm comparatively new to children's writing, and writing for children is much harder, in general. So the actual writing doesn't come easily to me as yet (I don't know if it ever will!). I have a long, long way to go.
Are you working on your next book? When can it be expected?

I have another book coming up with Duckbill. Perhaps in a few months or so. I've just started working on another book - I think it is a little too early to talk about it, though!