Book Review: The Curious Case of the Sweet and Spicy Sweetshop by Nandini Nayar
posted by Preethi Chandrasekhar, June 13, 2018
Published by Puffin, The Curious Case of the Sweet and Spicy Sweetshop is one of those delightful books that you just cannot put down. It has everything - funny, interesting and endearing characters, a fabulous and quaint setting, a fast-paced plot, and enthralling sub-plots. It's like JK Rowling's Harry Potter, Neil Gaiman's Stardust and RK Narayan's Swami and Friends all combined into one fabulous feast!
The Sweet and Spicy Sweet Shop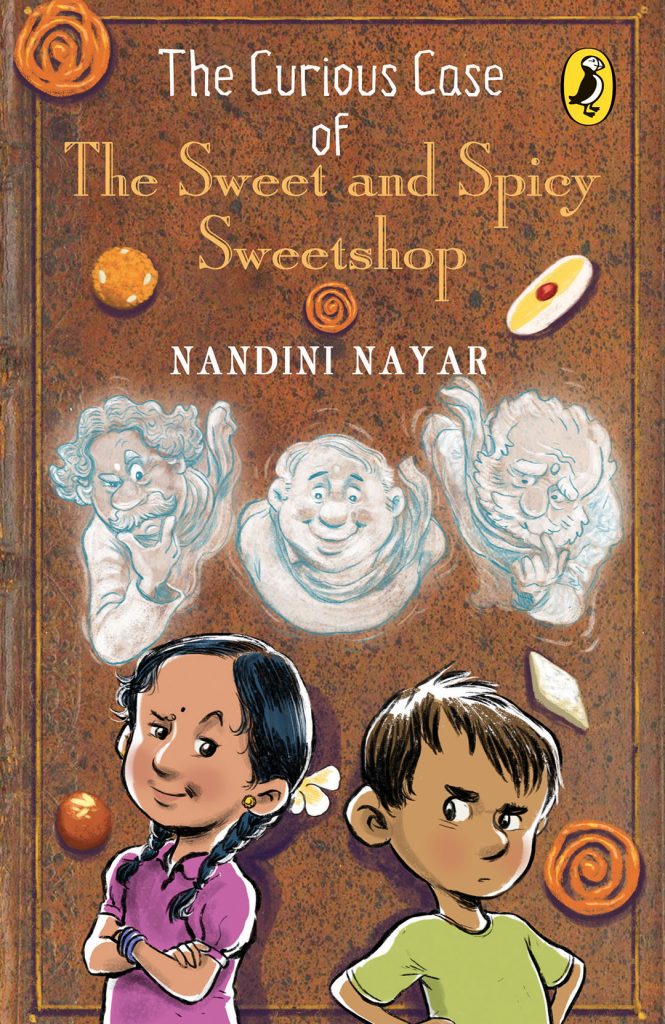 The story is about Vishnudas Mithaiwala, who owns the Sweet and Spicy Sweetshop. The shop was passed on to him by his father and grandfather. Vishnudas leads a fairly uneventful, dull life, until one day, a boy (whose pet name is Laddoo) mysteriously appears at Vishnudas's and claims to be his estranged sister's son! A few days later, something even more astonishing happens. A little girl named Anu turns up at Vishnudas's doorstep and claims to be Revati's daughter! Both the children compete to prove their identity, even as Vishnudas's life is thrown into chaos, with unexpected twists and turns. To make matters more complicated, Laddoo can see ghosts in the house!
A quaint and beautiful setting

The book opens with a scene that could be straight out of an RK Narayan novel. Rajaram, the postmaster of Vasantnagar village, visits the World Famous Sweet and Spicy Sweetshop. Rajaram's grandson has just learned to cycle and he wants to celebrate with sweets!

I loved the book's characters. The sweet shop is portrayed as a charming and quaint place where many adventures take place. The author portrays the village as a delightful place filled with old-world charm.
Pumpkin cinnamon squares, uff!

Barfis, kala jamuns, pedas. The best part about the book is the way the author describes Indian sweets. Eat your heart out, Enid Blyton! I have never read such wonderful passages about food.

"Watermelon barfis -- luscious pink squares dusted with snowy coconut shavings."

"Many people had tried making rose petal kheer but no one could decide if the rose petals had to be white, pink or red."

"Then there was the recipe for dew drops, a sweet that melted in your mouth like dew melts in the sun. It involved boiling sugar syrup till large clouds of steam rose from the pot and then cooling it to a particular temperature so that the sweet dew drops formed naturally."

As for the pumpkin cinnamon squares, I could go on all day! The descriptions are beautiful and make you love the book even more! Descriptions of brownies and sponge cakes pale in comparison to how divine Indian sweets sound when described well.
Ghosts and exciting plot turns

The book has ghosts that warn of impending threats. The supernatural element keeps the suspense high. The book also has very interesting plot turns and some chapters end on absolute cliffhangers! Who wants to steal the age-old Mithaiwala recipe book? Who is really Vishnudas's sister's child? Is it Laddoo or Anu?
Beautiful illustrations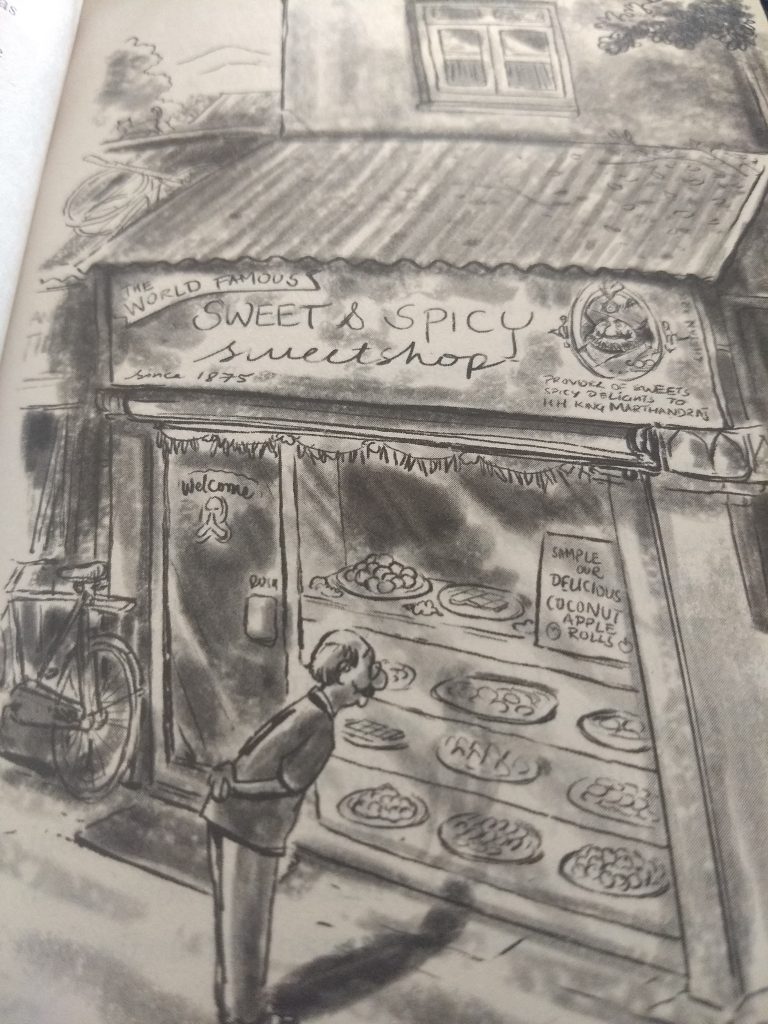 Have you seen the reissues of old Enid Blyton books? The illustrations are all angular, modern, weird and cool. Yes, I know children like that these days but I love how Chetan Sharma has illustrated the book. It reminds me of the literary magazines that used to come out back in the day and the illustrations that they used to carry. My daughter liked the illustrations too, so it's not like our children won't take to this style!

Children will love the book and I'd recommend it for the adults too. The Curious Case of the Sweet and Spicy Sweetshop is an absolute treat to read.
Buy now!

Liked this article? Subscribe to our Weekly Book Love newsletter and receive a weekly digest of all the latest children's book titles, book lists, must-reads, giveaways, activities, latest releases and more! Subscribe now