Book Review: Suddenly Cow by Sowmya Rajendran, Illustrated by Samidha Gunjal
posted by Shweta Sharan, December 11, 2018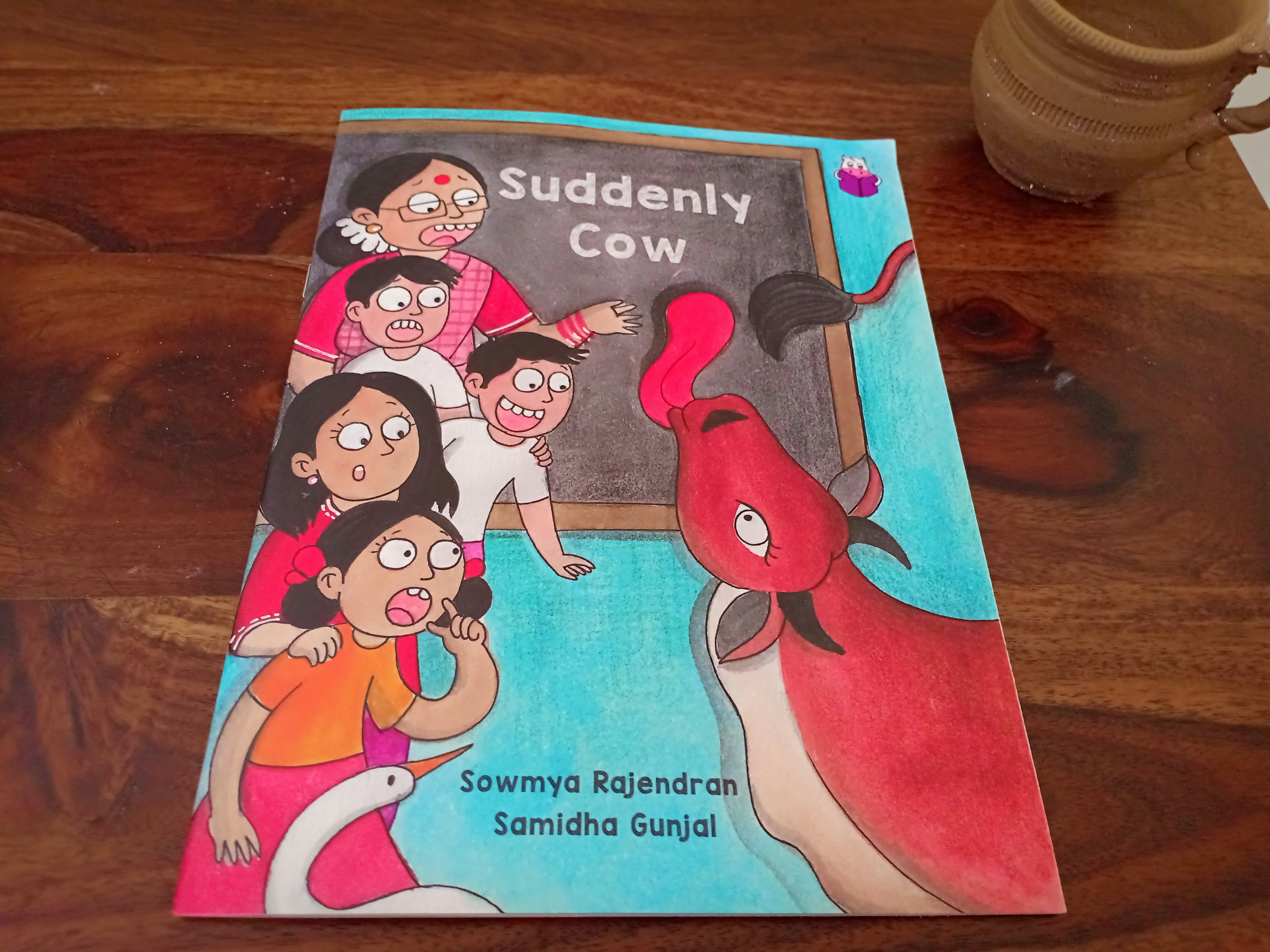 "It was a boring day," begins Sowmya Rajendran's book, Suddenly Cow. Not for long! The story meanders into a quirky and fabulously funny tale how a cow wanders into little Anu's day every time she is on the spot in some way!
Ever been in trouble as a child? I have, very often, and the first thing I would wish for is for the ground to swallow me or for some commotion to happen outside so that I can escape the situation unnoticed. In Suddenly Cow, a cow wanders in every time little Anu is on the spot in some way or is in a situation that needs a little bit of excitement!
Written by journalist and writer Sowmya Rajendran, who won the Sahitya Akademi's Bal Sahitya Puraskar in 2015, this is a book that is narrated with brilliance and hilarity. And don't miss Samidha Gunjal's illustrations, which really nail the humor in every situation that is presented in the story! The book is published by Ms. Moochie Books. Do check out their Little Book Lovers' Reading Series! It's a wonderful reading series set in India that employs strategies to reinforce pre-reading skills and are set in recognizable Indian environments. Suddenly Cow is part of their Picture Book series.
What it's about
Anu thinks the day begins on a boring note. She has to eat upma for breakfast, which is her least favorite food but her amma insists that she eat it. Anu picks on it and refuses to eat it. Well, it is upma, after all! Anu's amma is about to reprimand her when suddenly, a cow wanders into the house! The cow ends up eating all the upma, even though amma offers a banana.

Throughout the day, the cow wanders into many situations that Anu finds herself in, at school and outside her house. The book ends on a marvelous and surprising little note!
Why we love it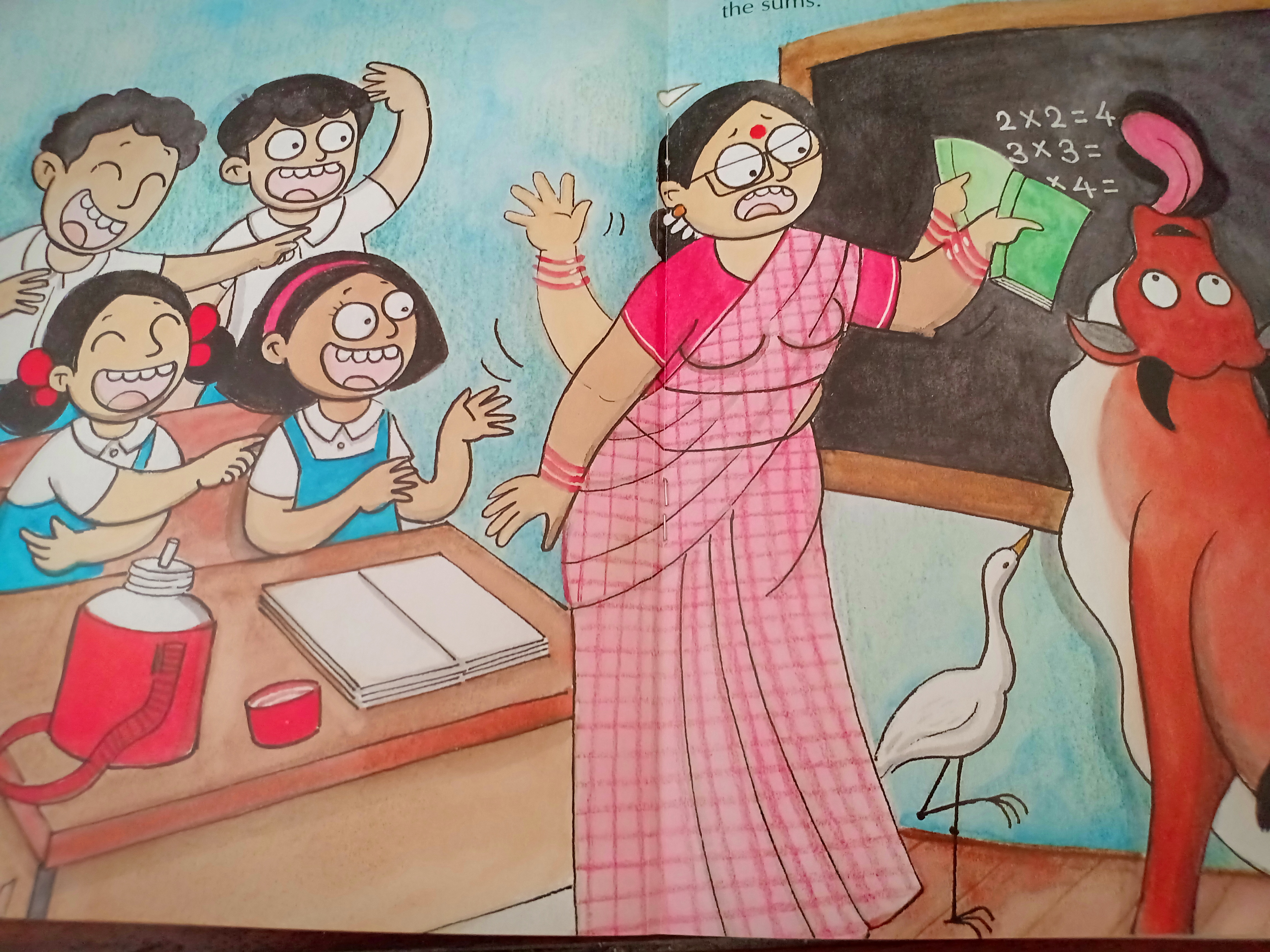 Suddenly Cow is a simply narrated but funny story and one that will really capture children's fancy in every way. We love how the cow turns up at Anu's class and at a math class, at that! The illustrations are simply spot-on and make us roar with laughter, given the context of each cow intrusion. The illustrations are colorful and remind us of beautiful pictures that would appear in Indian language periodicals and of course, one of my favorite children's magazines as a child, Gokulam! However, the illustrations here are richer and more vibrant. We cannot tear our eyes away from the pictures!
We also loved how the many incidents in the book don't feel contrived or repetitive but very natural! And can we say that we just love that cow?
In India, we have cows wandering into the scariest traffic jams, loitering around as if nothing has happened. Even huge, posh LUVs have been stopped cold in their tracks by the tail-swishing, cud-chewing nonchalance of the Indian cow. My daughter and I wish that should anything be interrupted at any time, it should be interrupted by a cow!

Buy it now!