Book Review: Mata, Mama and Me
posted by Gomathi Kannan, October 08, 2018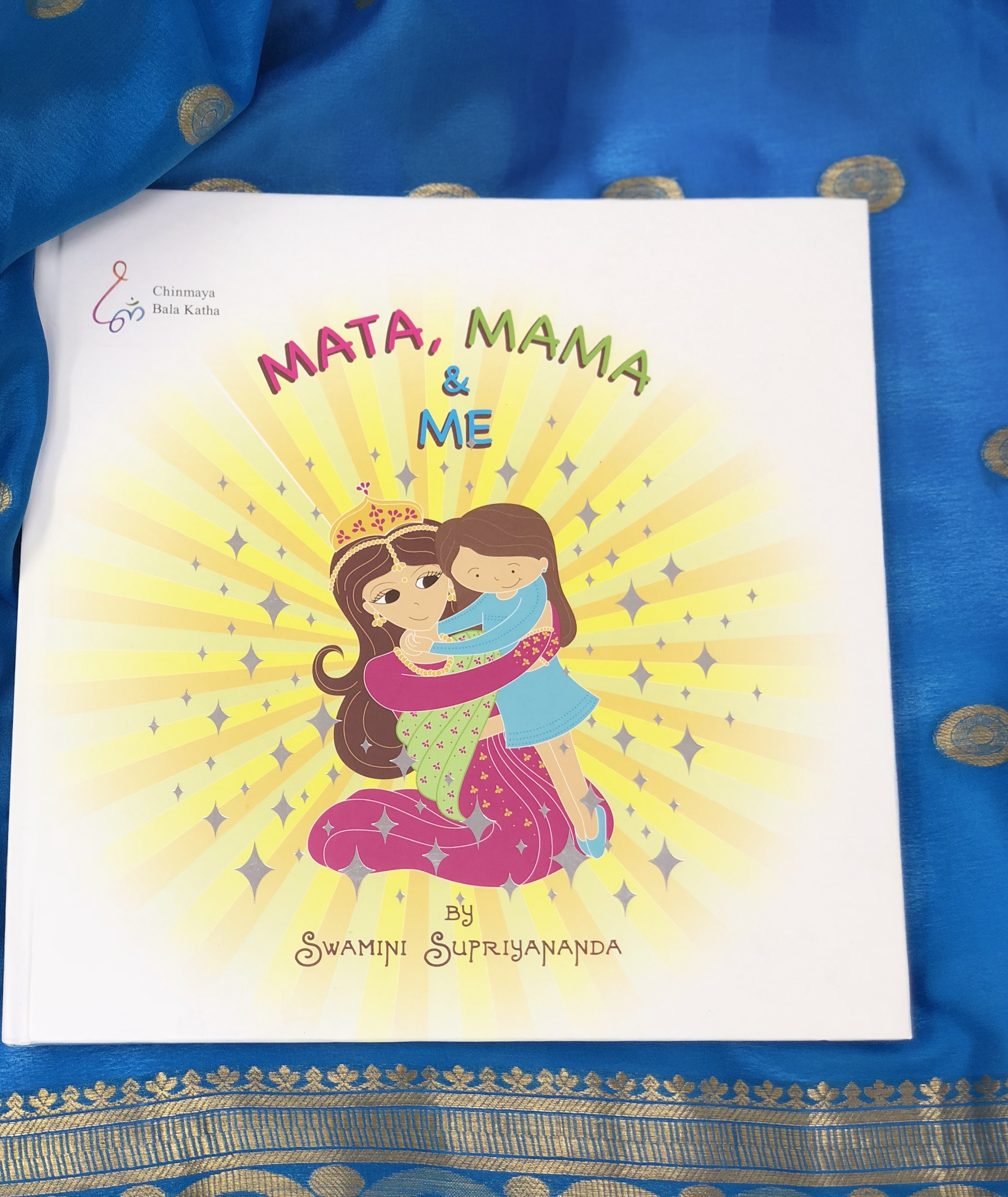 Gomathi Kannan reviews Mata, Mama and Me by Swamini Supriyananda. This is a beautiful picture book on the power of a mother's love and the universal principle of bhakti that resonates with everyone.
A mother's love for her child is unconditional and selfless, a love in divine form. Although a father's love is equally weighed, there is definitely a stronger emotional bond with a mother that makes her the first love of every child. Indian Literature prioritizes the importance of mother more than the father, the guru and even God. A child feels the goodness of Guru and God in a mother.
Mata, Mama and Me is part of the Chinmaya Bala Katha series that introduces the principles of Vedanta and bhakti in the early years of childhood so as to instill in the readers a strong foundation of virtues and values that will enable them to thrive later in life. This book celebrates the feminine and maternal qualities of divinity in the form of Devi. Mata is nurturing, wise and strong. She possesses a love that knows no bounds, much like our own mama. It depicts the purity of a mother`s love in a way that little ones can understand and relate to.
The underlying concept of the book is that Goddess Mata has created the entire universe and all that life has to offer, and a Mom introduces all these to a child in a loving and caring way.
"Devi Mata Made the sun. My mama wakes me up.

Devi Mata made the water. My Mama gives me a bath,"

go the lines in the book. Swamini Supriyananda had scripted a concept that is hard to comprehend in a text that appeals even to very small kids.
Illustrations by Anastasia Damani recreate everyday scenes in the life of a child that he/she shares with a mom. The intricate designs are serene and lovable. I loved that every scene had Devi detailed but the facial features of the mom are left to the imagination of the child.
It ultimately guided kids to visualize Devi Mata as Mama and helps them to easily understand the intended connect between Goddess Devi and a mother. It is a great book to introduce the concept of God, religion, and spirituality to a young kid. I will definitely try the other Shishu Vihar Books - Go Hanuman Go, Krishna Loves You, Shiva Shiva Namah Shivaya, Ganesha and Ganesha goes to a Party!

This fabulous title is our Toka Junior Book Pick for the month!

Click here to subscribe to Toka Box and to receive beautiful books and activities curated around Navratri.

Buy Now: Toka Shop | Amazon USA | Amazon India


Liked this article? Subscribe to our Weekly Book Love newsletter. You will receive a weekly digest of all the latest children's book titles, book lists, must-reads, giveaways, activities, latest releases and more!
Subscribe now.