Book Review: The Ammuchi Puchi by Sharanya Manivannan
posted by Preethi Chandrasekhar, May 26, 2018
The Ammuchi Puchi by Sharanya Manivannan is a book that the children will love reading again and again! Every reading brings back new meaning and fresh delights.

"When Anjali and I were really little, we were sort of afraid of our grandmother, Ammuchi."

Want a children's book that combines a great plot, powerful storytelling and gorgeous artwork? The Ammuchi Puchi by Sharanya Mani is a perfect pick.

I have read and enjoyed Sharanya Manivannan's poetry and fiction for many years now. I was delighted when I heard about The Ammuchi Puchi and eagerly shared the book with my daughter. Published by Penguin, the book is about Aditya and Anjali, two siblings who are very close to their grandmother, whom they call Ammuchi. Ammuchi is playful, warm, supportive and her "mouth was always stained with betel nut juice, so she looked like she had been drinking blood."
She delighted in spooking the children out.

"Aditya," she would say to me, "What do you see in that tree?"
"Mangoes, Ammuchi."
"Look closely, what do you see?"
"Leaves. Mangoes. Branches. One Parrot."
"You don't see it sitting there, with eyes big-big like two moons?"

The children love Ammuchi. For Anjali's eighth birthday, Ammuchi gives her a butterfly brooch. Aditya asks her what his tenth birthday gift will be and Ammuchi promises that it will be a good one! Before Aditya can find out what it is, Ammuchi dies.

The siblings miss Ammuchi very badly. One day, they see a butterfly on the tree, looking similar to the brooch Ammuchi gave Anjali for her birthday. The butterfly comes and sits on Aditya's nose, and then on Anjali's head. The children believe that it is the reincarnated spirit of their Ammuchi and they call the butterfly the Ammuchi puchi.
What we loved about The Ammuchi Puchi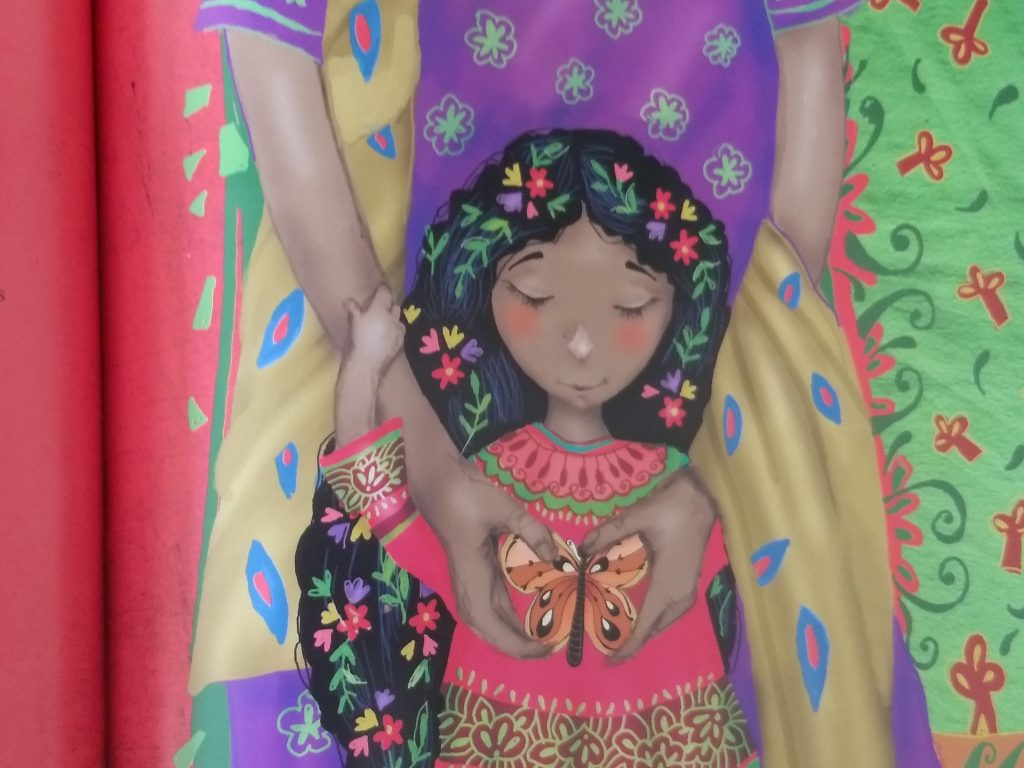 The story really captivated my daughter's attention. She was keen to know if the butterfly was really Ammuchi, and the surprise ending really dazzled her! The illustrations were colorful and gorgeous. They brought the story alive in so many ways.

According to developmental psychologist Alison Gopnik, "the way young children perceive the world has much in common with the psychedelic experience." In other words, "They're basically tripping all the time."

It is remarkable how a child's mind "trips" when reading a picture book. My daughter is slowly easing into chapter books but upon reading The Ammuchi Puchi for the fourth time, she told me that on our first reading, I had forgotten to read to her a certain page. She picked out unusual details about the book and the pictures!

The characters in The Ammuchi Puchi are so beautifully written that we kept discussing them continuously. What is Aditya like? Why is Anjali half scared of Ammuchi's stories? What makes Ammuchi so awe inspiring? The book also explores feelings like loss, confusion and sadness.
Something special


For me, what really stood out in the book was its subtle supernatural element. For a child, reading about a dead grandmother possibly reincarnating as a butterfly, sends a delicious shiver down his or her spine. This is the magic that keeps us going back to books again and again, for the rest of our lives.
Love and loss

Also, the book introduces death in a wondrous way. Children are curious about death. My daughter asks about it at least three times a day. It is nice to read books that tell us how to keep memories of our loved ones alive, in our own ways. All it takes is a little bit of imagination!

The way Ammuchi spooks the children, the way they are scared yet wonderstruck. All these elements add up to an unforgettable story. When I was young, my father told me so many stories. The ones that remained with me were always the ones that had that odd bit of thrill in them!
Buy Now!