Making Math Fun with Revolution Math!
posted by Preethi Chandrasekhar, March 03, 2019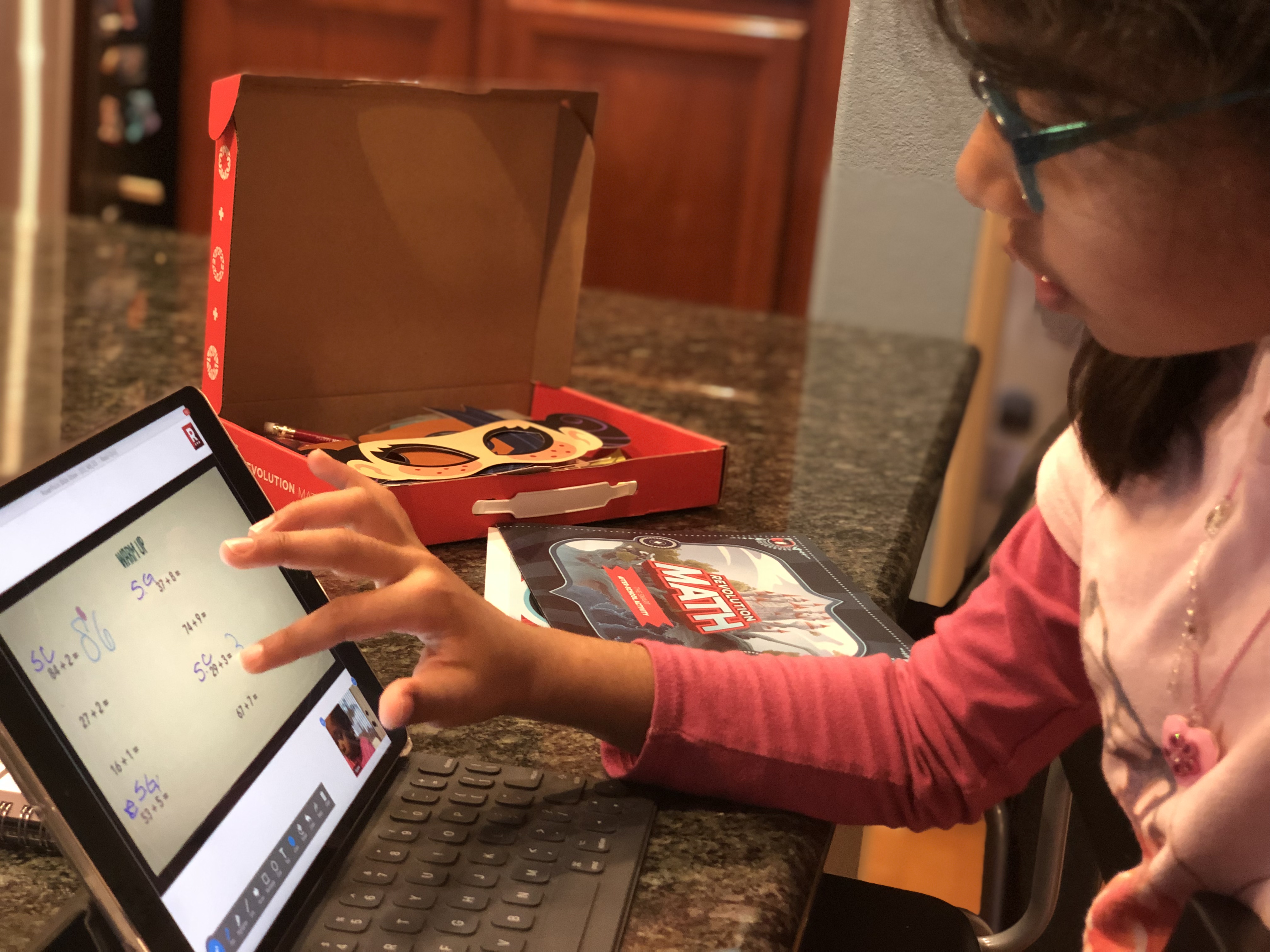 With its story-based curriculum, interactive learning experience and Common Core-aligned math games, Revolution Math is an innovative program designed to help 2nd-5th graders develop their math skills and a love for the subject. The Founder of Toka Box, Preethi Chandrasekhar, got her daughter to take a Revolution Math session and they loved it. Here's what she has to say about it!
My daughter is in the 2nd grade and figuring out the basics of math. She goes to a Montessori public school here in California and I find that math is more tangible for her than it was for me when I was her age. In India, rote learning of multiplication tables was emphasized while my daughter can figure out 5 times 9 by counting by 5s 9 times, a concept I did not have in 2nd grade sadly. So suffice it to say neither my husband (who comes from the same system ) nor I have a great love for math. But our daughter, on the other hand, loves it!
So it was some wariness that I decided to try Revolution Math out for my daughter. I was concerned that she would get bored and not really sit through the hour-long trial class. I was grossly mistaken.
We signed up for Revolution Math as a trial for a month of weekly classes and received a box of materials like dice and a few masks. The masks intrigued me and we wondered what was in store!
The first class came around, I had my daughter set up on the kitchen island, while I took care of dinner and crossed my fingers that she sits through.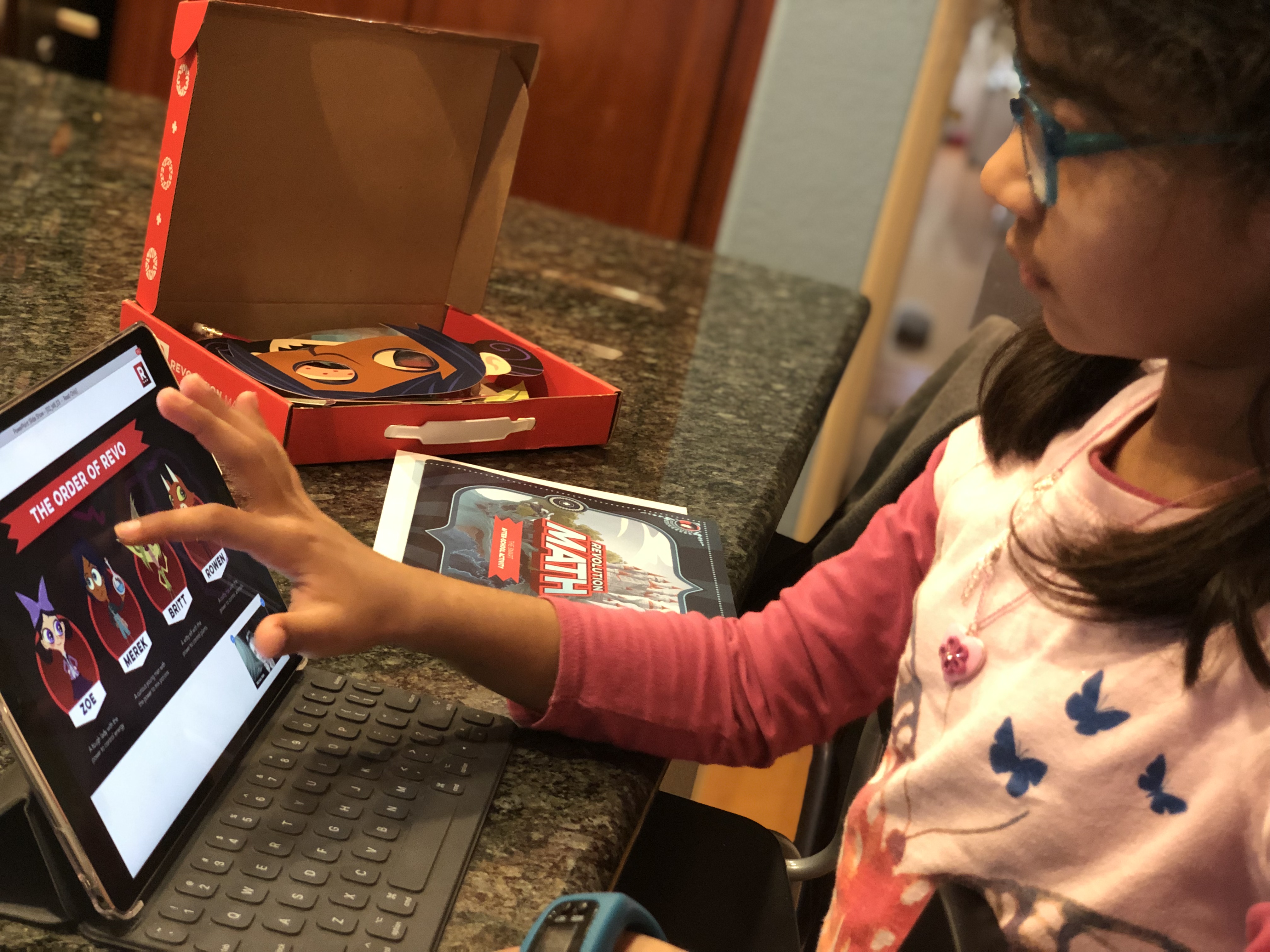 My daughter literally had roller skates on her feet so she could escape if required. The class was so engrossing that she soon forgot about the wheels on her feet!
The class is taught live with a teacher and a couple of other students. It is interspersed with everyone picking out a character in what seems like a super-hero comic and everyone reads out their character aloud from it. Here is where the masks come in. You can wear them when you read out loud.:)
Everything is taught from a Common Core point of view and it is more fun when you do it with your peers. You even get to collect points and gems that you can use in a physical store. A complete selling point for my daughter who went to Spanish lessons at Preschool just so she could get the little baubles that her teacher gave out at the end of class!
After the first class, the next week, my daughter came asking me when her next Revolution Math class was! She was a little disappointed to know it was the next day! She looks forward to the class, sets up her iPad without my prodding and is loving math as much if not more than before!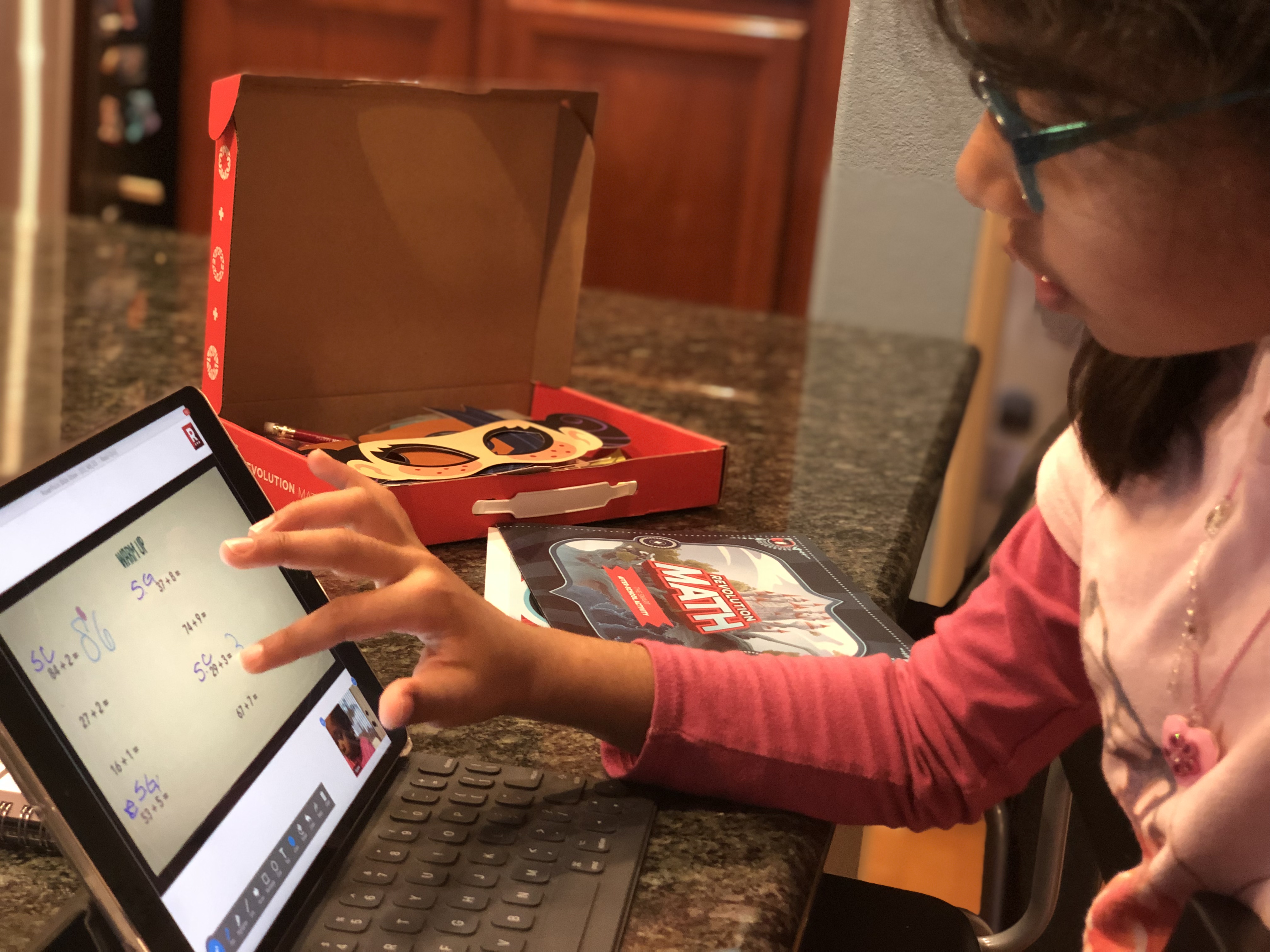 She has so far attempted arrays and graphs in the two classes she did so far and she has been requesting that we sign her up for good after the trial.
I love receiving an email at the end of class from the teacher outlining what was done in the class and how my daughter did!
I would highly recommend Revolution Math. I think it would be a fun way to spend one hour once a week, especially in the summer, preventing summer brain drain!
What I absolutely love is that I don't have to negotiate and argue with my daughter just to get some extra worksheet work done at home once in a while to stay at grade level, my daughter does the class because she loves it!
Ready to check it out? Sign up at www.revolutionmath.com with code TOKA1 to get a 4 week trial + materials for $1!
*This is a sponsored post.